Aina has her new Jamthund pups - 9 Healthy Swedish Elkhounds
We are so thrilled to see the little Jamthunds nursing away, healthy and happy. They are doing so well. 5 Males and 4 Females this time round. She felt she was ready to step up and show the other girls, nothing to it. What a neat thing for Aina. She is such a great Mama to them.
She is eating well, doing great. The pups are already big fatsos. That photo and the video below I took when they were a day and a half old. They were born the 21st, I had figured it would be the 22nd but she moved it up a day, no doubt, look at the size of those pups. They can literally walk around almost.
The first photo on the red blanket is at a day and a half, the next photo is at 6 days, growing fast!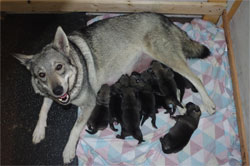 So yes, a fun time these days, her other son Ark, he can hear these rascals and smell them, he is so excited to see them. He is going to be doing some of the training with them, that will be so fun, I can hardly wait.
So of course we already know a few names, Xena is the female going to Beth and Russ, she will keep her dad Rico company. Elvis is heading out to Jen and James. Natan, "Apache for Chief" or Nate for short is heading down to Carolyn and Spencer. A few of the others have not got back to me yet with their selections but I'll update when I hear. For now, enjoy this video of these rascals.
Tucker gets out hunting, Son of MANE and Kalia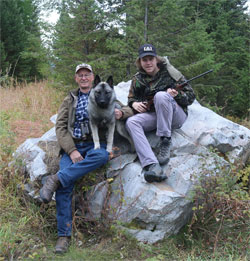 I received a really neat set of photos from John the other day. This is so cool. I recall way back when John's son, Chris contacted me about the potential for getting a pup for his dad, John.
Now Chris, he lives with his son Jack way down under in Australia, go figure! So these mates, they contacted me to see if they could start a conversation about getting a new Elkhound for John, who lives in BC.
I really enjoyed working with Chris all the way through getting it all sorted out, selecting the right litter and figuring out the skill set the pup would need and much more. John meanwhile was checking out the site, watching video's and getting things ready around home, new fishing line, new scope on the rifle, that sort of thing.
We agreed that given the outdoor life that John led, and the fact that he was retired and wanted to do a ton more fishing, hunting and camping that there would be no better match than a son of MANE and Kalia. Can anybody say skilled hunting dog?
John and his Grandson Jack above with Tucker
Chris and his son Jack below with Tucker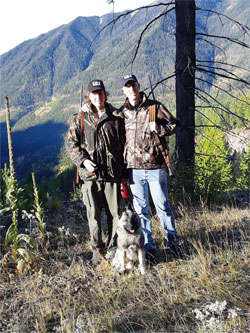 So when I had Tucker ready to go John came down to pick him up and he was so thrilled. He has been waiting for a great young Elkhound for a long time and this worked out perfectly.
We had a really nice visit when he came and he told me how he was hoping that in the near future he could have Chris and his grandson come to visit, and if all things lined up, potentially now that Tucker was there, they could get out on a hunt.
What better thing can you imagine. Such a great time, look at the smiles on those faces, can you believe it. I sure can. Look at that Tucker, he is one cool dude isn't he. What a Rock Star!
So I am very honored to have had the pleasure to work with these boys in getting this young hunting rascal all ready for them to enjoy the great Canadian wilderness, as it should be, with a great Elkhound and the boys. Pretty Neat No Doubt!
This particular lineage that flows through Tucker is one of the very best working lines of Norwegian Elkhounds in the world. The background of young Tucker has been 1 magnificent hunting Elkhound after another, working with the handlers exactly like what you see here for centuries. I am so thrilled to get these updates and want to Thank all of them for sharing such a great time with all of us, and of course for the awesome care and fun they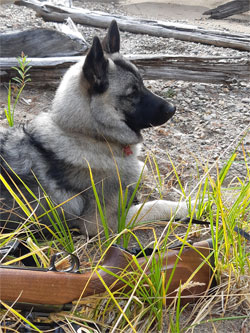 are giving to young Tucker.
Tucker sits here, a magnificent son of MANE and Kalia, such a Rock Star fella. I am proud of all my dogs as you can well imagine, I have a VERY FAT HEAD about them no one disputes that, but no kidding, sons of MANE, well pretty special aren't they?
You could see this exact style of photo from Norway, Sweden, Finland all the Scandinavian regions, and would have seen them for many generations, but honestly guys, you three are some of the happiest, your scenery is some of the greatest, and your dog, well he is the best. And let me say this, my smile is just as big as yours, very happy for all of you, what a time!
Thank you for sharing with us such fun.
Keep us posted.
Tor heads to Stewart - Son of Tika and Leif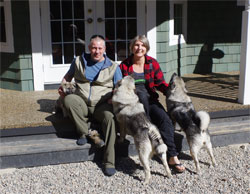 Mike and Shannon contacted me a long time ago looking for a great Norwegian Elkhound. They of course live up in Stewart BC, and as you know, this region is almost exactly like Norway with serious Fjords, hunting, hiking, and tons and tons of snow. Wildlife Galore Too.
So they are avid hunters, Shannon she was sharing all her gear with us, wow, she has some nice stuff, and Mike, no doubt same. So it was fun for me to just hear about the region and the fun they have up there, and what young Tor will be doing.
They wanted a very skilled dog, yet one that was fun to be around as they would be introducing him to all the folks in town, its a great place they live and they wanted skill and social. I said I have the ultimate match-up coming for them. You guessed it, Pretty Boy Leif and Tika.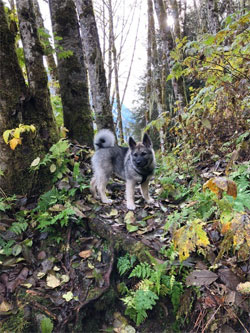 Tor has the perfect combination of genetics to thrive in his new home and environment and can handle any situation that can come up. Look at that boy would you, oh man.
So Tika, she is a true working Elkhound, she is a daughter of the Famous Bram and Tora so you know she has skill, and instincts.
Pretty Boy Leif he has proven to be the ultimate matchup for our female genetics and brings in that social and personality that is so fun to be around. And make no mistake, Leif has skills and genetics to no end.
So you end up with the Rock Star pups, one after another, just like this big fella Tor. Mike sent me some truly outstanding photos of him just the other day off leash hiking the remote Canadian Wilderness. What a sight to see, no doubt.
So that first photo of Mike and Shannon, forgot to mention it, but Tika was not here when they came for Tor, as she lives over with Wendy and Dale a ways east of us, so her two sisters, Tekla and Kai were there to fill in as the greeters. Pretty cool for Mike and Shannon to have a chance to drive all the way down, it's a long haul, two full days each way. I have always said, we have the greatest folks get our dogs, and Shannon and Mike, truly an awesome couple. We had a really nice time with them. A Huge Thank you to them for the confidence in our dogs and our program.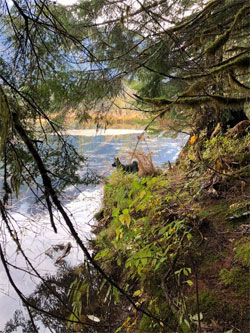 Tor out in Northern British Columbia Canada - Son of Tika and Leif 14 Weeks Old
The Norwegian Elkhound has been used exactly as Shannon and Mike plan to use Tor for centuries. This particular lineage is one of the oldest recorded lines in the world, they have been in families working and as a part of the family the entire time.
I believe if I am not mistaken, the Elkhound is the oldest family dog breed in existence with history dating back thousands of years. This particular breed and this lineage represents all of the great breeders dating back to long before the start of the association even. All those old breeders worked hard to preserve the skills and the genetics in those great dogs so that a young couple like Shannon and Mike could enjoy a lifetime of fun with their Elkhound.
As preservation breeders we strive to keep the old working lines alive and this is truly what we work to provide, a magnificent young Norwegian Elkhound who can provide companionship to his handlers, loyal and faithful to his last breath, a true working Elkhound from the moment he gets home. This my friends, This is an Elkhound!
Luna will be cycling in October, please contact us early on her litter!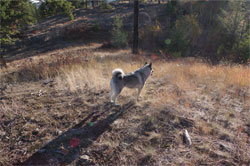 Luna is in my opinion most likely the very best working lineage Norwegian Elkhound female in North America and she can rival any world wide.
This is an extremely powerful and agile female. She is big, almost the largest female I have, Kalia is still just a little bit larger but not for long as Luna now muscles in. Her frame size is based around the Swedish style and she has the thick big power from her Grandmother Kamp.
As most of you know, Kamp was 64 pounds of solid muscle, and true powerhouse ancient lineage big girl and Luna has taken all of that genetic material and used it.
Your going to get a magnificent pup from Luna and Pretty Boy Leif. There is no end to genetics on either side, it's simply amazing how many great dogs line up the background of these two.
I have a great photo gallery of her assisting me as well in the Desna work: Click Here For The Photos of Luna
I have a video of her assisting me training Osa and Koda, sons of Leif and Tika, enjoy.
Vida - Sister to Luna - She will cycle after New Year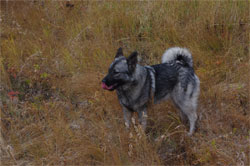 Vida is going to be cycling in the early part of 2019. This is a stunning sister to Luna, equally as good as her and without question one of the very best females in North America. This is a very good genetic female as she is an outcross female to lots of Elkhounds in North America. So Vida can work with Tuva's son Torleif, Tekla's sons Loki and Vitnir, and of course Pretty Boy Leif.
So our plans so far are to use Torleif this first litter. It will be a truly amazing pairing as that is literally all our best genetics in one package. Quite amazing really. The pups from this combination are going to be incredible.
Vida is the very best recall dog on the planet, no kidding. If you have ever seen her on the video's watching her work you know what I mean. This is an extremely skilled off leash dog. There would be literally no off leash dogs anywhere any better, and that takes into account all the Elkhounds worldwide. Go figure that one.
So yes, contact us, we have a waiting list, but reach out to us if you are wanting an Elkhound of the extreme upper end.
Phoenix - Sister to Tekla and Tuva - Daughter of Kamp and Jaegar - She will cycle after New Year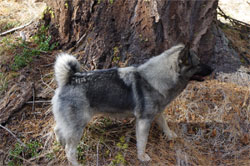 Phoenix is going to be cycling after Vida, about that March time frame. This is another stunning female. For those of you who have been around our site a bit you know her sisters, Tuva and Tekla. And you would of course know her famous father, Jaegar man himself, and yes, her mother is Kamp. Can you imagine the pups that Phoenix is going to be having when we mate her with Pretty Boy Leif.
I can hardly wait. Oh my goodness they will be amazing. Combine that big power of Jaegar and Kamp together with that fancy show package of Leif, Wow. What stunning pups.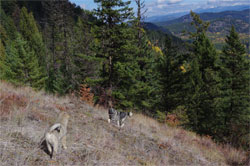 Phoenix has been a great help this fall as she has taken up some of the slack in the Desna training program when MANE was hurt. She is a seriously good working Elkhound of course, her dad is a machine and so was her mother. Phoenix is shown here Timber and Echo up in the high country.
So by all means contact us on the litter from Phoenix it's already filling up fast so don't hesitate to reach out to us please don't leave it too long.
Tyko - A stunning son of Jaegar and Kalia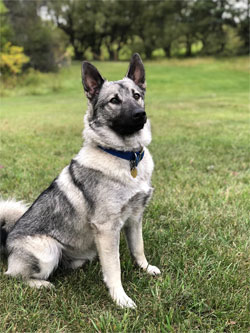 Sharlene and Wayne have two great children, Lauren and Connor. They have been raising this magnificent big fella named Tyko. This is a son of Jaegar and Kalia, he is around that year old mark in the photos. What a great fella. I want to Thank all of them for the awesome home they give Tyko, the great care and attention, and of course for the super update on that big fella, keep us posted.
I got this neat update from Sharlene on this rascal.
"Hi Merv,
Tyko turned 1 year old in August!

I think in my last update message I mentioned that Tyko had a bad parasite infection. After a lot of consistent treatment with a new de-wormer, his health is excellent again … and we've learned to keep a close eye on him outside because he's a sneaky little poop eater! I've attached some 1-year old pictures of him so you can see just how healthy and handsome he is. Everywhere we go, people stop and admire our beautiful dog. Feel free to use some of these lovely photos on your website, if you want to.

Tyko is really bright. He has been super easy to train from the day we brought him home. He always works really hard to please us and wants to do the right thing. Often he anticipates what he's supposed to do. Very rarely do we have to tell him 'no.'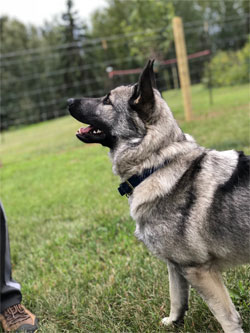 I also can't say enough about Tyko's calm, loving temperament. He has totally bonded with each of us and is sensitive to our emotional states. He senses when to snuggle, and when to run and jump and play. A while ago, Lauren had a really bad asthma attack while we were hiking in Jasper and needed emergency treatment. As we made our way down the mountain trail with Lauren on a stretcher, Tyko was very concerned about her. When we got down to the ambulance, before we knew it, he actually jumped into the ambulance to try to stay with her. The amazing thing is that he doesn't like steps – Wayne always has to carry him up new steps until he gets comfortable with them!

This summer, we attended a dog training class, both to keep building obedience skills and for safe exposure to other dogs. The trainer, who also is involved with therapy dogs, has asked us to consider taking therapy dog training with Tyko. That's just how special he is!

He is such an awesome young dog, we feel really lucky that he's part of our family. When people ask where he came from, we let them know about Kamia Kennels and the great dogs you have. Thanks so much for choosing Tyko for us!

Take care,
Sharlene, Wayne, Connor and Lauren"
Shorty, resting after a big hike at Harrison Hot Springs on a goat trail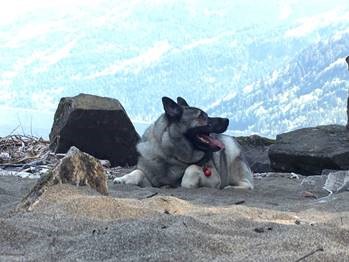 I am always excited to hear from Teresa and Darren. They have provided an awesome home to Shorty. Now for those that don't remember Shorty, he was the first stud dog we brought in for an outcross, before Leif. An awesome solid male, same genetic lineage as Pretty Boy Leif, same breeder in fact. However Shorty had a glitch in his semen just some thing that he was not able to reproduce. Awesome fella and we loved him, but we just were not going to be able to use him. So we spent quite a bit of time finding just the right couple for him. Teresa and Darren had a great male before and when he was gone they were looking for a nice mature fella. They are active have a ton of things on the go with Shorty all the time and always keep us posted.
We want to Thank Them immensely. It's a hard thing to rehome the mature dogs, and Shorty and I we got along really well. He was a great male. So I am so please to have him go to such a great home. I have been meaning to get some of the updates on Shorty up on the site and finally getting around to it. So once again A big Thank You to Teresa and Darren, please stay in touch, Shorty looks awesome.
Cinder - Full Sister to Kai and Tika - Daughter of Tora and Bram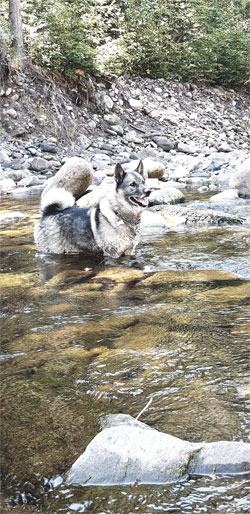 As we have been talking a fair bit about the two sisters Kai and Tika, especially since we still have 4 of the boys from Tika here doing the Desna training it's really cool to get a great update online of another sister of those two.
This beauty is Cinder, Wow, did Tora and Bram ever put together some females. The finest collection you'll ever see. Look at that stunning female, my goodness.
These are the big working girls, no fluff, no fancy care, put em to work boy and they love it. They will look after you, care for you, and be the best pal you'll ever have.
Christy has Cinder over toward Fernie, I need to get over there one day and visit. She sent me some awesome photos of Cinder and a great update. I sure do want to Thank her for always staying in touch, and of course for the amazing life and home that Cinder has. So Awesome.
"Hi Merv!
It's been awhile since I've sent photo's of Cinder.
6 1/2 years old, and one of my best hiking and running partners 😁
She's saved me from a charging moose, and I know when we're outdoors she's got my back.
She's very loyal, very fun, and has a cat as her best friend 😉
Cinder is amazing with children and super protective of babies and "her" kitty Rogue!
Also, miracle of miracles - she's become quite fond of water!
We love her to bits and pieces
Christy"
The Fancy Daughter of Kai and Leif - Tekla out in Ontario
This is a very showy female from Kai and Leif. You can see she has all the great traits of both those two world class parents she has. This is Tekla. She is out in Ontario with Julie. Julie keeps me posted on her developments and gives her and awesome lifestyle.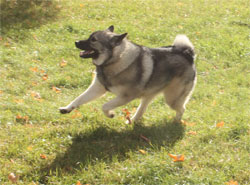 Now when you combine that big raw power that flows down through Kai from her mother Tora, and you get the good thick build of Leif you can end up with these fancy powerhouse females like Tekla. Look at that coat, those markings, have you ever seen a tighter tail curl, I think not!
What a stunning female. A big thank you to Julie for this awesome update and please keep us posted on Tekla, you are doing a magnificent job with her. Thank You!
"Hi Merv, just thought you might like to see Tekla, from the litter of Kai and Leif in September 2017. She is a fine spirited, very very strong one year old and is keeping the squirrels out of her domain.
She is very affectionate, which we appreciate, and she is certainly keeping us out walking as she needs a lot of exercise.

Cheers, Julie Culshaw"

Signi - Daughter of Kai and Leif - Sister to Tekla above, different litter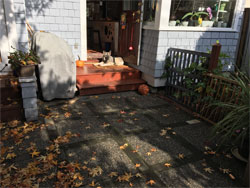 The other amazing female is Signi, Jennifer had sent some updates a while back and I just got another great update on Signi. What a beauty queen she is turning out to be. Wow. These are awesome family dogs, they are full working dogs so can mix and match with the family as it happens. Very versatile dogs. Jennifer, please keep us posted on Signi, or Whiskey, Puff etc. Too Funny.
"Hi Merv,

Here is our pretty girl. Tait and Bianca have now nicknamed her 'whisky' so she has to endure a few different names now including 'Puff' ( for her puffy tail) and most frequently 'Puppy'. Luckily as you probably know she basically tolerates everything we throw her way ( I'm pretty sure her name was also Cupcake for a few weeks). This is her favorite spot - to chew her bone on the back stairway. She loves to lie outside but only if the door to inside is open so she's not 'shut out' from the family. Which I allow when it's warm enough to keep the door open. If the door is closed she rings the bell to be let out but if I close the door she barks to be let back in until we settle in the door open! Not sure how that will work out in December - hahaha.

We met another elkhound in our neighborhood - also one of yours but from 6 years ago. Will try to get a picture of them together and send it your way.

Best,
Jennifer"