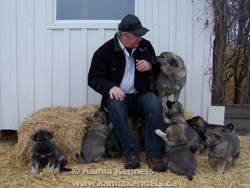 Tora clues me into the rules
Tora and I we get along, she listens to absolutely everything I say, however when it comes to her pups, she has some ground rules, and make no mistake, I pay attention. Basically it goes like this, don't be messing with these pups Mister. I'll be watching, and if one of these rascals so much as squeeks, you may be a one armed paper hanger in your next career.
Nah, she is pretty good, but I never have to worry about anyone else getting in there without me, that's pretty much a given. She is a good momma that Tora. Tora had 9 pups this litter, her second, and Wow, again some terrific pups. Her and Bram can really combine to produce some very good dogs. The old saying is the more protective the mother the calmer the pup - they have less to worry about.
Since I originally put this up I have place a great gallery online of Freyja Elkhound Female, it's awesome.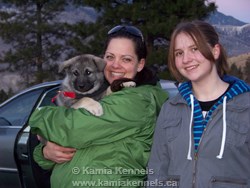 Smiles all around when Gryffin showed up
Carrie and her daughter, Kelti anxiously waited till I got to Kamloops with the big fella Gryffin. He was a huge success, they loved him, no doubt. They were previous Elkhound owners, and this was the replacement for a big old boy, and Gryffin is fitting in perfectly.
Hi Merv, an update on Gryff "He settled in immediately and has had several milestones already. He is fully house broken. He whimpers at the patio door when he needs to go out and if we don't hear him, he comes and paces near us and whimpers. He climbs stairs...up! Down we are still working on! He sleeps most nights about 6 hours. If we let him out about 11 pm he doesn't wake up until the alarm goes off at 5pm. The odd night he has wakes up to go out. He lasts about 30 minutes on his leash and then he gets completely impatient and wants off! He rides in the car without a lot of fuss. He really doesn't like it and can't wait to get out when we reach our destination.
Thank you so much for all the work you did with the puppies! It definitely paid off! I will continue to send pictures and updates so you can see what a beautiful dog Gryffin is!"
Cheers
With much gratitude
Carrie, Craig & Kelti Neal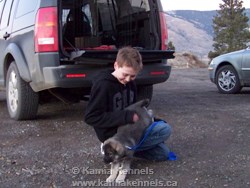 Chris and his new buddy, Loki
Chris was also waiting patiently in Kamloops they had drove up from the coast to meet with me, Chris and his dad Tony were at the bike ranch with Carrie and her family and Loki was immediately best of buds with Chris. This is a great thing to see when a young boy gets a new male Elkhound. He will be able to go all through school with Loki as a sidekick.
Loki was very nice fella, even tempered, easy going, nice and solid, a dark male, he will be an amazing male full grown. He has it made out there.
We sure wish to Thank Tony, Mary Lou, Chris and the entire family for the great home they are providing Loki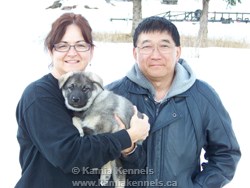 Jackie and George finally meet Kage
We find that a lot of our folks who come to us, come to replace a good old Elkhound and they are looking for another good boy. This is a situation exactly like that. George got ahold of me just a little too late on the first litter of Tora's and he was patient and waited till she had the second. He had some qualifications for Kage, mainly, he had to be fearless, as they have some bears come around the acreage where they live, he had to be easy going and not a trouble maker, as they have neighbours, and other dogs coming through.
Most of all he wanted a personable dog, as both Jackie and him wanted a true companion, a good loyal friend. Kage filled the list with ease, he is from an old line of bear hunting Elkhounds, so fear is none existent in his lineage. He is a grandson of Takoda, who is one of the most personable lines there is, and he is out of Tora and Bram, as stable a pair as you can find, which gives Kage his nice steady manner.
He has a new buddy out there already, an old retriever who has a fair bit of trouble seeing, so Kage can watch out for him.
We thank George and Jackie for the confidence they put in our program, and the patience, for sure, and we know Kage is in great care.
Kaia - Female Elkhound
It is amazing that in the space of 12 months, Tora and Bram had all the new pups featured on this page in the hands of the new owners, as well as the previous litter, of which this magnificent female was one of. This is Kaia, down at her home in Colorado, right at a year. You will be a long time, if ever, finding a better female than this girl. Paula and Steve have done such a wonderful job with her. She is a proud, clean, big strong female, feminine, yet not some dainty little baby, she could whip ole Takoda into shape if he got out of line. This my friends, this is an Elkhound.
A person might not know a thing about great features, maybe nothing about style and personality, strength, endurance, fearless nature, stance, build, structure, confirmation or many other aspects, but anyone looking at this girl can immediately know, Wow, that is a great dog.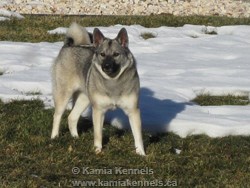 Big Silver Female - Kaia
As Tora and Bram are both very strong lines, each brings some outstanding qualities, but one really important aspect is that they both combine to produce a better dog. A dog like Kaia, a female that has the stamina to hunt and hike day in and day out. A fearless protector with no end to courage. A sharp attentive active female, that loves outdoors. The big shoulders provide the rebound and bounce strength the Elkhound is world renowned for, the powerful hind quarters propels her up and over brush, and deep snow and rocks and powers her momentum. She has endless lung capacity, and bone breaking jaw strength, as a true generational raw fed female, there is no decrease in bone density or size as you can easily see, most males don't have the development she has.
Bram puts a tight curl on his pups tail, Tora pack on the muscle and shoulders, and both combine equally to create a very well balanced square profile elkhound. Bram puts the high energy, Tora brings a little mean.
I know there are 3 more big girls coming up from this latest litter, and I know that Freyja, she will be much the same as Kaia, I can't wait. I sure wish to thank Paula and Steve, they sure do a good job with Kaia and I really appreciate all the updates and the great photos.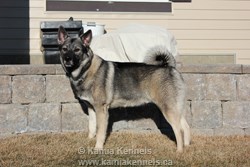 Ryker - Another Bram and Tora Son
It would be safe to say, that everything good I said about Kaia, I can again say about Ryker. Without a doubt a very impressive young Male. He stands here at just a year as well, again, out of that first litter of Bram and Tora. This is the full male version of all you can be Elkhound. Again, Bram wrapped up that tail nice and tight, and he stamped his black mask on ole Ryker serious like. You really wouldn't want to sneak into his turf in the dark now would you?
Ryker portraits all the old world traits, starting right at his big black muzzle, heavy powerful jaws, black ears and he has the nice wistful look of the intelligent dogs they are. Again, a powerful set of shoulders and flat back and stomach, big hindquarters. Our many thanks go to Amber and Chris for giving Ryker everything he needs and such a great life, and also we really appreciate all the updates and photos, it's really neat to follow these guys through.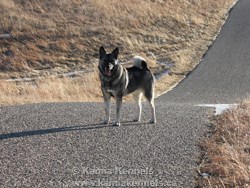 Ryker - Male Elkhound on the trails
"Hi Merv,
Well considering it is Ryker's birthday I thought I would pass along an update of our wonderful 1 year old puppy. He is doing really well, and we can't believe he is already a year old! I know you always say it is hard to catch these guys standing still, so I attached a picture for you of one of those rare moments. This picture was taken about a month ago in our backyard (no snow in January!). He was doing his "security rounds" as we call them, walking in circles around the yard and letting out a bark every once in awhile to make sure people/other dogs knew he was around. Something caught his attention and he stopped and I was able to get a couple of pictures! He has a very nice stance in this picture, he's a strong boy (we call him a tank) and he continues to put on muscle. He is weighing in at 65 lbs right now, with the top of his back coming up a couple inches above my knee, measuring about 22" I'd say.
There is another picture of him at the off-leash park, and one more of him in the backyard relaxing. I love the look on his face when he is just relaxed in his own environment - so wise looking! He's doing pretty well with his commands, and around the house he is a great listener, although getting him inside is tough sometimes. We're still working on recall but as I have learned from your videos and articles they are a stubborn breed! I know he always hears me, but most of the time the field mice win and he comes when he is done.
We absolutely love Ryker and are so glad that we found you guys! It is easily the best part of my day coming home to him after work, he is so loving and just a care-free happy dog all the time. He is definitely mine too :) He picked me over Chris and there are cases when you can definitely tell!
Hope everyone there is doing well, have a great long weekend!"
Amber and Chris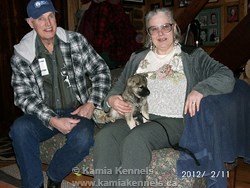 Nola, with Linda and Darrell in her new Montana home
As you can see here, Nola is doing just terrific. She is right at home with Linda and Darrell down Montana way. Linda is an Elkhound handler and trainer extraordinaire. She has raised Elkhounds pretty much her whole life, has won titles and shown many dogs, and trained them very well. She went out of Elkhounds a few years back and after a time decided to get another, she spent considerable time looking. Finally she found us. She was pretty pleased with our program and she wanted an Old World dog, a direct lineage from Takoda. As luck would have it, Nola was about to be born. We didn't know the struggle that little Nola would encounter, but Linda was very understanding and patient and supportive.
As you can see Nola is down keeping an eye on the bears and raccoons coming through, and about to put the run on pretty much anything, she has the same amount of mean as Takoda has, in her little package, she snarls meaner than a cut cat, but is truly a great girl. She is a full sister to Shasta, the female pup from Mia and Takoda earlier litter this year. Shasta and Nola are pretty much the same in personality.
Linda and Darrell are great folks, we had a terrific visit at Fernie when they came up to meet us, and Nola she was a big girl, traveling with Freyja and Cinder all through the rockies on the way, never caused a minutes trouble.
Linda says she is already guarding well, and tearing up the rugs and laces, pretty much any toy gets a thrashing, basically ole Nola is living large. Darrell figures he might be able to hang up the old 30-30 lever action now that Nola is providing a hand in looking after things.
I really wish to thank Linda and Darrell for the confidence in our dogs, and the patience and understanding they shared with us. It is a real pleasure working with such great folks, and I know Nola is in terrific hands.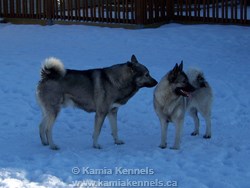 Takoda and GÆDA - New Female Elkhound
Mia has retired and Takoda has been patiently waiting for a new female. This time round we have been searching for the old strain, not the coastal region dogs, but the taller, longer cast type, more in line with his roots. As you are all aware they are not found too often, however we have been fortunate this year. A while back I received a call, a lady, former elkhound owner and breeder for over 30 years contacted me. She had a young female that she felt would fit into my program. She was going to use her and had planned a mating, but alas, her male was just a bit too old and they didn't mate, and so she decided to contact me. She knew we would be interested in this lineage. She knows the old lines and offered the female to us in our program.
We have GÆDA at home now, I have renamed her GÆDA to signify her wandering spirit, she is going to carry on a great Viking heritage, I felt she needed a good Viking name. Her genetic make-up, although not as unique as Takoda's or Brams, is still pure, and she has the great background, and it is an outcross to our lines, so pretty special.
I have two great Elkhound Pups featured from this combination quite a few years since I first put this article up, it's our December 2015 newsletter and features Desna and Nalla. Stunning Elkhound Pups, check it out.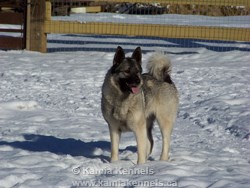 As we can use Takoda, Bram or Jaegar with her, all three are outcross to her, it does give us some very powerful options. Mia is happy to see her, finally Takoda can hang out with someone and give her a break she is thinking. Tora on the other hand is a bit put out. GÆDA is a big girl, and she settled in right away, so Tora isn't exactly taking her bone away. Both GÆDA and Tora are light right now, GÆDA was not fed raw, although she was on raw first day here and loved it, but she needs some conditioning, along with Tora of course who just weaned off. We had some battles getting everybody introduced, some new scars, no Elkhound backs off, especially old lines, so obviously I need some new gloves and coveralls, but they are all getting along just fine once we sorted everything out, who's dish is who's, who sits next to me where and so on.
So, both Tora and GÆDA are pretty much the same age, with GÆDA slightly taller and longer and could potentially muscle out with work to as thick as Tora, so these two girls will be a big handful for me. GÆDA has some terrific bone structure, she is just a bit light on muscle. She has the big chest area, strong hind end and is a classy female. She has the dark paws and darker face, light underside like Takoda. The pups from this combination will be all like Jaegar and Nika, all running to the larger end of the spectrum. I am pretty excited about GÆDA, for sure, and I know I have families who have been patient for me to find a big old line girl for Takoda as well. They will now be able to get a big Swedish Grey they have been waiting on. Pretty neat indeed.
As of March 1st, 2016 I have two of the big boys of Jaegar and GÆDA here for some training, Bane and Havoc. These are awesome Elkhound Pups.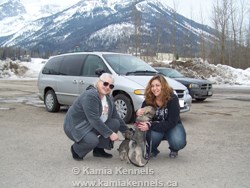 Linda and Nola, alongside Christy and Cinder
It was a great meeting at Fernie, Linda came to get Nola, Christy lives in Fernie, so she came down to get Cinder, and her family came as well. Cinder is the first of the dark faced females from Tora and Bram. She is going to be one of the nicest looking females you could imagine. Christy already emailed and Cinder is settling right in. Cinder was a quiet girl, not as outgoing as Freyja, but a personable girl, and totally fearless. She stared down her Grampa on more than one occasion.
Cinder will have a great home with Christy and her family, she really took to the young girl, I did not get a good photo of that, but they will send me some and I'll get them posted. A huge thank you to Christy for working with us to provide a new pup for her family and for providing a great home for Cinder to grow, there is hardly a better place for an Elkhound than around Fernie, it's beautiful down there.
I recently put a new update on line at our Elkhound Adventure site on Cinder a terrific female Elkhound.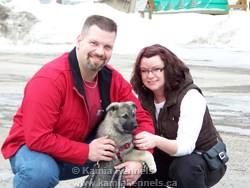 Clint, Amber and Freyja - Swedish Grey Female
Sometimes things occur and you wonder exactly how it happened that particular way, but let me share with you this event. I had been holding Freyja on a loose leash, we were all waiting for Clint and Amber to come, Nola was with Linda, Cinder with Christy, and Freyja was looking around, pretty relaxed. Then Amber and Chris stepped out from behind a truck, quite a ways away, and Freyja took one look at them, they smiled and she took off, straight like an arrow for them. It's like, she knew that is who she has been waiting for.
It was pretty awesome for a fact. Things like that are so neat to see. Amber sent this great note: "I can't believe what a good, calm girl she is though! She is getting a lot of playtime with the kids, especially my 11 year old son. Saturday night when he first met her, he came outside with me and had tears in his eyes and said, "I love her so much Mom! I really needed a dog like this." It completely melted my heart. The two of them have spent a lot of time running around the back yard together. I took her to our vet yesterday. She weighs 14.6 pounds. Everyone there was super impressed by her demeanour and how beautiful she is. We are so very happy with her! Thank you so much for placing her in our family!"
Well a big thank you back Amber and Clint, we appreciate your confidence in our program, in our dogs, and we are proud to say we have placed the nicest ( probably the only) Swedish female Elkhound in Washington State to the nicest family there. This is an awesome family dog.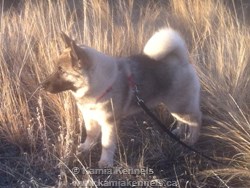 Kamp is a beauty
My son Jay, he has Kamp out with him in Kamloops, at the Northern tip of the Sonoran desert, dry and warm already, no snow, Kamp is feeling left out with no snow, although she loves it there. He takes her to the bike ranch where they hike and burn around. She is a beauty this Kamp. I got to see her briefly when I got to Kamloops with the pups, Loki and Gryffin. She will be a terrific female for Jaegar, truly an awesome pair. She is a calm female, very agile, but watches what is going on around her. Not prone to getting too worked up about anything.
I can't recall what Jay said she weighed but I mentioned to him to not be shy, be sure she gets enough to eat, especially with the activity level he would provide. Kamp is an old line dog as well, her Grandfather is from Norway on the mothers side, the mother is an old girl, Kamp was the lone pup. Very similar to Nola and Mia, same scenario. You tend to get cranky pups from single litters to other dogs, they have less tolerance for other dogs shenanigans.
Kamp gives us tons of potential as well, as Bram is also an outcross to Kamp, not only Jaegar and Takoda, but him as well. It's a pretty exciting time these days, we have worked hard to get some good dogs, and looking at Freyja and all her litter mates above, and GÆDA, and Ryker and Kaia, well, you know the future of Elkhounds is doing well.
Check out a recent update since I first posted this on Kamp a beautiful Norwegian Elkhound as of Feb 2016.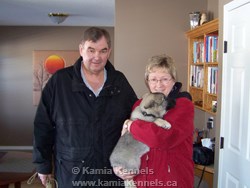 Kaia Female Elkhound
It was a quite a time with this litter, a very nice family first took Totra, things beyond their control changed the situation and they asked if we could place her to another home. I suggested no problem, I had a couple on the list from Calgary area that were previous Elkhound owners who had lost their old boy and were waiting for a new female. It all worked out. Kaia is now playing and burning around, as Dianne put it Queen of her domain. She will be spoiled this girl, you can bet on that.
Jayeson and Dianne had thought they might have to wait a year, they thank Mandy and her family who previously had Totra for the great care, and they will provide a great home for her, they were thrilled to get a call suggesting that a female was coming back for placement. Our thanks to both families, it was great working with all of you.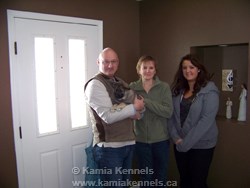 Kobe, Male Elkhound with Henry, Elena and Lana
As different a time as we ever had this litter has already produced a few twists and turns, this story adds another. Henry had been following our program for a long time, he really wanted a big Swedish Male for hiking, and back country trails and work. He is an avid outdoorsman, and knew the value of the big greys. He contacted us a well in advance, made a trip up and with his family and sister, they spent time at our home and were a big hit with us and our dogs. They made the decision to wait for a pup from Takoda.
As you know, unfortunate as it gets, that big male didn't make it. Henry was heartbroke, me as well. As things have a way of working out, the rankest male, the toughest rascal of Tora's, the most like Takoda, was going to a bear hunter and country hiking man, Gustav. Well as it turns out, Gustav had to make some changes to his plan as well and had to put off getting his boy right away, so asked if I had someone who could take that rascal, I said, I have just the family. I called Henry and he was thrilled.
It's one generation removed from Takoda, but every characteristic that you want in a bear chasing, cougar scrappin, badger killing Elkhound are in that boy of Tora and Bram's, his name is Kobe. Henry is the right guy for that boy, as he is a handful. Elena better put her good shoes up, as if he is like Tora, he can be quite surgical with laces and such. Our thanks to Henry, Elena and Lana for providing such a good environment for Kobe to grow and develop.
There are many updates on Kobe over the years from Henry, please check out the page for Kobe an Awesome Elkhound.
Ian and Wyatt at the Calgary Airport
The next two folks getting the new pups went to some pretty fair travel plans to get their boys, and we take our hats off to them. Ian and his wife Allison have a great family out in Ontario, outside Ottawa and they wanted a nice steady dark male. Ian contacted me well over a year ago, we went over what he was after I mentioned I would be in touch once the litter was here. I lost track of his number by some mistake I made and I had to search the Internet for him, just like he did to find the kennel, funny how that works. Luck was on our side and when I told him I had the big fella on the ground, he was so excited. Him and his wife Allison are going to be terrific handlers.
They sent me this video which features Wyatt just after he got home on his big plane ride, and the two girls, and it is such a great video, they are so excited, I wanted to thank them again for that, it was terrific. Allison is really someone who gets right into details, and she asked me so many good questions, I am going to have some new articles up soon, just based on the questions she asked, as it made me aware, that more people would like to know some of these things, more on tips about feed, care, training, etc. So it also confirms the great care that Wyatt will be getting.
Now, Ian, he did a great thing, and for those of you from a distance, this is a tip that I gained from Ian, he booked a flight well in advance, as he knew the delivery date of course, and he ended up flying in on one airline, waiting a couple hours, met with my wife Marlene to get Wyatt, and then flew back on another airline that had a direct flight. He was home for supper with his family that day, and ole Wyatt, he slept through the whole flight. Now, Wyatt, he flew in that little kennel right in the cabin under his seat. Ashten our daughter has done this with Jaegar a few times, and now Wyatt, so it's pretty easy to come from a distance and get one of these rascals.
Wyatt is a big black, he was one of the bigger boys, steady as a rock, he will be big like Ryker, and dark mask, dark Silver, with plenty of mean to keep Ian and his family safe should they be hiking around some black bear country, which is totally possible in Northern Ontario. Ole Wyatt, he won't take kindly to no black bear hanging around, and will put the run on him. Our big thanks to Ian, Allison and family for the great home Wyatt will have.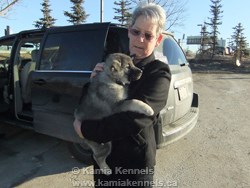 Norma and Finn, a really nice easy going Male
Norma also flew in from the far west coast and met Marlene at the airport to pick up Finn. Norma contacted me a long time back and wanted a quiet dependable Male, as they had lots of grandchildren, and wanted stability in the pup and steady nature. I watched the pups, Tora is a steady girl, nothing rattles her at all, so you always get steady pups from those types of females, and the more protective the female, the easier going the pup, he has even less to worry about. So I watched and Finn easily showed up to the best for them. He was my buddy, never failing to come and greet me, always a nice fella. Him and Freyja were pretty much the same personality, this will be a really good male around kids.
Finn is a little bossy around the old dog they have though Norma has said, she emailed to let me know that Finn plans on keeping order around there and if there is a bone to be had, well, he will have it she says. Wonder where he gets that from? I know your thinking Granma Mia, same here! A big thank you to Norma and Steve for the patience they had waiting for Finn, and for all the West Coast lifestyle he is about to have. Think Salmon Finn!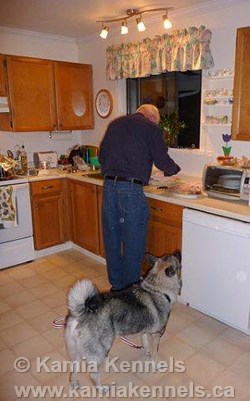 Ken and Cypress ( this particular photo is only this size)
Cypress is a beautiful female sister to Kaia, and Ryker, and is from that first litter of Tora and Bram's. Cypress has the Silver Black of Tora, with the top coat black like Bram. She retained more physical characteristics to Tora, and is a beauty for sure. Ken had these find comments to share. A big thank you to Ken and his family, they have given Cypress a great home.
"Hi Merv and the best of the new year.
Unfortunately we don't have a lot of pics (I'll send some in a separate attachments) but I report that all is well with Cypress. She is growing nicely and shows very good intelligence and physical properties. Her appearance is exceptional as elkhounds go but most importantly she has grown to be an integral member of this family. The only problem is I would like to retire so I can spend more time with these two dogs. We regard her as a puppy still but she shows qualities of an adult elkhound. She is fascinated with birds and studies them in flight and on land and water sometimes from great distance she will tract a bird in flight. She watches TV with us and but unlike Nala just flash a picture of an Elk, Moose, Deer and she is at the screen on attack. Now interestingly enough both on tele and in real life she seems amazed at people riding on horses and she is calm when they pass us. Cypress will put the min pin on the ground if she is out of line (which is much less these days). Best trainer title too. One problem was Cypress decided to eat every blanket and dog bed so they are all removed when she is around in the day. At night she gets a bed which I remove in the morning before our walk. The min pin used to tear out stuffing too until her teeth settled and I can see this happening with cypress to. She has antlers, nylabones for extreme chewers, leather chews and a variety of other non-destructible items too. She destroyed the largest TOSS KONG made of fire hose in less than five minutes. Her teeth are like scissors and she can cut fabric with little difficulty. Oddly riding in the back of the 4 door pickup (this is the dogs area - seats are folded rubber mat and carpet ontop with blankets to lie on there is no such behavior. I guess its anticipation for where we are going - who knows but with the small seat down for the min pin to stand on and the elkhound cuddled up it's quite cool. Oh she is a very friendly confident dog with people and other dogs. Loves chasing squirrels and if I wasn't watching would probably be kidnapped by her many admirers.
You have done an excellent job Merv and I thank you for Cypress.
All the very best to you and your family for now and the future. Ken"
All in all a pretty neat bunch of pups, lot's of different adventures and fun, we are already getting some great photos of the pups coming back in and we have more updates planned. Recently got another great update from Ken on Cypress in late 2015 check out this Norwegian Elkhound Female fishing in the Pacific.