A Huge Thanks to Henry and Elena for providing such a great home for Kobe, and also for sharing all the updates and some serious amount of incredible photos, wow, we appreciate it.
Click Any Image To View Full Size On This Page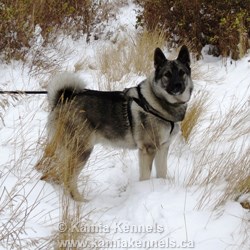 "Kobe, A Magnificent Male Elkhound"
It takes a seriously good dog to stand out on this website, the entire site is devoted to superb Elkhounds, however, your looking at a Magnificent male Elkhound, Kobe, owned by Henry and Elena Belik.
This is an old world male, he is a big boy out of Tora and Bram, he is pictured at one year. I am going to be doing a full write up on Kobe, Henry has sent me some truly awesome photos of his first year, and a great write up recapping the first year at his new home, but wanted to get this page started, as I created a new video for it from the spectacular photos Henry and Elena sent up.
Henry and Elena have taken some truly spectacular photos of this big fella.
All the credit for this terrific video goes to Henry and Elena, they spent a year assembling an awesome documentary of this big fella, way to go!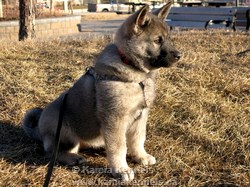 Well, Well, Well, it's a fun day at Kamia Kennels when you get photos of the pups as they are growing, and let me say, I got some dandy's from Henry and Elena. Now, I know how difficult it is to get photos of these rascals, I take a lot of shots and only a handful turn out each trip, some trips, none, so I know the effort that went into getting these, and so do all the other Elkhound owners.
Also, we are all well aware Henry is in the photos a good percentage, which means Elena, you most likely are the camera expert, so a huge thank you to Elena, and Henry, both of you, these are some great photos.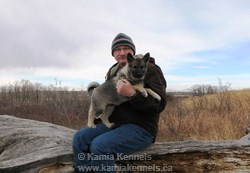 Now, I have a story to tell, and then Henry has a great update to share, but let me fill you in on a couple details first. Henry contacted me a long time ago, long before Kobe was born, he said he had been following along the Kamia site for over a year, reading the stories of the dogs and listening to the other owners. He had been researching breeders and dogs, and kept coming back to the dogs on Kamia, lot's of the stories from the owners, and our dogs was appealing to him and his interests. It's neat to hear how the folks watch dogs grow and develop, then contact us, so a huge thank you to all the folks who continue to share, so that folks like Henry and Elena can get a great dog as well.
Now Henry and Elena came up to visit, meet with us and see and get to know the dogs as well. They decided to get a brother to Jaegar, a son of Takoda, it was a great decision of course, it would have been a magnificent big male. As you may have read, it was not too be, his male was one of the two that we lost in the last litter Mia had. It was devastating, both to me, but more importantly to Henry and Elena. We had no other males left. It was awful, I hated to share that information with them.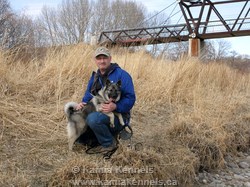 Now, as it turned out, and go figure, things have a way of sorting themselves out, a noted hunter and guide and outdoorsman in BC had spoken also for a Male, only from Tora. He also had waited a long time, he wanted the toughest rascal we had, a real outdoor Male, big fella, vocal, rambunctious, well, this was Kobe. I had selected all the males for the owners, and notified each, when as you guessed it, this gentleman phoned and apologized, but things had changed in his life for the time being and would it be possible to get one in the next year or so instead, would I have a home for Kobe. I said instantly, no doubt.
I immediately contacted Henry and gave him the good news. Now, as you can guess, Kobe is practically a brother to Jaegar anyway, even though Jaegar is his uncle, they are pretty much the same. Kobe was a rough and tumble big boy, and had all the characteristics Henry had wanted, it is to coincidental for these things to occur sometimes, Kobe was the perfect pup for Henry.
As you can see from these photos, they have a bond that is rarely seen outside the Elkhound breed, and, in our lineage of course, the bond runs stronger than all lines, due of course to the Takoda genetics.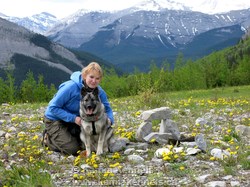 Kobe is a son of Tora and Bram. Tora and Bram have some of the very best males in Canada, in fact it is no doubt they have some of the very best in North America, you would be hard pressed to find a better male than Kobe. I want to share a couple things about ancient lines as Kobe is a perfect example of a clean, exact specimen, a perfect Elkhound if you will. So I will use this great opportunity to share a couple things.
In the old lines like ours, the genetics have been changed way fewer times - Takoda's father for example was an old male, his father, again, an old male. This means fewer chances for the blueprint to be altered, Tora of course is a pretty much and ideal old world female. Now, on Bram's side, again, his genetics are old world, some of the most famous of the Norway dogs are behind him.
Both sides have all instincts intact - all characteristics, behaviours, naturally occurring bred for centuries behaviour is right on the surface, not buried deep. No show lines either side, no baby dogs, all full working in your face hunt all day, fight all night lineages.
These lines were bred for thousands of years to work with the handler, protect the handler, communicate, scout, recall, yet always be alert to danger, and pay attention, yet be independent to make decisions, with great skill and intelligence, combined with an absolutely fearless nature.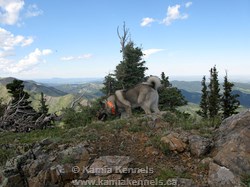 These old lines the boys are big boys, they are agile, they are muscled in, they have huge deep chests, can run for days, no end to high altitude stamina. The old lines have compact feel, beautiful coats, the big muzzles, the big hindquarters, they can jump onto things you wonder how did they get there. Take a good look at this boy Kobe, you could not find a fault with this big fella. Everything that was sought for centuries in an Elkhound is stareing right at a person in these photos, he is an amazing big fella.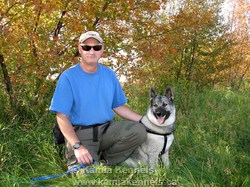 Hi Merv,
It's been a while since I sent you an update, and being its Kobe's 1st birthday what better time than now to let you know how he's growing and developing. In a snapshot he is intelligent, observant, talkative, patient, protective, playful, and stubborn, not necessary in that order. He is developing great characteristics and still knows how to turn on his puppy charm when needed. Right now he's at 22 ½" high and 60lbs, and now that he is 1 year I call him "my big boy".
He is quite the independent little guy right from the start. Wanting to explore and discover everything as he travels along. Both in the city and in the mountains I have always given him a little extra leeway in his exploration. By giving him a chance to explore and see everything around him he has developed a keen sense of awareness and does not miss much on our walks. He has a very keen nose and not much gets by him. It takes very little for him to get on a track and follow it. I think all this has helped him develop his confidence and knowledge as he goes along. Now the flip side to his, he can be quite stubborn at times when I want to move on and he thinks otherwise. A few quick sharp whistles or words from me and he gets the point to come along, well most of the time.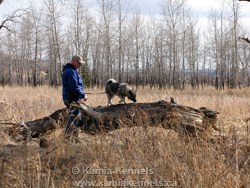 Ever since he was small I have taken him along game trails and "bushwhacking" through the thickets and timber as we go. Not following too many paved trails or walking trails. Getting him to crawl over and under logs, over and along the top of rocks, everything I could find different so he can develop is knowledge, agility, confidence and coordination as he moves through many obstacles. At times he moves so fast he's like a rabbit moving through the bush. I am not sure if he is after some thing or on a hot scent. Then at the next moment I see he's standing up on a log half way up a tree. He stops looks around to locate me then jumps off and he's gone in a flash.
Now I can easily say he will follow me almost anywhere and he can think his way out of most jambs that he been in. It took a bit to get him use to water; but now he will run in up to his belly but no more. On a few hot days this summer he runs into the river up to about mid chest.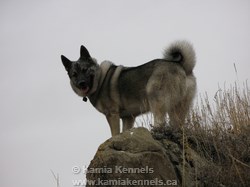 He is developing a good sense of what is around him and I see improvement each time we are out. He is developing very good hunting skills and several times I have to call him off a good scent knowing that he still has a lot to learn and I don't need him heading off over the top of the next mountain.
Now being as good as he is he still has a lot to learn. He still pulls like crazy on leash when we meet other dogs. He is not aggressive toward them he just wants them to stop and play. He is quite the vocal guy about everything. Most times this is controllable as long as he does not get too wired up. He also gets jealous when I spend time with other members of the family or even the cat. He is getting better as he matures and these things are all work out by the end of the day.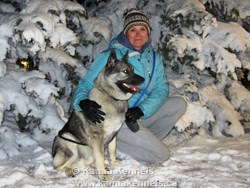 I have to admit he does have a stubborn side when it comes to his mouse hunting or dog sniffing sidewalk walks. These are two things it's really hard to pull him away from. We walk around a couple of different ponds and if he gets a whiff of a mouse scent in the area he's hooked and will not let up until he finds the nest. There is lot of dog owners in our neighbour hood and several areas to walk your pet. Some days it takes us over an hour just to get around the block as he has to check out every pee spot. He's getting better of moving along but slowly.
He is very quick to alert you when something is not right. This is a good thing when you're out in the bush, or even walking around the city, he senses something not right with either a person or other dogs.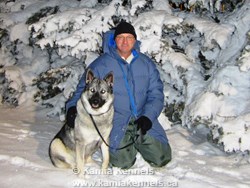 I have not discouraged him from it, but when you sitting at home watching TV and he suddenly explodes with all his hackles raised and he rushes to the window, just because some little dog peed on the tree out side, well I kind of get a chuckle out of it, Elena not so much, In this area its still a work in progress.
Well this has been a little look into our year with Kobe and I am sure he has lots more adventures in store for us.
I have attached a few pictures of him from April to now.
Wishing you and you family a Merry Christmas and all the best in 2013.
Sincerely,
Henry & Elena.