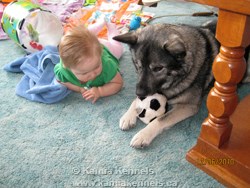 We Remember Lexi
We started the year out with news of a new litter for both Tora and Mia in 2011, but with that news came some sad news as well. Lynn and Lawrence contacted us to say that Lexi had been tragically hit by a vehicle while at a neighbours home. It was a devastating loss to Lynn, Lawrence and young Payton, as Lexi was a true protector and friend who would have grown up with her. All of us were deeply sad as well, Lexi was a special pup for all of us, she was the first female pup we raised from Mia. The only female from her first litter.
Lexi was a beauty, a dark female, she had a great personality, she was always a friend to Payton, Lynn and Lawrence and was a lovely female. She traveled everywhere with Lawrence in the Polaris Ranger, always one to go and explore. She is shown in this photo just keeping an eye on her soccer ball, lest Payton decide to crawl off with it. Lynn made many trips around with Lexi, she came to visit us, and she was always on the go with Lexi by her side.
They will miss her and always remember her as we do.
Lexi and Payton - 12-06-2010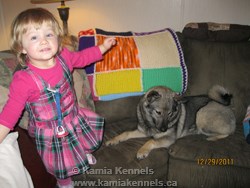 Shasta steps in to follow in Lexi's place
Despite the loss of Lexi, things are different now, but not so much different, Shasta has stepped up to be a new companion for Payton, Lawrence and Lynn. You can never replace a great dog, but you can get another great dog, and Shasta is fitting in perfectly. She is kind and considerate to Payton, a great friend to Lynn and Lawrence, and they love her just like Lexi. Shasta is a little different but not by much, she has turned out a little more silver, and she has her own unique personality.
We had the pleasure of Shasta's company this summer for a short while, and Shasta had some instinct training with Takoda, just in case she happened to meet that driver of that vehicle by some chance encounter, Takoda shared with her some skills he has. According to Lynn, Shasta is a considerable protector, and watches the yard very well, she was always a very dominant female and these are excellent qualities when you have a young companion to watch out for.
Both Shasta and Lexi are full sisters, different litters - both Lexi and Shasta were the only females from their litters.
Shasta and Payton - 12-29-2011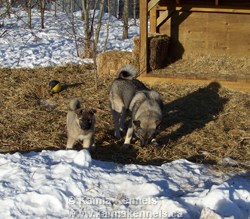 Kamp - Norwegian Elkhound Female and Jaegar
Here is some of the great future of our program, our new young female Kamp and beside her is Jaegar, having some time together for the holiday this December 2011. Kamp is a big stout female, full Norwegian lineage with her Grandfather from Norway and this is from an old world line of dogs, very stout thick hunting and working dogs.
Jaegar stands beside her in this photo, he is a big boy, and Kamp has matched his growth rate at every step so far, so he best be careful, she is a dominant female, and will have no trouble hanging a beating on him if he is out of line in a few months time, for sure. She is a tough rascal, Jaegar plays pretty rough at times, but she holds her own, Takoda is always watching out for her and if she needs a hand she just burns over to him.
This is an excellent pair these two, they bring out all the best there is in Elkhounds, when Kamp is 2 and Jaegar 3, these two will be a very impressive pair, no doubt about it. Jaegar is our own boy, raised from Mia and Takoda, he is exceeding all our expectations. Kamp will be bringing to the pair all great qualities to match him, she has the great style and stance of the old world Elkhounds, proud and straight, she has the big wide muzzle so distinct in the old Norway lines. She already can jump and turn on a dime, she could dodge a Moose right now she is so agile, and fearless, she is not scared of anything this girl. She is calm though, not worried about a thing, doesn't make a ruckus or cause any trouble. Always ready to come and say hello, this is a good female.
Kamp and Jaegar - December 2011
Here is a recent article on Jaegar and Kamps two daughters 2016 - Offleash hiking dogs
Shelly and Brett, send best wishes with Nika and Kari
We always hear from Shelly and Brett, who live up in the Yukon, and this holiday season was no exception. We received a lovely card from them, shown at left, and take a look at those two Elkhound females would you, my goodness, that is a lovely photo. This is a happy family, no doubt about that. We all wish them a big Happy New Year and all the best in 2012.
Nika on the left, Kari on the right, I can barely tell them apart anymore, these two females are some of the best in Canada, if they aren't the best, I wouldn't know of better, of course the sisters they have are all spectacular and give them a serious run for their money, but no doubt about it Shelly and Brett have raised two incredible females.
These girls are the big Swedish girls, make no mistake, these girls would put the run on big males, Nika and Kari are both working dogs, they pull, they pack, they hike and guard, they do the heritage they come from very proud. They are a couple of the most stable females you will ever come across. Mia puts stability into her pups, Shelly says these two are steady and never cause a minutes trouble.
These two big girls have a serious side, they know they have a role to perform, and if it moves around their yard, they know about it. Shelly and Brett have mentioned many times, Kari is very serious in this regard, and Nika is right with her, they don't like bears, they don't take kindly to coyotes or martins, foxes or others crossing through the yard. When they are out hiking, they are ready for work, they know it's time to pay attention and be sharp, they both have the genetic make-up for putting the run on bears, the Swedish heritage of Takoda is well known for that.
I always enjoy seeing how the pups turn out, Nika was always a favourite of mine, she truly took after Takoda, and Kari is basically identical, again she takes after Takoda, these big dark females, they are highly prized. They are hard to come by, only a handful ever present themselves in many litters. These two females are the dark large females from different litters, both basically identical, and both the largest pup of the litter they were in. In the old days, just as it is now, the females like this were selected for the Northern regions, the deeper snow regions, same as these girls.
We are very proud of these two, and truly thank Shelly and Brett for taking such good care of them and providing an outstanding home for them both, and as always, we really appreciate the photos and updates, thank you.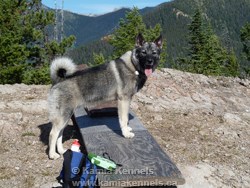 Ryker - Male Elkhound
Every time we hear from one of the families who have one of our pups we are always excited. We were so pleased with how the pups were turning out from Tora and Bram, it was the first litter for Tora and we were anxious to see the results, and we can't be more thrilled. Late this summer I received a terrific picture from Amber and Chris, they are a great young couple down in Calgary and they have Ryker, this big black faced Male out of Tora and Bram's first litter.
Ryker was a special fella as a pup he was quiet and calm, a big boy, black faced as can be, he was a steady guy. Amber says he is not so quiet now, he has found his voice so to speak, he doesn't mind letting people know he is around. Here is what Amber and Chris had to say about this young outstanding male:
"Hi Merv,
Chris and I wonder all the time how energetic/loud all the other pups are - Ryker may have been the quietest/calmest one but he's not anymore! He has quite the bark, both a playful one and a protective one. He's not shy about letting people know he's around if he feels they need to know. At the same time he's such a good friend to other dogs! He loves playing with the big dogs and probably thinks he's bigger than he is, but plays with the little ones and is always gentle. His trips to Nose Hill here are his favourite, he loves running through the long grass and exploring. I'm looking forward to taking him to the same place once we have a bunch of snow, should help him build some strong muscles!
He's a strong puppy - 8 months old in a couple of days and is weighing in at 54 pounds - I can still feel his ribs easily too! Loves his food this guy. His ears are finally standing up, although sometimes when he's really tired his one ear will flop over a bit. I have attached a couple of pictures for you, two are from a 12km hike he did out by Invermere this summer and another showing his growth. I love the picture of him standing up on the bench to get a good look around."
Amber and Chris
Seeing the photo of Ryker you know that the pairing of Tora and Bram is successful. This is an outstanding young Male. He is thick and powerful, he is only 8 months in that photo and has the stance and build of a much older dog. He has dark black face of the old Norway lineage from Bram, an old hunting line. This is a Moose dog, but make no mistake this boy would tree a black bear in a hurry. It is a great reward for all the work in raising dogs when they turn out like this. Our many thanks to Amber and Chris for keeping us posted on Ryker and for providing such a good home and environment to grow and develop.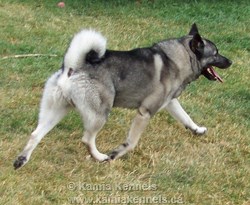 Bram is an easy moving Male
As we now have two litters on the ground from this Black faced old World hunting Norwegian Elkhound and Tora, and seeing the results as a breeder you know you have a great combination. This pair really produces some quality pups. Bram is a hunting lineage, his father is a hunting Champion in Norway, so is his mother, both sides of his pedigree are old world Moose hunting lines. Bram puts the deep black into his pups, you can see from looking at Ryker it's unmistakable.
Bram is a free and easy moving Elkhound, he is muscular, but it's lean and mean, he carries no fat, and he is moving constantly. It's virtually impossible to get a photo of him. These dogs are known to track and find Moose in some of the most inhospitable terrain, get in front and hold them, and keep them occupied for the hunter to get in close. It requires a close coupled dog like Bram, strong limbs, excellent stamina, a fearless nature, and above all they need to be agile. Bram is agile, its easy to see, just watching him move around he is so quick and fast.
His coat is always in top shape, Kathy and Blaine they are great owners and handlers, they know what they are doing, Bram is very well mannered, is very hospitable to us when we come, although he lets us know, it's his turf, at the same time he is so excited to see Tora he is turning somersaults almost, and Tora well she expects him to get down to business, quit fooling around she thinks.
We are most fortunate to have this pairing, a lot of families have a terrific Elkhound because of Bram, and we truly thank Cathy, Blaine and Marissa and Rob for working with us.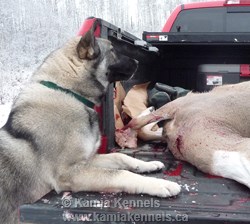 Torsten - Another Bram and Tora Son
It would be safe to say ole Torsten is thinking, terrific, some venison for me the next few months. This is a great looking Male, Brian and Lindsay sent me some updates late this fall during hunting season and were bringing me up to speed on the exploits of Torsten, a brother to Ryker. Here is what he had to say about him.
"Hello Merv;
Things have been good here, busy between work and home. Torsten couldn't be happier now that winter is here. He is starting to fill out, he's just over 60pounds and very agile. To watch him in the bush go through the bush or up and down the ravines and over the dead falls you think he's a cat. He's very intelligent with a good recall, my 4yr old niece can do anything to him and doesn't phase him, and he has myself, Lindsey and both our family's wrapped around his paw. Also agility is going really good catches on quick and he should be in level two in the new year. Been rereading a book from my father from 1970 called The New Complete Norwegian Elkhound by Olav Wallo. You would think he's talking about and taking pictures of Torsten for this book. Hope to talk to you soon, and have a good Christmas and New Year."
Brian and Lindsay
Tora she didn't get completely overshadowed that is evident in Torsten, he leans more toward her looks and style, again a beautiful dog. We want to Thank Lindsay and Brian for keeping us posted on Torsten and for taking such good care of him, Torsten is probably chewing on a big fat deer steak right now.
Here is a great article on Torsten and his young brother Gunnar - Norwegian Elkhound Males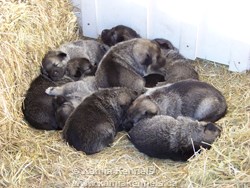 Tora's second litter of nine
I have a photo of Tora's second litter of nine pups having a snooze outside the kennel right before New Year's Day. They are really fat little grizzlies, all doing really well. They are taking on some personality now, and beginning to be distinguishable from each other, each having some characteristics shining through. There are some real nice Silver beauties, and there are for sure a bunch of black faced moose hunters, for a fact.
They are not shy this bunch, they are all easy going and stable, but there are a few who are really outgoing, and a couple of the boys are pretty fair guard dogs already, quite amazing how it begins so early to see the personalities. I still think the one female is the biggest yet, but there are a couple males really eating now, as we started feeding raw, so they will take over from here on. It takes a pretty rugged female to keep up with these boys, but we have seen it many times before where the female comes out as the largest. Not from Tora, but we saw it with Mia, I have a feeling we'll see that this time here.
We are pretty fortunate this year, the weather is very nice, the pups are out pretty much all day, they have access if they like through the dog door, but they don't go in much, in fact they would most likely sleep outside if we didn't put them in a night. This is a great group of pups coming and we will have more on them as we go. It's been quite a year for Tora, she is a powerhouse.
Some awesome Norwegian Elkhound Pictures of one of these pups.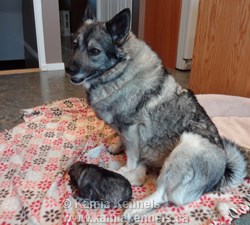 Mia and Nola
As with all good things, there are some tough times, Mia had one of those tough times. She had some rough going after she had this litter in terms of milk production, basically she never really started milking. She had three pups and we were unable to save two of them, we lost a female and the male, we were able to keep one female going. We really felt bad about this, it was my fault it occurred, I was unable to keep the little rascals going, I tried using tube feeding and small bottles and so on, but I was unable to get that early colostrum in, so they had a tough go of it. Nola had at least a fairly good feed of it early on, and I was sure the other two did, but alas, they must not have.
Nola is tough, she worked and toughed it out, nursing on Mia, nursing on Tora when I could get Tora to feed her, and she took the bottle, we all took turns every two hours tube feeding and then bottle feeding once she was strong enough, and putting her on Tora as much as she would allow. Nola is coming around now, and Mia has a little bit of milk, Mia is doing fine and she is a great mom, just ran into a glitch.
We had one of the toughest times we had experienced when we had to share the news about the loss with the great folks who were waiting for the pups. Henry and Elena had waited a long time to decide to get an Elkhound, they truly wanted a Male from Takoda, and I had to share the news of the loss with them, after I had shared the news of the Male arriving of course, which is a tough thing. As a result of this, I think I will change my policy to only announce how many pups after they are 10 days old, but I haven't completely decided on that yet, I like to share with everyone right away, but I sure didn't like to share the loss with Henry, I felt bad about that for them, no doubt.
They have been very understanding, and have decided to take a big male from Tora and Bram's next litter, looking at Torsten and Ryker, they will be very happy with one of those big boys. We named the little female Nola, for little champion, and she sure is a little champion, you should see her go to town on that bottle now. She is going to do just fine.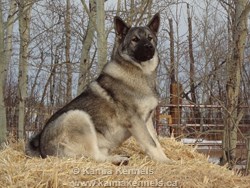 Mia has had a very busy year just the same though, this big Male sitting on the straw outside the kennel was nursing on her not 11 months ago, this is Jaegar, one of the males from last litter, there were 2 males, Tesla and Jaegar, and 1 female, Shasta, who is featured above.
Jaegar has been spending the holidays with Takoda, and it's been good for both of them. Finally Takoda has somebody his own size to burn around with, and someone he has to really work to catch. Jaegar get's a bone from him and Takoda isn't just catching him like nothing, he has to really work to catch him. Jaegar can hustle, he is a strong fast agile big young male, and he has tons of energy. Jaegar can't quite figure though where all this animosity comes from with Takoda, all he did was take a bone, what's the big deal!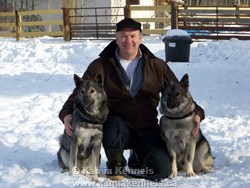 Jaegar is a good boy, he is very well mannered, a nice dog. Pleasant and easy going, friendly and likes to please. Mia has produced some truly outstanding pups, Jaegar represents all the best in Elkhounds, the great nature, the loyal behaviour and traits, he has tons of stamina and is fast and agile. Jaegar is great with all kinds of situations and people, he flys in planes, goes anywhere, travels all over with Ashten, is a great companion for her, and he is a pretty fair guard dog as well.
After he has spent some considerable time now with Takoda he understands his role a bit better, has a better grasp on things, as I always say, his instincts are woke up - put it this way, you wouldn't want to go sneaking into their turf late at night. These boys can operate without a handler. They will call if they need me, I don't expect a call.
Check out a recent update I did on a planned Elkhound litter. Also I updated in 2016 the Elkhound Growth Page on Takoda.
Tora and her nine pups and all of us at Christmas
I put some recent updates in 2016 up for our Top Elkhound Female Tora its got great pictures, and there is an awesome February 2016 Offleash Hiking with dogs article.
It wouldn't be a newsletter without a story on Tora, she has been a busy female in 2011. Tora is shown here with her second litter of 2011, of nine pups, 3 females, and 6 males. It's a great thing to have pups anytime, it's always a bonus if you have pups around for Christmas. We brought the pups and Tora in for a photo, she thought she might get a break from those little bear cubs, but no dice, some of them were nursing the entire time, we were trying to get a photo, she is trying to get moved around, the pups are scrambling, they think, hey, this is great, keep her still.
Tora is a good mother, she is really good with her pups. Her pups are all even and steady, they don't have a care in the world, she is not to be fooled with when she has young ones, she is pretty serious most of the time, but when she has her pups on the ground a stray dog or cat would have a very bad day if they ventured into her pen. Tora is a big thick Silver female, she matches up with Bram really well, this litter she has some more great females coming, there is a Cinder somewhere in there, and a Freyja, and I know a few of the Males names already as well, there is a Wyatt, and a Kage, and a Gryffin, and I might be missing a few, everyone is anxious to get their puppy home, it's approaching fast.
We have had a great year all in all, sure some tough times, but seeing little Nola grab that bottle now, and Tora's guys come burning around the corner, you know things are okay. Elkhounds are a great dog, and all the families that have an Elkhound that we know are terrific folks, a real pleasure to be around and work with. We want to Thank everyone who put their confidence in our program and our dogs, now and already in the next litter, we truly appreciate it.
We love getting updates on the pups so, by all means send them in, we really enjoy seeing how they develop.
Have a great 2012!