Our Latest visit July of 2012 with Loki-Bear at the lower portion of the page.
Canadian Rockies - 4 National Parks - Rogers Pass Summit - Lake Louise - Loki-Bear has a terrific trip Loki-Bear Travels to British Columbia – we were so fortunate to have some time and things to do on the Weekend of January 17th, 2009 that we could travel with Loki-Bear through the Canadian Rockies and have an excellent trip with him, while we took him to meet his new owners.
Click Any Image To View Full Size On This Page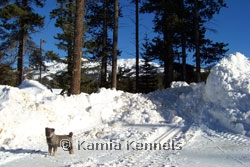 "Loki-Bear proudly standing at Lake Louise, AB, - he is such a good traveling companion, Jay, my son and I really enjoyed our time with him. We had Loki-Bear for an extra week here in Sylvan Lake, before we left for BC, and we really enjoyed our time. He loved all the snow that was in the high mountain passes, and every time we stopped he was having a blast.
The Canadian Rockies at this time of year are spectacular, there really is nothing quite like driving through the National Parks on the way through the Rockies. We traveled through the Banff National Park, the Yoho National Park, Glacier National Park and Mount Revelstoke National Park, truly a tremendous experience in the middle of winter.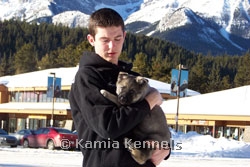 My Son Jay and Loki-Bear at Lake Louise - "It was a terrific day in the Rockies, right after Banff we stopped at Lake Louise so Loki-Bear could burn off some energy, he had a snooze just up from Cochrane and he enjoyed running around Lake Louise and we took the time to get a few photo's."
You can view a larger image if you click the image
Loki-Bear is a male Elkhound out of Mia and Takoda, and is a proud young male, full of energy and very healthy. He travels exceptionally well, although so far most of the pups from this litter have traveled well. It pays to have healthy pups and we strive to make sure they are healthy and stable. It makes transportation and travel just a pleasure.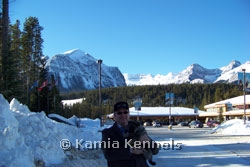 We had to have a pretty good hold on young Loki-Bear, he wasn't exactly wanting to hang around for his photo when there was so many things to see and do here, all the big trees and mountains, and as you know, he loves the snow. No shortage of that.
Living in Canada raising quality dogs that go to exceptional homes is such a rewarding business. We were so pleased to meet up with Darlyne and Les and finally meet them. They will provide a very fine home for Loki-Bear on the West Coast. They met us in Vernon BC, another lovely spot in the World as they had drove out from Port CoQuitlam.
Loki-Bear will be a lovely young male, he is sharp, fun to be around, energetic and he really took to Darlyne and Les, and they to him. We had tears in our eyes leaving the young fella, but we knew he was going to a very good home and knowing he would bring a great deal of pleasure and fun to Darlyne and Les for many years.
Rogers Pass - Loki-Bear and Me - Elevation 1382 Metres and some deep snow
Loki-Bear will resemble Takoda a fair bit, he has some very close markings on his face like Takoda and has a nice even Silver coat. He was already beginning training as we had him for an extra week, he would follow on command very well and easily sit when asked and other basic work.
Elkhounds are easy to train, they want to learn and they also are very eager to please an owner. Loki-Bear was a perfect example of this, he wanted to do what you asked and he always paid attention, watching to be sure he caught the motions and gestures you were making.
Young dogs are very intuitive and can learn gestures very fast, faster than verbal and with great accuracy. The pack nature is intuitive and gestures have a great deal of communicative ability. We like to use a marker such as a verbal Yes when he does what we ask so that he knows Yes as a verbal reward.
In the beginning training with any young dog it's a very good idea that the second he does what you have asked, either through a gesture or verbal command or both, say "YES" AND THEN REWARD WITH A TREAT. It gets his attention immediately and they begin to associate YES with a reward and as a reward.
As the dog continues in training you can always change the reward to affection and so forth, you don't always have to use a treat, but in the beginning it's the fastest easiest way for them to associate YES as a good thing.
You would always throughout his life use the marker "YES" to show him and notify him that what he has just done is the correct action. Be absolutely ready when training that the second he does what you want SAY "YES". Do not wait at all, immediate so that he knows which action it is. Be prepared when training, be ready to say "Yes". ( And have a treat right there). Do not train if your not ready. He won't know which action is the right one.
* Note* you don't have to use the Word Yes, just use a consistent word as the Marker for the Dog to know he has performed accordingly the right action. It could be any word or sound, a clicker is what some use.
We consider ourselves very lucky to have such a nice pair of Elkhounds in Mia and Takoda, and the fine quality of the people we have met as new owners of the pups we are so thrilled for the young dogs, they have all gone to such good homes.
Loki-Bear Returns To Our Home To Visit – we are so pleased that Darlyne and Les made a special effort to take a holiday through Alberta this summer and stayed near to us so that we could all have a good visit and talk and see Loki-Bear. Darlyne and Les have done an absolutely terrific job raising this young outstanding Male, Loki-Bear.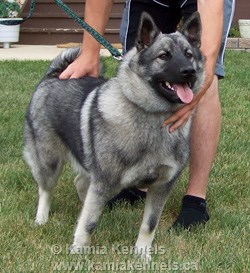 Magnificent Young Male Elkhound - Loki-Bear Returns for visit
When Loki-Bear jumped out of the truck I was truly impressed with how nicely he had grown and filled out. He is an outstanding Male, stocky, yet longer than Mia, heavier boned, and thicker than Takoda, with a coat that is unbelievable. He has muzzle like Takoda, a bit longer than Mia, pure black, with some very white teeth, Darlyne and Les make sure he has plenty of good raw bones to keep those teeth white and shiny.
He stands so proudly and alert, he is a big fella, extremely strong, Ashten had her hands full when he saw some action across the way that he wanted to check out, a very powerful dog. He is pictured here at just over 8 months of age.
All of the littermates from this litter are turning out to be exceptional, however Loki-Bear truly made an impact on all of us, he was very special young dog as we had a bit of time with him as a pup, slightly longer than some of the others, you grow a bit attached, and now to have him come back so grown up and such a beautiful dog I was really happy. I can't say enough good things about this young Elkhound.
Darlyne and Les, with Loki-Bear
When Darlyne contacted us about a new puppy they informed us they had previously had a long time companion Elkhound named Storm. It had proven to be a loyal and faithful companion and friend to them for many years. They were looking for a new puppy as Storm had passed on and wanted a nice young Male. They saw Mia and knew that her litter would provide that new loyal friend.
When Loki-Bear came I kept them posted with photos of his growth and we quickly learned they were going to be terrific with this young dog, they met us in Vernon and I was very pleased to see how they immediately took to Loki-Bear and he to them.
This summer visit has been a terrific time for all of us to meet again and to see Loki-Bear and hear about his exploits. He keeps them busy Les and Darlyne take him for walks down by the Mighty Fraser River and all around the Port Coquitlam area, he is a favorite at the parks. Elkhounds make loyal and very strong bonds with the owners and it is really evident here, Loki-Bear really didn't pay much attention to our commands on his return, but when Darlyne or Les spoke he was all ears, and paid immediate attention, just as he should. We knew that he should just have some fun with us and that he was to be a young dog while he was here having some fun. I should note that I believe he remembered me right away, everybody was teasing me that maybe he did maybe he was just excited, but I was positive he knew us all right away and we had a great visit.
It's great to see a young dog, he is only 8 months in these photos, have such composure and balance, that has a lot to do with Darlyne and Les providing such a solid and caring home, and also he comes from stable set of parents in Mia and Takoda, making it easy for them to raise such a great companion.
Elkhounds in our opinion are the best companion dogs, they bond so loyal to the handler/owners and that bond becomes stronger and stronger as time goes by, these dogs are way more than pets, they are members of the family.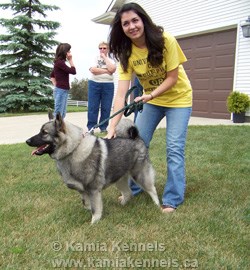 Mia and Takoda Combine Outstanding Qualities
With the potent genetic combination of Mia and Takoda we fully expected to see outstanding young dogs, Loki-Bear is a true representation of what those genetics produce. He is a strong and well balanced young Male Elkhound, very muscular with strong bones and structure. He is alert, his eyes are very nice, his personality is so good, so nice, what a great guy. His tail is a full tight curl, ears very good, a black muzzle and a great set of teeth.
The coat on Loki-Bear is really good, his color is to the dark silver side, thick and soft. He has a strong chest, large lung capacity and is full of energy. Les and Darlyne have socialized him and he goes for walks with them through all types of terrain and parks, meeting all kinds of good folks along the way who all stop to admire him.
You'll find Loki-Bear closely resembles his brother Shadow and his sister Lexi, Lexi is also the dark silver type and is very closely matched to Loki-Bear.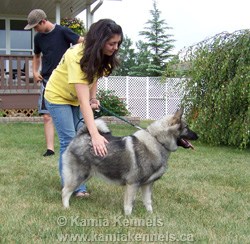 Male Elkhound - Loki-Bear - Owners Darlyne and Les
Elkhounds make such a good family dog, Darlyne and Les reside on the West Coast and are active travelers and spend a great deal of time outdoors and walking, hiking, RV and camping, they were on an extended RV holiday when they came by here. They were heading up to Edmonton, then on to Jasper, and down through the Ice Fields Parkway with Loki-Bear. Elkhounds keep you young, as an active dog they keep you moving to keep them exercised.
Loki-Bear is very friendly and has a terrific personality. We were all so impressed with how they been raising him, they have done such a nice job with Loki-Bear and we respect the work that goes into a young dog of this quality.
We are very fortunate indeed to have such good dogs, and the folks that have our dogs are the very best as well. Les and Darlyne, owners of Loki-Bear are terrific. They have done a great job with this big fella.
Loki-Bear Returns To Our Home To Visit again in 2012 – we had the great pleasure of having Darlyne and Les come by for a visit while they traveled Alberta with Loki-Bear, I always though Loki-Bear was a magnificent big fella, but he is beyond expectation and is something to see. He goes way back to the old boys of ancient times, Mia and Takoda drew way back in the DNA archives for this fella, you won't see the likes of this Elkhound in the little show stock for a fact.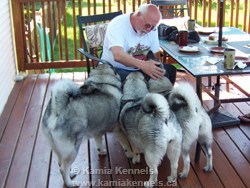 Male Elkhound - Loki-Bear - Owners Darlyne and Les - stands beside Tora and GÆDA
Elkhounds like Loki-Bear are not very common today, in the old days, the days of my Grandfather, even in my Dads young days, these big boys were more common. The early Elkhounds that came over to Canada, lot's of them were the big old boys. Nowadays, we rarely see them as they have been so focused on breeding down in size, the thick, heavy, large boys just don't show up too often.
Loki-Bear is old world, a very nice Male, he is very well mannered, extremely well trained, Les and Darlyne have invested tons of time, energy, and resources taking him to training, working with him, agility trials and training, he even goes with Les on his 10 KM training workouts, Les was the second place finisher by the way in his age group recently, congratulations to Les, wow, the stamina and energy, and Loki-Bear was with him throughout, except race day. So he is a muscled up big fella, Loki-Bear has placed second numerous times in his agility competitions, in very stiff competition as well, the elusive first place going to a competitor who, won by the slightest of margins, attributed to the placing of Loki-Bear on the final mat, Loki-Bear wants to go, so didn't hold just long enough, no kidding he wants to go.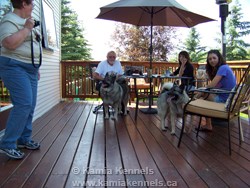 Male Swedish Elkhound - Loki-Bear - Owners Darlyne and Les - GÆDA, Marlene and Ashten
Elkhounds with the old Swedish Genetics, if you combine that with good training, you get a highly attentive, very easy to manage big fella. Darlyne can do anything with Loki-Bear, he is so well mannered, pleasant and easy going. He really pays attention to her, it's really neat to see. Now, according to Darlyne, this wasn't always the case of course, she has had her fair share of scrapes and pulls by the big fella while she was getting him trained, he didn't always "listen and pay attention", she used the phrase "Devil Dog" once or twice in our visit. I remember when he was doing this, she had called, she was wondering just exactly what she had on her hands, this was a few years back, now, he is the best trained dog I have seen.
Let's face it, without a great training program, having Loki-Bear give you a tug, well that's like hooking onto a locomotive - he could probably break out a frozen down freight sled with 750 -1000 lbs on it in the dead of winter "sound familiar", I remember standing in front of the Cabin of that famous writer "Jack London" in the Yukon many years ago when I was a young man, had he saw Loki-Bear he would have wrote about him.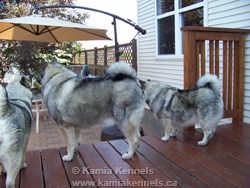 Male Elkhound - Loki-Bear - Tora his sister on his left, and Mia his mother on his right
Mia was one proud Momma when she got a visit from her first big boy, Ole Loki-Bear, it was something to see, having a full Male version of her standing beside her, to be sure. It's one thing to know that Mia is one of the old tough females, stocky, heavy, thick, but when you see the young in his prime Male version of her, Whoa Man, that is an amazing dog. Now, keep in mind, you and I both know, this is way past what you call a breeding standard size, this my friends is long past that, this is the Old boys who cleaned the wolves out of the European countries, kept the bears at bay, walked beside the Vikings. This is not a show dog of today's standards by any stretch of the imagination, oh no.
Loki-Bear is a full 90 lbs, easily as wide as both Tora and Mia combined through the chest, deep chested, massive frame, large all the way around, sure he has a bit more condition that what normally he should carry, but just the same his frame size is such that he would run 80 lbs lean anyway, and he is muscled in from all the agility, 10 km runs and more.
Keep in mind, there is another large group of pups between these two, well over 2 dozen, so Mia, to say she is prolific, well, that would be an understatement. It's also evident, that even though we are one of the few breeders who still run the old lines, even we were amazed at how far back in the genetics Takoda and Mia went for Loki-Bear.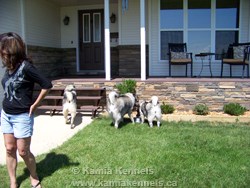 Elkhound Male - Loki-Bear - Jaegar his brother on his left, and Mia his mother on his right
Mia is shown here, to the right of Loki-Bear her first son, and on the far left is her last son Jaegar, now don't miss the fact that Mia, she rules, both these boys got a lesson in manners at the water dish, nobody, no matter how tough, how big, goes before her, in her domain, and her big boys best remember that, she figures. She couldn't be happier, she was so pleased to have her big fella home with her, and to get a photo of these three together, well, that was something for sure.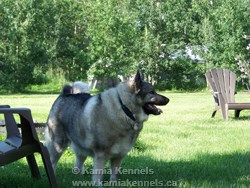 Elkhound Male - Loki-Bear - Son of Takoda
It would be wrong to say that everything about Loki-Bear comes through his famous mother, Mia, no, there is no doubt that Takoda played a part in his development, it's not as evident as he looks so much like Mia, but come around front and you can see Takoda then for sure. The big muzzle, the deep chest, way down, the height, the length, the black dot on the cheek, no, this is Takoda's boy, make no mistake.
Many underestimate the the depth and length that Takoda brings, until you see a dog like Loki-Bear, where all aspects are at full capacity, then you begin to realize the power that these old dogs had, the old lines, no wonder they were sled pullers and big working boys. I remember Takoda's dad, he was a big guy, thick, heavy, tall and long, he weighed at least 10lbs more than Takoda, not as large as Loki-Bear, just a larger version of Takoda. Those old lines, many people that remember the old dogs, they will think back to a time when they saw dogs like this, it's been a long time since people have saw one, there will be many people who will say, Oh I remember one like him, yes, a long time ago.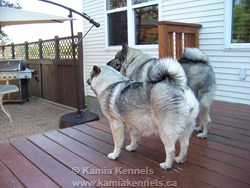 Elkhound Female Tora - and brother Loki-Bear
It's a sure bet this conversation with Tora and her big brother went something like this: , yeah, so bro, I like thought, well, like you know, there are these coyotes giving me a hard time at night, like yapping and stuff, and you know, like maybe you could you know, like go over there, and well, you know, shake a few around for me, as you know I am having a litter here in a few weeks, and like your here now, I know Jaegar can do quite a bit, but you know, like...
I am not 100% sure if it went like that or not, but I had a vision of something along those lines watching these two together, I am quite certain had Tora needed some assistance with practically anything, not that she ever does, but if she had, I am sure we can all agree, ole Loki-Bear would be quite capable assistance to his little sister.
Elkhound Loki-Bear, Brother Jaegar, Mother Mia
Its was a great pleasure to have Loki-Bear and Les and Darlyne visit, we want to thank them for taking the time to come over, good thing they travel through Alberta, Loki-Bear is a west coast big fella, shows off in Vancouver, Port CoQuitlam his home turf, and goes all over BC, the subject of countless photos if he is in Whistler in the winter my goodness, the most photographed dog in BC.
Darlyne and Les have done an incredible job training and raising this big fella, he looks out at his mother, Mia, his youngest brother Jaegar and his birth place, where he stood as a young pup looking around, just like he does today. A huge thank you to them for giving him such a great home and all the great training.
I know he remembered me, he was good to come over, stay by me, he knew we had a bond us two, he hadn't forgot, me neither, I am proud to say, as I do, this my friends, this is an Elkhound!