Note About Upcoming Litters
Our goal here at Kamia Kennels is to be able to share the great line of dogs we have with families and individuals looking for a terrific companion. The history of the ancient Elkhounds working with great families is thousands of years old, we try to keep that great heritage going. We have some exciting pups coming that will be exactly like these awesome dogs shown here.
If you have questions about our upcoming litters please contact us!
Elkhounds Off Leash Remote Mountain Hiking In Winter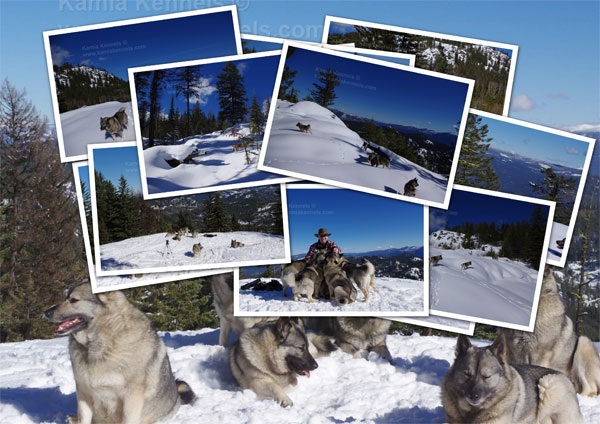 Norwegian Elkhounds Off Leash Hiking
I will try to expand on some of the ability of the Norwegian Elkhound and the Swedish Elkhound, or Jamthund in this particular article, basing it around some key areas we all love and look forward to doing with our dogs, hiking outdoors. I understand that for some folks, the work associated with hiking up a particular side of a mountain in winter is not for them, but for many others, the winter is a glorious time to explore nature. And, a snowshoe hike in a remote part of wilderness like the ones I have, well, there are few things more rewarding if you have a great dog and love the outdoors.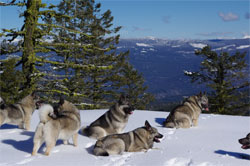 This particular hike that I am going to use to illustrate all the items I wish to discuss is only one of hundreds I have been on with my dogs, but I will use this one hike to highlight a wide range of things. I am raising Elkhounds for great families, I train my own dogs, and set pups up in the correct fashion for my folks with my dogs, but I will state right at the outset that my concepts are perhaps not the same as the bulk of the "So Called Dog Trainers". I am also not an urban dog trainer. I am a remote terrain dog handler. There is a vast difference in environment, situations, so on, which I fully appreciate. So my thoughts here in this article will be based around remote terrain, hiking trails, ski trails, walking paths, that sort of thing.
Also keep in mind, this article is pertaining to the worlds oldest breed of dog bred for doing exactly what is shown here, the Elkhound. I am not out here with rat hunting terriers, or sheep herding collies, or bull grabbing bull dogs, I am here with Elkhounds. I personally can't speak at all to any other breed in this situation, but for this situation, with this dog, I would have to suggest, I am probably as good an expert on this dog in this situation as anyone in the world. Now, keep in mind I have a very fat head. No doubt in my mind about that. So you are free to disagree with that, and anything else as well.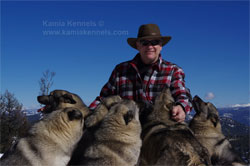 So let's start off with what your going to be able to see from this set of images, and this story. Your going to be able to see six magnificent Elkhounds on an off leash hike that took basically a whole day to complete. We left the yard off leash, me and the dogs, and walked out and down our drive, turned into the forest and started our climb. We hiked up to our first plateau, and this was a relatively straightforward march up. The snow has frozen this time of year on top, so the dogs and I don't sink in as far, we can literally walk on top. We had a recent snow fall since it froze so there is some loose snow, but for the most part, we are able to cruise pretty nice on top. Sure we sink through in spots, but most of the way able to stay up.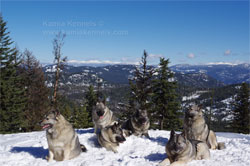 My first set of photos is at our first plateau. I am very tired at this first plateau every time I come up here. I am soaked with sweat, I have to change my shirt at this level, I need some rest, I eat a snack, drink etc. I had a fairly heavy pack on this particular hike because I wanted to accomplish a large number of things. This is a tough part to get to the first level. It's not often I get this first level achieved all winter. Most of my hikes and photos all winter are forest shots as we can never get this high in winter, so this is a treat for us, even though it's tough work. The reason I have a large pack is I brought two cameras and a tripod and extra provisions and clothes for me.
I never pack anything for the dogs. They can go days without food if need be, catch something if starving, so I don't pack anything for them. Besides, we walked from the house so they could literally get back home if they had too, although, let's face it not one of them would leave me. I have my walkie talkie, no worries.
Beauty of hiking with Elkhounds, no doggie boots, no doggie coats, no treats to pack, I never feed a treat to a dog ever, no water, they eat snow all winter, nothing is needed. I don't even have a collar or a leash for any of them. I just have to pack what I need. There will be a lot of people "freaking out over that paragraph". Take it easy, these dogs are ideally suited to just curl up in the snow and sleep.
LATEST NEWS:
I recently finished up a new article about the Norwegian Elkhound. It has a real nice set of photos in it as well. It's a great article if your needing background information on the breed. Norwegian Elkhound>>
We should have a new litter of pups from Jaegar and Kalia any day now. Please check them out.
Our latest newsletter has a ton of great stories from lots of folks who have our pups. It's a great way to see what the dogs are like as they grow and develop.
Folks Touching Base
"Merry Christmas Merv!
Just thought I'd give you a little update on Nalla after our first year together. She is an amazingly smart dog when she wants to be but is very good at pretending she doesn't understand if it's something she doesn't want to do like stay out of the kitchen.
We are certainly very pleased with our girl and don't know what we'd do without her."
– Cyndi, Neil and Nalla
"Hi Merv! So great to hear from you and see an update on Tora. She is looking great still! And now I know where Ryker gets all of his hiking stamina from. He will go probably three times as far as us when we are out walking with all of the hills that he is running up and down (and all the deer and coyotes he chases!). And he never looks tired. Always on duty, always alert, until we get home and he knows he can sleep, then he crashes. "
– Amber, Chris and Ryker
"To celebrate Teeka's birthday we went on a hike in Kananaskis Country just west of Bragg Creek. Teeka and Nikeeta just love to go out. Their enthusiasm is contagious and it makes one feel like hiking forever. I took a few pictures. Please enjoy the attached photos of Teeka and Nikeeta.The photos of Tora are beautiful, Teeka at 5 years sure has the same solid body structure."
– John, Denise, Teeka, Nikeeta
"We're really pleased with Tesla; he shows his quality so many times. He is patient with kids and takes far more kid abuse than I would in his position. He's had toy cars run into and over him, had a baby twisting and tugging his ear, had my daughters soccer jersey put on (only once, and now I know how come there are so many rips in it), had a Halloween bag tucked into his tail and probably more outrages that I don't know about. It's not all fun and games for urban elkhounds! Tesla is a Truly an amazing dog!"
– Julia, Eric, Matthew and Katherine and Tesla
"Hi Merv,

Vuk was amazing on the flight! So chill - no accidents or issues. He's been a dream puppy so far! I'm just waiting for him to break out of his shell haha! I have a mirror in my room that he LOVES, he must think it's one of his brothers. I've attached some photos."
– Aleah, Justin and Vuk
"Hi Merv,
Merry Christmas to you and your family! We enjoyed your Christmas message and thought we'd send you a quick note about Gunnar, who was 2 in August. As you might recall, Gunnar was a challenging puppy. I'm very happy to tell you that he has really settled down over the past 6 months. He's still very energetic, but now is also obedient and trustworthy. We're glad he's part of our family!"
– Sharlene, Wayne, Connor, Lauren and Gunnar
The reason I brought two cameras is I wanted to be sure I got lots of great images and did not want to get all the way up, and find an issue with a camera or a memory card, lens etc. That would suck. Also, I had just finished purchasing this new chest camera harness, and I told Dee Dee, the lady who sold it to me from Back Country Solutions I would take some photos for her of it in use, that of course requires two camera's. Another reason is I wanted to test out my timer, but also the remote for the K3 up here. That way I could get a lot of great photos of me in them with the remote. With the timer, I have only ten seconds to set it, and snowshoe over, get set and be in it. Snowshoeing around anything, and 6 six dogs in 10 seconds, good luck getting in that photo.
I have a little more information and link to the chest harness I purchased.
The Keyhole System I purchased is a Hands-Free Carry system for Camera's and Binoculars.
Checkout the website over at Back Country Solutions for full details:
has a great system for carrying the camera
a small knob screws on the camera bottom that fits the keyhole
there is a binocular attachment as well
it's very secure, two straps also connect to the camera
Click here to visit Back Country Solutions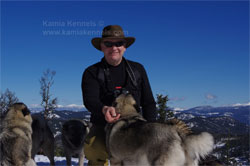 So, the very first set of photos are at our first plateau and I have changed my shirt and have the new chest camera harness on with a camera in it. I have to say, it's terrific. I have a K3 camera, and it took me ten years of saving to purchase it, so to have this new harness to protect and carry it, AWESOME. All the action shots I got on this hike are using the K3 with the new harness.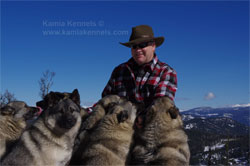 So now let's get down to some dog stuff and let me introduce these rascals. First off, all but 1 of the 6 dogs were hiking with me, listening to me, and working with me before they were born. Yes, before they were born! Basically from the moment of conception, Tora, Jaegar, Kai, Tekla and Tuva were with me in their mothers, while I hiked with the mother. All those five smelled me, had my touch the moment they were born, at the exact same time as their mother was cleaning them off, so was I wiping them off. So we are talking about some seriously close bonded dogs here. Kalia the only one not born here, but of course from a pup has spent almost her entire time with me as the only person. Sure a few weekends with the kids and a few guests, but she basically has spent her entire life we me so even she is a very close bond, as are the others. These dogs have been hiking with me their entire lives, each of them. Tora is the oldest at 7, Jaegar just had a 5 year birthday, Kai just over two, Kalia just coming two, Tekla and Tuva the youngest at 1 and half. So it's not exactly random they like me, know me, or know how to be around me. To all of them, I am it. They live to spend time with me.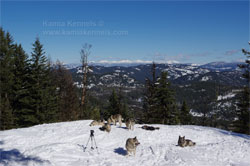 To share the bond of this group to each other I'll highlight a few connections, Tora is a sister to Jaegar, different litter. Kai is a daughter of Tora. Tekla and Tuva are half sisters to Kai. Kalia is the only one not in anyway genetically connected closely, although she is an ancient Swedish lineage same as Tora and Jaegar. Thinks and acts exactly the same.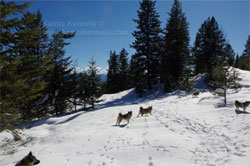 So behavior wise is VERY PREDICTABLE to say the least with this tight knit group of dogs. Elkhound behaviors in this environment are ALWAYS PREDICTABLE. Stable, well adjusted self assured confident dogs are always more predictable than others, and dogs bred instinctively for this work, ARE WAY EASIER to manage and understand and communicate with. Can you imagine hiking with a herding dog, a pointer, and a rat hunter. Good gracious. Talk about confusion.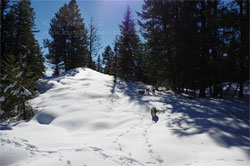 The age old work ethic of the Elkhound was to work alongside the handler, travel remote regions and assist in any and every way possible. In hunting season of course, Moose were the primary target for these dogs. They have been used for centuries to hunt Moose. They also traveled the Scandinavian regions on trap lines all winter, and worked alongside loggers and bushmen. Bear hunting was also another area they exceled in, so the history of traveling remote regions in all activities is well documented.
There are only a very few people in Canada that use the Elkhound to hunt, no one in the USA can hunt Moose with a dog, so as far as a Moose hunting dog in Canada goes, that is almost a zero percentage of the work people require of the Elkhound.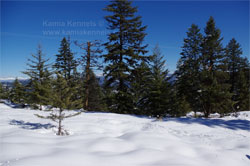 The Elkhound however is highly sought by Canadians and Americans, among other countries as a hiking dog. It's entire heritage of hiking remote regions while getting ready to hunt, either Moose, or Bear, plus all the traveling on trap lines and centuries of being alongside woodsman has honed the hiking skill to a very finite edge. In reality, they are so skilled at hiking, that if we were all to stop an analyze them for a minute we would all know they spend probably 364 days hiking, and 1 day hunting. I know for a fact if I had a license for a bull Moose, scouted the area for a few days, meaning hiking with my Elkhound, the day I went out to hunt we would have our Bull. It would only take 1 day of hunting, the rest is hiking.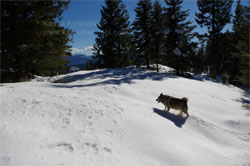 With all that said about the environment and history, the trap lines, hunting, etc. I want to discuss the ability of the Elkhound to range around the handler. All my dogs have this ranging ability, this unique skill to go around me, ahead, behind, to the sides while we are out. Always are they "Scouting" the areas, smelling the air, looking intently at things in the distance. Always watching for anything that would bring harm to me. All the while they are "communicating" with me. They do it in a variety of ways, they will look back and drop their ears, they will sometimes just look back, other times they will take a high spot and watch me catch up. A group like this will sit sometimes and wait for me. Others come back to me. Depends on who it is, how many and so on.
But overall, each and every one has a way of communicating and working at a distance close or far with me. This part is instinctive, I just have to utilize it. This instinctive ability is already in the Elkhound. As a breeder I want to be sure I keep it there. I want the dogs to exhibit these traits.
So this particular hike, like most mountain winter hikes has a variety of terrain, but one thing is a given, it's uphill. And, it's going to be rough. So I travel much slower than the dogs. They could be miles away in 10 to 20 minutes if they wanted to go, they don't. They cruise the scene around me. Up and back, to the sides, come up from behind me. Always watching. You will see that with this new camera harness I am able to catch a whole bunch of the communication and the ranging, the lookout sitting, the looking back, the side views. I am really happy with this camera of course, and now I can utilize it fully on these types of hikes.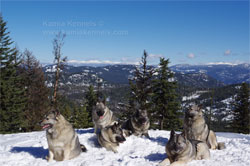 The other neat thing is you'll see, these dogs are super happy and content. This is the element they thrive in. An absolutely perfect dog for this adventure. All things about the physical make-up of this breed is perfectly suited, honed and fine tuned over centuries to excel right here. The short coupling, the superior strength and massive power to weight ratio. The deep chested stamina. The Elkhound is so perfectly suited to this, it's mental state is completely relaxed and at ease as this is it's habitat. I know I am not expressing this all correctly, but you know what I mean. A thoroughbred is never more happy than on the track running, well an Elkhound is never more happy than doing what is shown here.
There is one major aspect that this particular hike illustrates very well, as it's an awesome sunny day. We get a lot of snow so cloudy lots, so our "sunny days" come later in the winter, but when they come it's really great. With that sun come the exact reason the Elkhound has the mascara eyes and black mask. Snow glare. This dog has been bred to be out in the sheer glare that only pure white frozen snow and a sunny day can produce. Bring a few other breeds out here in this, they would be snow blind that night, not the Elkhound.
You'll notice the snow doesn't stick to the Elkhound, the double coat, with the outer guard hairs works flawless. Elkhounds are single track, back feet end up in the hole of the front on a nice trot. Makes way better use of efficient motion that way, snow is much easier going in. I have seen two, particularly Tekla and Tuva the twins travel one behind the other and I think only 1 dog went there, so close is the gait and step. I have seen it some times where three will go, almost to a step for a ways in the same track. Super efficient.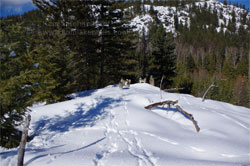 Now the dogs and I had not been up here this high before. We were past all the other points we could make earlier in the season, so to them and I a brand new trail. No one else had been here either of course, just us probably for many years prior even. What's nice about getting up into some of the open area above the trees is I can see the dogs for a ways off, and also give a really nice viewpoint of the lower areas, showing precisely where we hike most of the time. For those of you who read about my travels through this region last year looking for Kai and Kalia, you now have an appreciation for the reason I could not see them. Side Note: Kai and Kalia left the yard one day and were gone for three days. Here is the story on that. No they didn't leave me on a hike, but still took off, those rascals.
Of course, I raise these dogs, so I need to share with folks who are buying these dogs for their outings and adventure the conditioning program, the quality of our area we train in, the environment I raise the dogs in, this particular article and image set goes a long long ways pardon the pun, to showcase where we are at, and what they have for a backyard. yes, I said back yard and breeding same paragraph just about. Sure blew a hole in that theory, too funny.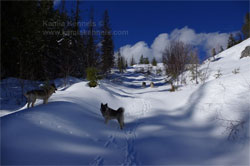 There are three different plateaus we had "group style" photos on before we got to the top. At each plateau the dogs are smart enough to stop and wait for me. I of course was too tired to call them even. I hardly spoke to them while moving, rarely do I have to. I can just have some nice convo when we are stopped. These dogs all know me, know my signs, I would probably have called out to no more than a couple of them the entire trip. Mostly it would be Kai, she has the most energy, so she tests the edges of the cliffs, goes over them sometimes, and then, finds out it's very deep snow. Sometimes takes her quite the struggle to find a way back around. So after a couple of those I told her no more. Outside of that, hardly spoke other than to say something positive if they return to check in or are patiently waiting that sort of thing. Always big fun time though when I catch up and sit down. Then, it's big fun time, they all come around, very happy to be near me.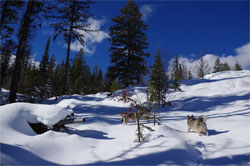 After the second last plateau we had to go through and up through a heavy timber area. Tons of snow on the trees, this is tough for me as I have to bend under branches, get snow down my neck, etc. pack catches, things of that nature, so I just got photos going in and coming out of that last stretch of upper timber. Totally beautiful up there though, you just know those trees are ancient. No one logging there. Big mature Douglas fir, really a neat feeling going through that last stretch, it felt light and airy, pretty cool. Dogs are like ghosts in timber and snowy trees, they appear out of no where. It's totally silent of course, no one makes a sound basically since we left the yard. So up through the timber zones it's really quite neat.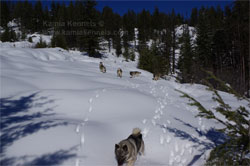 Coming out at the top was really good. I was playing out for sure. So it was exhilarating to get out and look around. I took a set of photos while going in a circle around the dogs up at the top so to showcase the view in all directions. I was able at the top to see in every direction, that was pretty cool, although a few trees still were on the North side. But nothing above us on this point.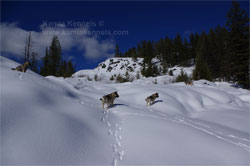 It was nice at the top, I had a snack, a coffee, the dogs rested. Everyone of them were tired. As well as I have them conditioned this was still a tough climb for them. Nothing they couldn't handle, but just the same, they were content to rest up, some sat in the Sun like Tora and Jaegar, the twins, Tekla and Tuva slept in the shade, Kalia and Kai were some sun, some shade. Just chilling.
I was able to get a few stunning images of Tora. She is my best pal of course, she has been hiking with me for many years, she is an absolutely amazing female. She has so much raw power, her nature is so solid and stable.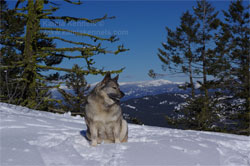 Tora has raised 32 pups, more than any other Elkhound I am aware of, and here she is at 5000 feet looking like she is ready for another 5000. Pretty friggin amazing no doubt. Jaegar and her were really enjoying the sun up here.
The last few photos I had finished my snack, and coffee, had set up the tripod, and wanted a few group photos. Now, even a blind man could see the companionship, the love the friendship these dogs offer by looking at those photos. That my friends, that is a group of Elkhounds!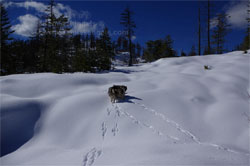 Some key things I need to share about an adventure like this. These dogs are social, so I could meet other people if by a chance encounter, although I know I never would, but I could. Not so with all my dogs. However even though these dogs are social, they are very protective. There is not a chance in you know what of another dog getting near me when I am out with mine. Not a chance.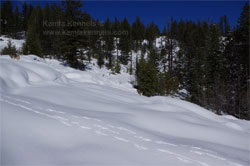 Of course, if we were to come across anything remotely dangerous, on the trail, all would be instantly aggressively protective, with Jaegar and Tora leading and all the others in there like a dirty shirt. These are very capable dogs, extreme bite strength power, pack fighters, a cougar jumps one of these guys, he will have a nightmare time on his hands. A black bear, any one of these alone would move a bear away from me, let alone this group. So I hike in peace for sure. I worry not about things of that nature really. I can hike and relax.
I take some serious pride in my group that I can motor around this type of terrain with rarely a call out or command throughout the day, but let's face it I have put some serious time into these guys doing exactly this. It should be done from very early life in my opinion. I take all my pups and do offleash training way before I leash train. Tekla and Tuva have only been on leash about 3 times. They are skilled on leash in such few times because they understand and trust me, but offleash they are masters. So from my point of view, the sooner you work offleash the better.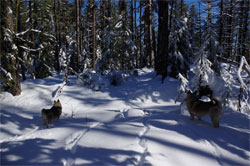 Our Desna training program sets all those pups up for offleash, and onleash, but especially offleash. I take them basically every day for mountain training hikes off leash. You can't get a better training ground, nor better training program for offleash work, I believe. Selling my own program, shame on me, but I am serious. Take a look at this group, living proof, I have raised all of them.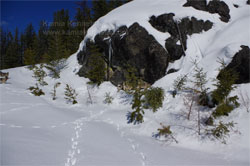 To work toward this type of hike, where the entire way there and back is offleash is a very positive goal to move toward. I first of course have to suggest that you need to have the personal patience to work toward it, then, the confidence in the dog, and some habitual ethics to get consistently out with the dog in the environment to do the training.
There will be a given need to have the dog like you of course. If the dog doesn't like you, I doubt you can have a really reliable outing. However, the more the dog likes you, the easier it is to have this type of outing. In the Elkhound lies the instinctive ability to work with you in this terrain.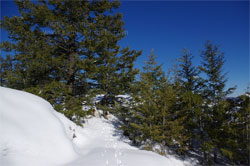 It's very much like a switch comes on when we get on the trail. They all are now "Working", hopefully I am explaining this. It's like walking across a meadow with a pointer, that dog is immediately and instinctively "Working" it will just stop and point, you won't have done anything, it could be a fairly young pup and boom. Just out comes this ability to point. A perfect little point to. Bird could be 100 yards away, doesn't matter, the instinct is in the dog to do the job in the environment. Well, what you see going on here is the instinctive ability of the Elkhound.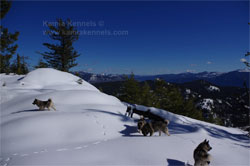 I will over time try to get a lot more information on how I work the dog to get to this point of ability off leash. I know there are many of you who have this rapport with your Elkhound already, and others still moving toward it. But there is a wide range of families who are out and about in this type of terrain, sure it can be variations of it, but you know what I mean, winter adventure. Those families are searching for a companion dog to accompany them on these outings. I can guarantee you almost everyone that hikes these regions will at one point or another think about crossing paths with a bear, or cougar, wolves, etc. It's only common sense. With a great dog like the Elkhound we are protectors of natural areas. We don't need the wildlife cleared out of the area first. We can co-exist. The Elkhound is such a calm easy going dog that it allows the Marmots to live in a den right beside where they sleep. The deer eat along side the deck they are laying on.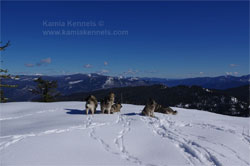 The coyotes are cleaning up some mice the dogs didn't get at night. The bears go across our trail, knowing we are not going to harass them. Moose are walking through the back yard to the creek, 20 yards from the furthest pen we have.
We pack out what I pack in. None of the animals see us as a threat really at all. The Elkhound can sense when an animal is threatening, or when it's just going across a clearing and can be ignored. They view people and dogs as much higher levels of threats than wildlife that's a given. But with a great Elkhound comes the ability to know when animals are around, they are air scent dogs, so they do know well in advance of any human what is near, and or coming near, and they let me know.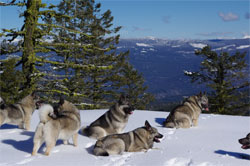 This is where they shine.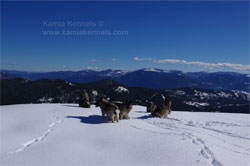 So hiking these regions is very relaxing, of course it's intense when something is right in your area, the dogs all wound up, back and forth, back and forth, hair up, yes, not too relaxing, but just the same, I would have hiked right through that without them. With that warning I can turn, I can circle around, I can make my way back. I am not walking blind per se. But for me, I have complete trust in the dog, so if they are calm and relaxed, well, me too. And, for my hikes it's like 99% of the time it's relaxed.
The families and individuals that want to have a companion dog for winter adventure, of course summer as well, but this is a winter scene, then, in my opinion there is no other breed so well suited to this atmosphere and lifestyle.