Jocko - A Magnificent Male
I received these great photos of one of the big dark boys from Tora's last litter, Jocko. Sherry and Dick own Jocko in the big Ponderosa pine country of Montana, and as you can see, this big fella is really something. Look at that boy will ya, I see lot's of great dogs no doubt, and to stand out in the crowd of exceptional Elkhounds shown on this site, by golly you need to be crazy good. Take a look at the chest on that rascal, and only six months old. Look at his bone density. Check out that big muscle coming way down the back leg. He has that bone crushing jaw power that Tora makes sure all her boys get. An check that black face ole Bram stamped on, right out of the old history books this boy. Can you get a tail any better, not.
He is a very personable fella also, a great companion, family dog, hiking and working Elkhound. Everything you could want in a ancient Elkhound is evident here.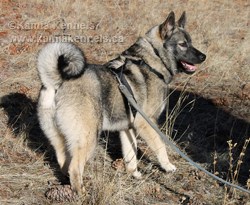 Male Elkhound - Jocko at 6 Months
"Hi Merv:
OK ... I finally have got some pictures of our Jocko Boy! He is such a handsome dog! Intelligent ... (he out smarts us at times!) ... He loves going in the truck now ... :) Figures we are going on an adventure of some sort, and generally we are. Jocko is a talker ... not always barking, but talking. When you mention the word "chicken" or "bone" his literally will lick his lips in anticipation of what's coming. He is a real fetcher ... retrieving 2 -3 items at a time ... just depends on how much he can fit into his mouth at one time! :) As far as being "protective"? I don't see that yet in him., but he is only 6 months old. Once in awhile he will be stand offish of someone that is here, but normally? He's all over them. I guess that is better than biting them ... but, we will see what the future holds.
And, I guess I better go for now .... I hope you enjoy the pictures ... we sure are enjoying him!!
Take care ..... will be sending more pictures in the next couple of months!"
Sherry
A big thank you to Sherry and Dick for the great update and all the care they give young Jocko!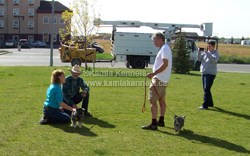 Doesn't Seem That Long Ago We All Met In Lethbridge
I can't believe the time goes by so fast and the pups grow into big dogs so quickly. Four of my good friends from South of the border, Dick and Sherry sit here with Jocko along with Paula and Steve who have young Scout. We met in Lethbridge and they had a chance to visit. Both had drove up to get the pups. Seems funny to see those two little rascals growing up so fast doesn't it. In six months time you have a pretty big pup already as you can see the growth with Jocko and Scout.
Female Elkhound - Scout at 6 Months
As far as female Elkhounds go, you all know I love all the females, but when I see the dark females come along, becuase they are harder to come by, they really hold a special place for me. Steve and Paula sent me these awesome photos of young Scout, she is down in Colorado with her big sister Kaia. Scout is the darker pattern, she follows along the pattern and style of her sister Cinder and Cypress, and her great aunts, Tora's sisters Kari, Cinnder, and of Course Nika and Lexi.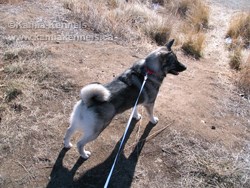 These dark girls are all very powerful, strong lean females, nice to be around and smart as can be. Paula has sent some exploits of both Scout and her sister Kaia, as they have two girls in Colorado, so I'll let her share more on this great female there.
What's neat for all of us to see is the fact that it makes no difference, Male or Female in the old lines, both stunning dogs. Agile, fast, lean and tough, polite, friendly, awesome family dogs. This is truly great that both Sherry and Dick and Paula and Steve sent up these photos and write ups on these two great young Elkhounds, we sure do appreciate it. I know how hard it is to get photos, these dogs don't stand still for long enough, just ask anyone, so when I get these great photos I truly appreciate it.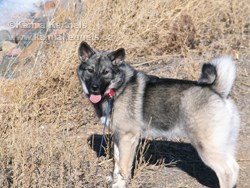 Scout is a beauty, she will eventually be taller, longer and faster than Kaia, but she will always be nicer, more easy going. She was the only female in a litter of 8 males, you can't help but be easy going, but also tempered, lean and long on patience. Not as quick to react like Kaia, but like a fine blade, every bit as strong, every bit as sharp.
Scout is pretty much the exact version of Jocko in the female Gender, and Jocko of course the exact version of Scout in the male Gender. These photos give such a great example of great care in raising these young dogs, they are in great shape, well exercised, happy and content. We want to Thank both these great couples for taking such good care of these rascals, and for sending us these updates.
There is no doubt, whether it be the great Mile High state of Colorado, or the big Pine roaming home of Jocko in Montana, there are some might fine Elkhounds keeping an eye on things.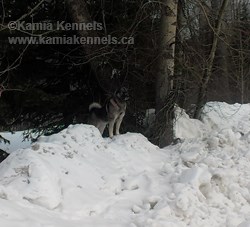 Cinder - Elkhound Female, Daughter of Tora - Second Litter
All of the females that come out of our kennel are something special, no doubt about it. And Cinder, she is really something to see for sure. She is the Dark female version of an ancient Elkhound, Jocko or Ryker, or Wyatt in the female Gender is all. Lean muscle, no fat, high energy, tons of stamina, go and go. These are sharp females, highly intelligent and want to be around you and working. A female like Cinder is such an excellent family dog, especially for an active family. They love outdoors, Christy and Brooklyn send updates on Cinder on a regular basis and they always comment on all the things they are doing together. They provide a terrific home for her, a big thank you to them.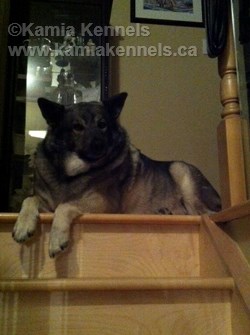 Loki, Elkhound Male - One of our first pups, first litter
A short while ago I got an update that was very special. Dorothy and Dan sent me a few photos and an update on Loki, one of the big old boys from the very first litter Mia had. He is a great fella, Dorothy said they couldn't imagine life without him. We all know what she means, once you have a good dog, you can't imagine not having him.
Loki has four other brothers, and Lexi was from this litter as well. This was a neat group of pups these little rascals, they were so spoiled. In the house all the time, Mia was such a good momma to them, it was a neat time. We got more video and pictures of that litter than all others that is for sure.
These are some terrific companion dogs, they are so personable, friendly, can travel with you, spend time easy to be around. I know Dan and Dorothy camp, and RV around, hike, and take Loki with them all the time. It sure is neat to see how the big fella is doing that is for sure. A big Thank you to Dorothy for sending this update down for us, and for the great care they both provide Loki. He has it made.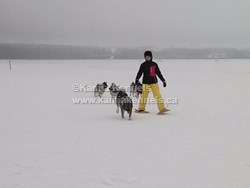 A Great Day River Hiking With Ashten and The Elkhounds
I had some great hikes this season on the Red Deer River. This particular day was really a good time as Ashten was home for reading week and came out with me. We have a lot of fun on the river hikes as it's literally an endless trail, and once the snow firms up just a bit, the dogs then can run on top for the most part, sure they break through a little but it's great going. We can motor with our snowshoes as they stay up really well on this frozen snow, it is great this day as it had been windy, and cold just before, so it was froze pretty good. It was a pretty cool day, but we had fun.
Jaegar he sure likes these areas, and Kamp is really glad to have him around, she can roughhouse with Jaegar all day long then. Tora, GAEDA and Takoda, they have to take turns wrestling it out with Kamp, she has so much energy.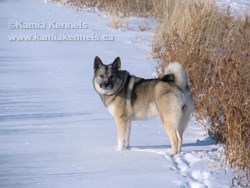 Kaia - Female Elkhound Two Years Old
For those of you who follow the newsletters you know that there was a big birthday party for Tora's first Litter pups a short while back. Two years old! Well, Paula and Steve sent me up some awesome photos of their two females, and I have Kaia shown here. You all know I like these daughters of Tora, and for good reason, check out that Kaia.
When your looking for a good representation of traits, you'll find all your looking for here. Subtle things that all combine to produce a truly outstanding female. The very first thing the just stands right out with this female is the confidence, the attitude. This is not just inquisitive stance this is pure confidence.
Another thing, it's hard to find females with great chest development. The chest needs to be deep, and come out front of the leg, not recessed back. You need that rib cage to carry back, allowing room, retaining that flat old world belly. The big hips need to be set correctly, this is a seriously good set of hips. Remember a while back I showed a photo of that x-ray of Tora's hips, Kaia would have every bit as good a set if not better.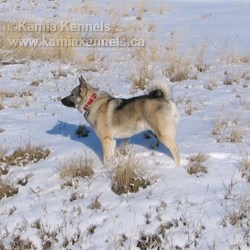 Notice the plane of her skull in relation to her muzzle. Same plane, same length, not too much stop. You want a set of oval eyes, all protected by bone. It's difficult to get good muzzles on females, this is a muzzle. There will be males hiding under the table if they see this photo. The coat is terrific, not too loose, not too tight it's just right. Loose coats are easy to come by, just right not so. Loose coats let in mud, moisture, let cold out, too tight, then don't breathe well, don't dry.
I don't think you could ask for a better tail. Is there a set of tails on the pups of Bram and Tora or what? No kidding. Now the big thing for me is the overall balance. I really like the dogs that don't appear to stand going uphill, or downhill. I like to see the balance. Some dogs, nice good dogs, even on flat ground they just look like they are going uphill, ever notice that. These balanced dogs are easy moving, but more importantly are extremely agile. They are so well balanced you find them up and over, and under and around things with such ease that you don't even see them working at all. This balanced type of dog is as if on springs in the bush.
And, of course, for me and make note, this is just a Merv preference, this is not in the judging manual, if she is known to put the run on the garbage man, the mailman, the contractor doing the reno, this then my friends, this is what tips all the scales.
There are no greater female dogs that female Elkhounds. None.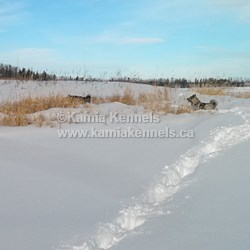 Conditioning Program Requires Some Deep Snow
When your muscling in your Elkhound, to actually get them into a situation where it's tough going is most beneficial. My guys are all workaholics, so when we get out to some areas where it's deep snow, they are some happy dogs. Now, this type of terrain puts them into some high intensity workouts. This is the time the Elkhound can really work hard and not overheat, or anything of that nature. They really can build up the bone mass, the muscle packs on here, the lungs expand out, the heart really grows in size.
All the tissues get re-energized as so much clean pure oxygen is pumped through, all old debris in the muscle fibre is displaced with clean new stronger tissue. The dog becomes very happy, the pent up energy, the excitement to get out here is turned into a positive tool to make your dog stronger.
We do our major conditioning in the deep snow times, it's the only time we find we can really work them hard. They are so strong it's hard to find conditions that are "not a walk in the park", type of thing. Not that I don't do walks in the park, our course, but when I get the winter conditions it's time to really build up the dogs.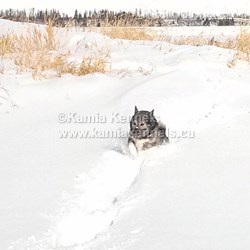 Takoda, Training Program
Now, having said that it takes some tough terrain to put them in tough situations, it's way easier to put Mia, Tora, etc. in tough terrain, it's much harder to put Takoda in some. To get him in up past his back, that takes some powder trails, the big snowshoes, and I need to dress light of course, as I will be cooking. This old boy he is just a smiling out here.
His old ancestors, they used to and still do run the Northern regions, all through the gigantic Siberian range, working alongside the handler day in and day out, hunting, trapping, taking care of business in a truly harsh land. These big boys have been known, in the dead of winter, to run on the frozen rivers for a 100 kilometres in a day, and think nothing of it.
Takoda, he stayed true to his roots, he can outdistance all the others by huge gaps, any time, he is built for the deep snow. He excels in this like no other breed of dog. He is in the best shape of his life now, he is muscled in, zero fat ever on him. He eats twice as much though as any of the others. His chest is so deep, he has tremendous lung capacity. His heart is probably 12 pounds, it would be huge.
He is a flawless example of a hardworking ancient northern Region bad boy, for a fact.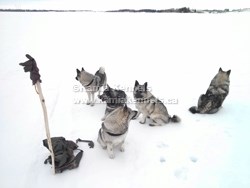 Next year, a Kick Sled
I have decided that next season I will get me a kick sled. It's a Finnish design, very light, fast sled that can be used by one or more dogs. Once the river snow froze hard, I can't keep up, so I will get me one of those kick sleds and tie a couple of these rascals to it. I best hang on.
We are in the cottonwood area here, only limited farms and remote ranches along here before we are in the mountains. This river would lead me straight west for about a 100 miles or so, maybe not quite that far and maybe not straight, but somewhere in that range to the headwaters in the Sawback range, of Banff National Park. This river is about 450 miles long in total and spends it's entire time in Alberta except for about 16 miles in Saskatchewan before it meets the South Saskatchewan and is a major tributary of the South Saskatchewan, of which of course ends up in Hudson's Bay.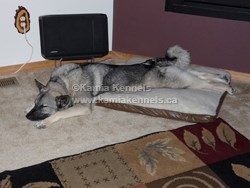 Elkhounds probably started Yoga
The one thing about Elkhounds, they are limber. This is Freyja, a beautiful female from Bram and Tora, stretched out, relaxing. I know I try to stretch like they do, just kidding, we all know I need a little bit more work than that. But seriously if we all did stretch like they do, we would be toned and flexible wouldn't we?
Amber and Clint and the kids have Freyja down in Washington, a great place for a great Elkhound. Amber mentioned that young Freyja, she is following along her Grampa Takoda's type, she is a big girl now.
"Hello Merv! I just wanted to tell you something that impressed me about Freyja today. I took her for a walk with a friend of mine and her dog. She has a male, AKC black lab. He's a very big boy. But what surprised me was that Freyja is taller than him, by a good inch, maybe a bit more! So I decided to measure her when I got home, she's 24 inches at the shoulder!
She is however, far leaner than the lab, and has much better manners as well. I could not weigh her this afternoon as the batteries in my scale died, but she has her annual vet appointment in 2 weeks, I'll give you that update then. Anyhow, I just wanted to tell you I was shocked and impressed to see that my elkhound was taller than a lab! Hope all is well for you! We are getting snow once again. I doubt it'll last, but Freyja and the kids are sure happy about it!"
Amber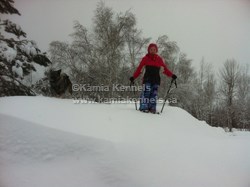 One of the Greatest Updates I have Received - As a person devoted to raising great companion dogs, I could not imagine a greater compliment than what Alyssa has given - Thank You Alyssa!
"Dear Merv,
Wyatt is really spical. I walk Wyatt every day. I spend most of my time with Wyatt after school. All I talk about is wyatt. When I am at school I do projects on Wyatt and my teachers say it is a good subject to study on and I get good marks like A pluses just for studing on wyatt.
I wish I can bring Wyatt to school and show all my friends but some people in my school are scard of dogs or they have dog alergies.
Wyatt is awesome. I was walking Wyatt,Wyatt was standing by my side and he heard his dog friends barking Wyatt diden't go running off to his friends. I fell like wyatt pertects me like he is my gardian. Me and Wyatt are there for eachother we stand up for eachother. Once there was this girl named Justine and she called Wyatt a little girl Wyatt felt sad so I standed up for Wyatt. Me and Wyatt are best friends forever. I love Wyatt so much he is the best thing that happend to me. Thank you Merv for giving me a new best friend thanks so much.when I got Wyatt he changed my life."
From your dear friend Alyssa.....
Well Alyssa,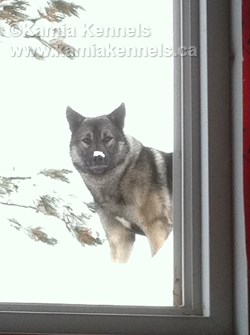 That is a terrific letter about Wyatt. You sure are giving him a great home, and what a great companion you are to him, and him to you. That is such a great thing to have a real good friend like Wyatt. And I know he sure appreciates all you do for him as well. I understand what you mean about taking him to school, that would be very neat, but as you mentioned, some of the people might have a dog allergy or could have an allergic reaction of some sort, so, that is unfortunate for them.
I have a family waiting for a pup, their daughter is allergic to most dogs, however we did have her come out to meet Wyatt's mom Tora, and GAEDA and a she was able to sit with them and visit, and she did not have a reaction to them, the Elkhounds like Wyatt are for the most part, no odour, they don't seem to be quite as hard for people to adjust to that have these reactions. So, this family is now going to get one of the pups, she was able to spend a few hours playing and sitting around close to Tora and had no problems. She would have reacted in minutes to all other dogs she has been around, so they were very happy. She is around 13 years old, so they are excited, they want somebody just like Wyatt as a pal also.
I am glad to hear that you have Wyatt well trained and that you and him are a pretty good team, nice to hear he sticks around you and didn't race off, that is perfect. Also sometimes your friends might not understand just how good a dog Wyatt is, and maybe even be a little jealous, so it's good you had patience with your associate Justine, she just might need to be better educated about the relationship you have with Wyatt.
You and I both know Wyatt is no little girl, that is for sure isn't it? I was smiling reading that, probably just like you were, pretty funny, Wyatt doesn't seem to be much of a little girl does he? She might not know like you do, that Wyatt comes from a long line of family dogs, dogs that are born to be pals, and best friends above all, and good strong companions, and protectors. Be patient with her, and others. You and I can work toward educating some people about the great elkhounds like Wyatt, as for most they don't know much about them.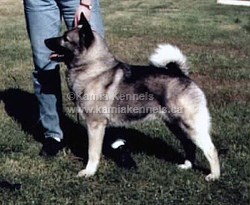 There is nothing like a friend like Wyatt, I do understand what you mean for sure. I am very proud to hear that you can get A pluses for study on Wyatt, that is neat. Wow! Although you probably get A pluses in lots of subjects I bet. Just a little background for your studies and projects some time. Wyatt's heritage is some very special dogs. Way back, many generations there was a very special Elkhound. His Name is Mini-G . He has passed on, but his legacy is very powerful. Mini-G over his lifetime was crowned Champion many times, in many great shows throughout Norway, and Europe, and he was voted as the "Best In Show" at NKK's exhibition in Moscow in 1993, a position few Elkhounds have ever achieved. Mini-G was Exhibition champion in 1993 and was the 1995 Norwegian Hunting Champion, a tremendous feat in a country of Hunting dogs, and as the Norwegian Elkhound is the National Dog of Norway, this is a supreme field of dogs to excel in. He went on to win the "Show of Winners in 1997 again, this is the very best dogs in a country that prides itself on having the very best of Elkhounds. To win this category is truly outstanding.
Mini G was one of the longest reigning Champions in the history of Elkhounds, even when he was 10 and ½ years old he competed in the Huge Exhibition in Hamar to be the Best of Breed and was the Norwegian Winner in 2001, in a class of all younger dogs, a huge accomplishment. This has never been done again by an Elkhound of this age, nor will we most likely see it again.
His fabulous career ended with him voted as the 6th best of all in the Group 5 of all Elkhound Breeds. This is about as good as you can get, this all Elkhound breeds.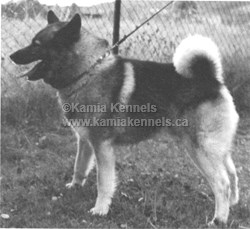 The history of Wyatt is very powerful indeed. Few know of Wyatt's great bloodline here in Canada. In Norway, Wyatt would be like a celebrity or something, many people would know who he is, they would know his history, Wyatt and you would be recognized just walking down the path, people in the old country have great respect for Wyatt's history. To get a dog of Wyatt's heritage in Norway is a great honour. Here in Canada sometimes people take great dogs for granted, so have patience with your friends, they just might not have the knowledge and understanding that you and your parents have.
Wyatt has many other famous Champions in his blood, all true companions and pals, strong hunting champions, the very best of all Elkhound genetics course through Wyatt's veins. I will tell you about some more of the champions in his background some time, there are many famous dogs. But you might be able to share that information above in a project some time.
I will attach a photo for you of Mini-G, and I will also attach a photo of a great grandmother of Mini-G, she is like a ggggggg grandmother of Wyatt, but one thing you will see immediately when you see the Photo of Gjende is that she is just like Wyatt, or Wyatt is just like her which ever way you like to compare it. Gjende was born almost 40 years before Wyatt. So some neat stuff for a project some time.
I wish to thank you for the great letter, that is awesome. Please have your mom or dad let me know if it's okay to use it in the newsletter on the website, I would like to share your story, and you can edit it if need be.
Thank you again, say hello to big Wyatt for me.
Sincerely,
Merv Carlson
Our credit for the beautiful photo of Mini-G and Gjende goes to the Varjdalen Kennel in Norway, thank you very much.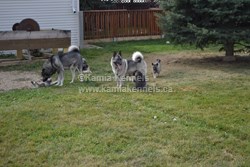 Immunity Passes Initially But Be Very Watchful
I wanted to touch on a very serious issue. It's a deadly condition called Parvo, which dogs can get. Specifically pups. I will say this, I am concerned about the Parvo vaccination program, you need to be extra cautious. Recently we had a young pup from the last litter, go to a new home. They followed all the protocols for vaccination, we of course had the pup given the booster here. Within the 4 weeks they gave the second booster. They proceeded with the third booster. Now, this is where it gets scary. Just before the six month mark the pup came in contact with Parvo virus, and contracted this deadly disease.
The folks were quick to act, they got the big fella treatment, and fortunately he was a strong stout big fella, and he came through, not without some serious work and concern though. This family did all the right things and my huge thank you is not near enough, they acted fast which I am sure played a bit part in him coming through.
80% of pups under six months that get this die. The Elkhound is a very strong dog, thank goodness, but it can still affect them. All our dogs are given regular vaccinations according to the vet protocol and the initial immunity for this disease passes from the mother. Once the pup is weaned, the series of boosters assist the pup to build his own immunity to this. This Parvo is scary stuff. Be sure to follow all the recommendations on the the boosters, and if you see your pup with any nauseous symptoms, call the vet. Don't wait, act fast.
What we know from this experience is that even with the complete set of boosters, good health, all precautions, this deadly virus can still strike. You should read up on this bit as I am no expert is this area, but I wanted to be sure to have everyone aware of the danger of this deadly virus.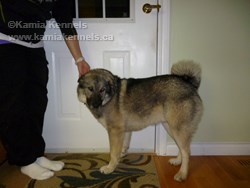 Kage, Full Brother to Wyatt, Same Litter - Loki picture below him
Jackie sent a terrific update on Kage, he is a great male, a full brother to Wyatt, pictured above. Kage is a big boy, he is 60lbs in this photo, this is a very well balanced male. He has a tremendous personality, more laid back than his partner in crime, Loki. Loki is from a different lineage, not one of our dogs but a beautiful dog, none the less. Jackie says they get along great, but Loki is a bit more dominant and not as laid back as Kage. Jackie mentioned she is getting the two boys to pull some, she is going to have these big fellas used to the harness for skijoring and more.
George and Jackie have done a really great job with Kage, him and Loki are both excellent Elkhounds, they have as nice a pair of big boys as anyone in Canada, no doubt about that.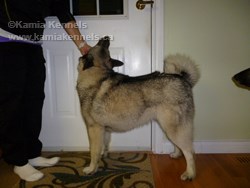 These two boys are pretty much identical, Kage is just a little heavier than Loki, 53lbs, but you could easily mistake them for the same dog. It's nice for elkhounds to run in pairs, we are big fans of it, we find the Elkhound, because it is such a pack oriented breed, they really do well together. Of course one will always try to outshine the other, but for the most part they will both get along great. Closely matched pairs, two males, two females, or male female combo, all work well. Two same gender siblings of course is the very best in my opinion, although you can't argue with these two big boys.
George has these two big fellas on a raw diet, he has a great grinder and makes up his rations using top quality ingredients. Personally, this is the very best way to feed these big fellas. you can tell they are both in top condition. They have tons of exercise, and now with Jackie and her canicross harness and belt system, once she has these boys pulling her around, you will see even more muscle on these rascals, although they are muscled in very well as you can see.
I want to thank both Jackie and George for the great home and care they provide these boys, and for all the updates, I can't wait to get feedback as she develops the pulling with them.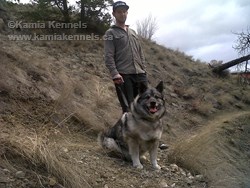 Mia and Jay, she is a desert dog now
Mia is now a desert Elkhound, go figure. She moved out to Kamloops to spend some time with Ashten and Jay. She is shown here hiking the mountain trails of Kamloops, which is the northern tip of the Sonoran desert. She loves it. Even old elkhounds retire to BC, not just old Swedes. Mia is retired, but not old. At least she doesn't think so, still making quite a scene around this town anyway. Keeping Jaegar in line as well.
Elkhounds live a long time and Mia is a good example of an active, healthy mature female. She can still hike with the young dogs, sure she is a little way's behind some of the super fast ones, but that is not due to age, just short legs. This is a trouble free breed, and Mia is pretty much a perfect example of trouble free. She eats very little, extremely efficient with food, what I call the easy keeper lineage. She is quiet, never bothers you, not needy, does her own thing. I don't think I have ever heard her whine in her life. Mia is not fussy about a thing, not one single thing, takes it all in stride.
She is ready to go when you are, and if your not she will explore on her own, a very independent female. She is the stubborn Norway line, so if she is getting a mouse, she figures you can wait. They are much more stubborn with things of that nature than the Takoda genetics. She gets along with Ashten just great no doubt, but Mia has always been partial to Jay, so she is having a great time, for her, spending time hiking the desert hills with Jay is what life is all about.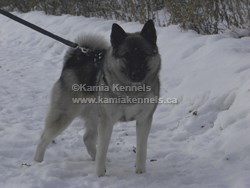 Kamp - Female Elkhound
The beauty you see here is what is known as the Nightmare Kamp. She is a handful. Only Tora can handle her. She drives GAEDA crazy, she drives Takoda Crazy, Jaegar, Mia, all of them. Only Tora can deal with her. Kamp plays rough. And she has this habit of biting down on top of the neck behind the ears, literally drives everyone crazy. Tora has the patience to put up with this, and Tora has the raw power to simply turn right in that grip and come right around and there is nobody that can hold on if Tora wants to turn out of that. Kamp she works hard to try to get Tora in a tough spot, but she hasn't quite got that figured just yet, nightmare or not. She is a great female though, so nice to be around, all antic's aside. Smart, watchful, no fuss, just a great Elkhound. Wants to please, quick to learn, understands anything I ask of her. Doesn't forget, train her once, she remembers. This is a good dog.
She is taller than all my girls, she is going to be heavier. She is really muscling in lately around here. I have been running her in the deep snow and she loves it, and it is really building up her mass. I have her on a high plane of nutrition as well. This year she will fully develop into a magnificent female, she already is, but by the end of the summer, wow. This is an outstanding female. Combining her with Jaegar this is going to be an incredible pair.
We have not announced her litter but we are going to have a litter late this summer with her and Jaegar, so I will be putting that up, but you can speak for a pup if you like now. I have a number of couples who have spoken for a pup already from her so you best get a hold of me right away. As soon as I put it on the litter page her litter will be spoken for quickly.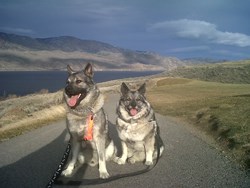 Jaegar and Mia - Ashten has them on a nice walk - check out that weather
Ah Man, I am still in 18" of snow, way over my high top boots yet, -14 this morning, and Ashten sends me this photo of the desert lake, and golf course trail where her, Jaegar and Mia were on a nice walk. Some how I think something is wrong with this picture. I am pretty sure it's supposed to be me there in the nice heat, green grass, walking the lake, no I must be confused.
Any way you slice it walking along this course, wow, what a spectacular view and what a great trail. Jaegar Man, Mr. GQ himself, he is sharing his haunts with his mother, she is enjoying all the neat trails he has to go on. This is the first big trip for Mia, the first big holiday, or get away, it's well deserved.
These two dogs are mentally, and instinctively as close as you can get, Jaegar, he looks after his mom, and Mia's bond with her big boy, well that is about as strong as you'll ever get in the dog world.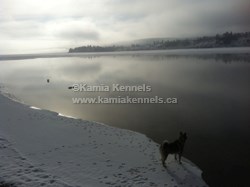 Ryker, on watch
This is such a great photo. Amber sent this up a while back and I had been meaning to get it up, it's great timing as Ryker was recently two years old as well. That first litter of Tora's had 3 terrific males, Ryker was one of those. Lot's of folks ask about the Elkhound as a companion and family dog. Ryker is a perfect example of that. Amber and Chris came up to see us before Ryker was born, they wanted an active dog, and easy dog to look after, one that could hike, go on walks, go to the wilderness trails, but be at home in the city also.
This is pretty much an ideal dog for that situation. Amber and Chris travel out to BC often, Ryker is a great traveler. He fits into the life they have. A nice Elkhound male like Ryker is the ideal multi-faceted companion dog. He can be urban, he can be hike commander, he can watch things, be a lookout, yet, come in by the fire and relax. As a no odour dog, he can be out and be active, yet come in and just have a quiet evening.
These big boys are intelligent, so they can adapt very fast to all kinds of situations, yet as you can see, give him a chance to get back to his ancient roots, his heritage as a coastal snow dog, fjords and frozen inlets, lakes and rivers, well, good luck trying to get him in early. Thanks to Amber and Chris for the great photo and happy birthday to the big fella.
"Hi Merv,
In Invermere over this past weekend - Ryker couldn't get enough of being down at the beach even though it was covered in snow. I was able to catch a picture of him observing the lake. Enjoy!" Amber and Chris.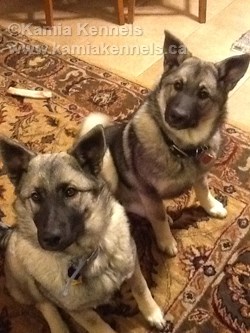 Kijsa and Koda - Sister and Brother - What a matched pair
So, take a look at these two Utah rascals would you. Janet and Robert just sent me up a couple of photos of these two a couple days ago, they are 5 months old in the photos. These are from GAEDA and Takoda. That is some tight genetics. They are so closely matched, I knew who was who, but boy oh boy, there is no doubt they are siblings. Kijsa, on the left was of course the largest female pup we had at weaning. She is still heavier than Koda, by an ounce. I can see the intelligence, the willingness to please just staring right out at a person.
The personable nature to the handler is so evident. This is a great pair of Elkhounds. We have always been advocates for two dogs, matched pairs, siblings that sort of thing. You can't get two better matched pups than this. I believe the benefits to having two dogs running together is so beneficial. There are huge advantages in all areas of life for them.
The pack instinct is really strong in the old world dogs, so it's a very instinctive behaviour for them to have a sibling to grow with, they think alike, act alike, watch out for each other, all the benefits of mental and physical of course are naturally going to occur, but on a deeper instinctive level it's beneficial.
The other huge advantage of course is in training, and I am not just speaking of us training them, but of them training us. It's so much easier to see how dogs communicate with two, this makes it way easier for us to learn from this communication. These two pups, Kijsa and Koda, they come from the premier communicator lineage, and as they are Takoda's offspring, of course he is about the best there is in distance communication, so they have this, you can see it.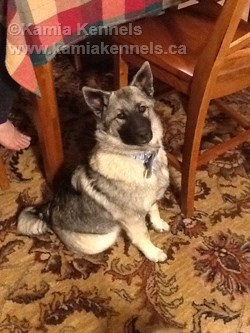 Now I thank Janet and Robert for these great photos, and while I have them I am going to take the opportunity to expand on a couple of things related to old world breeding principles. These two pups are ancient lineage, as are all our dogs, Takoda of course brings all the Northern Swedish lines in and GAEDA is a registered Norway lineage, so traces way back of course to early 1900 through the association, but they are much older as well. They have been keeping track at least since that 1880-1900 range.
One of the key things as a breeder of old world principles is to keep the dog the same. An easy explanation of course is to use the photos Janet and Robert sent. I have seen that look many times of course, a lot of you reading this have as well. I have put a photo of Takoda directly below Koda, so you can see exactly what I am talking about. If it was a little dark out you wouldn't know which dog was sitting there. Koda or Takoda. Kijsa or Takoda. The ultimate goal is to leave the dog and the breed pretty much exactly as you found it. There is nothing that is missing in these ancient lines. There is nothing that needs to be added. And guaranteed there is nothing that needs to be taken out.
So the very first old world principle is to leave it as you found it, nothing changed. For a person getting a pup, they should be getting exactly what was roaming the northern regions in 1900.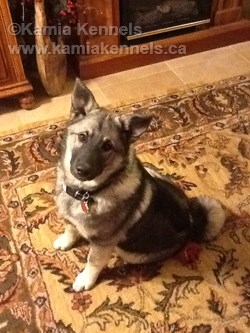 Koda and Kijsa
It's very apparent looking at these photos that traits, they are easily retained. Now, I want to illustrate another old world principle, and this is not practised by very many breeds, the Elkhound is one of the very few this is still practised. I discussed this with a lady getting a new pup from the upcoming litter just recently, and with these photos it's easy for me to talk about it now.
A male should not be used for more than 100 pups ever. As you can see genetics are tight. They hold tight. Good and bad traits hold tight. Did you get that part, good and bad.
Now, lets speak to a bad trait for a second. Let's say it doesn't appear in the direct descendant, say this pup, Koda. Let's say it appears only in the second level, or next generation. We would be then looking at say Tora's pup. If nothing appears, odds are it won't, but it sometimes take a generation. Now, if you used this male extensively and then second generation issues occurred, it would be way to late to correct, and could be very damaging to a breed. Thus the reason the old breeders, ourselves included only suggest using a male at the very most 100 times.
For us, that number will never be reached of course, we don't breed that many females, or anywhere near that many litters, and don't share our lineage, ie stud, so there is pretty much zero chance of Takoda having 100. But let me share a staggering, and truly unbelievable statistic with you.
In Canada's or should I say North America's favourite breed, or at the least one of the breeds most people have, the top stud dog has over 2900 pups. Can you imagine anyone thinking that is good for a breed. That is what I call a nightmare. Now, this is not Elkhounds. I repeat this dog is golden and retrieves stuff.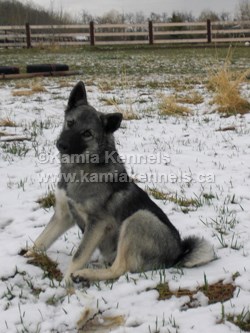 This leads me to another very important principle and something which we firmly believe. I think, and many before me think, that the underlying reasons the associations were formed were with good intentions, yet many took advantage of the systems. What they are mainly used for today is a place to track genetics and to show stupid breeders, and no mind idiots who don't know a good dog from a bad dog exactly which dog they should mate to who, based upon what someone who did know, and who could tell the difference and pick complimentary pairs was doing. Basically copy cat the good breeder.
There is absolutely no doubt in my mind if that stud that was used 2900 times was not listed in a database, that people could just look up a popular stud, and that owner kept his lineage with a principal few females, you wouldn't have 2900 pups from that one dog. And considering the nightmare when that 1 male has a recessive issue that doesn't show up right away, what havoc that wreaks on that breed, all in our opinion because the association proponents in many cases just wanted to know the breeding history of the good dogs. Thousands of people today don't really breed dogs on a working knowledge of the dog, they breed on the past "Show and Registration Trail", the dog they are breeding has never been in the bush. The dog has never been off leash in a remote region. The female or male has never stood and battled with a predator, side by side with it's mate. There is nothing in many breeding programs today other than a trail of breadcrumbs they follow.
A breeder should have the ability to share what he wishes, with who, he decides. This nonsense of having 2900 pups from one male stud is ludicrous, downright harmful to the breed long term. Here is the final point about this particular pair of pups. Every female should meet the male. I believe that in some cases the female might get a sense of something not quite right. Now, of course there is a time and place for AI, but GAEDA is a perfect example. The reason we have GAEDA is that she was retained as a breeding female, but she did not accept the other breeders male. They offered her to us in the hopes families could benefit from her, she is a good dog. Now for whatever reason, and it matters not, the instincts of a female are very powerful. Breeders, old world breeders understand this. Those 2900 pups would have came out of somewhere around 500 females, I can guarantee, 495 of them never met the stud. Here, if possible, we try to allow the instincts to flourish, and that comes right down to the female accepting and in fact choosing the male. GAEDA of course as we have these pups on the ground, she obviously approved of this partner.
This my friends, these pups here, they are special, they are a result of an instinctive mating by a selective female, these are ancient Elkhounds.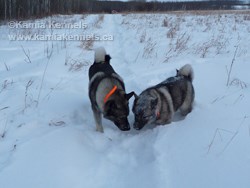 Torsten, Male Elkhound 2 Years, Full Brother Different Litter, Gunnar Male Elkhound 6 Months
Elkhound males like these two bad boys are not found every day, in fact if your lucky enough to ever see two big dark old world brothers in your life you should buy lotto tickets. Brian and Lindsay raise two of the old world best, no doubt about it. Torsten as you know is an outstanding male, and Gunnar, he is excelling in all areas, will be every bit as good a dog as Torsten, and good gracious that is doing something.
Now when raising two big males, intact males I will add, a few things need to be mentioned. When these two play with other dogs, the other dogs think they are will be killed by these two. These big boys play rough. Sure, they are social sure they are nice, but don't kid yourself they are very strong. An Elkhound male is well known to be so hard to knock of his feet, they are so agile, powerful and fast. So, those designer type dogs they sometimes come across in the big city and places like that, well they best head back to the dressing room if they see these two coming to play. It might not go so well for them.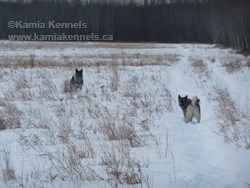 Where these two rascal really shine, well that's when Lindsay is at home at night, Brian is maybe not back yet, a knock at the door she hears, figures you know what, it's late, didn't know anyone was coming over. She can take Torsten up to the door, let Gunnar out the back around the garage, he can come up between the truck and visitor, Torsten can assist her to greet this stranger, a pretty comforting thing those two big fellas. And, I can say this, without a moments hesitation, what a mighty uncomfortable spot for the stranger if he had some negative vibes and thoughts, mighty uncomfortable spot indeed.
You can talk to me about home security systems day in and day out, there is nothing like a big black faced white fanged Elkhound to let you know, mind your manners, keep your distance till your approved for entry. Nothing like it at all. A big thank you to Lindsay and Brian for the great care they give these boys, and for sharing the updates with us, we sure do appreciate it.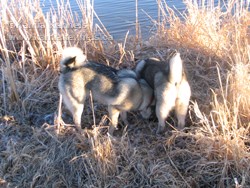 Elkhound Females Scout and Kaia - You tell me which is which
Paula sent this awesome update along with all the terrific photo's of the two females.
"Hi Merv -
Pair will take a picture tomorrow and send it to you.
In the meantime, a little about Kaia and Scout. Let me just say they are strikingly different and nearly opposites in every way but they are beyond close. Closer than Knute and Sixie. They are one.
Kaia is growing up and maturing. She is and continues to be "the instigator" extraordinaire - mischeivious, obstinate and, at times, completely unruly. But she can also be sweet, loving and obedient. Having Scout around has been calming to her in some way - she has pretty much given up barking for no good reason. Kaia is protective of Scout, us and our home. She senses things. When our house was being remodeled, there were a couple guys that she DID NOT like (actually nipped at the back of their legs above the ankles and had to be kenneled). She knows things we don't and we pay attention. Nothing gets by her.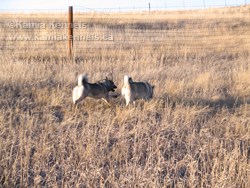 Scout, well she is the sweetest thing and smarter than smart. She watches everything, listens to everything, knows everything. When she looks at you, her eyes move but her head remains perfectly still - its the funniest thing. She's thinking all of the time - you can see it in her eyes. She is happy - so happy all of the time! She is completely trusting of us and she can be completely submissive - flat on her back between our legs with eyes closed. Kaia is less so - except with the Syd. Scout loves to be brushed - Kaia, not so much. And, Scout just seems to want to communicate For instance, she had a bit of an upset stomach last night so I was up at 3 am making some rice to settle the tummy (works like a charm every time). She was still a little off this morning and knew that I stayed home to keep an eye on her. While I was sitting on the floor by the fire working, she came over and gave me a big stretch (she and Kaia both love to stretch every which way for me - they get the biggest kick out that), a kiss and asked for a tummy rub. Then she was off. She's sensitive like that - she just wanted to check in and let me know everything was ok. She seems to be growing into what she will become - not the beautiful specimen that Kaia is but a strong, more powerful dog that is just built completely different. I sometimes wonder if being the runt has something to do with differences in development but it really makes no difference to us. Scout is our Scout.
Your website continues to be really, really great - we visit the site regularly. I love your stories. I told you, you could write a book (can should consider it).
All for now."
.p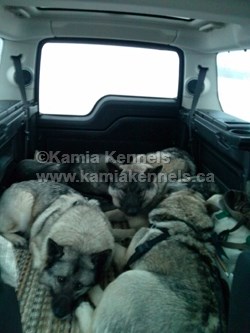 I have enjoyed getting all the great updates and photos from everyone, I sure do appreciate it. I can't tell you how much I enjoy getting a nice update and some great photos of the pups and dogs as they grow. it really is nice. Please, everybody, continue to send them in, makes for some neat stories. Just a note on the watermarks, I have went back to putting them on as I was finding photos of dogs, both my own and the ones my folks were sending in on some places that were not authorized. So, I have went back to watermarking to prevent this, when you send me a photo the copyright to that image resides with you, I simply am copyrighting the work ( image page etc.) , your image is your image. Thank you.
I am going to wrap up this newsletter its been a fun time putting it together, of course I couldn't do it without all the great updates, and without great dogs. The frozen river running will come to an end soon, weather is warming up, the dogs and I will be back to the mountain trails. It's been a great winter so far, warmest in my life, coldest day we had so far was -27, so maybe there is something to this global warming. Tons of snow though, just the same.
All the dogs are well, the photo was one Ashten took on the way home after one of our hikes on the River, Five tired Elkhounds, no doubt, tired by happy.
As always,
Merv Carlson
Kamia Kennels