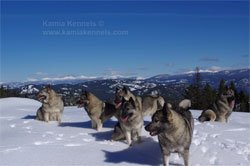 New Norwegian Elkhound Puppy Litter Announcement - I am going to try to duplicate this result in September time frame of 2016 with Kamp and Jaegar again, AI.
So this litter I speak of below was a huge success. 5 Awesome Young Elkhounds, I speak to them in the latest Elkhound Newsletter - Jaegar and Kamp March 18th, 19th 2016 Expected Pups May 20th 2016
Jaegar Hiking with 5 Female Elkhounds February 2016
As all of you know, I had been planning a litter with Kamp and Takoda for the spring/summer of 2015, I did not get a cycle from Kamp with that intense heat we had. Then, when she did cycle roughly six months ago I could not get a hook-up with Takoda and Kamp. I had taken Kamp in to the vet and had everything checked out, but nothing appeared out of the ordinary. I had tried a hook up with Jaegar at that time as well to no avail. I thought no problem, things happen. I would let Takoda have another try when she cycled again.
Mid March of 2016 Kamp starts to cycle so I was very excited, when the timing was right I put Takoda in with Kamp. I watched closely, however he was not going getting a hook up. I was pretty disappointed, I had waited 5 years for this. I had no choice but to try Jaegar. As well, he could not get a hook up. It was not for lack of trying on the part of all three. They were all game, no questions there. But something was not quite right.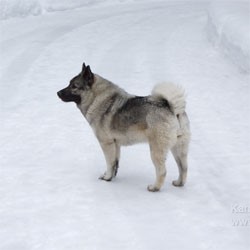 Kamp Breeding Female Elkhound 2016
Now in the past few months I had been exploring some options in the event I could not get a hook up with this pair. Our vet in town, Carol Scholz D.V.M. had recommended I speak with the reproduction experts up at Okanagan Veterinary Clinic in Kelowna. Irene Mul, D.V.M.
I contacted Betty who is the trained Technician up there and spearheads the AI and reproduction work for Dr. Mul. Betty was totally awesome to work with, as were all the staff and Dr. Mul. So bottom line was they suggested if it occurs to bring Kamp up right away, and we could do a complete exam. We also discussed the possibility at that time of my options if we could not get a hook-up. It was suggested that potentially I could go the Artificial Insemination route. We all knew Kamp was a sound female, had awesome pups, there was just some little hookup issue. They suggested I could get semen from a breeder perhaps that was already collected, or potentially if I was open to the idea, we could collect from my males, and then simply AI Kamp with fresh semen.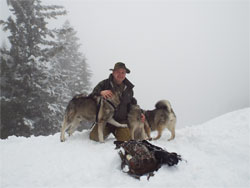 Jaegar up for a hike with Tora, Kai and I
As things worked out, I couldn't get the hook-up. So I called up to the clinic in Kelowna and let them know what was occurring. It was decided at that time to immediately bring Kamp up, and bring a male that I could collect from as well. So, unfortunately the only male I can take in for that kind of personal work, close quarters has to be Jaegar. There is no way that Takoda is going to be allowing those girls to be working close quarters with him. That is the one unfortunate part of this whole process. However, that is not such a bad deal, as of course, Jaegar is so perfect for that kind of work. He just happens to be a full GQ Male, what a blessing in disguise. I mean he is totally an awesome mate for Kamp as well, bottom line, equally as well suited, perhaps almost better suited to Kamp than his dad, but you could not get a better male for this type of work we need from him. I had no knowledge of how the actual collection process was going to work with Jaegar, I just knew our training with him was first rate and he could be trusted and managed without a flaw.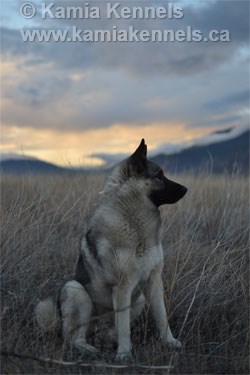 A Stunning Young Kamp from a few years ago GQ Female Elkhound
Equally as trained, equally as stunning in socialization and personable nature is Kamp of course. I knew I would need both sides, Jaegar and Kamp to be 100% co-operative and steady.
I get them ready for the trip. Now, for those of you who have never experienced a Male, a full breeding intact big fella, who wants to mate, and heard the racket he can make, well it's a Wildman show. There is nothing quite like it. We are talking noisy! Now, consider putting that maniac in a kennel in the back of the SUV, and right beside him, in another kennel is Kamp. Which he can't get to.
Wow! Talk about a traveling show. The landrover just happens to be the quietest SUV on the planet best sound insulation there is, and I am stuck in it with Jaegar for 3 hours, each way. For three Days! So anyone thinks even remotely I am not committed to raising good Elkhounds for great families to enjoy, they just need to experience 5 minutes of that Wildman show, let alone 18 hours of it. They will know I am committed, most likely to a rubber room.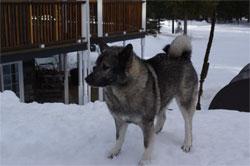 A Big Stout Wildman Elkhound Male
So we get to the clinic, too funny. I get them out of the SUV and it's like wham, my leashes are so tight. Jaegar he is wanting Kamp . Kamp and him see a dog, immediately it's hair up and Jaegar just a growling, the guy says, I guess he is not friendly. I am wrapping the leashes around my hands, I look like a psycho with two freaky Elkhounds. It's hilarious.
We go inside, more dogs, big malamutes, pointers, some crossbreds, good gracious, busy day. Jaegar is a freakshow. They come right away and give me a hand, take Kamp into a room, and direct me to another one. Whew. So, we need a blood sample to send to the lab for Kamp, so that we can determine the ovulation timing. That has to go out immediately to Vancouver, we should get results in the morning. I am entirely confident in the scent of my big fellas so I have shared that with the Vet and Betty. They let me know that my guys could potentially be off a day or more, but take my confidence to move forward. So we are going to inspect Kamp, and check her out. Not one thing could be determined by the specialist, all appears fine.
So, we move to the next phase which is to collect then from Jaegar and we will simply AI Kamp with the fresh collection, NOT. Jaegar is a comfortable big fella, but this is a brand new deal for him, and as an experienced breeding male, this is definitely not how it's done he figures. They share with me it's much easier on first timer males to collect than experienced breeders who know the real way. Ah Man, what next. So he will not get comfortable enough to be able to collect from him. I am a bit disappointed to say the least.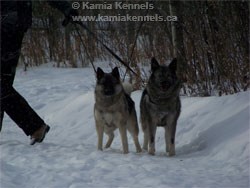 Kamp and Jaegar - Two Awesome Elkhounds pictured a few years ago
As there was nothing more we could do we decided to go back home and try again tomorrow, but the Vet suggested I do not let Jaegar see Kamp till the trip back, wind him right UP she suggested. Get him really READY! That was funny in a way, as she didn't have to travel with him, but I said for a fact. No problemo. So I keep him away. Next morning I speak with them at the clinic, the test results are back from Vancouver and the boys were dead on in the timing, it was PEAK TIME! I was never going to say anything like, I figured as much, I mean these are Professionals, they know what they are doing, but let's face it both Takoda and Jaegar are pros as well. But just the same, good to have the lab confirm it's Peak time! So now, load them both up, and head back, I am talking to Jaegar all the way there, letting him know to relax, this is what he has to do this round. Something new.
Sure enough, he comes through like a Stud, too funny. What a character. So a great collection was done. It was all scoped out, there are a number of things to do with it, they get it all ready, next step, Kamp, your up. She is a rock star. Steady as can be, no issues at all. So what a great relief, big fun day, I am excited. The vet suggests that it's going to be a very good mating, no problems she could see at all. She asked if I had the resolve to bring them back the next day. She was confident that Jaegar would now collect easily again, and we could literally double our chances, Kamp stands good, everything was pointing to doing it one more round for good measure. I said ABSOLUTELY. No problem. I am getting some earplugs.
Kamp and her pals for life: GAEDA, Tora and Mia a few years ago
I head home, we get set the next day, trip three. We get there and no doubt, Jaegar is once more a champion, same with Kamp. This time I get to have a bit more insight into the lab work and so on, very neat.
So each collection they put a tiny sample on a microscope and check for virility and activity, Jaegar is very very healthy and he has an outstanding sample they inform me. They ask if I would like to see, I say, sure. So picture this, there are about 1 Billion little Jaegars burning around in this scope, all I can think about is what kind of noise is in there right? Can you imagine all those rascals, I can't help but laugh. The ladies at the clinic think I am pretty funny to be sure.
So they explain the process in great detail, show how the whole setup goes together, combining the collection with the product that they add to it to "Feed The Little Rascals" a bit for the next five days, as they live for five days, go figure. Then, set things up with Kamp, she is once again a terrific female to work with all is as good as you could get. So I head on home with them, I can tell on the trip home, they are both relaxed, this is awesome.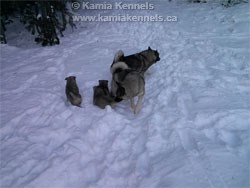 An Elkhound Family from the first Litter of Jaegar and Kamp
I have always thought that the group of these five, Jaegar, Kamp, Nahanni, Saga and Storm formed an incredible Elkhound family. It was such a neat thing to see all the young females following Kamp and Jaegar around. Both these two were at the height of awareness. Kamp would hair up before I opened the door to the kennel just in case some other dog happened to be standing there when she was coming out with her girls. She was a super mom. Those were the best looked after pups EVER.
This litter coming is going to be a special litter for sure. I can say it was a bit of a strain on my old nerves but at the same time, totally exciting for the new pups, and it's an adventure to go through this process, no doubt about it. Not everyday can you talk about such a neat thing as that is there?
Storm - Daughter of Kamp and Jaegar
The daughters of that first litter from Kamp and Jaegar are stunning. I have a photo of Storm pictured to the left and she is an absolute beauty. She is an amazing example of what an Elkhound female should be. This is an alert and very sharp female. She brings all that awareness of both Kamp and Jaegar forward. She has the big power rear from Jaegar and the clean even top line of Kamp. Her front shoulders are evenly balanced with the rear, she has a very solid square stance, perfect style really. You could not find a fault with Storm in a hundred years of looking. Check that tail curl! Jaw power, tons of stamina, deep chest. Tremendous muzzle, she is feminine yet not dainty, a really balanced female. An old world female.
The combination of Jaegar and Kamp is an awesome pairing.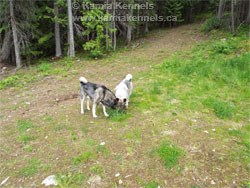 Takoda and Kamp - Perhaps another time
I can honestly say that the pups will be as good out of Jaegar and Kamp as they will be out of Takoda and Kamp, but just the same, I sure was looking forward to that potential pair. There is no doubt in my mind I am some happy I have that big son of Takoda to carry that genetic forward in this particular case. It sure would be nice to be able to collect from Takoda, but that could be a bit on the rough side, they are game for trying up there with a muzzle they said. After viewing those two magnificent dogs in their prime, they knew Takoda will be some serious piece of work as well. So I give those ladies credit for the offer, but I think I will decline that attempt. However I do have some plans to get that genetic match up, I think I will pair Takoda with Tekla, that is pretty much the identical match up anyway, so I'll keep you posted on that plan.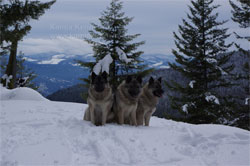 Tuva, Kamp, Tekla - Stunning Elkhound Females
So I sure want to Thank Carol our vet in town for figuring out the specialists we should see. And of course I want to Thank Irene Mul D.V.M. and specifically Betty, and all the other great team members there. We had a lot of help, I didn't even get the names of all of them, but it was a very professional team, an excellent experience I highly recommend that entire clinic.
So I am confident that Kamp is bred, I won't know for a few weeks for sure, but I don't have any doubt, I know it will be fine.
So that should put new Norwegian Elkhound pups on the ground very close to the May 20th time frame if all goes well, which it will. Some super pups coming from this pair once more. I can't wait.