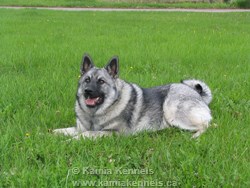 "Take a look at Koda, Wow"
The new photos Carrie & Chris sent up are really good. This Koda, he is a nice young fella, boy he is stout and powerful. Take a long at his coat, my goodness this is a nice dog.
"Hello Again, here are some pics of the big guy, some I snapped today and the ones with the grass are the summer - I believe July 09. Koda is doing great, we love him to death! He can be a little bit stubborn at times and can get pretty excited, but overall I have no complaints. He's super sweet actually and loves to cuddle - I've turned the poor guy into a suck! He has a best friend who is a Portuguese Waterdog named Spirit and they have playdates all the time and just can't get enough of each other! I still can't believe that it's been a year since we came out there and picked up the little guy! He's about 57lbs right now, we just weighed him, so he's grown quite a bit - but still acts like a pup". Take Care, Carrie and Chris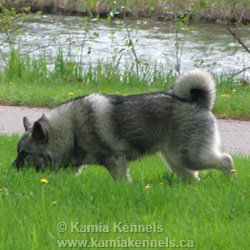 "Norwegian Elkhound Male"
The Norwegian Elkhound Male is in our opinion the best dog. These are a dog suited to all types of activities, they like the outdoors and the cold weather, they have a great disposition, nice to be around and are one of the most loyal dogs.
Intelligent, independent yet very trainable. We find no trouble with training an Elkhound, however an Elkhound can be stubborn as Carrie admits. If they are busy sniffing something out or going exploring sometimes they just might ignore you. Koda's Mother Mia, she is a very independent Female and it sounds like Koda is very much like that. Koda looks a lot like Mia, has a very nice silver coat, terrific markings and has a really good stance. The way he carries himself is proof of his long heritage of dominate dogs, tail up and over his back, nice and clear curl, black tip. Ears well formed, and what a muzzle.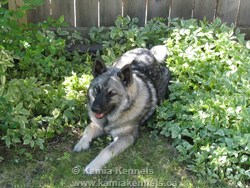 "Koda, Brother to Loki, Loki-Bear, Niko and Shadow, with sister Lexi"
The Norwegian Elkhound breed is an ancient breed of dogs. They have some very strong genetic traits that pass down generation to generation of dogs. If you look at Koda, or Shadow, or Loki-Bear, or the other brothers from a different litter, Kona or Bruin you will have a hard time telling these guys apart.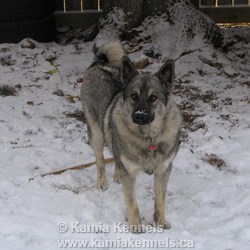 "Koda, Maturing into a very nice Male Elkhound"
The Young, maturing Male Elkhound Koda pictured here, is around the 57lb range, and probably heavier now as he will grow till easy 2 years of age and still pack on some muscle after that. Our line of breeding using the Old World principles produces slightly larger dogs than most Norwegian Elkhounds, ours are usually a few pounds heavier and just a bit taller and longer. Takoda, the father of Koda is a big Male, and Koda get's that extra size and length from him, with all the muscle and power of Mia. This is a powerhouse combination when you see how well Kona is developing and the terrific dog he is maturing into.
As Carrie stated, these are family dogs that like to play and have a fun time, having another good playmate keeps a dog young and healthy as they can run together and it keeps them mentally sharp and fit as well. Elkhounds are stable mentally, you just don't have 4000 year old breeds with traits that are undesirable, they just don't carry forward undesirable traits, only a good solid well mannered working dog was brought forward. In the old World the dog had to hunt, guard and work. Hunting was a primary role, as was watch and protection. These dogs are still very closely linked to the old traits as in the Scandanavian countries hunting is still uppermost in the breeders minds.
You can not have a Champion dog unless is can prove it can hunt. Here in Canada, especially at Kamia Kennels, we try to follow the old breeders principles and bring forward good solid dogs for families. Dogs that are a companion, a friend and part of the family, yet fully capable to work, hike, learn. Koda is an excellent representation of just exactly that.
Carrie and Chris have provided a truly amazing environment for him to grow and learn, expand and play, develop and mature. Our sincere thanks go out to them for providing such a good home for Koda and for keeping us posted on how he is doing and providing feedback and these great photos for all of us to see. Thank you both.