Kavik, Norwegian Elkhound Male.
I got this great update earlier from Chris.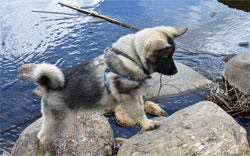 "Hey Merv,
it seems like is was just last week that we were driving Kavik home, when he was little more than a cute fluff ball. He's still a fluff ball but has grown into an amazingly gorgeous dog.

Life got pretty busy after we brought him home with some major health scares in the family, but Kavik has taken it all in stride. He is a very smart dog and learned all his basic commands with ease and has had a hundred percent recall every time we call him to us. Housebreaking was also a breeze, though crate training had to be taken very slowly as he is a velcro dog and does not like being left alone. It took almost a month to transition him into sleeping in his crate by himself, though now he can stay in it calmly with no problems, even during the day.

Kavik decided quickly after we brought him home that he didn't like to eat kibble when he can get raw food and since he's doing so well on it, we decided to go full raw shortly after bringing him home. The vet says that he is in great health and commented on how calm and manageable he was when we were taking him in to get all his shots. We also get comments like this all the time when on walks. People always remark on how gorgeous he looks, we've even had people pull over in their car to say as much, which was rather surprising.

Elk Hounds may be air scent dogs but no one told Kavik that; he would go the whole walk with his nose to the ground like a bloodhound if he could. We taught him a command for "sniff time" so he knows when he is free to sniff around and when to go back to the structured walk. He's just finally started to air scent a few weeks ago, I think it's because he has realized that he can sniff even more that way on the walk. He doesn't just aimlessly sniff things though, he tracks. He even managed to find a cat at the end of a trail once, he seemed rather surprised finding something living at the end of the scent trail.

Kavik's so nose orientated that we've decided to start training him in search and rescue and he doing quite well at it. It's fun to see him take off in search for the hidden toy and then come trotting back a few minutes later with the toy in mouth and his head held high. You can tell he's so proud of himself and so are we.

Kavik, Son of Kai and Hachi.
What a great update, Thank You Chris!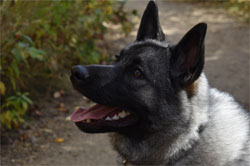 His guarding instinct has come in nicely and he lets us know if he thinks there is something he needs to alert us to. Kavik isn't a recreational barker though so we always know if he's barking, it's for a reason. He has a nice deep bark that already sounds very mature.

We made a flirt pole for him to chase around in the yard and he just loves it. He's getting very good at catching the toy tied to the end and also has nice control. We can move the toy around on the ground and even though you can see his muscles quivering with excitement he will sit and look at us until we say he can go for it, then he's off like a rocket. He already has a lot of power behind him, it can be easy to forget sometimes since he is so good at not pulling during the walk. He is sure going to be a power house once fully grown, especially since he's not being neutered.

His favorite thing is going to the lake and the forests. He also likes to swim, yet amusingly enough he doesn't like the rain at all. It's funny when it is raining outside and he's sitting by the door, tail wagging while he waits for us to open it. When we do, you can literally see the excitement drain from he face as he gives you a "seriously I have to go out in that?" look and sullenly walking out, staying as close to the eaves as possible as he goes to the bathroom in record time.

A few days ago we got our first day of snow. It was like he was seeing a long lost friend, diving into it and jumping around in pure joy, snow flying everywhere. I think he's counting the days until winter truly starts.

Thanks again for providing us with such an amazing dog and now that life has calmed down a bit we will be sure to update you soon. I attached some pictures of him, it was hard to choose which ones to send as he is such a beautiful dog. The only problem is it is very hard to take pictures of him as he rarely stands still for long and more often that not the picture ends up being little more than a fluffy tail. A small price to pay when having a nice active dog, though I'm starting to see the value to teaching the "stand" command.
Chris"
Kavik's Dad Hachi
This big black faced rascal that is the father to Kavik is a tremendous old world big boy.
This is also the father to our foundation female we have here, Kalia, one of Kai's best pals.
It sure is easy to see where Kavik gets lots of his good looks, but especially that black mask he has, no doubt!