2013 Was Awesome!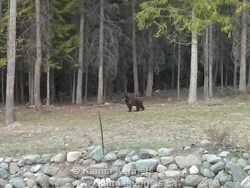 We just got moved to our new home, barely got the pen up, and Tora had her pups
We have to start out the newsletter with our biggest event for sure, our move!
To say that we are happy in our new place is a serious understatement. For Norwegian Elkhounds, this place is truly awesome, and it's only fitting that we start the look back at our very first visit to our new place, when we viewed it the first time. We thought it was going to be just terrific and we happened to look out to where we could build the kennels and here is this young bear. Go figure. You couldn't make this stuff up, we wanted to be in a remote region, close to nature, hiking and trails and there is a young bear just waiting for Tora to come out and play. We thought this is too fantastic. What a great sign, bear dogs, your coming home.
We got moved in and I put the kennels right in there, if it's good for the young Kodiak, sure would be nice for Tora and her rascals.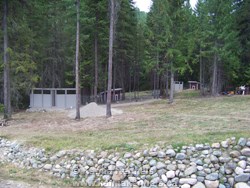 Kennel pens turned out great
To say I was scrambling this past year, well, that's also a serious understatement. But there is nothing like a great place to be and having something to do that needs doing quickly. Sure I have lots of improvements and things to do yet, but I couldn't be happier with this setup. All the dogs are loving the set up, they have all kinds of room to roam during the day, I put them away at night in their new pens and it's pretty cozy for a fact.
I have both of the two red sheds insulated, Jaegar's far left is not visible, it never got insulated yet, but I will get it done next fall. He never batted an eye anyway, hardly got cold . Coldest I recorded here is -minus 21. For me that's 20 degrees warmer than any winter I have recorded in my life, so it's like moving to Hawaii for us, to be sure. Lot's of snow, but it's great snow. More on that below.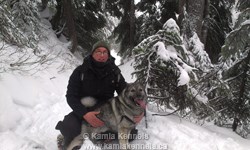 Kosmas and Nanook
This was a great update which I received from Kosmas and Joanna and the adventures they have with Nanook. Some of you might remember a long time ago I took a drive right past where I live now with Nanook to meet Joanna in Osooyos with Nanook so she could travel home with the young rascal. Nanook is a stunning male Norwegian Elkhound, always was, and Kosmas and Joanna have done a tremendous job with him.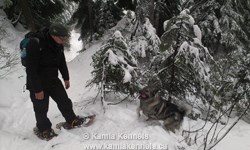 Nanook is an older brother to Jaegar and Tesla, as well as Shasta and Nola.
Nanook loves the snow, has tons of energy, is a great companion as you can see here when he is out hiking the trails with Kosmas. I want to thank Kosmas and Joanna for sending the photos and update and for the great care they give that big fella Nanook.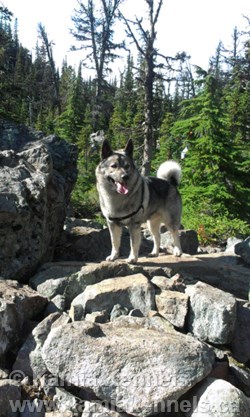 Hello Merv,
We hope that you and your family (including the elkhounds) have settled in ok at your new place in BC. We've been reading your newsletter and with your photos too, by the looks of it everyone is having a great time and have adjusted very well.
Nanook is almost 4 by next spring. Time flies so fast, we've been going through some of the photos during his first days here, what a cute little bugger and he still is a cute little bugger.
We have attached some photos of Nanook from one of our hiking/camping trip last summer that he enjoyed so much. Although nothing beats the snow days for this guy, which as you know is not very common in here, he would roll even on the smallest remaining ice in the neighbor's yard. We had some snow a couple of days ago so he had a blast.
You'll also see today's snowshoeing trip at Cypress. He's a wonderful companion to go hiking/snowshoeing, he tends to run ahead and we give him the freedom to do so especially up the mountain, he always comes running back and would always check on us.
Thanks again for the holiday greetings. We hope one day we can drop by if we happen to be near Grand Forks, maybe in the summer or maybe when we get another Nanook (Kosmas has been campaigning since we got him) we'll see.
Take care,
Joanna and Kosmas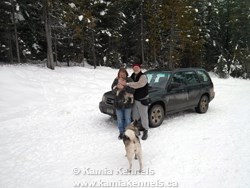 The last pup of the year goes home - Nahanni, with Marion and Clint
A highlight this year was the pups from Jaegar and Kamp, one of which was a beauty named Nahanni. Marion contacted me before we moved to inquire if there would be a chance to get a female from Kamp and Jaegar. She has had Elkhounds for many years, she has raised them and has a long history with Elkhounds. They have an older beautiful female that they wanted a younger companion for. It's a great day when the new owners get the new pup and it's an exciting time. Kamp is thinking - does this mean days off, I get to sleep in now? Kamp was so good with her females, she had three beauties she watched them every second.
Kamp is funny, she is so protective of her pups, when she would go out with them she would hair up even before I opened the kennel door, just in case there was another dog there, no fooling around, but she had no worries, GAEDA, Tora, Mia, they were just there to help, and young Kai, what a fun time for her with Nahanni.
We want to thank Marion and Clint for the confidence they put in our program and for working with us to find them just the right pup. They will give Nahanni a great home.
Elkhound Photo Gallery Enhanced and Updated
We get some of the most awesome photos from folks who have our pups and I have not had a proper system for getting those online. I have been working through a few different gallery systems and think I have one now that I like. I can make the galleries faster, they seem to load the Elkhound Images fast, and it allows for me to make some notes while I am cataloguing the images. So far so good. I want to say that the very first gallery I put together was a magnificent collection of images Henry sent me of Kobe during his second year of growth and another terrific Gallery of Fryeja over two years that Amber sent me. Wow, don't wait, click on Kobe, go check out those photos!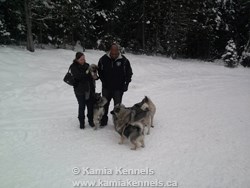 Storm - a daughter of Kamp and Jaegar, heading to her new home with Jennifer and Todd south of Spokane
As you can see it was a great big send off for Storm. Jaeger and Kamp, Kai, GAEDA, even Mia came out to say farewell to young Storm. She was heading to a great home with Jennifer and Todd, south of us, down Spokane way. Neat how things work out for folks and pups. Todd and Jennifer had contacted us and had asked of there was a way they could perhaps get on the list for one of the females from the Jaegar Kamp match. I went through all the details of that with them and they were thrilled to get on the list.
As you know, Kamp had three beauties, one of them of course for Jennifer and Todd. They wanted a social pup, that was active, fun loving, and able to be urban, and country. Well, there are no better Elkhounds to fit that description of course than Jaegar and Kamp, the pups from them, all the best versatility you could wish for.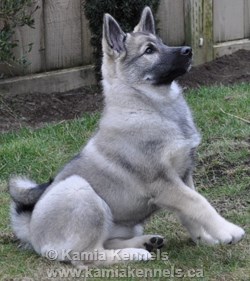 Todd has been keeping me in photos, video's and lots of updates on Storm. They have a beauty for a new pal, no doubt. We did caution Jennifer about the hand biting, we let her know, Storm would be testing her resolve and patience before long, as around here, Storm had free reign to tackle anyone she saw fit, and make no mistake, she did. When you get a new pup, all the energy from the pup that was directed at the siblings and other dogs, now come directly toward you, so be ready for some hand to jaw combat, all in good fun, but just in case, get some new leather gloves is what I say.
Look at how smart that Storm is, sitting so well. I wish Jay could get that Kamp to do that. Or Ashten, Jaegar for that matter, but I best not talk, Granma Mia would be hard pressed to follow that class act.
Those are some fancy females that Kamp has, no doubt about that.
I want to Thank Todd and Jennifer for putting the confidence in our program and trusting our program to provide the companion they wanted to have for the years to come and the great care they are giving this young female.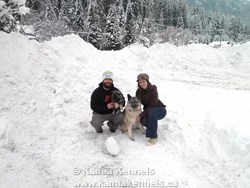 Joshua and Saga, Kim with Sloan,
This great young couple live out near Invermere, BC. Now they already have a terrific Elkhound, Sloan. A real beauty. Joshua and Kim contacted us over a year ago, just before Christmas 2012 and inquired if they could drive out and visit our place, see the dogs and get to know a bit more about our program. They were going to be at relatives during the holidays nearby. We were pleased to have them over. They got to meet all our dogs, and were especially excited to meet Kamp and Jaegar.
They decided that the pal for Sloan would come from that match up. Well, I can say this, they have a beauty. Saga is a lovely female, sharp, attentive, rambunctious, but respectful, and Kim mentioned that Sloan and her are best pals already.
For some folks, once you have an Elkhound, there really is no other breed. Elkhound owners are a loyal group, but more importantly, they are a smart group. There are few breeds like the Elkhound, with so many wonderful traits. Both Joshua and Kim were well aware of all the abilities of Sloan. They knew, only another good Elkhound would be a worthy match for such a great dog.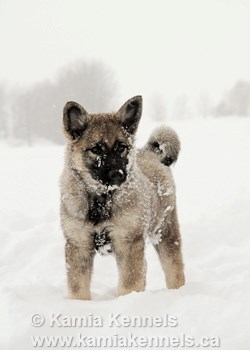 We are very proud of this litter of Kamp and Jaegar. Jaegar of course is the last male of Mia, one of the most prolific females in Canada. Mia is an exceptional Elkhound, she was truly enjoying her time with these three granddaughters. Saga, along with her sisters Storm, and Nahanni represent some of the very best Elkhound Genetics. There are countless champion dogs in the background of these three females. All the best of Elkhounds course through their veins.
Elkhounds like Saga make such an excellent companion female. They are robust, have a solid strength that comes from many generations of history hiking and hunting. They also are able to relax. A trait that is so welcome after a long hike. Intelligence abounds in these females. Sharp and attentive, they want to please, want to work, do what you ask. This lineage has all the old instincts intact. So that gives you a female that can go about town, and walk the talk in the mountains. A truly versatile dog.
These are fancy females. They will be some of the sharpest looking Elkhound females you will ever see. Crisp features, strong but refined.
We want to sincerely thank Kim and Joshua for asking us to provide the pal they wanted, and we know young Saga is in great hands. We look forward to lots of updates and stories on young Saga for a fact.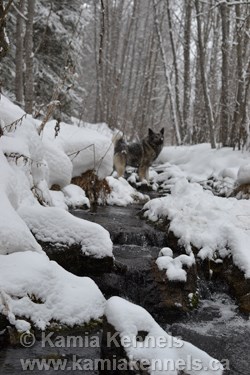 Jaegar, Elkhound Male, Down at our creek, January 2014.
I have a lovely creek that flows through our property, and it runs all year. Jay was able to get some photos of Mr. Jaegar and this image I particularly enjoyed these two. Jaegar is the old black lineage, he goes so dark in the winter. He is a massive big fella right now. He is coming 3 in a few days. He is so well muscled, we have so much snow, so he is really heavily conditioned. Jaegar is a big deep chested male. He has great balance though, tons of power in the rear and a flat big strong back.
Jaegar is out most of the time here, I have him put into his pen at night, but as much as possible he roams the yard. Now, keep in mind I can't let Takoda and Jaegar roam loose at the same time. Jaegar is really feeling his steak these days. Which in breeding males is inevitable. When you have females that cycle and two big dominant males, well you best have some serious handle on how to get those boys apart if they get going. Now we take great care of our big fellas, but sometimes, just by a chance occurrence, they might get tangled up.
So, exactly that, Jaegar he can jump out of his pen if he likes, and he likes, so Takoda and I were out and about the yard and Jaegar he figures he would like to come out and push his weight around. He had been puffing up through the fence at Takoda for a long time, he just couldn't take it much longer. So out he comes. Now Jaegar is used to running over the dogs that come onto the property, he is so strong and dominant he can literally simply wrestle much larger dogs to the ground in just seconds. I knew he was going to be coming at Takoda full tilt.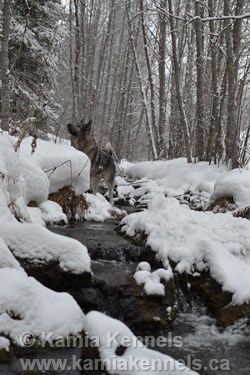 Well it was almost funny if it wasn't so serious, he ran into a cyclone. Old Takoda he is still a superior scrapper. He is still just slightly taller than Jaegar, and only a few pounds less weight, and he is fast. So Jaegar he was working, he wanted to really come out and show his stuff. And no doubt he was really putting on a show, but he was not winning in any fashion, and he was not losing in any fashion either. Both those two were evenly matched. Ashten was there, she wanted to stop it right away, I grabber her arm, said, wait and see a bit, let them settle this out a bit, it's been brewing for a long time.
So there is no clear victor at this point. Both came away with pride still intact, both pretty confident they were the winner but both with a very healthy respect for each other much more so than previous. I was pretty happy for Takoda, he is six years old now, and his young son is an awesome male. To hold his own still says a tremendous amount for his condition and stamina.
One thing we made sure of though is that neither got hurt. They both listen explicitly to me so anytime I was to say "ENOUGH" they would stop, no questions from either, but we let them at least get to the deep end of the pool.
Having said all that, Jaegar is a really good boy though. He never strays, he watches the yard, he can come in the house, or stay out, doesn't matter to him. He has the same work ethic as Takoda, put him in the mountains and the snow and he never stops. Goes and goes. Snow up past his back, no problem. He listens well. Does what I ask. Rarely, if ever questions a command. A very smart dog, has great manners, would never show disrespect.
And here are some neat things - Jaegar will not eat my shoes - nor my laces. Does not carry my skilsaw, or my tools around. Tora, Takoda you guys listen up. Tora and Takoda can surgically remove any lace from any shoe, can easily pack all my tools around for me to find, and a few more tricks as well. And this is the neat part, I never had to teach any of them how to do or not to do any of those things, they learnt' them all on their own. Go figure.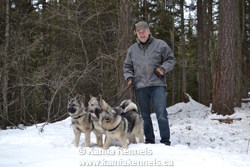 Tallak, Tora, Kai and I
Tora had a visit recently from one of her big males from last litter, a young fella named Tallak. He is a great young male, we so enjoyed our time with him. Tallak was so happy to have some time to spend with Tora and Kai and all the other dogs, what a great social fella he is. Tora has raised some incredible males over the years, and Tallak will definitely one of the great ones like all his brothers. I had wanted to see how his leash skills were, and Kai of course needed a few leash lessons as she had not had any, so I took them out with Tora.
It's so much better with a good dog to help train the pups like Tora. She can keep them focused a bit and heading in the right direction. If it was just me and the two pups, chaos, no doubt. One going each way. Tora she was very pleased to take these two around, show them off a bit, and of course give them a few skills for the road ahead.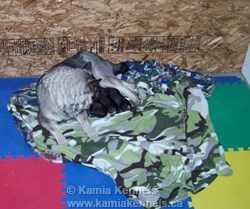 Three Superior Elkhounds Celebrate 3rd Birthday - Elkhound Female, Shasta, and Brother Tesla and Jaegar
This picture was taken roughly 3 years ago, Shasta, Tesla and Jaegar were just nicely dryed off and nursing in this photo. Mia had three dandies her 4th litter, no doubt about that. Shasta she is a beauty, no question. A nice Silver female who is up in Slave Lake with Lynn and Lawrence and Payton. Shasta as a family companion, watch and protector for Payton, and all around best buddy for her a better dog could not be found. She is just like Takoda in many respects, and yet carries all of Mia's good qualities. Lynn would state with no hesitation, there are no better family dogs than an Elkhound.
Telsa, he is a big brother to Jaegar. A great male, he lives out west of us, with a great family. Julie and Eric and the kids keep Tesla busy, we know that he is a rascal and comes by it naturally, that Mia, she put a little more mischief into Tesla just for fun I think. Also, Takoda he imparted a little skill and courage as well so that Tesla can handle those racoons he has to deal with out there. Now that we are a bit closer, I can maybe take a weekend trip out with Jaegar to see his brother, and maybe the two of them can put the run on a few of those racoons. Jaegar would enjoy that. I can always take Mia, she would be sure to show her boys how to get the job done, although no doubt Tesla can handle it just fine.
So happy birthday to those rascals.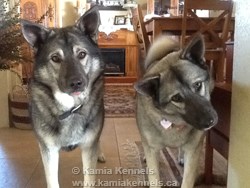 Koda and Kijsa, Two of the best Elkhounds in Utah
Check this out will you. It's like looking at Takoda and GAEDA only better and younger. Janet and Robert have this brother sister pair down in Utah. What a great set of dogs. Koda is a great dark old Swedish male, he was a dark pup, pulled hard to the old black lines and stayed that way. He is a big fella as well, both him and Kijsa are up in the 58 pound range, with Kijsa still just a little heavier. She was the biggest female we have had. Both of them will be growing for another year or so. Kijsa is 4 pounds heavier than GAEDA is today.
Janet and I had a nice visit a while back, she called and shared lots of stories on the two young elkhounds. They are so pleased with how smart and attentive these two are, and how intuitive Kijsa is. The two are great friends, even though Koda goes to work with Robert during the day, and Kijsa works with Janet on the ranch, the dogs get to spend a great deal of time together. There is no better bond than same litter siblings.
I am sure impressed with these two for a fact, and a huge big thank you to Janet and Robert for giving such a great life to these two Swedish ruffians, they have it made.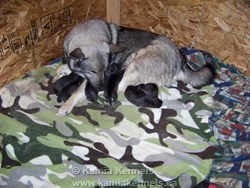 Three Years Ago, Tora has first litter
Just like Mia above, 3 years ago Tora had 7 remarkable Elkhound pups. Konig, Torsten and Ryker, the three big boys. All three are amazing big fellas. Kaia, Teeka, Cypress and Kate were the 4 outstanding females. All have turned into some of the very best Elkhounds you could find. We have these awesome pups throughout the site as the owners have shared some great stories on the growth and development and life of these Elkhounds. So, as with the three above who recently celebrated a third birthday, so did these three. Happy Birthday you rascals, be sure to give them all a bone for me would you all.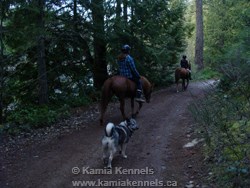 Cinnder, Female Elkhound, on her first trail ride with MacKenzie
This is a great daughter of Takoda and Mia. Amber and MacKenzie and Andrew have a great life out on the West Coast and they sent this terrific update on the great female Cinnder, a true companion. Check out those photos, that is so neat to see. We know that Cinnder is in great hands and having a super time, she is enjoying that trail ride immensely. Thanks to Amber and MacKenzie for sending such a neat update, keep us posted.
Hello Merv
Happy New Years to you and your family.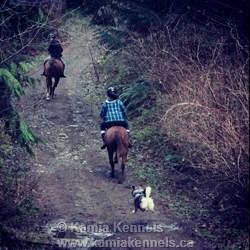 I thought you would like to see a couple of photo's we had taken of Cinnder this season. We introduced Cinnder to our daughters horse and her friends horse this past weekend with amazing results. She was amazing with the horses. We did a 3 hour hike up the mountain with her and the horses and myself walking behind. Cinnder was unsure at first but quickly settled and enjoyed herself. They went running up the hills together with Cinnder trailing behind, she kept up with the girls on the horses but kept checking on me trailing behind. Most of the shots taken were of her behind, but one shot was mid air.
Thank you again for this amazing family member, we are talking about bringing in another member next year possibly. Enjoy the pictures.
Cheers,
Amber, Andrew and Mackenzie and Cinnder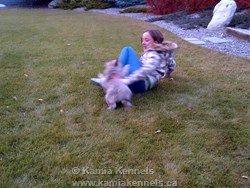 Gunnar and Lauren, it's play time - Gunnar son of Jaegar and GÆDA
For me, this update is particularly rewarding. Many of us take having a dog, or being able to have a dog for granted. In some cases, having a dog is not possible due to say a mild dog allergy. When Sharlene contacted me to inquire about the Elkhounds unique no odour trait, and how they were in a situation like this, I was really hoping that for the family that she, meaning Lauren would not react. I have mentioned before but we had them come out and they spent time with all our dogs, and I am so excited to share this update. Now, for me, to be able to provide a puppy so that this young gal can have some fun and play with her new pup, and grow and spend time with a great companion, I don't imagine there is much more a breeder of Elkhounds could hope to accomplish. I am so happy for this family.
Hi Merv,
First – sorry that we haven't sent info or pictures of Gunnar before now. This fall has been a bit of a whirlwind around here, with kids' activities, our acreage renovation, and of course, settling in with Gunnar.
Gunnar is doing great. He has a really lovely temperament – excited and happy to play, eager to go on walks, but then settles down for what we call "snuggle time". Each time he was at the vet for his immunizations, she commented on his stable temperament (BTW – he's outgrown the overbite). Everyone who meets him loves him.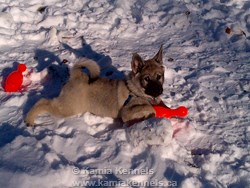 He responds well to his name, and his nickname "Gunny-Bear". Lauren came up with the nickname cause she thinks he's sweet like a Gummy-bear candy, but in the beginning, from behind he looked like a little bear waddling. He knows many words and commands – a few main ones are come, let's go, sit, lie, place, down, no... – and he does some tricks, too. He'll shake your hand, jump up to touch a stick and put his paw or nose on a Staples easy-button to make it say "that was easy". We think he's pretty clever, but as soon as we say that out loud, we'll see him doing something really silly... like chasing his tail round and round, or attacking a small branch from a spruce tree (he bites it off, tosses it into the air, then pounces and kills it when it hits the ground). Hilarious!
Gunnar spends most of his day outside, poking around the bush and shrubs in our yard and chewing bones. He loves to sit on the deck and watch "his" yard. We're still in Sherwood Park (expect to move to the acreage in March), and when someone walks by on the path behind our house, Gunnar races to the top of the hill and sits at the gate, barking to let us know about it. We like this – it will be a great announcement at the acreage.
In addition to playing with him outside, we typically go for 3-4 walks each day. The older he gets, the better he is on the leash. At first, he would just lie flat like a pancake when we tried to go anywhere (even leave the yard). It was the funniest thing. He would just lie there, and look around, until we picked him up. Then we'd set him down and he'd go a few more steps, till the next "pancake". Now we have great walks around the forest and wetlands near our home. He also likes to chase the kids on the sled behind the ski-doo. Yup, we have an active puppy that fits our lifestyle.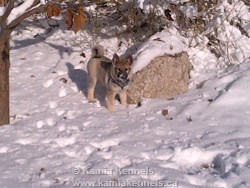 At night time, Gunnar sleeps in his crate in the mudroom (inside). We've closed the heat registers to that room and he seems to find it really comfortable. The kids especially like having him here for snuggles and an extra long good night. House training was remarkably easy with Gunnar. He had a few pee accidents – never a poop – and typically waits till his feet touch the pea gravel, bark mulch or grass to go to the bathroom. Again, what a lovely puppy he is!!
You might be interested to know that Lauren is doing really well with Gunnar. She gets hives if he licks her face, but not when he licks her hands, and I think the size of the hive is decreasing over time. She has not had asthma, so all is going as well as we had hoped it would in terms of her mild dog allergy.
I've attached some pictures. I hope you're able to open the more recent photos. They were taken with Connor's iPhone and we have some communication challenges between our systems.
So, in closing, thank you so much for choosing Gunnar for us. He is the perfect dog and brings us much fun and joy. We can't imagine our family without him!
Best wishes for a Merry Christmas with your family and all the best in 2014.
Sharlene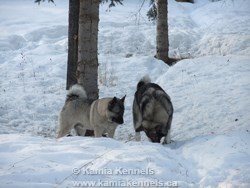 GÆDA and Jaegar
These are the parents of the rascal Gunnar just above. GÆDA is a beauty, she is in magnificent shape, I had her into the vet the other day for her check up and they just love her. She is 54 pounds, solid and thick, has a great coat, some super manners and everybody was just happy to see her. She is in perfect condition, so she and Jaegar will have a summer litter. Jaegar is a good match up for her, as you can see, big Gunnar man there is a good boy, so we can expect some more great dogs from this pair.
Jaegar he doesn't know it yet, but GÆDA is going to take that bone he has away from him. She and Jaegar get along really well, those two never have any issues.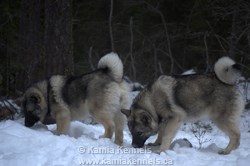 Kai and Tallak
This is a real nice set of pups from Tora and Bram. Tallak ended up coming back to us and was rehomed to a great new family. Some times things and circumstances change and in some cases the pup would have been in a situation that would have been difficult. The original lady that had Tallak knew it would be best for him to be positioned to someone else. No fault of anyone sometimes things change. We are always willing to take our pups back, we always agree that in situations where things are different and not going to be what was planned, if we can assist we are more than happy to.
Our policy is fairly broad on this aspect, we don't really have a set in stone set of guidelines, but suffice to say, we don't hesitate to take a pup back for pretty much any reason. We have done this three different times over the years, not for anything other than life issues, nothing with the health of the pup or anything of that nature, just things had changed for the owners beyond what they had planned. We as well as all the owners who this has happened to all want the best for the pup, so they make the best choice. All those three are in new homes, all doing great, everyone is happy.
We sure enjoyed our time with Tallak. We had not had one of Tora's big boys around before this so it was a great treat. He was a very nice male, he fit back in like he never left. It was interesting to see how his training was somewhat different than what our program is. Tallak was well started in obedience, he was polite, easy to handle, good on a leash. He came everytime I called, never was standoffish or ignoring me. A very personable young fella. He was a good stout fella, had lots of stamina and heart, and had a great work ethic.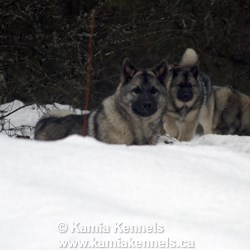 The differences we noted right away was he was fed dry and we could smell him. We can't smell our dogs. Raw fed Elkhounds have no odour at all, they can be right in your face and you can't smell anything. It took about three days for the smell to change for Tallak, he went to raw immediately here. He was very happy with that.
Tallak had not been fed in a group setting, so he had no clue about the rules of eating. He caught the first lesson the hard way from Kai. She can keep her food from anyone, and he came running over to take hers and she unloaded on him. Caught him off guard so he reacted immediately. Up they both go, fast and furious, as game as he might be he is no match for Kai. He never went up to anyone after that. He was in a multiple dog home, so not sure of the program there, but surely different than here. Here, you eat your ration, and unless you want a new scar, leave the others have their rations.
The other difference is in conditioning. He was a strong good sized boy, but no match in conditioning compared to Kai. The power differences in the deep snow and trails was very evident. It would not have taken him long to get to her strength with proper work, but there was a vast difference in overall ability to power through, and over and up, solely based on workouts, nothing really different about the two size or length wise. Tallak was a perfect Elkhound, all he needs is some work is all. I am going to be discussing the conditioning below, so will cover it in more detail, but those are just a couple things we noted.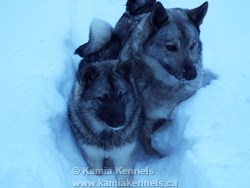 Elkhound Conditioning - Kai and Tora
I would like to talk a bit about winter conditioning with Elkhounds. In order to really be able to work an Elkhound to capacity it has to be cold out, or they would just get hot. You can't actually really work an Elkhound in the summer, so our program is based on doing all the muscle, lung, and heart conditioning in the winter. We want the dogs to be as strong as possible. A strong dog is a healthy dog, and a dog that is working hard is less prone to give you issues with little things, like behavioural issues.
We have a ton of snow here, I am astounded at how much we have, its way up my legs, right over the dogs backs, even Jaegar and Takoda are deep into it. So for us, the conditions are ideal. As you can see, for Tora and Kai, it's heavy going. Now the thing you want to do is to have your pup working up to heavy going. Not just put him into heavy going right away, working him or her up to it over weeks and months. By the time they are 5 to 6 months old they can pretty much keep up with anyone.
In a sheer burst of speed now, Kai can match Jaegar. I can have Kai out, right beside me, open the gate and let Jaegar out, he will come out and burn right up the hill, Kai can stay right beside him all the way. If I put her in Jaegars pen, she doesn't like it in there. She can jump right up and over the big plywood gate. Tons of rear jump. All this power was developed in the snow. Her lung capacity is huge, a very deep chest. Her heart would be 25% larger than a normal Elkhound her age. Her metabolic rate is much faster, she stays warmer, stayed out all winter.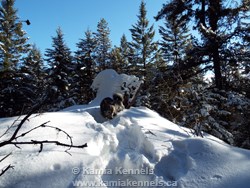 Elkhound Conditioning - Takoda
So I was able to get a couple photos of Takoda while we were out and you'll see his work ethic. An Elkhound from the old lines works. They never stop moving. Takoda is a machine, no kidding. him and I can go as high as we want, he does not care how deep it gets, he is a skidoo this guy. What this does for Takoda is to keep him lean, and muscled in. He is as hard as a rock. He can put his chest into the snow, and push for as long as I want to go. I am soaking wet with sweat and he is just looking around like, what's taking you so long.
I am not exactly a slouch, I can run down pretty much any lame out of condition horse in deep snow, but there is no doubt he is way stronger than me, and I am always way behind him.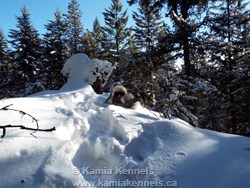 Way better than a Gym
Speaking of conditioning, where he goes I go. So for me, my life is dramatically improved health wise having had the benefit of raising Elkhounds, and of course working with them. I know, not everyone wants to go trekking around the mountains, but for me, I do, and so it's a way for me to keep my stamina and endurance up, all the while spending time with good dogs. There are some really good side benefits health wise to owning an active dog.
For us, we like the outdoors, we enjoy our time out, and having a dog to take is like the icing on the cake. However there is more to it. Some days we all know we just feel perhaps somewhat lazy. Well, with a dog or two or more of course, there is no such thing as a lazy day. They literally force me to get out. So it's far better for me than a gym membership, I am not relying on my own motivation solely, I can count on my dogs to encourage me to get out, each and every day. In fact, I end up going 3 times a day of course, as I don't take them all at the same time, but take them all each day.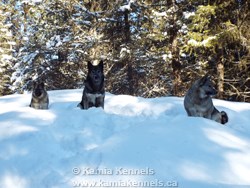 Rank and Order in a Dog Pack
I find sometimes when reading about training and dog behaviour that most folks don't speak to the rank and order of the ancient lineages. Not just sure why not, but I think it has to do with traits missing in all other breeds, or most anyway. In older ancient unchanged breeds like the Elkhound the old instincts are still intact. And as we run our dogs much closer to a pack concept than most maybe I just get to see it. Anyway, doesn't really matter the reason, but some real neat things I can share are how a pup gets to "Inherit" it's position.
Nobody really speaks to that much, probably because it's not too common anymore but just the same, here we are with Kai coming up in a fairly dominant pack. All my dogs are full tilt instinct dogs, so there is a real order to things. None of the dogs really want to lose any position, however they all instinctively know where they belong. What is neat to know and see is that Kai just gets to "Inherit" the same position as Tora. I had not really had enough different rank dogs to really see how this occurs before. But now, with all the dogs I get to see it.
Now the way this works in our pack is Tora is basically the supreme position, even though Mia used to have it, Tora assumed that role a while back. So this of course allows Kai to just move into basically the second in command if you will. There is a lot to explain all the aspects of rank, but to sort of lay it out, Takoda is at the top at the end of the day. Now that doesn't mean he rules everyday activities, that is left to Tora. Tora can push her weight all around, and for the most part push Takoda, but only so far, then he lets her know she is out of line.
So with Jaegar here always challenging Takoda, it really plays out with some interesting scenarios. All the female except Mia, so this is GAEDA, Tora and Kamp, they all back Takoda. So if Jaegar is going to push him he can't do it when any of the females are with Takoda. They all outrank him and for whatever reason don't acknowledge him or allow him to push. They also don't allow him to push them. He can, he is if challenged quite up to it, but he has to be very careful as he would have all of them after him. So he has to be careful. So for Jaegar is a bit frustrating overall. He knows he should be ruling, yet isn't.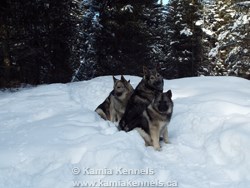 Now Kai comes in and she just blows right by Mia, GAEDA, Kamp and of course Jaegar and takes her cues right from Tora. So this then allows Kai to mentally think she is able to keep her food, take a run at the others if they come over to her food, all of the things that normally wouldn't be possible for a young dog. Take Tallak for example, as a young dog he didn't have the luxury of growing up here so doesn't inherit the rank, he couldn't lift a lip to any of the big dogs without a new scar coming. Kai on the other hand can hand them out. It probably doesn't hurt that she runs more with Takoda and Tora than Jaegar and the others as well.
Kai can basically saunter around just as if she is queen sheeba, it's really quite funny actually as all the other dogs are dominant fearless adults who would do battle at the drop of a hat, so to see her pushing her way around is really something to watch. Spoiled is a word that comes to mind many times, oh she is entirely capable, hardworking and can dish it out, but just the same if not for Tora Kai might not be quite as cocky, and might not be as pretty yet.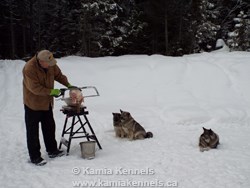 Just cutting up some Turkey
I wanted to follow up on our raw food program this issue. I still get a great deal of questions on the type, style and method we use. Put it this way, it's not fancy, but she works. Once I moved out here I had to change back to doing more processing myself again. Back in Alberta there were places I could get the butcher to grind up a ration, like Mike Bauer in Torrington. Bauer Meats. Out here, the small processers are hard to find. So I am back to processing myself. No worries, it's not hard.
So I have found that there are plenty of great deals around, must be the close proximity to the USA, not sure, but take this Turkey. Now it's a Grade A turkey, same exact brand I bought for Christmas. I am able to buy them now after the holiday season for 98 cents a pound. So of course I fill up the deep freezer. Turkey needs to be thawed out over night, it's too deep for me to cut frozen. So once it thaws a bit over night I cut the whole turkey up at one time. For me, a good sized 15 to 18 pound turkey will feed all seven for two days. I just slab off the pieces with the hand meat saw. It's a saw you can get at any Princess Auto, has a stainless steel handle and blade, cuts great. I don't grind the turkey for these dogs. Kai, at five months can eat all the pieces with no issues, however I give the legs to the big boys.
I am able to get my Salmon frozen, it's a whole Salmon, guts out, head off. I keep them frozen and cut them off in roughly 1 inch pieces frozen. I feed them frozen. I am finding the Salmon at around the 4 dollar range, so basically, Salmon or Turkey is the same cost. Pork is available pretty often for good prices as well. I have been buying the whole hind quarter for that 1.00 a pound range. They are USA pork hinds so are a little fatter than I normally can buy in Canada, but I mix it with some Turkey, or Turkey wings. Turkey wings are easy enough to find all package frozen, they have a very good bone ratio so it's nice to mix with the Salmon or Pork.
Beef is the hardest to find right here, although I have a line on some Scottish Highland beef I am going to be getting a half here soon for that same range, roughly that 1 to 1.25 lb range, and the beef is cull cows, not a Grade A Steer. These are bulk prices and not cut up or anything, so you need to have a deep freeze, good saw, and knife. All of which I have, so can buy them. I feed twice a day, and for the most part the dogs get pretty much the same items, just a little different amount really. Takoda and Jaegar each eat twice what say Mia eats. Tora is an easy keeper so she eats less than Kamp who is not an easy keeper. (Easy keeper means they flesh out easier, burn slower, require less food to maintain condition with the same work. Some genetics are easy keeper genetics, some are not.) So I try to make sure that out of each Turkey a different dog gets the heart each time, not always giving the heart to the same dog.
*Note* A Turkey like this would feed Kai for 20 to 25 meals, or roughly two weeks. I feed twice a day. Kai has the bite strength of the old lines so could eat every inch of this Turkey. Sure she would work away at the legs, but they would be no problem for her to bust up and break. Of course once she matures they would disappear in seconds, Takoda and Jaegar, to them a hind leg from the pork is like liquorice.
Also, I alternate with the rich breast pieces and wings to different dogs, so one day they might get a wing, the next a breast, and so on. Also, normally I will feed Turkey in the am and fish in the evening, or vice versa. Not all Turkey. And I will mix in Pork and Chicken, etc. whatever I am able to find. I get a lot of good deals on pork ribs. They are great as they have a high bone content. I just thaw them and out they go. I normally always thaw bone out. However if I find deals on pork loins with no bone, I don't thaw them, just cut them and out they go frozen.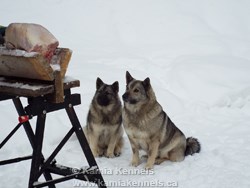 Now this of course is all for dogs just everyday stuff, females with pups, that's a different matter, they get the best of everything and all they can eat and pups get everything pretty much through the grinder. Turkey is a really high protein meat so you can feed some high bone content items alternating with it. Also, you can also add a meal of dry in every now and then if you have to, say your traveling, hiking away from home, etc. They don't mind. No grain varieties of course. Dry is considerably more money that 98 cent turkey, and no where near as good of course, but, it's hard to travel with fresh Turkey, not hard to have some dry in a container on a road trip.
But really no special big deal around here at feeding time, Tora keeps things in order, you come to close to the pail, doesn't matter who you are, except Kai of course, but everyone else, come between Tora and the pail and it's new scar time! I hand feed, so all the dogs can be sitting in a line, none would dare take from another, and none will take from me before I say, they are all polite. Bring a new dog in though, who doesn't know the rules, he will have any one of them tune him in, or all if he isn't sitting pretty in record time. Feeding time is something raw fed Ancient Lineage Elkhounds take very serious, they all know, nobody moves before the Big Dog says!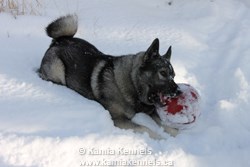 Jocko - Son of Tora and Bram
Here is why I love raising Elkhounds. I got this terrific update from a great couple, Dick and Sherry, they have a Super Elkhound down in Montana
Hi Merv, we are doing well here in MT. Jocko continues to win our hearts more and more each and every day. He is so smart. He talks "a lot", continues to get our attention no matter what, brings us so much joy and happiness. Our lives are complete and full with him! Thank you so much for picking him out for us. We dearly love him.
As I write this, Jocko is playing with Dick and the light up ball. Jocko always wins. He will take the ball and place it between his paws, under the coffee table, roll it towards Dick's feet and then actually gets it before Dick can! It's a game they love! Then if, and when Dick gets the ball, he tosses it and Jocko goes leaping and bounding for it, grabs it up and runs back to Dick. Mind you, this is in a small trailer house! :) Lucky for them momma has patience!! We taught our children that the house was no place to play catch or run in or any of those things ... but .... tis different for Jocko!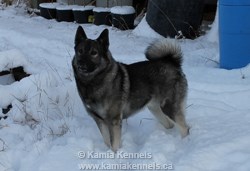 Dick had to be out of town for a couple of days with work and Jocko feels pretty lost without him. (They are a tag team outside with chores!) When it was bed time Jocko went back to the bedroom and jumped up on the bed. Nothing unusual. But this time, being that Dick was not home and Jocko had missed out on their "play" time before bedtime, Jocko brought a toy to bed. I did not realize it until all of a sudden there was a flashing light on the bed. It was Jocko's ball. He wanted some play time before he fell asleep. And, yes, he got his way! :) Some things, you just gotta do!
We finally had some snow yesterday. We got probably 4 1/2-5" ... We all loved it ... especially Jocko. Snow is one of his best friends. If he's not playing with the ball, or plowing a trail with his nose, he's out in one of the pastures with one of the mules or donkeys talking to them and trying to get them to chase him.
We have an S10 pickup with a canopy. The canopy was off all summer ... just put it back on last month, thinking that Jocko would ride back there ... but oh no! He loves to ride in the extended cab part. He would have more room in the back but he just wants to be with us. So, the groceries go in the back and he stays up front with us! Nothing spoiled about him. :)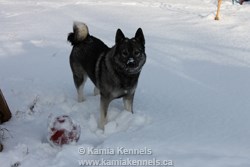 We look forward to growing old with Jocko.... and can't imagine our lives without him!
Will be in touch again soon.
Take care!
Merry Christmas and have a Happy and Safe New Years!
Dick & Sherry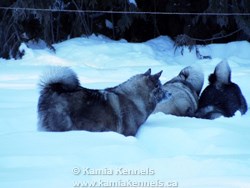 Mia, GAEDA and Jaegar , rodent hunting
I can say with all certainty, the Elkhound is by far one of the greatest mouse, mole, rodent catchers there is. Mia is extraordinary in this, her, GÆDA and Jaegar spend hours going all through our place catching them. Snow is two feet deep, they could care less. Try to get a cat to do that. A nice older couple down the road have three dogs of some sort of mixed different breeding, they can't catch anything, he has all kinds of trouble with pack rats eating his vehicle wiring, he has to trap them, good gracious. I said what's wrong with your dogs? They can't catch them. Good luck surviving in our yard if your a rodent. Doesn't matter how deep your burrow is.
A couple of fun year end photos
I sure enjoyed writing this newsletter. Looking back through all the great events over the last year, all the updates we got throughout the entire year was particularly rewarding. It's always a highlight of my day to get an update. I read them and look through the great photos many times.
We had quite a bit of fun getting our Christmas photos organized, a great couple up in the Yukon, Brett and Shelly with two great Elkhound daughters of Mia and Takoda, Nika and Kari got us started on this neat idea. The kids had a really fun time this year as well. They are sure good with the dogs and I sure appreciated all the help they gave us this past year.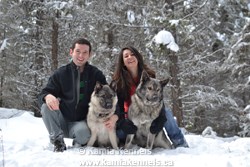 Marlene and I have some work to do here for sure, but we sure are happy in our new place. It was a good move.
As you can see, Tora, she hasn't changed much she likes it here, still has to have a tussle in the photo session, so all's well.
Till later,
Merv