Thanks to Tracey and Dennis for sharing the experiences and photos of Tegan and providing such a great home.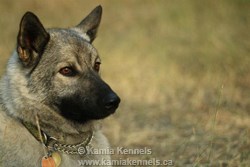 "Tegan - 2 Years Old - Elkhound Female"
She has always been one to look right at you, even from pup she had an intense gaze, calm and stable, confident and easy going. She is a beauty and these are some great photos, Tracey and Dennis have themselves a very good dog here, no doubt about it. Tegan is a working female, strong and stocky, she is always hiking and camping, a full activity lifestyle suits these dogs, and they can handle it with ease.
This is a great female Elkhound.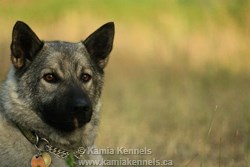 "Tegan - Norwegian Elkhound Female"
"These are some recent pictures of Tegan. As you can see - she is doing very well.
These were taken when we headed out boat camping. She is actually quite a calm, relaxed dog and we are able to take her pretty much wherever we go....such as boat camping.
Coming into hunting season soon - she will be back mainly on land out assisting Dennis while he looks for elk and moose.
Tegan is a beautiful girl and we are so happy to have her....now if we could just get her to shed less!! :)
Thanks" Tracey and Dennis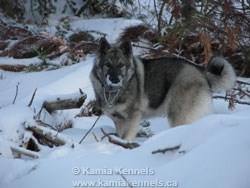 "Tegan is the Quintessential Norwegian Elkhound Female"
There is the picture of the famous Great Grey Dogs the Norwegian Elkhound. Take a look at Tegan my goodness, talk about looking right at you...Tracey has a great camera and this is a nice photo of Tegan when Tracey, Dennis and her were out in the British Columbia wilderness. Tegan was silver/grey from the very beginning it seemed. She was an ambassador for the Norwegian Elkhound with her being the first to have her ears straight up. Her coloring is right out of the Norwegian Elkhound standards and look at that coat.
"She is doing amazing! Now she is just over 15kg, so yes quite stocky!" Tracey and Dennis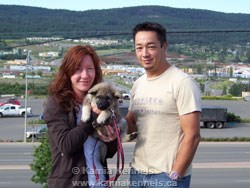 Tracey, Dennis and Tegan, summer 2009
When Tracey and Dennis contacted us they wanted a quality dog. They wanted a companion that could accompany them on hiking and camping trips, out in the fall on hunting excursions and scouting camps and were clear they wanted an Elkhound. They are a terrific couple and we were so pleased to meet up with them in Williams Lake, they drove up from Kelowna to meet Jay and I. We knew immediately Tegan was going to be spoiled, Tracey and Dennis were going to take such good care of her it wouldn't be funny.
No doubt about it, they have provided her with every opportunity to grow and develop and Tegan is an outstanding female. They could walk her into a show right off the camping trip and win first place, or turn her onto the trail of a Moose and try to keep up, Tegan would excel at either.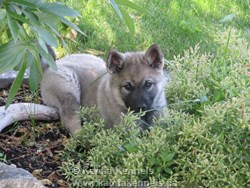 "I just wanted to send you a quick email to let you know how Tegan is faring. She now weighs 6.2 kg, - growing like a weed! She has also started her obedience classes and went on her first camping trip out to Nelson last weekend ( loved it of course). She is quite good to stay around us for the most part, though her curiosity and love of other people definitely make her wander - of course those instances, she will decide to forget her name.
We have also taken her out into the trees and she has already tracked her first sleeping area of a mule deer! Such a smart girl." - Tracey and Dennis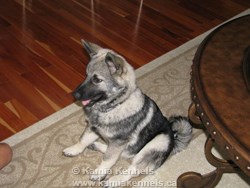 The Norwegian, or Grey Elkhound Females Are A Perfect Companion Dog
It's the perfect companion dog for an active couple, especially a female, and yes, females are easier on the house, the shrubs, the leash, but make no mistake, this is not a softy dog, this is a true working dog, bred for centuries to hunt, track, bay, guard and provide companionship and security. To see an Elkhound female protecting her turf from a passing stray dog, or big Tomcat, hair up from behind her ears to the start of her tail, there is no doubt these dogs have a dominant heritage, yet 5 seconds later coming over nice as can be.
The Great Grey Elkhounds, Norwegian or Swedish are close coupled dogs, very square in appearance, powerful dogs, wide across the back and chest. They are so close coupled the stomach appears flat and the back is flat with a slight slope from the withers. Any variation of Grey, Black tipped tail curled straight up over the back with a nice set of brown eyes that look right at you. Females like Tegan range in the 19.5" at the withers to 20.5", with minor variations on that. They should muscle out with little excess fat at the 42-44 lb range.
The grey or Norwegian type flesh out easily, are extremely easy keepers, food is converted very well by these dogs. You need to watch the amount you feed and not overfeed. This dog for centuries has thrived on what is readily available, they do very well on a good protein diet, preferably raw, with a good mixture of berries and add in some Tripe and some root vegetables, and a variety of fish.
This is a no odour dog, so it's the perfect winter companion, you can hike, play in the snow, then walk right in and sit by the fire.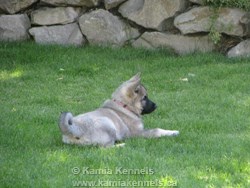 Even as pup only weeks old Tegan exhibited all the best the breed has to offer. She was alert and was aware, yet calm and reserved at the same time. She always carried herself in great fashion, head, ears, and tail up and ready. She had great markings right away and it clearly followed through.
Tegan is one of those dogs that no matter where you go somebody will come up and say, "Oh that is a beautiful dog" and Tegan is the dog that everyone immediately identifies as The Norwegian Elkhound. You couldn't have a better companion.
Our very sincere thanks to Tracey and Dennis for sharing with us the updates and photos, we hope they keep coming, and more importantly for providing such a good home for Tegan.