Thanks to Brett and Shelly for sharing with us the photos and experiences they are having with Nika and also now, Kari, Nika's sister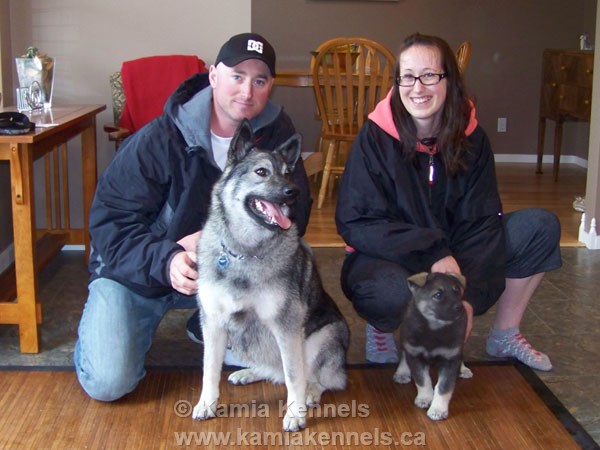 A terrific couple, Brett and Shelly taking delivery of the second female from Kamia Kennels. Nika a magnificent Swedish Elkhound on Left is just over a year old and the newest addition is Kari who will rival Nika in all aspects. Brett and Shelly are excellent handlers and Nika is so well mannered and is a true pleasure to be around, they have done an outstanding job with Nika, we know Kari is in excellent hands. Big dark Elkhound females are highly prized and Shelly and Brett have two of the very best in Canada. I'll have more information on Nika's Return up very soon. Congratulations to Shelly and Brett on the new addition to the family, Kari.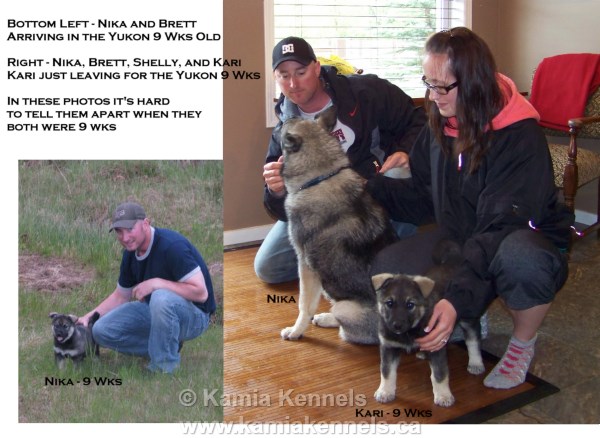 Nika and Kari are almost identical
When you look at the image of Nika and Brett when they arrived in the Yukon when she was a pup, and then look at Kari as they were picking her up to return to the Yukon, it's very hard to tell the pups apart.
The Elkhound breed has some strong genetics, the characteristics pull very strong, and as you can see with Mia and Takoda the offspring results are very predictable.
Nika has turned into an amazing female, Kari is growing up to match her bigger sister, and Shelly and Brett have two of the nicest Elkhound females anywhere in the world, definitely the closest matched pair of females you could possibly hope for.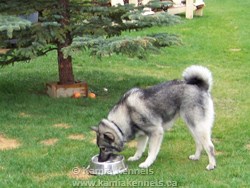 Strong Easy Moving Female Elkhound
There is a real nice easy free movement from Elkhounds, and Nika is definitely following suit. She moves fluidly, easily covering the ground. She has a very stout set of limbs, her back is wide and strong with a deep set of lungs and very strong well balanced hind quarters. Her stance is very good, her feet are always well planted, she carries herself very well. She has the muzzle from Takoda, a great white clean set of teeth. Dogs that are fed raw have way better teeth, and Nika is a prime example of that.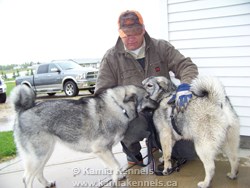 Nika and Tora Reunite
Tora was a bit put out when Nika came back, she didn't have everything all to herself anymore. They got along good but Tora wasn't exactly the best host she could be. Nika was as well mannered and pleasant as she could ever be and smoothed things over really well. IN just a few minutes her and Tora were best of friends again.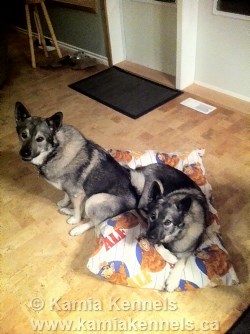 Nika and Kari - Female Elkhounds
"Hi Merv, We've had a very busy year...we didn't do as much camping and fishing as we would've liked to, but still managed to get out a few weekends. The girls as usual were just happy to be outside.
Winter is upon us here and Nika and Kari can't get enough of the snow; most dogs get spring fever, ours get winter fever. They know once the snow hits the ground the sleds and skis come out. Nika is doing amazing, she has all her obedience training down, weighs 55lbs and is flourishing on a mostly raw food diet. Every morning for breakfast they get a little package of meat we prepare for them, Nika loves the vegetables, my garden wasn't safe from her this year, she grazed away half our outdoor garden beds! She is our quiet dog that is more content after a long day to sit inside and sleep on her bed.
Kari is doing amazing with her training, my sister in law is a professional dog trainer and Kari is used quite often with helping aggressive dogs as it seems nothing phases her. She is still all puppy, it's go, go, go with her...I think some days when we have her out with her harness and sled attached she thinks she's parts husky and just puts her head down and will pull all day long. She is taller and skinnier than Nika at 45lbs, but gives Nika quite the challenge, they will stay outside for hours running and playing, it is amazing to see both work together playing when we have other dogs over-they are an amazing team. Kari is our little guard dog, she will spend hours sitting outside on the deck looking out at the back trail for wildlife. About a month ago I let her out in the morning before work and she started barking and her heckles went up, after bringing her in and leaving for work we found out what she was barking at; a bear had flipped open the lid on our dumpster in our yard and had climbed in. A few days later Kari again starting barking when we had her in the house, our doorbell rang 5 minutes later and it was my mom stopping by to tell us that her dog had chased the bear to our yard...sure enough there was the bear in our yard...Kari had heard the commotion long before anyone else had. Hope things are going well with you and your family; tell everyone that we said hi and in the next year or so we may be planning a trip down, we might have to stop by for a visit.
Talk soon,
Shelly, Brett, Nika & Kari"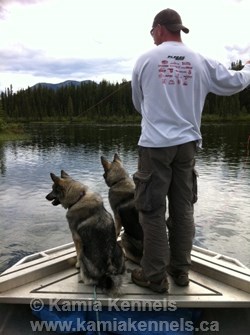 Nika and Kari know, fresh fish tonight
That photo says a million words doesn't it? Who could ask for a better day than fishing in the Yukon with your two Elkhounds, gotta like that.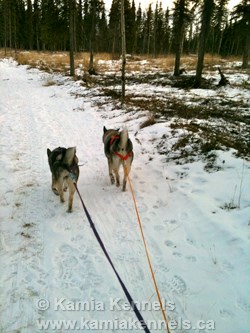 Kari and Nika - instinctive pulling sled dogs
The person who is widely recognized with the history of the big Swedish Elkhounds, Aksel Lindström, used the big Elkhounds for years pulling sleds. These girls are direct descendants of those old dogs, they remain true to the heritage. As Shelly states, once Kari starts she loves to pull.