Welcome to our new Elkhound photo gallery landing page area. We are currently testing out a new style of gallery, we hope you like it. Please select a set of images below and you will be presented with a new set of images. Enjoy! We are going through our photos now and will have more and more galleries up shortly.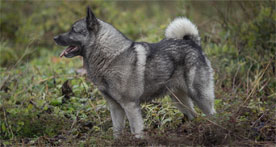 Ragnar In Russia - Awesome Photos of Ragnar Over in Russia with Barbara
This is a magnificent son of Tora and Bram. Barbara has him over in Russia and she stays in touch a lot. The photos she has sent are truly awesome. I had been meaning to get them online a while back and just now finally have them up. This is a stunning male.
There are few Norwegian Elkhounds in the world this calibre, and definitely this is the best in Russia.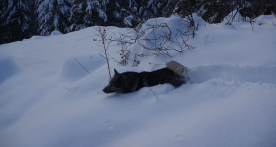 Winter 2018 - These are some excellent winter activity photos
These are a wide range of our dogs from Takoda down to the little tiny rascal pups. All enjoying the snow we get and the trails we have. You will get a feel for our conditioning program when you see these images as you can just imagine the workouts they are getting in this powder.
There are many different litters and Elkhounds highlighted, but you'll recognize a lot of them.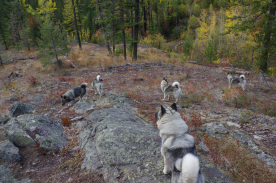 8 Norwegian Elkhound Females - Kamia Kennels
I have 8 of our elite Kamia females out hiking the high country. This is an incredible group of highly skilled off leash females. I would venture a guess, 8 of the best off leash hiking females in the world, even if I do say so myself. We are on a full day hike remote terrain and having a great time. You'll see them working in some really great scenery in British Columbia, Canada.
We are going to be having a litter out of each of these females and Wow, with there ever be some great pups.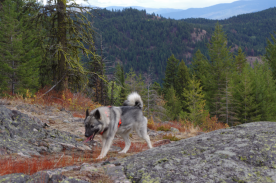 Luna and Tora - Norwegian Elkhound Sisters
This gallery is taken in late September of 2018, Luna and Tora were out with me scouting the high country.
They are amazing females and work off leash incredibly well. You'll see a nice set of images of them working in some very scenic fall scenery.
Click the Image to view the Luna and Tora Gallery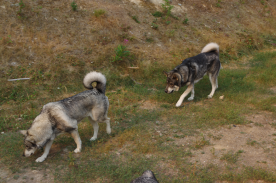 Jamthunds - Rico, Aina and their son Ark
This is a neat set of photos I got of the Jamthund family of Rico, Aina and son Ark. They were just having some time out and about the yard while I was doing a few things we were getting a couple things ready as Rico was here to mate with Aina again.
So I was able to get a few nice photos of the family just spending some time meandering around the yard. Pretty cool how excited young Ark is to be with his father and mother at the same time again. These are magnificent Elkhounds and Aina will be having another litter in late October of 2018. I took these images mid August 2018.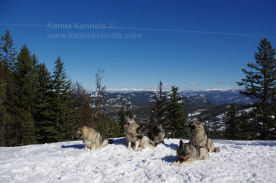 6 Kamia Norwegian Elkhounds on a Winter Mountain Hike
Jaegar, Tora, Kai, Tekla, Tuva and Kalia all went with me on a high elevation hike in February of 2016.
I finally am getting some of these galleries up online and I think you'll like these photos. We had a great day, took all day to reach the summit at just over the 5100 feet mark. The snow freezes pretty hard when the skies clear in February and we can make the high elevations, I had the snowshoes and the dogs were only sinking in the few inches of fresh powder down to the frozen layer. Give or take 12 feet of snow at the peak in 2016, there was more in 2017 as it was a record year. But still tons of it.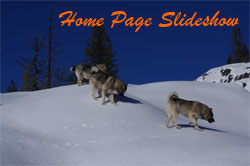 Home Page Slideshow- Recently Updated
Our home page slideshow has around 80 images right now from over the years. A lot of folks miss that slideshow as they start to scroll or visit another section. There are some really nice images on that slideshow that are perhaps not ones listed below. You can cycle through that slideshow automatically on the homepage, or use the arrows to the left and right of the images.
Enjoy.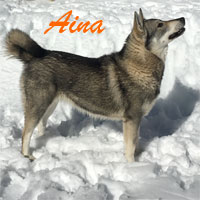 Aina - Our Swedish Elkhound Female
Our gallery has recently been updated with the stunning images of Aina, our Jämthund Female. She is such a great female and we have some very good photos of her as she has been growing and developing here.
We are sure you will enjoy the images of her, she is a great female to capture as she actually likes to have her photo taken I believe.
Enjoy.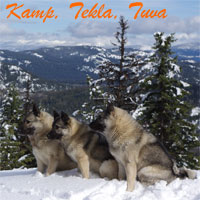 Kamp, Tekla and Tuva - Norwegian Elkhound Kamp with her two daughters, Tekla and Tuva
Our gallery has been evolving over the years. This particular set of images is once again a new change to our photo gallery section. I have taken this group of images on a nice high elevation hike with Kamp and her daughters Tekla and Tuva. We are experimenting with ways to display the images we take and this particular set is a new slideshow style with larger images and an article format with the images.
Please take the time to let us know what you think of this style of image layout if you would please. Kamp and her daughters Tekla and Tuva are stunning Norwegian Elkhounds. All ancient lineage genetics in these girls of the highest quality. It would be rare to find a better trio of Norwegian Elkhounds shown in their natural habitat than what you'll see here with these three, enjoy.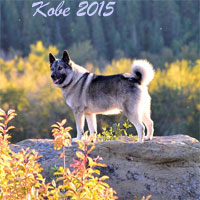 Kobe - Elkhound Male Photos From 2015
Our first gallery is one featuring a stunning set of photos of Kobe, a Kamia Kennels pup, owned by Henry and Elena Belik. This gallery is the second gallery of Kobe, these photos are from 2015, the gallery from 2014 is below. Kobe is a son of Tora and Bram, an outstanding Male Norwegian Elkhound.
We want to send out a huge thank you to Henry and Elena for sending us this set of images on Kobe. Henry and Elena hike in some of the most beautiful parts of the world and take truly awesome photos of this rascal. Please keep taking these great photos Henry, we love to view them. This is one awesome set.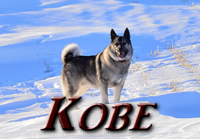 Kobe - Elkhound Male Shown At Two Years
Our second gallery is one featuring a stunning set of photos of Kobe, a Kamia Kennels pup, owned by Henry and Elena. This gallery is Kobe at two years of Age. Kobe is a son of Tora and Bram, an outstanding Male Elkhound.
We want to send out a huge thank you to Henry and Elena for doing first such a terrific job raising this big fella, and secondly for sharing this set of images that show the life big Kobe has, some terrific, thank you!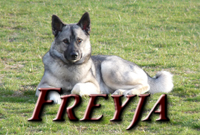 Freyja - Elkhound Female Shown At Two Years
Our second gallery is one featuring a stunning set of photos of Freyja, a full sister to Kobe above, a Kamia Kennels pup, owned by Amber and Clint. This gallery is Freyja growing to two years of Age. Freyja is a daughter of Tora and Bram.
We think this is one of the nicest females we have seen, a huge thank you to Amber and Clint for giving such a great home to her, and also a big thank you to Amber for sending all the updates and photos!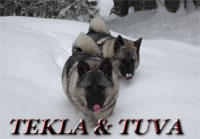 Tekla and Tuva - Twin Norwegian Elkhounds - Gallery 1 of them
Our two twins, Tekla and Tuva are featured in this gallery. These are outstanding Norwegian Elkhound sisters, daughters of Kamp and Bram. They are two of the nicest females you'll ever see. These girls are so personable and absolutely awesome to work with. They have a very powerful work ethic and go hard every day. We hike every day and I have featured some of our trips over the last year and a half. Most current image is January of 2016.