Erinn, Nate and Coho.
I got this great update earlier from Nate and Erinn.
"Hey Merv,

Great to hear from you. We have been meaning to send an update for a while.

Coho is doing awesome. He really is a great dog. What you say about these dogs having good instincts sure is true. He has been a great hiking dog from day 1.
He will always stay nearby and never roam or lag too far before checking in. Something we never trained, he just does. We are still working on a few commands but he keeps getting better the more we practice.
On leash is still a bit of a work in progress but for the most part he keeps a nice loose lead. Still gets a bit distracted from other dogs here and there but will listen up quickly when commanded.

I have taken him up snowboarding with me a few times and he just loves it. Will follow right behind me. I attached a video of him following me in June up at cypress mountain. I have never seen a dog so happy than when he is in the snow. Ive attached a few other photos of him on some hikes and even paddle boarding. He also just went for his first swim ever the other day. I wasnt sure if he would ever like water but he went in and swam all by himself.

The amount of compliments we have got about him is endless. People every day asking what kind of dog he is. Im sure we have sent you some business by now.

Overall we just love him to bits and couldnt be happier with him. Thanks again. We will keep in touch for sure.

Nate and Erinn"
Coho heading to his new home.
Big fun time, Coho is ready to go.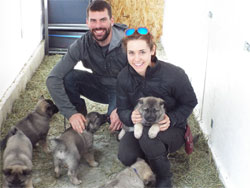 Erinn and Nate are all smiles getting this young rascal, no doubt. What a great young couple and they are going to give Coho a terrific home.
We really appreciate the opportunity to work with Nate and Erinn and help them get a really good companion for all the outdoor lifestyle activities they have.
The Norwegian Elkhounds like Coho have been providing companionship for young couples for centuries and they make the very best outdoor family dog.
We have been very fortunate to have such great lineages in our Elkhounds and Kai is our pride and joy for sure. She produces the very best you could ever wish for in a companion Elkhound.
A great big Thank you to Erinn and Nate for the confidence in our program and our dogs of course, and most importantly, for the great life that young Coho has in front of him.
Coho's Dad Hachi
This big black faced rascal that is the father to Coho is a tremendous old world big boy.
This is also the father to our foundation female we have here, Kalia, one of Kai's best pals.
Our plan is to use Hachi one more time with Kai, potentially her litter after this last one with Leif. Hachi is the perfect match for Kai, he brings those ancient old genetics that match so well with her background.
We are excited about watching young Coho develop and from the first year we can see he is quickly developing into a stunning big Norwegian Elkhound male. We are very proud of him.