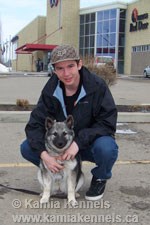 It was a great afternoon for a visit with Cathy Arbeau and Shadow in Red Deer on April 4th, 2009. Cathy had called and asked if we would like to meet with her and Shadow at the Alberta Sports Hall of Fame as they were traveling down from Edmonton. We were excited to go in and visit and see how Shadow was growing and developing. Wow, what a beautiful young male. He had always been a very sharp young male as a pup but we had not really seen much of him for the last 4 months or so since she had took him home, what a difference that little bit of time makes.
Jay and Shadow, April 4th, 2009 - Young Male Elkhound owned by Cathy Arbeau: "Shadow is Excellent - we just love him. He travels well, we have so much fun with him, he is just such a great young dog."
Terrific Disposition and Personality – Shadow has such a nice personality, he came right over to us, remembered us and was such a nice young fella. He was excited to see us and is filling out very well. We couldn't get over how nice his coat was, his color is terrific. We used to call him Mr. Silver before Cathy had picked out a name as he always had a truly great color and marking set and he is really turning out to be a beautiful Elkhound."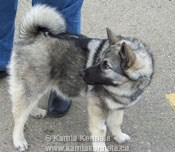 "We couldn't believe how he had grown - Shadow has really grown since we saw him last, he is 24lbs in these photo's and he is a solid young male Norwegian Elkhound. He is wide and his stance is very stable, he has a great set of paws and he moves very nice. His tail has a great curl and he is alert and bright. He is very much like his brother Koda when they look at you, they really pay attention and look right at you, so attentive and ready to do what you ask. He has a full black muzzle and it tapers evenly and his ears are well pointed and alert.
He will be a powerful dog as he matures but he is so gentle and so kind, just a real nice guy. Cathy has done such a good job training and socializing him, he was a true pleasure to be around. He never made a sound, all kinds of activity at the Sports Hall and he was so well mannered, he came over and was truly well behaved, just a great dog.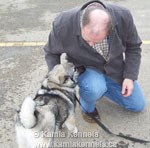 We could see way more of Mia than Takoda coming through except in the face, his muzzle and face are just like his father, right down to the black dot on the cheek. His coat is definitely from Mia, when we look at some of the photos we took when he is looking away we can't tell the difference hardly.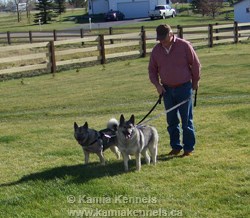 Shadow and Merv - April 4th 2009 - "This is a beautiful young male, Cathy was so kind to call us and have us meet them while they were going through, Merv and Shadow - Young ElkhoundI was very happy that he had no trouble remembering who we were, he came right up to us and was our best buddy right away, he knew us immediately."
Elkhounds are a great breed of dog and the genetic make up is very strong, it shows when you see a young dog like Shadow you know immediately why this is such an ancient breed. This is a very healthy strong young male, excellent confirmation and we are so proud of these dogs. Mia and Takoda combine so well together and the slight differences they have are blended into this young male so well to make such a wonderful companion for Cathy, we just could not be happier for her.