Kamia Kennels Founder - Merv Carlson - With Norwegian Elkhound Female Twins, Tuva and Tekla - December 31, 2015 3400 Ft Elevation - Snowshoe Hiking View Pictures of Norwegian Elkhounds Tekla and Tuva
We want to Thank You for visiting our online showroom for our Kennels and our Elkhounds, we truly appreciate it. I have been around Elkhounds from early childhood, growing up on the farm with our Norwegian Elkhound "King". He was a tremendous dog, truly on watch at all times, keeping a lookout for the 4 siblings I had, along with my parents, and our livestock.
Our ancestors, are Sweden, Norway, Denmark based, with my Grandfather on my Dad's side coming from Sweden, and with him came the knowledge of these "Great Grey Dogs".
These dogs have been a part of life for family in various ways throughout the years, and with our motivation years ago we moved to an acreage outside Sylvan Lake, AB, a location where we could begin a kennel and raise the Elkhounds so as to share this great line of dogs with others. In the summer of 2013 we decided we needed easier access to great hiking, snowshoeing, and just a bit easier weather temperature. So we moved our home/operation to British Columbia.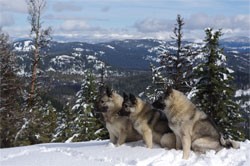 Our Kennel is now located just north of Grand Forks BC. This photo I took on a recent hike up behind our house on February 21st, 2016 with Kamp, and her twin daughters, Tuva and Tekla. Tekla has just had a litter of six with Pretty Boy Leif , some of which I am training her now. Tuva just finished having a nice litter with Leif and as well. Awesome pups.
We are so pleased with our new location, we welcome all of you to stop by, we have tons of room, it's a great place for dogs, especially Elkhounds, and we look forward to hearing from you. Our new phone is 250-442-5856.
Marlene and I raise the dogs with the very capable help of our children, young adults Ashten and Jay, who are excellent handlers and work with the dogs every bit as well as we do. Funny how dogs always seem to run to the kids first, ever notice that?
We are extremely proud of our dogs and if you were looking for a new Norwegian Elkhound puppy you should truly consider one of these, they will be an excellent companion for years.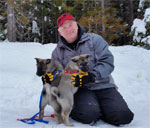 I am pictured sitting with two of our brand new foundation Elkhound pups from Takoda and Tekla, our new stud dog MÅNE and our new foundation female Luna.
As of early 2018 I am sitting in the kennel these days with some tremendous young pups from MÅNE and Kalia. They are proving to be a big part of our exciting future here at Kamia Kennels.
Once again, thank you for taking the time to view our site and be sure to drop us a note.
Sincerely,
Merv Carlson and family
Also visit Kamia Kennels Adventure site.