Thanks to Brett and Shelly for sharing with us the photos and experiences they are having with Nika Also Click Here to Read About Nika's Return Visit!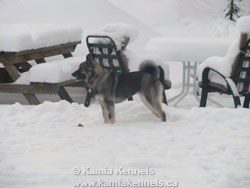 "This is a dog to make anyone envious and want one"
The summer of 2009 has been an outstanding year in Canada for Elkhounds. Nika is another great example of the terrific dogs that are finding the best homes throughout Canada, Nika is at home with Brett and Shelly in Whitehorse, Yukon, and believe me she is in her element.
"Nika is just under 23 kg's and she is growing very nicely. She now stands 22" tall and long, the vet is very impressed with her temperament and size. We see all sorts of wildlife wondering through our property. We've seen bears, signs of wolves, coyotes, rabbits...Nika lets us know day or night the minute something steps on the property.
She is adjusting great to training she has had great recall since we first got her and she has learned sit & down, both verbal & hand signals. She responds to hand signals from about 50" away. Her focus on us when we are off leash is amazing- she won't venture more than 10' in front." Shelly and Brett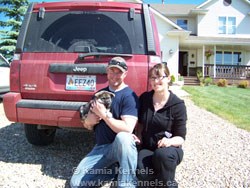 Nika, Brett and Shelly, departing for the Yukon, summer 2009
Whitehorse is a 26 hour non stop drive from us, Brett and Shelly made some plans to do some things in Edmonton and then come down here and meet Nika. Pictured here they are just departing for home. Brett and Shelly had called well in advance to select a female, they wanted a companion and spoke with us, when they arrived we had in our mind already picked Nika, what is truly uncanny is that Brett and Shelly walked out back, sat down and Nika came over and climbed into Brett's lap and stayed there. It was truly something to witness. As Brett so eloquently stated "He was a firm believer that the dog pick the owner", of all the females, this is the female for the North. Funny how things have a way of working out.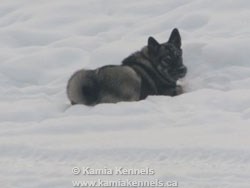 We knew Nika would be a big girl, she was a dark female, pulling lots toward the Swedish heritage, the largest pup of the litter, here she is pictured at 7 months and truly a magnificent example of what the Elkhound has represented for so many centuries. For thousands of years the Northern Scandinavian regions have been the home of the Elkhound, with the regions having influenced the selection and traits. As far back as the early association days the regions and environment had influence on the types of Elkhounds. Somewhere around the late 1870's the Norwegian Hunting and Fishing Association held it's first dog show in Oslo. The dogs had at this time been only selected and judged by hunting men and this is the so called beginning era of standards. The Grey Elkhound or Norwegian Elkhound was the first standard identified. The Norwegian Kennel Club was founded in 1898 and is based around the Norsk Elghund Graa or Norwegian Elkhound as we know it today.
A few years later it was decided that a separate standard be considered to distinguish the Norsk Elghund Graa and and the taller, longer Swedish variety, developed for the much deeper snow regions. It should be noted that the Swedish Grey Elkhound or Grahund, and the Norwegian Grey Elkhound are virtually identical yet considered separate as well the taller longer cast Norrland or Swedish Elkhound which were well evolved by the early 1900. However the Swedish Elkhound was classed in the Grey or "Norwegian Elkhound" category for many more years, it has recently been adopted as a separate breed. Here in Canada though all are recognized as the "Grey Norwegian Elkhound".
It doesn't take much to see that Nika has heritage coming through loud and clear from the Jamtland region, Northern Sweden, famous for the Swedish Elkhound. Nika is a true example of what the breeders for centuries were striving to achieve throughout the Northern regions. Dogs would be selected based on ability to function in that region. They wanted mobility in deeper snow, it takes that extra couple inches to give the advantage to the dog. In the coastal regions this selection was not as crucial, so the preference was to the shorter, thicker Norwegian types like Mia.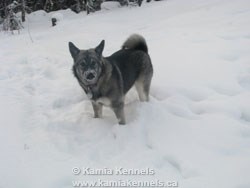 Two Thousand Years Ago - Or 2009 Finland
There is no doubt that 2000 years ago you would have seen an exact replica of Nika in Northern Sweden or Finland. These dogs have remained virtually unchanged for centuries. In 2009 in many parts of Sweden or Finland you could have went to dog shows that you would have seen an exact replica of Nika, in fact we have seen the pictures of "Gaia" when she was exhibited by a breeder in the Tuusniemi Group Show in Finland. "Gaia" the best in breed show winner looks identical to Nika, you would have a hard time telling them apart.
Nika has the great stance that Elkhounds exhibit, as air scent hunting dogs they stand tall, head up, the tail curled to stay out of the brush and mud and snow. She has the muzzle and great wedge shaped head with well formed ears, erect to catch the sounds. Her gaze and expression indicate the bravery of these hunting dogs, capable of starring down Moose many, many times they're size. She exhibits the depth of bone and power in the shoulders and hind quarters necessary for deep snow mobility, with some great lung capacity, her chest comes right down past her elbows, she could run for days. She has Takoda stamped all over and has the muzzle of Takoda, straight nose, equal length to the skull, a really great looking female. She carries the dark color so well.
There are very few if any Swedish Elkhound females in Canada, other than Nika's sisters of course, however outside of that there are few indeed. We all know I am pretty partial to Takoda, and to see a female that exhibits all the best that he provides combined with the power and agility of Mia, well I can only say, this my friends is a very good dog.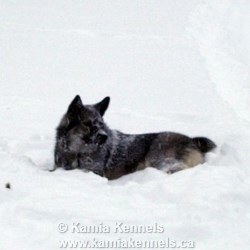 Nika, Fishing, Whitehorse Yukon
To see Nika in her element here on the frozen lake in the Yukon in the dead of winter, just relaxing, having a fun time, you know Shelly and Brett have the right dog.
Nika, a really superb female Elkhound
Hi Merv, Happy New Year! We've been keeping busy with Nika exploring the trails all around the house. She is doing great. Growing as fast as ever...I would estimate she's about another 1" longer and taller since last measured & probably weighs in around 57-59lbs.
We've been attaching and empty sled to her the last few weeks so she'll get used to pulling - she is going great with that. She is so proud pulling her empty sled around. We went ice fishing yesterday in near blizzard conditions, Nika was in her element, she loved every minute of it.
Brett and Shelly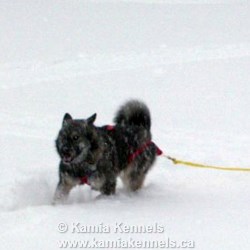 Nika is shown here getting used to the sled behind her. Elkhounds are strong dogs, they have the capacity to work and the desire. Nika, like her sisters is a stable dog mentally, this comes from a balanced set of parents, and good care and handling from Brett and Shelly. A dog like Nika is so much fun to work with, its much easier to train a stable dog, an enthusiastic but mentally calm dog.
Mia and Takoda, and all the pups from them can take all kinds of situations and remain calm, be able to handle stress, this is the advantages of Elkhounds, and most definitely the genetics from Mia and Takoda. Mia is an extremely well balanced female, Takoda brings in the balanced high energy enthusiasm, which leads to a really good working dog in all situations for all types of handlers.
When we get photos back from Shelly and Brett I am always amazed at how well she is developing and turning out. Looking at Nika's photos when they come is like looking back in time at the ancient Elkhounds of my grandfathers time, there are very few old photos from those ancient dogs, but the photos that are around you would swear your looking at her.
Read More on Nika's Return Visit here