Jani and Satu - Master Breeders - Our Gracious Hosts to the International Dog Show Joensuu Finland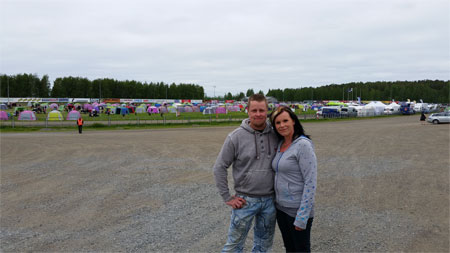 I was fortunate enough to get to take in the big International Dog Show in Joensuu Finland when I was over there to pick up Aina. Joensuu is like the dog breeding headquarters of the world almost, with of course some of the greatest hunting dogs of all time coming from this exact region, the Karelian Region of Finland. No surprise that the big show was held in this beautiful northern city.
My great new friends Satu and Jani were gracious hosts to take my brother and I as their guests to the event and take us around and introduce us to many breeders and of course as the show events took place, Satu, as an expert herself she was able to relay to me all the fine details of the judging, the competition and more importantly her take on the beautiful dogs on display. Ossi the breeder of Aina also met us at the show and we all had a terrific day.
I was able to see some of the finest Elkhounds in the World on this trip, this female right in front was the overall winner in the Jamthund category. She stands here, her mother is in the top of the photo, both of these two females were stunning dogs.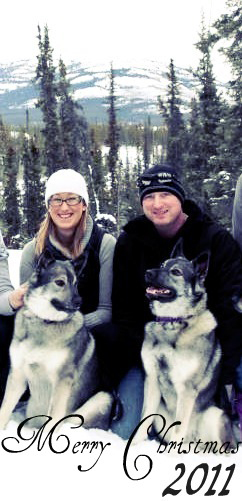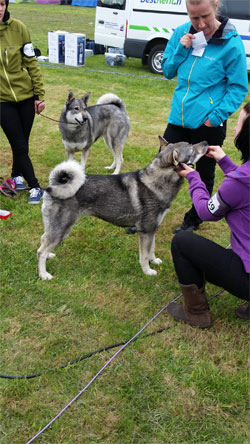 There is no doubt that the Jamthund is extremely popular in this part of the world, these young ladies who were handling these two Jamthunds were friends of Satu. The two Jamthunds are a mother / daughter pair, both truly outstanding dogs, final two these were as they faced off for top Swedish Elkhound of the show, neat to see, the younger daughter won. As an International show dogs came from all over, but dogs right from the area clearly the top end of the crop.
Satu and Jani have some incredible dogs, but did not have any in this show, I have a full page detailing the incredible show results and working results that Satu has had over the years with her Jamthunds, it's truly an amazing thing, please click here and read about it.
One thing that I just couldn't help but think about the minute we walked over to where these two dogs were, the show was about to begin soon, but everyone was casual yet, but these two reminded me so much of Nika and Kari. I couldn't help but think about those two big daughters of Takoda up in Whitehorse as I studied these two Elkhounds.
Now don't get me wrong, in no way am I downplaying the extreme high end quality of the two big Jamthund females in any way shape or form, not a chance. These are two of the very best I will ever have the opportunity to see and watch. I have a great deal of respect for the ladies who owned these incredible dogs, and who have such skill and capability to breed such great Elkhounds. Nothing but respect no doubt about it. But I do have to give ole Takoda a ton of credit, make no mistake, that pair on the right is some seriously good pair of sisters as well.
As I made my way through the day seeing top Elkhound after top Elkhound I came to a few realizations. Sure, all the dogs here are top end dogs, no question about it. Very minor differences that would take an extreme eye and ability to see, Judges of the finest calibre to sort through quality like this. But, for sure, over the years, we have some dogs that had things been slightly different in terms of registration, and other things, but for sure, a few that we have raised would have stood right in amongst this group and would not have looked out of place in the least. I was pretty happy for sure. I have some work to do, no kidding, tons of improvements in our breeding program coming, but so far to date, I felt very good.
Now I will come back to the big Swedish Elkhounds and speak more about them in a minute, but I wanted to share just a bit on the layout of the event. It's a large event, they are doing some 20 shows at a time, they are going on all over the place.
Now the Norwegian Elkhounds were side by side with the Swedish Elkhounds, so I had two shows going on all the time, I was trying to take in both. Satu of course is all Jamthunds, she lives and breathes them, so basically didn't worry too much about the Norway dogs next to us. I however wanted to see how the beautiful Norway dogs were and got some time on both sides.
As with the Swedish, but incredibly, even more so with the Norway dogs, I knew I had three, Kai, Tekla and Tuva that would have stood right in there with any here. Now, of course I have not registered any of those three, so they could not show, but had I, they could have done extremely well.
Here is an observation that will stick with me for a long time. On the Norwegian Elkhound side of the equation they are very particular about the size. Tekla, Tuva, and Kai would all fit the size, but GAEDA, Kamp, Tora, they most definitely would not. These folks are serious about fitting the standard.
I saw a beautiful big female, I said to Satu, oh there is a very nice female, she looks a lot like some I have. Satu said she would probably get measured, and if too large would not score. Sure enough, too large. So that was an eye opener for me.
Elkhounds Everywhere - Totally Awesome!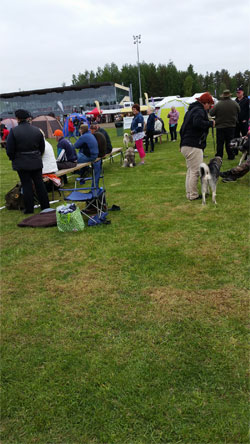 Can you believe it, Elkhounds Everywhere! Too cool. They were coming in lead by kids, old guys, young women, families, wow, what a great event. All the people just having a terrific time. I of course don't speak the Finn language so was just smiling a lot and tipping my Canada hat when I was taking photos. Sometimes Satu would explain, Tourist. Too funny.
So the Norway show was to the left in this image, the Swedish to the right. I was going around both rings to get some photos at different stages of the show, different angles that sort of thing, along with lots of folks doing the same thing.
One thing that I noticed on the Norwegians was that the color pattern was very close dog to dog. These Norwegian Elkhounds were all very high end dogs of course, as were the Swedish and you could tell that the breeders were very like minded.
What I found was that they were very close to Tuva and Kai. They tended to prefer just a slightly darker dog overall. Not real dark, but not real light if you know what I mean. If you were to look at GAEDA she would be noticable here as she is dark faced but lighter body. Kamp would be lighter body, but dark face.
Tuva would be almost exactly like all these dogs, as would Kai. Tekla just at the upper end of the size as she is just a wee bit larger than Kai and Tuva. Color pattern she would fit.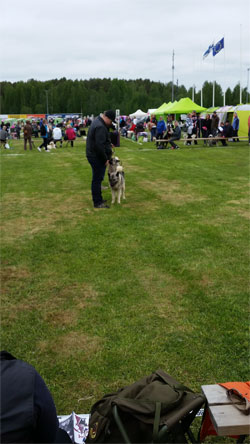 As I watched the amazing dogs move around I began to notice a few things pertaining still to the Norwegian Elkhounds. All the dogs were a free easy moving group. I had seen this style many times of course, and Bram, the great sire we have used for all of Tora's pups was exactly this style of movement.
I have seen some, not a lot of show style Norwegians in Canada, but seen some, they are tense and bound up compared to these. The Norwegians here were like Kai, quick, fast easy moving. I have seen this style of movement in almost all our pups. I am very pleased with the gait we breed, it matches what these breeders are doing.
Now, while I am on the issue of the gait, while studying the movement a person cannot help but notice the conditioning. They tend to go hand in hand. Fluid movement, easy movement requires strength so as to appear actually effortless.
When folks where moving their dogs around before the shows, and even in the ring all the dogs had very nice conditioning, moved effortlessly, but I couldn't help but notice that none of the dogs, and not just the Norway dogs, but any dog I saw, none had conditioning like mine.
I seriously can say that our conditioning program is off the charts as every dog I have was conditioned better than all I saw in terms of sheer lean muscle. Of course I never saw all the hundreds and hundreds of dogs from all breeds, roughly a 1000 entered, but I saw a lot, none were muscled in like Tora. So for a working group of dogs, as every dog entered here is a working dog, I can honestly say, we are doing some seriously good work on that end..
So to the big boys of the show. To say I felt right at home when these big boys came out, you can not know how real that is or was.
Watching these big fellas I saw years of roaming the wilderness trails with Takoda on display and it was a very touching time seeing the heritage of the big fella on display. The ancestors of these big rascals could easily have been the ggg grandfather of Takoda.
Now, you want to hear something really funny, you'll get a chuckle out of this. One of the big boys, a big fella, he was a handful. I mean his owner was having trouble with him. He was seriously aggressive to the other dogs, I am just a chuckling, thinking been there, done that!
I am smiling and Satu she says, they really shouldn't be like that in this environment but sometimes they are full tilt, I said, hallelujua, I am not alone. She just laughed. Nobody worried about it at all really, although he didn't score as well as he could have I am sure.
The big boys were pretty good, no doubt about it, but I have to say none were in the same league as Rico. Satu's dogs are of course the very best and she has a house full of trophies, more on that to come, but Rico, as one of her very best, well he is some spectacular. Good for these boys he was not here. So when it comes to the big boys, we are in some spendid company with Rico.
I have a brand new appreciation for the Judging at a show of this calibre. Pretty amazing to watch the old gal, now she probably was about my age, so not really an old gal, but she had been around. She knew Jamthunds.
Satu of course was doing a side judging at the same time for me, explaining what she felt was the top points, the faults if any, etc. She was as good as the judge so it was very good for me to have such an expert help me through. I couldn't understand anything the judge said as you know.
So here is a group of dogs, some of the best you could find and she has to sort through them all, and quick like, she doesn't exactly fool around, there are a lot, and pick out those who continue to move on.
The really good dogs, you can spot from the lower end, sure, not like it's a very low end though, the low end is seriously good. But, the top end dogs are really good, so again, you can spot them. However, sorting through the top end dogs, now that is a whole different ball game for a fact.
Personally, I am not actually sure what determined the difference at the end of the day in the top few dogs. From my perspective I could literally not pick a difference. I am not sure if it's something the judge was able to just get a glimpse of as she was close up or not, but the top few dogs, whew, tough decision.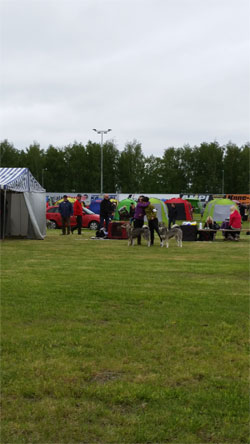 At the end I was very happy for the two young ladies. They had came with two of the most spectacular Swedish Elkhounds a person would likely see only a few times in a lifetime. As I knew no one at the show , but these were friends of Satu, well of course we were all rooting for them to win. So fitting end to an awesome show.
I can honestly say having seen the big greys live and in person from the heart of the Finland Jamthund district, I am some pleased to have Aina to share these incredible dogs with the families back home.
Now Aina, she would be putting the hurt on these two females when she is ready, as Aina is easily going to be standing right next to these two quality wise. Aina might not have the manners and training these two tremendous Elkhounds have, as these young ladies are most likely superior handlers to me, Aina is a bit of a wild cat as well, which I might just leave slide.
But quality, hunting skills, guarding, work ethic, confirmation, heritage, anything you want to speak to Aina has in spades. So these girls best keep an eye out in the old Boundary District of BC, near old Phoenix as there is a new kid in town, Aina is her name.
Read More About Aina, our Swedish Elkhound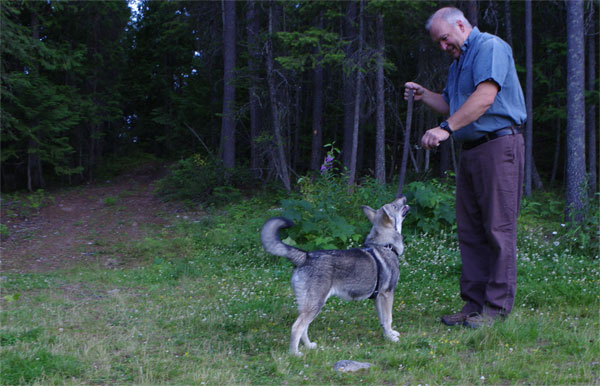 "Aina - Jamthund Female, Future Champion Everything, 4 Months Old July 2016"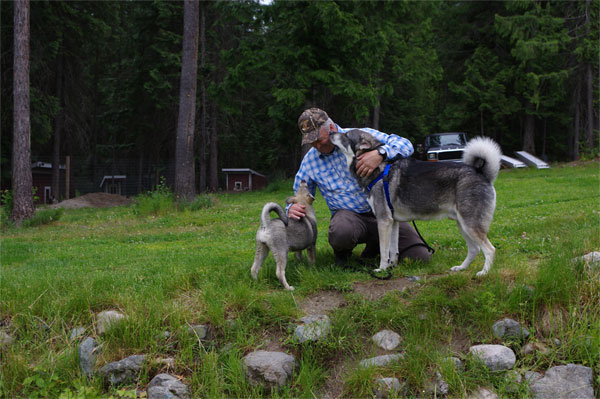 "Aina - Jamthund Female, Rico - Jamthund Male, and I a couple days after I returned home"
Satu and Jani are the breeders that raised Rico - as you can clearly see, this is an outstanding male, as I mentioned in the page above, Rico was already in North America when the show was on or he could have entered. Rico is magnificent, if I was a betting man, no doubt who I would pick to have won! Russ and Beth have raised a stunning big fella.