Kalia and MANE - As Expected Whelped January 26th, 2019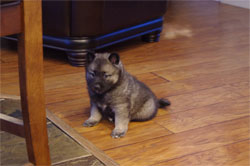 We have been having a blast with the Kalia and MANE litter. As expected Kalia was right on time with another tremendous litter of young Norwegian Elkhound pups!
This is a picture of Baby Rae, she was in for some Desna house work, a very skilled young daughter, super example of the litter quality these two have.
MANE and Kalia are old world working dogs, the big thick dark lines, amazing skill level, exceptional focus on the handler, absolutely fearless dogs. Very personable to the handler and listen with impeccable manners, but if they think there is something dangerous out to harm you, whoa man, they are a set of serious Elkhounds. You can hike easy with these two, no doubt. The pups from this litter are spoken for.
Kalia and MANE Litter Video at 5 Weeks
Luna and Leif - As expected as well whelped February 5th, 2019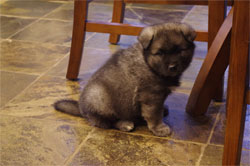 I am very impressed with the pups from Luna and Pretty Boy Leif. Oh Wow, they are incredible young rascals. I have a photo of young Bjorn, he is staying for the Desna program and was in learning to hang around. What a Rock Star he is.
This combination of Luna and Leif has proven to be exactly what I thought it would turn out like. All exceptional pups. I will do this combination again when Luna cycles this fall.
The pups from this litter are spoken for.
Luna and Leif litter video at 5 Weeks
Pretty Boy Leif - Son Loki, Daughter Letta, Mate Kai
Pretty Boy Leif is shown here to the top left of his son Loki ( had with Tekla) and far top right is his daughter Letta, who he had with Kai, shown bottom of the photo. It just doesn't matter which of our females we have Leif work with, the offspring are predictable, and Amazing!
Take a good look folks, that my friends is an Elkhound!
Leif was brought in as you all know to be an outcross male for our lineage of superior breeding stock females. We went to this incredible genetic lineage of Leif as that is the very best line of female creating Norwegian Elkhound blood left in North America that is outcross to ours. Leif has proven over and over that our plans and study have been absolutely correct. We have had litter after litter of the greatest Elkhounds you could dream of from him and our females.
The upcoming litter of Leif and Kai is going to be another group of exceptional pups.
Kai - Bred to Pretty Boy Leif - Expected to whelp April 4th, 2019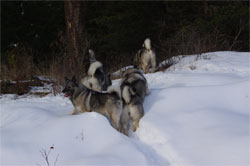 If you are on the list for a pup this spring you are extremely fortunate. There are no pups coming that will be better than the Kai and Leif litter. This will be the third pairing for these two incredible Elkhounds and we have been so thrilled with the other pups. Kai has a huge belly!
As you all know I kept a daughter of Kai and Leif from the second pairing to carry on this great heritage. Her name is Letta, you will have seen her on the site, but I will put a short feature on her below. This is the type of quality you can expect out of this litter. There is a ton of Kai's pups featured on the site.
Letta - Daughter of Leif and Kai from the second pairing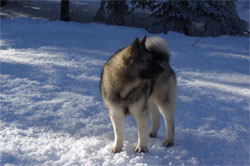 This is the stunning daughter of Kai and Pretty Boy Leif. She is coming up to a year in this photo and is a beautiful young Norwegian Elkhound.
We are very proud of her, she will carry on our genetic program and we have found an old world Male Norwegian Elkhound for her to work with. Letta is 4th generation for us, she is a Great Granddaughter of Mia.
I'll place a few photos here to show the apple doesn't fall far from the tree.
This is Kai at roughly the same age as Letta.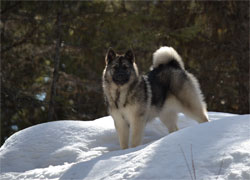 As you are able to see in this image of young Kai, her and Letta could be mistaken for the same female while moving in the bush. That genetic is very strong, draws straight and true as you breed forward.
Using good males allows these females to flourish and produce as they should.
This is Tora, give or take same age as Letta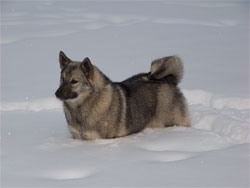 Traits in great females have a way of following through, generation after generation. On this particular lineage the results are very predictable, generation after generation.
Bram was selected to mate with Tora as he had a background of tremendous females in his heritage. He allows those background genetics to come flowing through to Kai.
Not only does conformation follow, but instincts in this level of genetic also flow exactly as it has for thousands of years. These four females are all Full Instinct Females.
This is Great Grandma Mia at roughly the same age as Letta.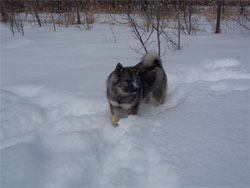 Letta and Great Grandma Mia could be mistaken for sisters from the same litter. The genetics of Leif are the same background genetic region of Norway as Mia, so it flows back to the same style and fashion as she had. It's quite profound really to witness the transfer way down to Letta.
Mia was a coastal Norway bloodline. They were a very strong bloodline, meaning traits from them pulled hard through to the next generation. And they carried distinct characteristics through easily as well. The hips, the heads, the rise of the neck, the feet, the set of the tail, these are locked into this genetic. Extremely good follow through on those.
Takoda - as a young male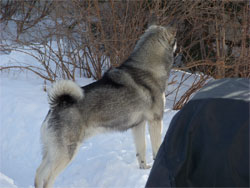 Takoda is linked to every litter we are having this season from either a son, daughter, grandaughter etc.. I have a photo of him as a young male to say he is watchful is a serious understatement.
He has an incredible sense of territory and takes his territorial aspects and genetics from the old swedish lineages which is very strong.
I put this photo in as I saw the young Takoda many times when Dagr his son was here to mate with Tuva. At times I swore I was looking at Takoda from days gone by.
Dagr - Son of Takoda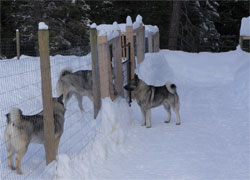 To have the opportunity to have Dagr come back and potentially sire a litter with Tuva would have been perfect. I most likely will let Dagr have another try with Tuva and or use him with Tekla potentially. Dagr is a great young male, there was no problems on his end I am certain, Tuva is just a tough cookie to get bred.
Phoenix - Daughter of Jaegar and Kamp!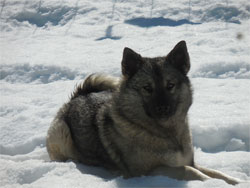 All of us are anxious about Phoenix, I witnessed the hook-ups with Leif, 4 in fact, but at this late stage in the pregnancy it appears she did not catch, or there is only 1 pup.
Not sure what's up with that. So this is a strange one, Phoenix is in great shape, daughter of Jaegar and Kamp, should be a great young female. We know Leif is sound. I can't explain why Phoenix did not catch. But, I will let her run out the clock till the 4th, that is about the last day she could potentially have a pup. She won't have more than one if she does as Linda says she has no belly to speak of. We didn't ultrasound Phoenix, so we will just wait and see, but I am not counting on her now. We will mate her to Leif again on the next cycle in mid summer.
Vida - Mated to Loki, whelp date should be 9th of April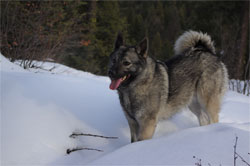 Vida is mated to Loki, son of Leif and Tekla. I can't tell you how excited I am about this litter, and I am certain she is bred. She is showing some good belly now. Good for Vida.
This is going to be quite incredible as this will be the very first litter for us where I have raised both the Elkhounds in the mating pair. So to say I am going to be very proud is a major understatement. This is years and years of work to get to a pair of this quality. Some very happy folks getting these pups.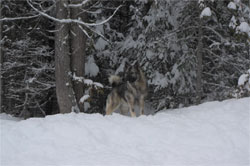 Vida is one of the most unique genetic bloodlines left in North America. She is an old Norrland bloodline Elkhound, the very best in the world of Elkhounds. She is a flawless Elkhound. There are few, and I mean few Elkhounds these days in North America that are flawless, I raise pretty much the only ones, and Vida is one of those.
The instinctive skill and behaviour of this particular female is most likely the very best in the Elkhound world for handler focus. Few dogs ever come along with this skill set so pronounced.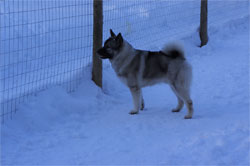 Loki is the absolute perfect match for Vida. I had planned initially to use Torleif but I could not get my plans together correctly to get him out here, so I decided to use Loki first. I was going to use Loki second only because Torleif is just slightly older, but no matter. Both are entirely capable and as they are genetically the same, awesome either way.
Seb and Carsen brought Loki out for me and he stayed here with Vida. What an awesome big fella. This is a son of Pretty Boy Leif and Tekla. I talk about the Grandparents to this big fella below a ways.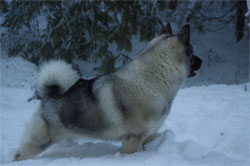 Loki is a big solid male, 60 pounds of muscle. He takes a great deal from his famous mother Tekla and combines all the background of Leif to walk around as one of the most stunning males there is today.
Early this year his grandfather and his great grandfather represented the Norwegian Elkhounds at Westminter 2019 for the Norwegian Elkhounds. There were others there as well. Now Loki's great grandfather won the Best of Breed for the Norwegian Elkhounds shown at 9 1/2 years of age. Pretty Phenomenal and Congratulations to GCH Tioka's American Ride and owner Lori Webster. There is no doubt that Loki brings forward some of that Championship form and I might add that all those Elkhounds at that show should be commended and breeders and handlers of course. That is a feat no kidding. But, I have such a fat head that I have to say, good thing Loki wasn't there or just maybe the ribbons perhaps would be on his collar. What do you think?
I have a video of the hook up on this pair
Jaegar and Kamp - Ties to many of the litters we are having this season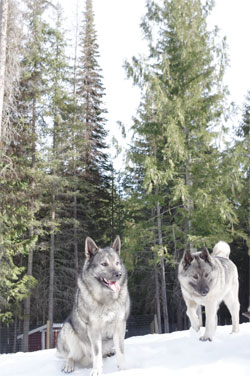 Phoenix is a daughter of these two, Jaegar and Kamp. They had some amazing pups together and Phoenix is from the final litter they had together.
Phoenix could be the first daughter of Jaegar to have a litter of pups so we are very excited about that. Jaegar is a magnificent big fella and as most of you know he is a half brother to MANE and half brother to Dagr. Jaegar is also a half brother to Vida.
Kamp is the grandmother to Loki, the sire of the Vida litter. Kamp is also the mother of Tuva who is potentially mated to Dagr.
So this pair has some direct genetic connections to quite a few of the pups coming. No better dogs could be found than these two big rascals.
As many of you know the two litters we have on the ground are directly connected to these two as well. MANE is a grandson of Kamp and half brother to Jaegar.
Luna also as she is full sibling to MANE is a granddaughter of Kamp and half sister to Jaegar.
And finally Kya, a daughter of Jaegar is here now to mate with Pretty Boy Leif, very exciting times.
Bosco and Ruhne - Two Stunning Males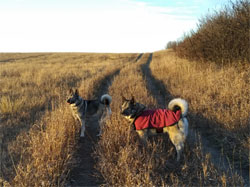 Lindsay and Blair have these two big rascals out in Saskatchewan. Now as I had just finished talking about Jaegar directly above and how he was tied to quite a few of the litters I thought this is a good place for this photo.
Jaegar is the father to Ruhne who is on the left, and Jaegar is a full brother, different litter to Bosco who is on the right. Bosco is a little older than Jaegar, he was born in the same litter as Tora.
Ruhne is a son of Jaegar and Kalia. Lindsay has done an incredible job with these two boys, there are no finer Elkhounds than these two. I still can't believe how good Bosco looks, he is close to ten years old in that photo. Hats off to Lindsay and Blair, they keep these boys in shape and provide an awesome home for them. I am very proud of those two rascals. This is a very cool thing for me to see these boys out working of course. I remember exactly when Lindsay first came to visit us to speak for a pup from Takoda and Mia. It was a big deal for me to be able to select a great male for her. Bosco has turned out to be such an awesome companion. And another great honor of course to be able to select Ruhne to go out and keep Bosco company. So a big Thank you to Lindsay and Blair, great work with those boys!
Tesla - Full Sibling Brother to Jaegar, Same Litter, and Full Brother To Bosco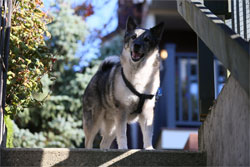 I am always thrilled to get updates and photos from Julia and Eric and family on Tesla. Tesla is the full brother to Jaegar, same litter. Tesla is also full brother to Bosco directly above him.
Tesla has a great life, he is busy with the kids, they have a place at the lake so he is out there lots. There is no end to raccoons he has to deal with. He has a full busy life.
I want to thank Julia and Eric and the kids for the great home, love and care they continually give to Tesla. He is looking great and we hope to have you stop by for a visit one time on your way by. His big sister Tora would be happy to see him.
I had put together a set of images of Tesla a while back, I have more to add now, but there is a nice set of them with a great update on Tesla. Please Check Out The Tesla Photos and Update
Shasta - Daughter of Mia and Takoda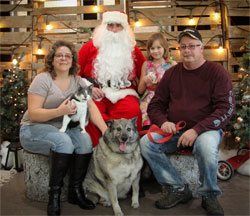 This is such a great update and photo. Lynn and Lawrence, with young Payton, Santa and of course the beautiful Shasta and her pals the cat and hamster. Shasta is a full sibling sister to Tesla and Jaegar, same litter.
I always enjoy updates from Lynn, she keeps me in the loop on how things are up their way and the tricks that Shasta and Payton are playing and the fun they have.
As most of you know, Lynn and Lawrence hold a very special place with us. Lynn and Lawrence had the very first female Norwegian Elkhound we raised. Lexi, a stunning female older sister to Shasta. She was lost in an accident and we then placed Shasta up with them to look after Payton when Lexi was gone. Shasta has been doing a fabulous job. I want to Thank Lynn, Lawrence and Payton for the great home and care they give Shasta. Please keep me posted on what's happening up your way from time to time. And Payton, best not let Grandpa Takoda see that hampster. He might not know that one is tame, he might figure you brought him a snack.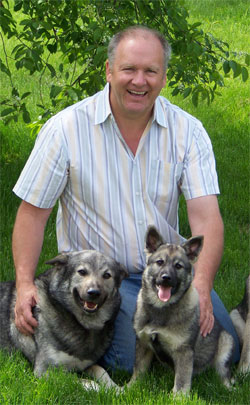 I thought it might be fun to put a photo of that rascal Shasta in from a much earlier time frame. Back when I had a little hair left, very little but some. That is of course Takoda with his young daughter and I. We were having some fun that day getting a few photos. Those two dogs were very happy that day. Shasta was a little fireball of fun.
It's fun looking back at the older photos and then seeing some of the brand new pups and nothing has changed, they look the same. That is the way it's supposed to work.
Great genetics produce great Elkhounds, over and over.
I look at young Shasta in that photo and I can see pup after pup when I look at her. Shasta's sister Tora her daughter Kai is going to be having a litter in just a short while from the date I am writing this. She will be having this exact style of pup once again.
Kai's pups like Denali, Torq, Nora, Pepper, Fiska, Kalani, Keiko, all of them, they could be splitting images of young Shasta at the same age. So pretty cool indeed.
Ole Takoda man, well, let's face it he hasn't aged a bit, he actually looks better today than ever, go figure that one. I am going to start eating what he is I think, I am pretty much there now trying to slow the ageing like he does.
Kya - Daughter of Jaegar and GÆDA - cycling now will be bred to Leif - Whelp date near June 7th
This is an important old photo. In this image there is a dark young female, her name is Kya. She is a stunning daughter of Jaegar and GÆDA. This photo of course was taken quite some time ago. I'll walk you through this amazing set of Elkhounds.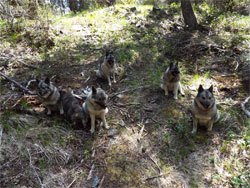 Now for those of you waiting for a pup, this image holds a ton of our genetic potential. Everyone of the females shown here will have or will be contributing to the preservation of working Elkhound Genetics!
Here is a collection of the very best in working lines starting at the far lower left is Mia, she is the mother of Jaegar, and Tora, who is far lower right. That is Mia's granddaughter that dark female named Kya.
Right beside Kya is none other than Kamp, a tremendous working female and that is her daughter upper right, Tekla. Yes, young Tekla, who is Grandma Tekla now! Kamp is the great grandmother of Loki who is siring the litter with Vida ( Vida is a daughter of GÆDA and Takoda).
GÆDA is top right, she is a magnificent working female and we have a ton of confidence in her pups as she was used with both Takoda and Jaegar to produce stunning pup after stunning pup. GÆDA is the mother of Dagr. Tuva is the daughter of Kamp, shown in that photo. Full sibling sister to Tekla also shown.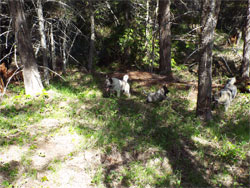 Kya shown with GÆDA and Tekla
Kya was a stout solid female with tons of instinctive skill right from day one. I had her out on many hikes and she was a skilled young working female. Her genetic make-up is powerful of course and her background instinctive skillset came shining through like you would not believe.
I made the choice early on to see if we could retain this genetic for use in our program and placed her with Jason as he was in agreement to hold her intact for potential use as a genetic seedstock foundation female. The timing would be based around a potential male, when found. As you all are most likely aware, we have the male, he has proven to work with this genetic. I'll touch on him directly below, even though you all know who it is.
Pretty Boy Leif and Jaegar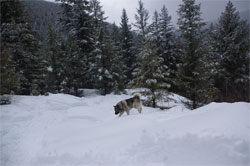 Leif is shown here in early March 2019, a full tilt off leash mountain big boy. Gone is the young show dog that came a few January's back. Now stands a fully muscled off leash working Norwegian Elkhound in his Prime. A seriously good Male!
It takes a fair bit of deep genetic reserve to produce stunning pup after stunning pup, even with the magnificent females we have placed him with. We knew going in that the background of this particular Norwegian Elkhound would be perfect. We had hoped that as we progressed with our program that Leif and the Takoda genetics would get a chance to flourish, and OH MAN have they ever. The Luna and Leif litter is outstanding, but I'll get to that. For this section I am so excited about Kya and Leif, as Kya allows us to pair up Jaegar and Leif as the stud dogs.
Jaegar is shown here up hiking with Ashten in the mountains near Revelstoke BC. He is a full working Elkhound and is perfect for this style of work. He can scout the region for danger better than any dog alive pretty much and is a solid big fella.
This is the old line that comes down from Takoda and Mia, so two of the best styles of Elkhounds you can find, the northern Swedish lineages and the Coastal Norway blood lines.
The genetics are as old as the countries they come from. Jaegar and Leif are perfect match stud dogs to pair up. You couldn't get more diverse genetics without going back to Norway.
The style of the two dogs are perfect as they will yield true working genetics with "Incredible Conformation and Looks". You can't help but get amazing pups with these two lining up the close background of the breeding set.
Kya is a big girl like Jaegar and she is stout and thick with a very good personality.
Pretty Boy Leif's Incredible Mother - Zinny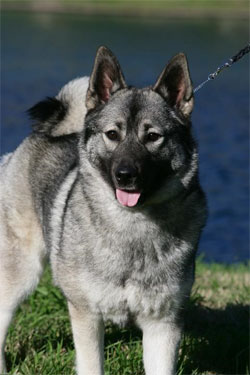 Now up to this point I have not actually had time to get to sharing the background of Leif on his mothers side at all. Shame on me really!
This my friends, this is an Incredible Norwegian Elkhound female - this is CH Vin-Melca's Simply Zinful!
Mother of Pretty Boy Leif.
This is a stunning International Champion female and was one of the primary reasons for our confidence in Pretty Boy Leif.
Zinny traces back through top Norwegian Elkhound female through Top Norwegian Elkhound female. Her background is like a Who's Who of Norwegian Elkhound Champions.
This of course is the CH Vin-Melca's Marguerite, CH Vin-Melca's Markessa, CH Vin-Melca's Marketta, CH Vin-Melca's Calista line of females. Arguably the very best line of Norwegian Elkhound females ever shown in North America.
Even if we forget all about how fantastic Leif is, and forget all about how fantastic Jaegar is and just look at Zinny and these next two females, you can get an appreciation for what genetic planning does for offspring.
Kya and Vida's Mother GÆDA and Kamp, mother of Phoenix, Tikka, Tekla and Tuva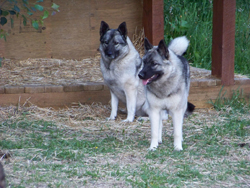 Even a blind man could see the potential for incredible pups when looking at Zinny above and these two right here. GÆDA on the left, Kamp on the right. We have been so thankful to have been blessed with these two incredible females. Now to have the opportunity to see more of this amazing genetic match is so awesome.
All of you know how well Kamp - down through Tekla and Tuva, and now Grand Daughter Luna have matched up with Zinny, through Leif. Well it's about to get better.
Can you see the potential that Vida has as she is mated to a Grandson of Zinny, and a Great Grandson of Kamp, and she is a daughter of GÆDA.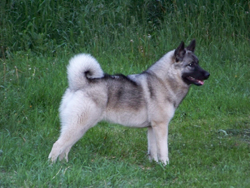 And coming up is Kya, daughter of GÆDA and Jaegar, going to be mated to Zinny's son Leif. It's such a great time for Elkhounds, oh man!
Kamp is shown to the left and it's little wonder why pups like Viking, Loki, Vitnir are so stunning, just look at their Grandmothers, Kamp and Zinny.
When planning genetic matches you have to look back quite a few generations to see and understand why great dogs show up. Many breeders don't fully appreciate the impact that the foundation females have. Here at Kamia we fully appreciate them. More than almost any breeder. We always focus our efforts on selection based on the females in the background.
I have a lot of stunning Elkhounds no one disputes that but in terms of sheer beauty GÆDA in her prime, in winter coat, oh my goodness, few dogs can compare.
I can't really describe in words, I just don't have the vocabulary to fully share the excellence in the background of the pups coming. GÆDA, Kamp, Zinny oh my goodness that is some serious trio of genetic powerhouses.
It's a great time to be a breeder of Elkhounds no doubt about that, but it's a way better time to be getting a pup from a breeder with a background foundation of stock like this, no doubt about that!
Of course with this season and speaking of the background of GÆDA I have to mention Tora as they were best pals. Tora is easily one of the very best foundation females in North America and yes, her genetics are perfect match for Zinny as well. Kai and Tika are both daughters of Tora and they have each had litters with Leif. You'll see one of those amazing big boys of Kai's at the top right side of this page, Loki. What a phenomenal young Male Norwegian Elkhound. So Grandma Tora she can match Kamp, GAEDA and Zinny for every piece of cellular dna excellence, no doubt about that. And as some of you may or may not know, those Rock Stars Echo, Timber, Koda, Sage, Willow and many more of course they have all relied on Grandma Tora to cement in those instinctive skills and bring on the muscle.
This next while we will see Kai once more produce those amazing pups as she is due on April 4th, bred to Leif.
Tika I'll come to her breeding plans in a bit, but I wanted this cool photo of those girls at a younger time frame, some very fancy females there.
Silver Nova - The California Beauty Queen - Mated To Jaegar Whelp Due Date April 12th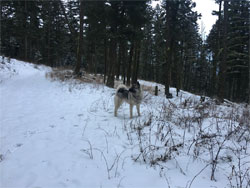 The beautiful Silver Nova out hiking in February of 2019. She is a stunning female with some very serious off leash capabilities now. She is also fully GQ, she has been in Kamloops with Ashten for a ton of training, and training with Jaegar I might add.
She is from the world class Moose Tracker kennels, her mother the Champion Silver Princess. Her father is none other than the #1 Norwegian Elkhound Male of 2018, "Armani" - Bristlecone it Suits Me. Lillian has been a tremendous help in preserving the Norwegian Elkhound working genetics in North America by selecting one of her very best for us.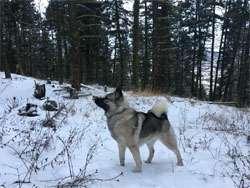 My initial plan was to mate MANE to Silver Nova however Ashten decided to change the order and use Jaegar this first round. Now this litter is going to be an incredible set of Norwegian Elkhounds. Jaegar is the older brother to MANE, a perfect match for Silver Nova and of course Ashten's boy, so as she had Silver Nova the last fair bit doing the training with Jaegar, when Silver Nova cycled she decided to change the order and use Jaegar.
We selected Silver Nova the exact same way as Pretty Boy Leif, we based our decisions on the female side of the background. This is an impeccable lineage of Norwegian Elkhounds and we are very proud of Silver Nova. In terms of off leash skill for North American show lineage Norwegian Elkhounds the top two are in no particular order, Pretty Boy Leif and Silver Nova. Both have been schooled by two of the best off leash males in the world, MANE and Jaegar.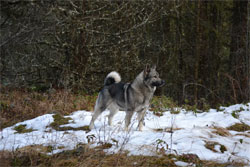 This photo is of Jaegar taken when he was about the same age as Silver Nova
You can see why I am excited about this match with Jaegar and Silver Nova. As good as the dogs are that I have today and raise today it would be very difficult indeed to say that I have raised a dog that is superior to Jaegar yet. I have some as good, but to say any have exceled past this big fella would be a tall tale indeed.
This my friends, this is a piece of work, this is an Elkhound!
Torleif - aka Prince Torleif - Son of Tuva and Pretty Boy Leif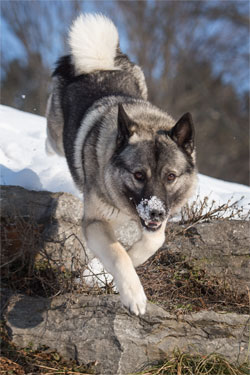 Torleif is the stunning male we had selected to use with Vida on her first litter however I was unable to get things organized to get him out her for Vida. So, we have planned to use him later this summer with Vida. Kim was all set, but I wasn't organized enough, so we will still use him just later. Kim has Torleif out with her in Ottawa. She has agreed to work with me to have Torleif sire the litter this late summer.
Kim has done such an incredible job with this young male. He is one of the most striking males we have ever raised and the camera work she does, the photos she gets, Wow!
Can you believe the confidence this young fella has, he is in mid air on a jump and staring right at her, looking right into the lens. How cool is that!
For those of you who are planning for a fall pup you are going to be getting the most magnificent pup ever from this match-up. The genetic make-up of both Torleif and Vida is every single one of our founding dogs. Takoda, Bram, Leif are all in this match-up on the males side. Kamp, GAEDA, Tuva on the female side.
There is a massive background of Magnificent dogs in the litter coming from these two. I'll try to highlight a bit for those waiting on these pups.
The pups from this pair will have as background ancestors Champions from Sweden, Norway, Finland, UK, Canada and the USA. There are countless hunting champions, there are Nordic Champions, there are countless Show Champions in many countries as well. It's what the old breeders call "Stacking the Pedigree". No kidding!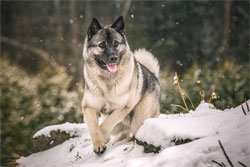 When you stack a pedigree you put great dog after great dog in the breeding lineage. No dog used that is not "flawless genetics" and each dog in a stacked is itself a stacked pedigree dog.
Now there are not many breeders who can do this technique, simply for lack of flawless genetics. We of course have the capability to do it, with our folks who have our pups help of course. Without Kim having kept Torleif intact and preparing herself and Torleif through work and dedication and planning to be used as stud for our program, we would not have this exact male to work with. Our gratitude is massive that she kept him intact. Look at him, Wow!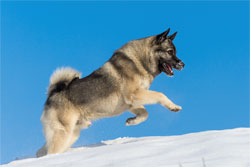 The quality of this male is outstanding. You could write a wish list for the perfect Norwegian Elkhound and get Torleif. He has traits and instinctive qualities that far exceed what almost anyone could wish for as well. This is the very best of the Norwegian Elkhound hunting lines and strains going back to the very beginning. Torleif as you may already know is pure ancient hunting lineages with Champion hunting ancestors going as far back as records exist.
If Torleif was walking down a street in any place in Norway and folks asked what was the background of him, you would only need to mention 1 out of countless Champions and they would all know who he was and what he was made from. He would be like a "Celebrity" well known and respected just by who he is.
If you were walking him through the North American Regional Elkhound Event and people asked who his background was, you would only need to say 1 of the 11 Westminster Hound Group Winners that line his pedigree as well, he would be like a "Celebrity", well known and respected just by who he is.
And of course if you were walking him through the famous "Crufts" Show in England and people asked who his background was, you would only need to say that he is a Ravenstone descendent, the Ravenstone Elkhounds hold the record for the most wins there, and he of course would be known and respected just by who he was, and would be a massive "Celebrity".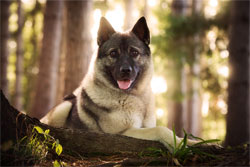 Here in Canada he is one of the most respected young males you can find, just by who he is and the fact that he is a son of the famous Tuva and Pretty Boy Leif.
Kim has to be commended on her work with him, he is in incredible condition. His work ethic is awesome but you can just read the awareness and care and attention he gives Kim in every photo. You can not get that kind of connection without being a great handler. Way to go Kim. Her and I joke a bit about our fat heads we both have about our dogs, hers is for a fact well deserved.
This my friends, This is an Elkhound!
Tuva - Mother of Torleif - Was to be bred to Dagr but she didn't catch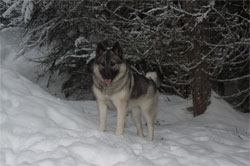 I have a photo of the stunning Tuva, mother of Torleif from when she was roughly the same age as Torleif is in the photos above.
Tuva is an incredible female. She is one of my most loyal dogs, very protective of me. She is like Vida, she doesn't hang out with other people at all, she is a very one owner female.
Tuva has no flaws as a Norwegian Elkhound, she has impecable characteristics and behaviours. She is an amazing companion.
As a breeding female however she does present some unique challenges in that she is very hard to get bred. This is exactly how a gene pool shrinks. You have a good female cycle, you sometimes get even hook ups, but can't get her to catch. Tuva has had two litters, but she is really making it tough to get her to catch again.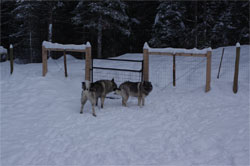 This round we decided to bring in a brand new young stud dog. One of the pups I had raised, a magnificent male son of Takoda and GÆDA. His name is Dagr. Low and behold she liked Dagr. Go figure that one. Now, even though she liked him, I did not see a hook-up. So I was unsure, but today I took her in for an ultrasound to scan for any pups but there were not any. So she is open. Now in almost any breeding operation of any kind that female would not be given any more chances. However in a preservation breeder situation we hate to shorten the gene pool. So, I am going to keep her intact, I will let her try again next cycle. She has stunning pups when she has them, she just doesn't have them very often. Sucks really. If there was a genetic store I could go to and buy some new genetics I probably would today, but unfortunately the gene pool is the gene pool, it's only getting smaller not bigger.
Tuva is my pal, best friend, super loyal, she can have another chance, at the end of the day doesn't really matter, she is here for the duration so everytime she cycles, I have a male around for her, she might just crank out a litter with Takoda next time perhaps he still has one left. Go Figure!
Tekla - Full Sister to Tuva - Mother to Loki - Should Cycle in May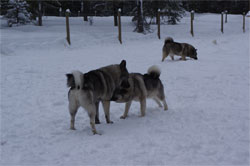 One of the neatest things that we noticed when Dagr was here for Tuva was that Tekla liked Dagr just as much as Tuva. Pretty Cool!
So having seen that and watching Dagr for the time he was here I have decided to use Dagr on Tekla if I can't make the Sweden male I have coming over work.
Now, I will be working toward getting a mating with Tekla and the Norwegian Elkhound that is comng from Sweden, but, if I can't I'll bring in Dagr. Which is going to be awesome if the other doesn't work out. I will go over the details of my plans for Tekla and Swix.
Swix - One Sweden's Top Norwegian Elkhound Hunting Lineage Males
Well I have some Very Exciting news to share. This young male is Swix, he is from one of the very best hunting lineages in Sweden for the Norwegian Elkhounds. He is an incredible young rascal and comes from one of the very best Norwegian Elkhound line's in my Grandfathers homeland. Swix's father is a Nordic Hunting Champion and his mother's side is loaded with Hunting Champions. Can You Believe This?
Swix is going to be coming over for a breeding toward the end of May. Now, I am hoping that I can get two females bred if possible, and if only one is cycling so be it.
Yes, you guessed it, Tekla and Tika. This is going to be so incredible to have this new bloodline and I wanted to utilize either of those two if possible, and if both cycle at the same time, Wow! Now, as you know, it has to match up with the flights, the time he is here, we have a 3 day window with him in Canada. He is flying in and back home.
Now, if neither female are matching up with the heat cycles or for some reason we don't have our times figured, we will try to do a collection on him and utilize that collection with our females. So I am planning everything out as best I can to get this magnificent male to bring the old bloodlines back in to our lines. What an awesome thing this is. My breeder friend Paul Cooper is doing the greatest thing ever for the Canadian Elkhounds. He has stepped way up to assist us in preserving the working lineage in North America.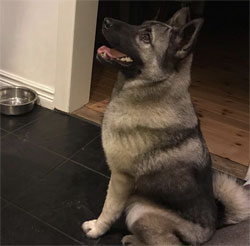 Now of course you can never predict that a collection will work. I have also tried collections on different males and was unable to collect. However, on most young males the collection route is usually easier than if they are older.
Getting the timing right for the females is much harder as the time to come to Canada is booked ahead of time, the flights are all arranged, the date to travel back home is set etc. You have to plan something like this for months in advance, hoping that your females will cycle when you think. But I am totally confident that one way or another we are going to be lucky enough to get this magnificent young fella and his background bloodline into the Kamia Working Elkhounds. A Huge Thank You to Paul so far for all the effort, all the work being done ahead of time. Paul has done all sorts of extra things to be certain Swix is all set. Extra vaccinations and vet visits. He has had a full hip evaluation and has had him Certified by the Swedish Kennel Klub with an International Certificate on his hips, Grade A. How awesome is that. I'll be sharing a lot more on the background of this magnificent stud dog as we go along, but wanted to share the information I have and the plans to this point.
Karu - Our New Norwegian Elkhound Sire Is Born In Finland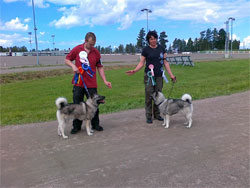 This is the father of Kamu on the left in this image, Kamu shown below Riitu is the sire of our pup. Riitu is shown on the left photo two, she is the mother of our pup. I named our pup, Karu, after both of them.
I am so excited these days I can hardly sleep. We have been so fortunate to have Satu working tirelessly in Finland with her breeder colleagues to get us some new working bloodlines. She has worked with some of the very best breeders in Finland and we have a brand new young male pup, he was born on the 5th of March.
Now the bloodline is So Great. We can not believe our good fortune, honestly. So Kamu, he is a Finnish Moose Working Champion and Riitu is a Finnish Moose Working Champion, Finnish Bear Working Champion and Finnish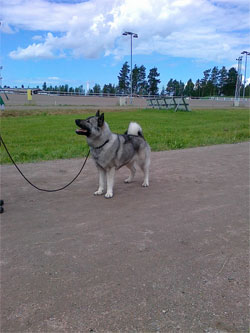 Beauty Champion. Can you believe it? You should see the smile on my face, mile wide.
This image to the left is the beautiful Riitu.
What an accomplished Norwegian Elkhound. I can only dream of how much work has gone into this phenomenal Elkhound. The time and effort to breed such great dogs and then put all the time in to get them through the Finnish competitive trials to gain a Championship in Moose, Bear and Show. Unbelievable!
It is such an honor to be able to have these incredible lineages coming over to assist us in our program. I can't describe how great this is.
This is an amazing female. A true working Norwegian Elkhound with flawless conformation and incredible instinctive abilities.
You all know I have said this before, but this time it quite easily means the most.
This my friends, this is an Ancient Lineage Full Instinct Hunting Beauty Queen Norwegian Elkhound!
This image to the left is Kamu - father of our pup - Karu
Kamu is the all you can be Finnish Moose Working Champion sire of our little rascal, Karu. Wow! Check that big boy out will you. Oh my goodness. Those are a stunning pair of Norwegian Elkhounds. True old world working dogs.
What a fun time there is ahead of us. All our great dogs and bringing home a brand new little full instinct working rascal to carry this lineage forward over here with them. You couldn't make this stuff up any better.
Oh I will be forever thankful to the Fabulous Satu, her incredible colleagues, the whole group of breeders that have worked with us, what an amazing thing.
This is another photo of the incredible Kamu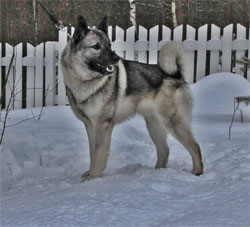 What a great match for Riitu this handsome male is. Our little guy Karu is going to be the most handsome young fella that has ever left Finland. I do believe he is going to be very special.
You can dream, hope, plan, work away at your plan, but boy, once it starts all coming together it really is something. I have wanted to have new blood come in from the old countries and now, oh we have some alright.
I have to thank all those breeders again, what a great thing they are doing.
And there is the Finnish born sire of sires, Karu. Son of Champions. Kamia's new big boy in that litter.

Now I am sure you have this figured already, but just to expand a bit. The combination of this big fella coming over and Swix coming from Sweden opens up such a world of possibilities for our breeding program of Norwegian Elkhounds it's hard to comprehend.
Can you imagine the daughters this son of Riitu is going to produce. I mean, whoa, a triple champion mama. Who even knew such phenom Elkhounds even existed.
And, think about it, can you imagine the males that this son of Kamu is going to produce also. As luck would have it of course, we just happen to have a bevy of females that even though they may not be triple champions like his mama, but whoa nelly, they are about as close as you can get for this boy to work with.
So, no question, no doubt at all, I have to get a bigger hat!
Varella - Our New Jämthund Female Is Born In Finland
This news is so fantastic - our new little Jämthund Female is in that litter - her name is Varella
Ark needs a mate of course and we have been working with Satu, who by the way is incredible. She has arranged with her top breeder friends who have Champion Swedish Elkhounds to get a female for us. The little female was born on March 5th in Finland, yes, same day as the little Norwegian Elkhound directly above.
This young female now allows us to continue our Jamthund program with Ark. He has been wanting me to hurry up and get him a female, I told him, patience Ark, Satu has to find you the very best. She has outdone herself. There is nothing like a Master Breeder like her to help me.
This stunning female Swedish Elkhound is Varpu - mother of Varella
This is another astonishing Jamthund, she is a full instinct working Elkhound with impeccable traits. Varpu is a Finnish Moose Working Champion, and she is a Finnish Bear Working Champion. Go Figure Right!
I do believe I have said this before, if you are going to get a new pup, get a good one! I can't get any better than this. What a great thing this is. I am so grateful to the breeders in Finland, what a special thing they are doing.
This big fella is none other than Huugo - father of Varella
Now I don't think I could have ever envisioned a better pair of Jamthunds coming together to create the female for Ark. These two are so perfect for that role.
Huugo is also a Double Champion - Finnish Moose Working Champion and Finnish Shape Champion. So that Ark, he is one lucky rascal.
Now this gesture by these breeders is extraordinary, no doubt about it. This is some seriously good genetics that are coming over here to assist us in establishing the Jämthunds.
Ark is a walking genetic masterpiece of Jamthund prowess and combine him now with Varella, can you believe what's coming in a few years. Oh Man!
So my friends, oh yea, these my friends these are Swedish Elkhound Champions!
Posso - Our New Jämthund Sire is in that litter of 11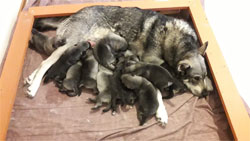 This is a spectacular sight! 11 Baby Jämthunds - Oh man, how awesome!
What makes it even more so is the fact that our new Jamthund stud dog, Posso is in there. Yep, you guessed it, I am the luckiest guy ever. So we now have a full tilt big boy for all my girls here. Aila, Svea, Ria and Raven, they are jumping around so excited, they know I am excited about something so they are too. What fun we are having.

Citi - Mother of our little Jamthund Male - Champion Moose Hunting Female
So this extremely fertile female and unbelievable mama has produced an incredible litter of Swedish Elkhounds.
What an astonishing Elkhound to have as the mother to our little Posso. Oh my goodness.
There is no better female to produce the sire for the amazing litters to come with all of Aina's girls than Citi, she is the ultimate.
Posse - This is the big daddy sire to that litter - Moose Hunting Champion
After that incredible litter I had to name the new pup after this big rascal. This is two of Finlands best working Jamthunds, and without question two of the most prolific.
Exactly the match up for those girls of Aina and Rico.
The really cool thing is that this young son of Posse that is coming to Canada can work with all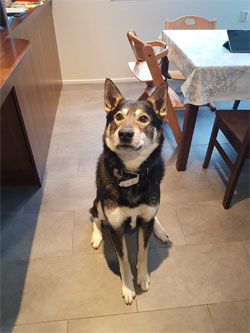 of Aina's daughters and Aina herself and yes, you know it, our new import Varella.
The future of the Canadian and North American Jamthunds is very secure now. We have a wide range of combinations to work with thanks to the tireless work of Satu and the Incredible Breeders in Finland.
With Rico, Ark and now young Posso we have a stunning set of big Jamthund Males. And without question with young Varella, Aila, Svea, Ria, Raven and Aina, I do believe that to be one of the finest collection of Jamthund Females you can get.
A HUGE THANK YOU to all the Finnish Breeders for the dedication to the breed, to the preservation of this magnificent dog and to helping us establish this program here.
We will do a good job with them, they will be hunting, they will be working and hiking and living as good a life as any, anywhere.
Speaking of Jämthunds... we are planning a litter with Aina and Rico late summer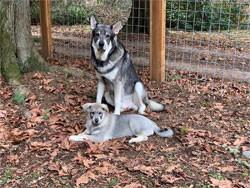 Rico and his daughter Xena
We are thrilled with the pups from Rico and Aina. All ten are incredible young Jamthunds. Ark has turned into a stunning big boy, and the pups from the second litter are just as great. Xena is one of the 5 females from the second litter. Russ and Beth have Rico and Xena and they have an awesome life for those two. Beth and Russ have been so great, we are planning a big visit when Satu comes over so she can see Rico and Xena.
We are planning another litter with this big rascal and Aina late this summer and it is with a ton of anticipation as we know they will be incredible Elkhounds.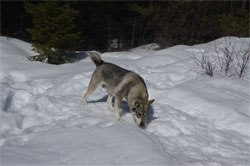 Aina - Jamthund Female March 2019
Aina is in great shape once again. She is an awesome female and is working with me now to get these girls trained up. We are so fortunate to have Aina and be able to work with Russ and Beth with Rico for her.
We might be able to get a litter down the road with our young stud dog Posso as well out of Aina, that would be some terrific. Rico could work with a daughter from Aina and Posso.
Loki - Son of Takoda and Mia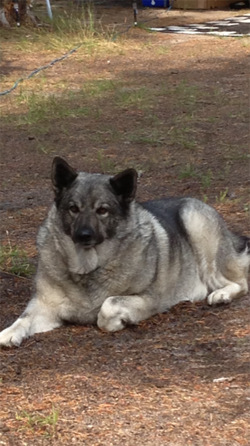 This big rascal will be having his 11th Birthday this fall. He is one of the big boys from Takoda and Mia. Those were awesome rascals that litter. Dan and Dorothy have this big fella up in Northern Alberta and give him a great life. Tons of camping and adventure and they love this guy!
"Happy new year Merv. Hope you and your family are doing well.
Our boy is still going strong. Here is a couple pictures of the fella.
Dan"
This big fella had 4 other brothers, Loki-Bear, Niho, Koda and Shadow. He had 1 sister in that litter, Lexi. ( This is a full brother to Bosco who is featured above, different litter and full brother to Tora who was from the same litter as Bosco).
This big fella of course has many other brothers and sisters in other litters and you all know by now most likely that his full Brother Jaegar is having a litter this season.
What's pretty neat as well is that Vida is a half sibling, she is having a litter, and Luna and MANE are half siblings as well, both with pups on the ground as I write this.
This is a very good healthy genetic this lineage, these big old boys are powerhouse rascals. I want to Thank Dan and Dorothy for the great home they give Loki and for staying in touch all these years, we sure have enjoyed watching this fella enjoy his life over the time. Thank you very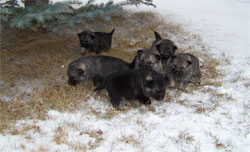 much.
This photo to the left is the Loki litter, we were out doing some off leash work.
This is from 10 plus years ago. You can't tell that litter from MANE and Luna' litters today. Same great young Elkhounds and if you'll notice, those black rascals, they are pretty much identical to that litter Luna has. Loki is at the back of the group, top part of the photo to the right. Not the far left. That dark one right in front was Lexi, the female.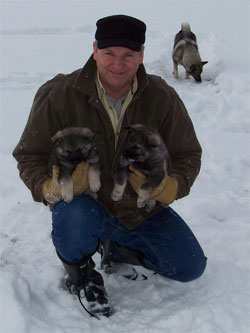 I was a smiling rascal holding those two big brothers, that is Loki-Bear and Loki. Loki is on the right. That is Mia in the background.
Those boys were good to work with, amazing young pups. I remember them well. It's a great honor for me to raise good dogs for great folks like Dan and Dorothy. I see how those dogs fit into each and every family they go to and how they are so well loved and handled.
It's a pleasure to look back on the life those big boys have and the fun the owners have had with those dogs. I sure enjoy watching them all through the time. All the folks that visit the site as well.
I have fond memories of each litter and no matter how the time continues to go by, I can recall those pups. Pretty much forget everything else, but that I do remember fondly.
Nothing better as a breeder getting an update 10 plus years later the big ole boy is rolling along just fine, that My Friends, that is a Great Elkhound!
Ryker - Son of Tora and Bram - 8 Years Young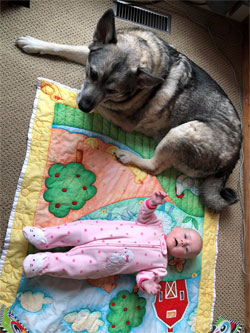 Years ago Amber contacted us as she and Chris wanted a solid dependable companion Norwegian Elkhound. I was able to get them a stunning big fella from Tora and Bram, his name is Ryker.
He is doing terrific and Amber keeps me in the loop on that rascal. I am so pleased that Ryker is now able to help out with some baby sitting duties while his young new handler is growing up. Soon he'll be helping her walk and looking after her in the yard. Very cool.
Congratulations Amber and Chris by the way! She's Beautiful. Keep us posted.
"Hey Merv! We can't believe Ryker is going to be 8 - time sure has flown! He's still an amazing dog, and we constantly say we would get another Elkhound in a heartbeat if we ever want another dog! I dread the day we lose Ryker but he's still got lots of energy and spunk in him right now.
He is loving this cold snap we are having, and really enjoyed the record snowfall we had here back in October! We moved to a new community a little while ago and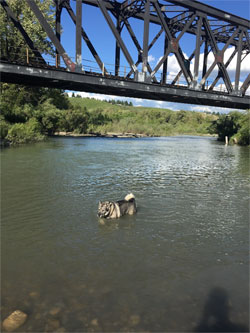 ended up running into another Elkhound quite a bit! Not a Kamia elkhound but it was fun to see Ryker play with him and watch their play styles and mannerisms.
Of the few Elkhounds we have run into over the years, Ryker is always the biggest! No one believes that he is a purebred and I always have to explain his lineage. His dark face is getting a bit more grey with age but he still has his beautiful deep brown eyes. Some pictures for you are attached! Oh, and Ryker now has a mini human around that will soon be bossing him around and causing chaos in the house. He loves her, he's so gentle and careful around her and it will be fun to see him "help" her as she grows. Hope you guys are still doing well in B.C.

Amber, Chris and Ryker"

Teeka and Nikeeta - Sisters - Daughters of Tora and Bram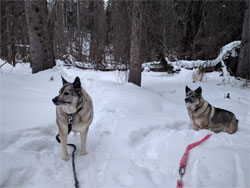 These are two sisters from different litters, both from Tora and Bram. Teeka was in the same litter as Ryker directly above. She just turned 8. Nikeeta is younger by a few years.
John and Denise have these two stunning beauties out in Calgary. They have a terrific life. John keeps me updated all the time on these girls. He has so much fun with them.
This lineage from Bram and Tora is an old world working line and they are some of the best family dogs you can find.
Nikeeta is a full sibling sister same litter to Kai and Tika, who are both going to have litters this year.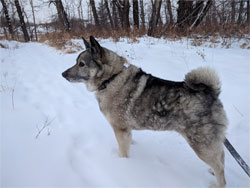 John sent me this awesome photo of Teeka on her 8th birthday
These females that Tora raised with Bram were exceptional females. Kai's carrying on that lineage right away in April of 2019 and Tika a little bit later in the summer. There will be more of these stunning females, Nieces of Teeka.
We sure want to Thank Denise and John for the loving home and care they give these two sisters. It's always a pleasure hearing from John about his escapades with these two girls.
I am going to create a separate update page for these two sisters as I have some many great photos and stories, you keep me posted John, I'll get to it. Thank you for all you do for them.
Gifford - Son of Kalia and Jaegar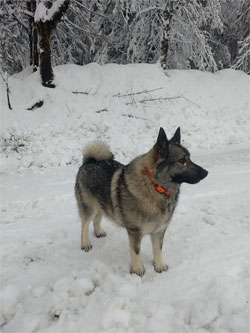 They don't come any better than this big son of Jaegar and Kalia - Gifford
Oh Wow, what a solid big boy this Gifford is. For those of you new to the site this big fella is working the forest everyday with Dan. He is security while Dan maps and plans out forestry cut blocks, does forest management and more. Him and Alycia have a forestry company in Washington state.
This big boy is doing his job each and every day. The boys from Jaegar and Kalia, oh man they love to work.
Alycia sent me some awesome photos and a phenomenal update. Thank you both for the incredible update and the more than incredible life that Gifford has, please stay in touch.
"Hi Merv!
I cant believe Kalia finally picked a mate! I wonder what Mane has that the others didnt?
Gifford is doing excellent! He a very thick fella, not as tall as his mom or dad if I remember correctly. But hes very well muscled. His temperment development is quite interesting. Him and crusier get along very well, and I believe its because they are quite opposite. They are both interested in doing different things so there is never any competition. From the start we socialized Gifford constantly. But even then bringing him anywhere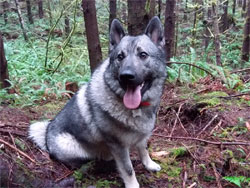 public was a pain. He wanted every dog under his control. He would become so obsessed with micro managing ever dog that he'd run himself in to complete exhaustion. He also had a very bad habit of walking up to other dogs and biting them in the face with no provocation. So we watched him like a hawk and after swift discipline each time he eventually got over it. Unfortunately with him he wears his emotions "on his sleeve." So hes super easy to read when hes feeling ornery. He was also very against any "playing." He would never play with any other dog, He saw everything as a competition. I think naturally without training he would much prefer being a stay at home dog and independent work dog. But unfortunately for him he goes everywhere with us which means he has to make public appearances haha!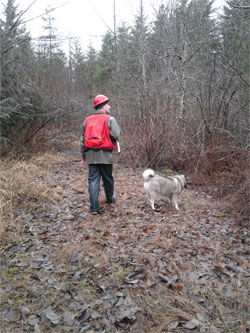 About two months ago Gifford completely changed. I think he finally matured. He all of the sudden became relaxed. He stopped caring about controlling every dog. He started playing! He would actually pick up toys and share them with other dogs. He still maintains an air of alpha around other dogs, but now he doesnt feel like he has to go overboard. I think hes figured out he can be top dog with out bullying. So now he's a real treat to bring with us. My family is big and we all have dogs. So holidays get crazy! My parents have 2 dobermans and a german shepard, my sister has a corgi, my other sister has a samoyed, my brother has a pekingese, and we have Gifford and cruiser. Gifford keeps all the dogs in line and orderly and well behaved. Hes quite funny because he has certain rules e has to follow, like no digging in the front yard. And if he sees any other dog breaking that rule he corrects them. If we go on pack walks he makes sure to keep all the dogs in line. He has learned how to do it now without excessive force. So I guess the elkounds are just slow to mature!

Cruiser is a very domesticated dog. The Heeler in him makes him whip smart and attached to us like glue. He is always obedient, and careful, and kind to all dogs. I dont even think he understands that he can kill things with his mouth. And hes obsessed with toys and fetching. We like to refer to Gifford as a wild animal. Woe to any critter that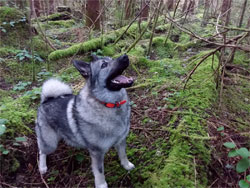 crosses his path. He is a killer of everything but my families chickens and ducks. He rolls in anything that smells the least bit "off." He loves to save his kills until they get rancid so he can roll in them. He coats himself in dead animals and dirt. He is the BEST at treeing raccoons and chasing coyotes. He has finally learned to not case elk, which has made our job much easier. He has an iron stomach and eats any dead animal he finds in the woods after rolling in it. He crunches bones and will swallow raw meat the size of his head whole. But despite him being so wild and close to his ancestors, he is just a big ham to every human. And he especially loves children. He is very polite and soft. Never rough. And he thinks hugs are the best. His considerate behavior around people is such an opposite compared to when you see him in the woods ripping up a screaming rabbit.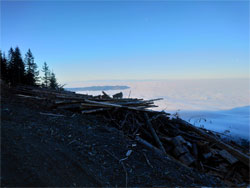 So it as been very interesting getting to know him and watching him change. He is still a fantastic woods dog, though now he will openly complain if the terrain is too steep. Sorry for all the detail. I will be sure to get pictures of Gifford working from the past few months from Dan when he gets home today from work. They are out on the coast today in a very steep unit. The terrain is so steep and blow down so bad that Weyco has a hard time finding anyone willing to log it!

Alycia Lewis"

Lark - Daughter of Kalia and Jaegar - Full Sibling to Ruhne above and to Gifford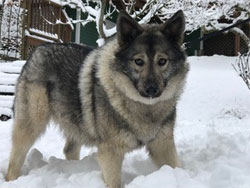 This is a stunning big female daughter of Jaegar and Kalia's second litter together. Linda has her down in Oregon and she is doing so well. I wanted to Thank Linda for the great home she has given Lark and for keeping us posted on this beauty.
These females love snow, they are super friendly, great family dogs yet can work and watch the yard. You can see a ton of Kalia in this photo of Lark, yet Jeagar is there as well.
Kalia is training her latest litter right now while I am writing this about Lark.
"Hi Merv,
Lark is happy today because we have our first snow of the winter. We have about six inches and may get a couple more. I thought I was going to have to drive to the mountain for Lark to see snow this winter.

Isn't she a pretty girl? It's difficult to get a good photo of her because she rarely is still. Lots of energy and so many things to explore.

Linda Jennings"
Osita - Son of Tika and Pretty Boy Leif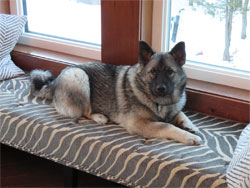 This stunning young male is a son of Pretty Boy Leif and Tika, he is a brother to Koda (Davy), Timber and Echo, Tor, Sage and Willow and Koda ( Boutin)
Carla, Doug and the boys have Osita out in Manitoba. He has a world class lifestyle this big fella. This whole family puts a great deal of effort into Osa and doing the best they can for him. It's really great to have pups go to caring families like this.
Young Elkhound males, especially ones like Osa who are full tilt rascals can sometimes be a handful and Carla has had some questions you can bet. I work with her and they are progressing, do an ever better training and handling all the time with Osa. This is a first dog for them, so hats off to them, they are doing very well. Osa as you may recall is a Rock Star and he was an independent fella. I am very proud of this young fella, Wendy and Dale have Tika with them, the mother to Osa. They did a wonderful job raising all 8 of that litter to the 8 week mark, then 6 of those boys came over here.
We will be doing the exact same thing this summer when Tika cycles, we will have her bred to either Swix, or Leif again and they can whelp the litter and bring me any for the Desna. They are exceptional handlers and Tika wanted to be at home.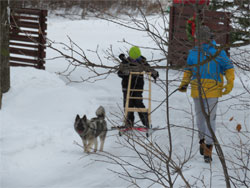 Osita and the boys, they have a Finnish kick sled, how cool is that?
I want to Thank Doug, Carla and the boys for the awesome home you give Osita, please keep me posted.
"Dear Merv & Marlene and family,

It is with GREAT pleasure I write you this letter, sharing our experience with our new pup Osita and Kamia Kennels. It is unfathomable that we have had Osa in our life for only two short months, it feels like he has been part of our lives forever.

THANK YOU so much for providing our family with awesome communication, both personal emails and follow ups as well as through your you tube channel and updates. This journey has been effortless and exciting because of your passion and expertise with your dogs. It is a year ago this month, that we started thinking about getting a family dog. It was while we were on a ski trip and saw some great mountain dogs and companions. The next few months our boys started researching breeds and what kind of dog would suit our family best.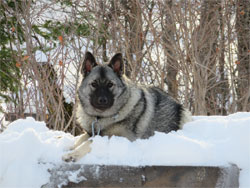 The Norwegian Elkhound is everything a family could want. Osa is the son of Leif, and he has tremendous character and personality. His love for people and companionship is evident. This Christmas we introduced him to many family and friends, and he did so well. Especially with my two-year-old niece, he just loved on her… she would lay on him and gently poke his face and to her delight he would lick her back.

Osa is an indoor dog, he loves to be close to us… wanting to know where we are all the time. He is a protector and great guard dog… barking when he feels necessary. He is doing very well with commands, learning to come back to us when we call him… and walking well on leash as well as playing off leash. He has tremendous bathroom skills, and a great sleep pattern.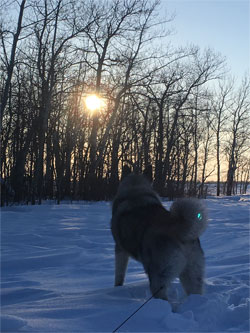 Your breed definitely stands out! We can see it in Osa's growth and overall health. Your wisdom of training us to feed him a raw diet has been insightful and very beneficial. Your dogs are quality in temperament, character and strength.

Doug is very excited, he just ordered a sled for Osa to learn to pull. He is such a strong pup.

We want to express our gratitude for your kennel and breeding program. It is exceptional. The boys ask often when we can return to see you and the dogs. Not to mention, they want to know how they can add Leif to our family!

Thank you for taking us for a hike in your backyard mountains and introducing us to your family. We appreciate you preparing Osa for his flight home and having all the stuff we would need to travel like a kennel, harness, blanket, food etc. Such wonderful thought and details.

We feel so blessed to have a treasure like Osa in our family. He brings us delight and definitely has motivated myself personally to be more active!

We wish you continued joy and success in all you do,

Carla & Doug Loeppky
Jaxen, Ryder and Tayten"

Kavik - Son of Kai and Hachi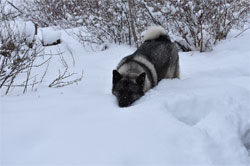 This big fella is Kavik - son of Kai and Hachi - Hachi is Kalia's Dad
So this matchup with Kai and Hachi was incredible. The big boys that came out of this pairing were really stunning dogs. Chris always sends me the very best updates on this rascal and I have two from here to get up. I am going to do up a page for Kavik like his other one as she has some awesome stories and photos of this big fella.
For thos of you who don't know Hachi is Kalia's dad. So this is partly where the size comes from on these boys as Hachi is just slightly larger than Jaegar.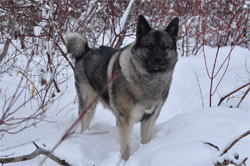 Kavik is shown here in the dogwood he is 80lbs
This is an exceptional male, he is personable, yet watchful, he has tremendous instincts and the work that Chris has him doing is really something. She has him in scent work now and they are having a blast.
Now I will get her entire update online as soon as I can but I wanted to have this big fella up right away till I get that other page done. I want to Thank Chris for the great life and home this big fella has and of course for keeping us posted on him, Wow, what a stunning Elkhound!
Coho - Son of Kai and Hachi - Brother to Kavik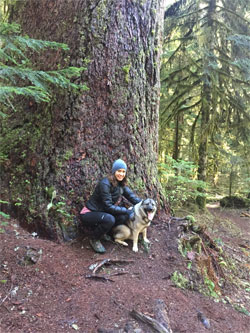 Coho and Erinn - by this massive tree - Coho is a brother to Kavik
So this is another of those boys from the Kai and Hachi litter, Coho. Erinn and Nate have him on the West Coast and send me awesome updates on this big fella. They are out all the time with him and take him up skiing and backcountry hiking and much more.
Now Erinn and Nate sent me a really neat set of photos and great write-up, so like Kavik I am going to do up another page for Coho like before. But I wanted to get these boys on the site and I'll get time set aside to do that bigger update on them and others.
Kai of course as you know is having another litter this time with Leif again. Kalia she just finished weaning her pups that she had with MANE. Kalia is a half sister to both Coho and Kavik.
Both Kalia and Kai can raise incredible pups. It's neat that Kai was able to have some half siblings for Kalia, as Kalia is as you all know, Kai's best pal and sidekick. They do everything together.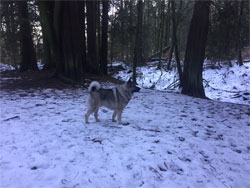 So this is Coho - Son of Kai and Hachi
I want to thank Erinn and Nate for the great life they provide Coho and the care and fun they share with him. I also want to thank both of them for keeping us all posted on this big fella, it's so neat to see these boys grow and have fun and develop.
Way to go both of you, awesome stuff.
Both Kavik and Coho, These my friends, These Are Elkhounds!
Tegan - Daughter of Takoda and Mia - Full Sibling Sister to Tora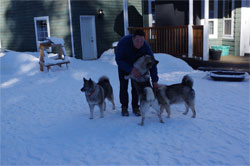 Tegan - Dennis and Tekla, with Tora
So I had a very special pair of visitors a short while back. Dennis came by with Tegan. What a great thing to have happen. Dennis and Tracey have the full sister to Tora, Tegan with them. They have always stayed in touch with us but we just had not had a chance to get together in all the years.
Dennis was out to see his folks and was going by so made arrangements to stop in and say hello and visit. We had a great time. Tegan and Tora are like best pals. I had trouble telling them apart. I remember when they were little pups I couldn't tell them apart so I always put a pink collar on Tegan.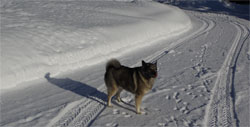 Tegan - Daughter of Mia and Takoda - just about 10 years
Tegan is a stout big female like Tora. She has been hunting with Tracey and Dennis the entire time. She is a very skilled Moose and Elk dog. She is going to be having her hands full this fall though as Tracey and Dennis are waiting on a pair of Jamthund Moose Hunting brothers.
I sure want to Thank Dennis for taking the time to stop in and also for the great care that both Tracey and Dennis give Tegan. She looked fantastic. You have to love those big daugthers of Takoda and Mia.
3 of the 4 Jamthund Sisters - Ria, Raven and Aila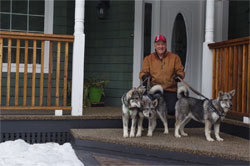 These are Ria, Raven and Aila, all three are Jamthund sisters from the last litter of Rico and Aina. Svea was off somewhere with Aina so she didn't make it for the photo shoot.
So as you have read from the stories above we now have a male coming over for these amazing females. These sisters will rival any world wide, they are simply the best.
I am so thrilled to have these awesome bloodlines to start our program out. Rico and Aina have been tremendous. They will be having another litter like these this fall.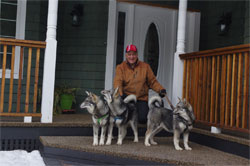 I know the breeders in Finland are wishing me the best and I hope I can do justice to the great heritage and breeding they have in place over there. I will do my best to breed exceptional Jamthunds here in Canada and will try to follow the old world principles as close as I can.
These are the nicest females you could ever meet, they are ultra smart, super nice and pleasant to be around. They are very good dogs to work with. I am having a really fun time with them.
We have folks reaching out to us already on these litters, they will actually have litters before Ark will as Ark's female was just born in Finland. So Aina will have 1 more litter and then her and the girls will have litters. Roughly 2 years from now for these females.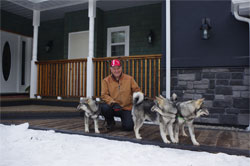 We have always been fond of siblings and raising them together. I find there is no closer bonds for Elkhounds than siblings. As you'll all recall, Tekla and Tuva were a very close match set, when you see Ria and Raven working side by side, it's like a mirror. Aila is a little difference but close, but Ria and Raven, oh wow, I can't sometimes tell who is who. They both answer to either name though, same as Tekla and Tuva did. I tend to call them together when young.
So it's been a fun start to 2019, it's going to be a great year for Elkhounds.