Breeding Update - Elkhounds Norwegian / Swedish - Elghund / Jämthund
Norwegian Elkhounds - Swedish Elkhounds - Jämthunds
I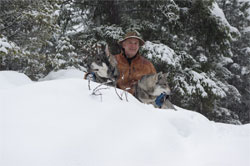 t's fairly common when discussing Elkhounds, especially in Canada or North America that most people immediately think "Norwegian Elkhound", they don't normally recognize the other type, the "Swedish Elkhound". Both Elkhounds have been in the Northern regions of Sweden, Norway, Finland, Denmark and throughout the Scandinavian regions for centuries. The Swedish Elkhound is now more formally known as the Jämthund dog.
I am fortunate to be the only breeder of these magnificent Jämthund dogs in North America. I will do my best to share the background and the history of these great Elkhounds with you. We will be discussing the Norwegian Elkhound and the Swedish Elkhound litters that are coming in this update. We currently have the Ria and Posso litter on the ground now, Swedish Elkhounds!
Karia and MANE - New Norwegian Elkhound Puppies
We are super excited to announce that my sidekick Karia has her new litter of Norwegian Elkhound pups. She was bred to MANE, pretty much the best Norwegian Elkhound stud dog in the world!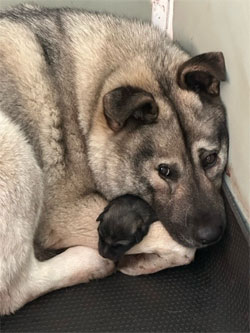 Wow this is a stunning set of rascals and they are profound in that they are the first pups born at our new Co-breeder facility in Northern Alberta. Michael and Sarah are doing a wonderful job. It is a great honor for me to have such wonderful and dedicated caring people join our program.
This is a remarkable litter in many ways, however the most exciting thing for us at Kamia Kennels is that Karia is the VERY FIRST DAUGHTER of Karu to whelp. We have held back many of his fabulous daughters and Karia is the first to bring his genetics forward.
Karu, the father of Karia of course is a son of the world famous Kamu and Rittu. Kamu is a Finnish Moose hunting Champion, and Karu's mother, Rittu is one of the only Triple Champion females alive.
Karia is a daughter of our big old girl Kalia. She is a tough rugged warrior of old genetics that stem back to the old Vikings of old. She is a world class female and has been a major part of our program as an outcross bloodline for years. She is finally "Grandma Kalia" now.
There are two world class Norwegian Elkhound pups in this litter, some very happy people waiting for these Rock Stars!
This is the first time this genetic of Karu has been brought forward since he arrived. His genetic has never been in North America before.
This is the magnificent Karu, he was born in Finland and his ancestors are legends over there, true hunting bloodline.
Kalia and her previous three daughters hiking with Pretty Boy Leif.
Early on we knew the incredible off leash ability of Kalia. Here she is shown with three of her most famous daughter the trio of Thyra, Sula and Baby Rae with Pretty Boy Leif
Norwegian Elkhound Male MANE - Sire To The Karia Litter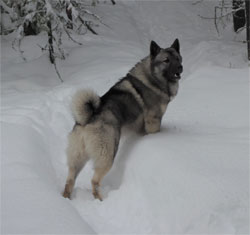 We are extremely proud of MANE. It is my opinion he is one of the very best off leash Norwegian Elkhounds in the world. His pups are always incredibly gifted. He is able to transfer his amazing personality to all his pups. This match-up with Karia, who is a daughter of Karu allows us to combine the very best two Norwegian Elkhound males in North America.
Karu compliments all of the traits of MANE and vice versa. If you factor in the ancient old world working genetics of Kalia you have such an incredible powerhouse of genetics in this litter.
You can search the world over for handler focused Norwegian Elkhounds, you would not find a better dog than MANE in that regard. He has a very unique gift that boy.
You will be able to find tons of my videos on my channel with MANE in them. We could not be happier about this litter.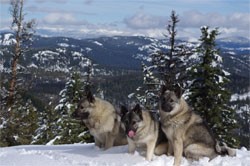 This is MANE's mother, Tekla, his aunt Tuva and his Grand Mother Kamp. The Norwegian Elkhounds we have are the old lineages. They are stout working dogs. We have some of the best lines in North America based on true instinctive traits, with nothing bred out. Our girls like these three, Kamp and her daughters Tuva and Tekla are a perfect representation of what the breed was designed for. These are the big Norway girls, Kamp was always at 60 pounds, her daughters are not far behind her. These two girls, Tuva and Tekla are not quite two years old in this image, from February 21, 2016.
These girls can hike remote regions all day. Keep in mind they are all off-leash. I can travel a thousand miles with these girls and rarely would I have to say a word to them. They are full ranging Elkhounds, bred to watch out for the handler. These girls are powerful, we are hiking in extreme conditions, it's deep snow getting up here, we are around the 4900 foot elevation, and it's work to hike up here. I have snowshoes on but they rarely follow my trail, instead make their own. They are the perfect dog for a family wanting a companion dog for any adventure. They are just as easy going around home as they are in the mountains. These are a very versatile breed. In my opinion, the Norwegian Elkhound is the very best family Dog!
Our Karia feature video
This is a video of Karia taken not long ago. She is an incredible female to work with, she has been my sidekick right from the beginning.