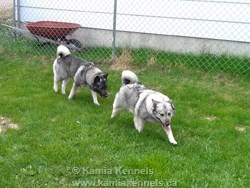 Bram and Tora - New Litter Coming
On the May 25 - 26th Weekend I took Tora down to see Bram. Tora had been doing exceptionally well, had regained all weight and then some, was in terrific condition, so a few weeks ago I took her in for a check up. She came through with flying colors, she is in great shape. Our Vet, said, no reason if she cycles not to breed her, move the litter to the summer time was my thought, this worked out great, as sure enough, a week later Tora cycles.
So Bram was excited to see her as you can imagine, but he was all business this time, no fooling around, he has matured considerably since our last visit, he has put on some weight, and is filling in very nice. I think he might outweigh her now, he is looking really good. Bram is a good dog, no doubt. Tora is 53 lbs in this photo, we didn't weight Bram right here but he is close or better Cathy and Blaine figured from his last check up not long ago.
This is a very good pair of Norwegian Elkhounds, they match up and produce some great dogs. We will feature a few of them directly below, in this newsletter and cover some other dogs as well.
The pups from this combination are thick dogs, yet they still retain some of the lean athletic characteristics of Bram. He is a very agile, always moving type Male, hard to photograph and his type is a bit hard to keep the weight on, they are moving so much. Tora brings that easier keeper quality and muscles up the pups, she is the thick heavy very strong type, so a great combination.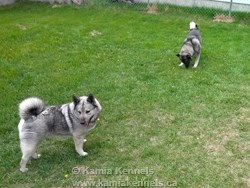 Tora has an outstanding set of hips, Bram as well, both dogs move nicely, lots of power in both front and back, big deep chests, and both have good strong muzzles and nice flat back and belly. These are both old lines, true hunting and protection dogs, both these lines are not to be fooled with on their turf.
Brams lineage is old world Norway lines, champion dogs, some very good dogs on both sides, Tora is the very rare Swedish type strain, again, old world, with some great dogs on both sides, with her father Takoda, one of the premier big Swedish Grey's in North America. We are excited about this upcoming litter, these will be once again some of the best pups you can find in North America.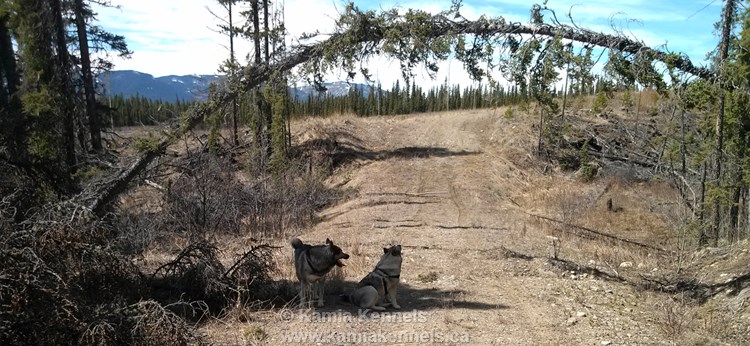 Any time you get a neat photo of these guys, best to take it.
When it comes to taking a photo of an Elkhound, well as I have said many times, you best take it when you can, as they are not still for long. Here is a pretty neat shot, Tora, she thought this spot was a pretty cool place indeed. Now I have a bit of story to share on this trip, rather hair raising for me for sure. We had been hiking along, and behind us this old logging trail goes through some close timber, and some fairly good sized ridges, well as we got in between some ridges and heavy timber, these two caught wind of something. * Note* Since I first put this picture online a few years back I have another great article up from 2016 - Extreme Mounting Hiking In Winter With Elkhounds with Takoda and Tora.
Now if you haven't been out with an Elkhound and had witnessed this, I say this, these dogs let you know immediately something is way out of line, they hair up, they puff up and are moving a mile a minute , up and down the ridges, out into the timber and back , head up high, trying to get a clear scent direction. Now, me, I know, this is not a good place for me, it's close quarters, I can't see any distance, not where I want to be. I am looking ahead and I can see it clears out here, I know going back, well, mostly the same heavy stuff, so I booted it out of there for here. They had found a direction they wanted and it was right to the timber so time for me to exit, stage left.
I smoked her down the road till I came to this tree, I decided to wait for them here. After a while, half hour or so, they showed up, no new scars, so whatever they didn't like was not sticking around either, could have been a big cat, I had seen plenty of wolf tracks, easily might have been a spring black bear passing through, I didn't stick around to scout much, when they let me know it's time to go, and time for them to work, I am out of there. Leave your Elkhounds to do the job, whatever it is, they will move it off and return to you. It's impossible to keep them by you, they want to go, they instinctively know, take and move it away from me.
Takoda and Tora, they are a couple of freak shows boy, they get riled up, quite the pair these two, they are both pretty raunchy, absolutely no fear, all the hair on my neck, arms, everything, I am wide awake let me tell you.
This is what these dogs do best, air scent dogs, they catch wind, they don't need the track to have crossed, this scent was fresh, I could tell by the actions, but it had not stuck around, this is a good thing. My dogs, this lineage, they instinctively return to the handler, you can for the most part, light out, they will scout and make sure it's not coming through our area and return to you, they will find you. As you can see, all is well once they catch up, time to take a break.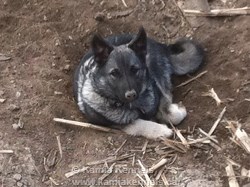 Wyatt and Ian
A short while ago I got an update from Ian. Young Wyatt, a male from Tora and Bram is shown with Ian here, they are pals for a fact. Young Wyatt he is a black faced dark male, you'll remember him from last newsletter, he was dark from day one. These are nice big males they are personable, friendly, yet, make no mistake, step into their boundary areas and you will find a fearless old world Elkhound behind that smiling face, I'll let Ian share that with you. Our many thanks to Ian, Allison and family for providing such a great home for Wyatt and taking such good care of him. It's always great to get the updates, thank you.
"Hi Merv,
Great to hear from you! Things are very good here and yes very busy. Not much of a winter here and spring is like summer so Wyatt's getting a taste of the heat, I'm sure he liked the snow better. I gotta say he is the greatest pup, he has fit right into our family perfectly. He still comes to work with me daily and when home he gets played or walked out by the girls. I'm sure u hear all the owners preach about there dogs but on the realistic side most people brag about there exaggerations. The truth behind Wyatt, he is everything you said he would be, his instincts are there and it is amazing watching them come out. To he honest he's pampered, but yet brilliant, we have 3 acres of land and he knows his boundaries, he walks well on lead and off. My oldest daughter Alyssa walks Wyatt after school and he does not pull, he walks with her. What I find really amazing is when I put him outside, he doesn't want to run off and explore he wants to be back inside with the family.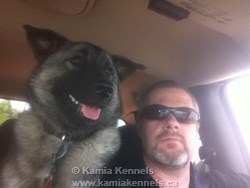 As for protective instincts he shows them when the deer are around or if someone comes up the lane, he barks and paces but doesn't chase. Everyone was calling him princess at the shop cause he is such a suck but that all stopped a week ago. Wyatt was a sleep at my feet and one of the parts delivery guys snuck up on him and poked him with his clip board ( I was on the phone) well Wyatt jumped up with a vicious growl, all teeth showing and pinned the driver in the corner till I told him to back down. Wow! He did what he had to and he did not bite just kept him in place, very well done. I have attached some pics of the boy, we are for the most part joined at the hip, u will like the truck picture, when traveling I have the centre arm rest down, he sits on it and leans on me, he needs to be beside me all the time, need to teach him what personal space means ...Ha
Well all the best to you and the family and of course the elkhounds as well.
Cheers"
Ian
Wyatt and Ian - Wyatt is just near that six month mark in this photo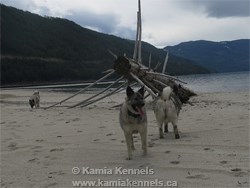 Kate in Front, Liza right, Suzie Left
Well Kate is a beauty for sure, she is here with her pals, Liza and Susie, these 3 females, they have it made for a fact. They all live out in the Shuswaps, and David and Colleen, well they take some great care with these girls for sure.
Kate is a daughter of Tora and Bram, Suzie and Liza are not from our lines, but are very good quality females, Kate's got some fine friends there is no doubt about it. No doubt that is a fine spot to relax and play, Canada is a great location, and let's face it that Shuswap area, Salmon Arm, region, Wow.
Kate is from the first litter of Bram and Tora, she is just over a year in these photos and doing well, these photos are pretty neat, as you get to see her with her companions. You get to see the slight differences in the lineages, Liza the thicker heavier girl top right is the coastal region, thick, easy keeper, very similar to Mia, Kate's grandmother. Suzie, runs th the same as Kamp and GÆDA. Her type has the dark ears, dark feet, dark mask, the coat is fluffier, they are very light on their feet, bounce more, very agile dogs.
A big thank you from all of us for these great photos and update goes to David and Colleen, and for the terrific care these girls get, it's no small feat looking after a set of girls like this, a very nice group for sure.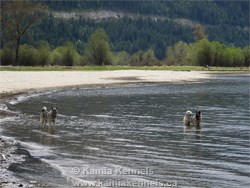 Kate you can see brought that straight stance from Bram and Tora, the really strong chest and flat back and belly, you can see she leans back to her bigger pulling ancestors, just as comfortable pulling a sled as hiking. You can see she comes out of the deeper snow regions, has more leg under her than Liza, although all these girls are very close in height, length and confirmation.
Bram brings a high energy to his pups, Tora is pretty steady, she tends to be fairly serious most of the time, so Kate would have both the playful nature and the serious work ethic.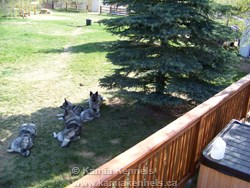 Robin Watch Duty
I have mentioned many times we have quite the problem keeping our Robins till they can fly, the cats come from the lake, and park, it's basically an epidemic with the number of cats that come through, but no matter, the Robins can't get the chicks to the maturity to fly as the cats get them.
So the last few years this older pair we have, they have been moving closer and closer to Takoda and the dogs pen as for some reason they instinctively know, it's safer from the cats. This year, well, they moved right into the pen, no fooling around, and only 5 feet above the dogs.
This top image shows from left to right, Tora, Jaegar, Mia, and GÆDA, all on Robin Safety Watch. The nest is just above them in that spruce tree. As you can see from the next photo, the little rascals made it, all the way ready to fly. And, Success, 2 for sure made it to flying, 1 other I know, unfortunately, ended up on the other side of the fence, and Tora was out with me, so he didn't make it. Tora is a bird catching machine, even though she protects them till they are ready to land in her mouth.
This young fella here though, he is the last one of the nest and he stands here, proud as can be, he is about ready to go, and he made it, Yahoo, I had locked the dogs away from him so he could have some space to make it. So, took four years but finally some new Robins coming through from this pair.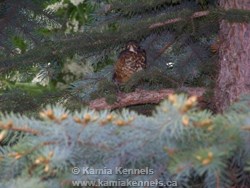 It's no doubt the cats take a heavy toll on the Robins, but just the same Takoda and his crew, well, let's just say, they don't give any cats a free lunch, you venture into their watch zone, your not leaving. Elkhounds are fine with cats if raised with them, but a breeding operation, well, a cat to them it's a whole different story. And these big feral cats loose in the park, they come sneaking around the pups and so forth, good luck with that, there is no cat fast enough to get in and out alive.
So needless to say, I was pretty happy finally to get a nice photo of a great little Robin, proud as can be standing just above his crew of watch dogs and pals. I have to hand it to the Robin pair, they work endlessly, it's a constant fly in , fly out, get another worm, fly in, goes on for the entire daylight hours, early morning, right till dark, I can sit right under the tree to the right I have a table and chairs, they are coming and going constantly once they hatch. Some serious work ethic those Robins have. We don't use chemicals of course, so the eggs are healthy, the shells are strong, there is tons of worms out in our garden tree range area, it's great Robin country. And there is no better watch dog in the world than an Elkhound so, this young guy, he just has to make it back here now next year for his own little flock.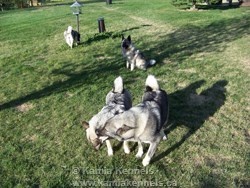 Tora and Jaegar - Elkhound Sister and Brother
Jaegar is home with us for the summer, and thank goodness for Tora, as she is about the only one who has patience for this big fella and his antics. Jaegar is a big male, very stout, thick and strong, he is heavy and has some very big power. He is just a young male, just over a year basically and really is one to play rough. Now, Tora, she don't mind this type of play, to her, that is how it's done, GÆDA on the other hand, she plays light, so gets a bit tired of Jaegar.
I could get a thousand pictures of Jaegar, he would have somebodies scruff in his mouth half the time. Most of the time it's Tora. She can wrestle and work the big fella like no one else, she has big power, but she has to use all her skill to handle this fella, and she plays fair, she let's him win a bit, most of the time. Mia, she likes the tough play, but she never plays to lose.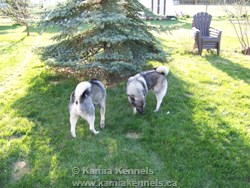 Jaegar is an outstanding Male, he is polite, he has manners, listens very well, a one owner dog though, he is Ashten's baby for sure. Since he has came he has really opened up his protection instincts. It's basically impossible not to have them woke up around Takoda, and Jaegar, he has his Dad's instincts in full force with zero doubt. He has a very big bark, deep and heavy, loud, and his black face, his head is big, the old world muzzle, biggest one we have seen, when he comes pounding up to the fence if there is a stranger or stray dog, no fooling, not sticking around. Of course he is never alone here, so needless to say, doesn't much matter what comes by, they are not prone to sticking around.
Jaegar is shown here, standing next to his dad Takoda. Jaegar is very close in height and length, just slightly under him yet, but Jaegar is thicker all the way through and brings that old Norway Mask from Mia and her beautiful coat. Jaegar has some very serious jaw power, it's fascinating really, his jaw power would rival all big male Rottweiler's, most likely makes bull Mastiff males cry when they see him break bones like they were liquorice.
These are the big old Viking dogs of old ancient times, fierce solid powerful males, loyal to a master like no other dog, tons of stamina, run all day, hike in heavy timber, deep snow, pull sleds, guard, play and be a companion, no better friend to be found. You got yourself one of these big boys, you got yourself a dog.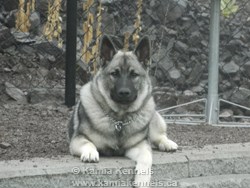 Gryffin - A Beautiful Silver Male of Tora and Bram
I know this much, I look through all the photos of the pups as they come in from folks and go through them and am always amazed at how nice they all are, and some dogs they stick out even to a greater degree sometimes. Gryffin, he is one of those, a truly magnificent Silver Black Male, an truly outstanding big fella. Carrie sent me a few photos of him and a great write up.
Hello Merv and Family :)
Just wanted to send some pictures of Gryffin to keep you updated!
He is 5.5 months and 52 lbs! He is a rambunctious pup that LOVES to hike and go for walks. He encountered his first deer about a week ago on the hills above our house and caught wind of the neighbourhood bear! He definitely has a protective bark that alerts us to either wildlife or people in the yard!
Gryff is very affectionate and loves to cuddle. We allow him on the bed at night for a visit, but when the lights go out he knows it time to gt down and go to his bed. He has never tried to sleep with us or Kelti! However, he loves to wake Kelti up. He jumps up and cuddles next to her and "talks" and wiggles until she cuddles him!
He recently decided to hop into the duck pond on one of our walks and he quickly decided swimming was not his thing! He likes water up to his belly and that's it!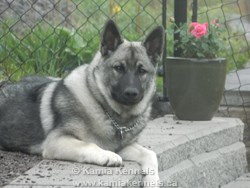 He is very smart and knows: come, sit, down (to lay down), off (when he jumps up), walk, breakfast, supper. He shakes a paw, give a high five, says please.
He loves to talk to us. Our daughter Kelti says he sounds like a Wookie from Stars Wars LOL!
He is totally house broken and lets us know when he needs to go out.
He hasn't had an accident in the house for several months :)
We can leave him alone in the house for several hours and he doesn't get into anything! We do not kennel him and there is no need to. He is very content to lay on his bed and chew his toys! He has never chewed furniture or any of our belongings...however he does like socks! He trots around quite proudly if he happens to snag one!
We are so lucky to have such an incredible pup in our lives! Thank you again for all your hard work in the beginning. We know it made a difference!
I will send another update in a few months!
Cheers
Carrie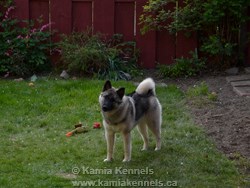 Kamp, Female Elkhound
As Kamp grows we can begin to appreciate how special she is going to be. Kamp is from a long line of old Dogs and champion Elkhounds, she is from an old female, the last lone pup of the last litter. Pups who are single pups they grow up a little different, they don't need to play with others as much, they can make fun themselves, they love to be with the handler and make a great companion.
Kamp has a new playmate though, a young female pitbull, her and Frankie get along great, Jay has moved to a new place and has a nice yard in the back and they are at the bike ranch all the time anyway, but still neat for Kamp to have some dirt to dig in, Kamp and Frankie, they dug up all the carrots already.
This is a very good female, a full Norway lineage, trace back a hundred years, with lineage going back thousands, we couldn't find a better female for Jaegar, there will be no better pups than what comes from those two for sure. Kamp is about as perfect a Norwegian Elkhound as you can get, she embodies everything that makes an Elkhound such a great dog. Her and Jaegar, they are pretty much the best match up, we could use Takoda with Kamp also, and we could also use Bram, or even one of the other big boys, as Kamp is a full outcross to our lineages. Her and GÆDA, they each bring to distinct different lines back into our program, and both are outstanding females. We are very proud of the work Jay is doing with Kamp, he is a terrific handler and trainer, she is well looked after, and much nicer and better trained than my crew of ruffians. Way to go Jay.
No end to help with the old Bronco Dog hauler rebuild
I can always count on Mia to assist me in any project, she is a great carpenter, loves log work and timber framing, but she doesn't hesitate if it's automotive, she gets right in there. Here she is inspecting the rims and tires, they gotta go she figures, no grip no bite, and rusty rims, get some paint on these rims and get either some pit bull growler tires, or mad dawg tires, or something she figures, these Hercules are fine, but not for where she figures we are going. Takoda, he finds his spot in the back there, settles in, yeah, this'll work, are you sure we need to put the top back on, much easier for me to get at something without it, come on, let's get this thing finished already, time to camp and do some rugged off road expeditions.
Jaegar and Takoda, if they could have figured out that air wrench they would have had that end gate back on, the roll bar in and been traveling already, they know it's good for something, come on, use this thing here, what is the hold up, and make sure you got some serious horse power in that old bronc, we can't be passed by some import with a Chihuahua in the back window. So I got some big power, set of nastier mud diggers, just have to get the windows back in, new end gate on, only a few details left. The old bronco has been around over 30 years, seen a lot of wild trails but the dogs and I we pretty much have her rebuilt, she will be a fine transpo for these Great Greys.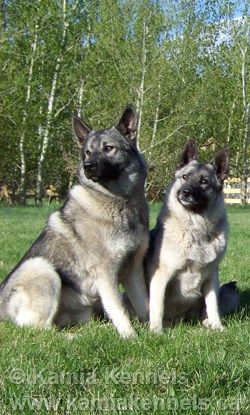 Jaegar and GÆDA
*Note* Since I put this article up a few years ago, this pair has just had a fabulous litter of 6 pups - Check out the details on the Elkhound pups
Jaegar and GÆDA, they get along great. Both are young and athletic, lean and fast, they have lot's of similarities, and have a fun time burning around. Both like to dig though, and quite frankly, they will dig right out and head down the trail, I have had to go get these two from the neighbours, my guys, they don't ever leave, but these two, raised elsewhere, well, they take some liberties.
Raising a pup at home is quite different in terms of territory, pups once they know, they don't wander, bringing dogs in that have spent time elsewhere, that takes some retraining. It can all be done no problem, but it's just like training a pup again, walk the perimeter, set the boundary, show the limits, correction, praise etc. Tora she has never left the place she was born in so she watches these guys, and it's like what, they don't know that's off limits, go figure.
These two, they can have a litter after this litter with Takoda, as you can see, this is every bit as good a pair as you could find anywhere as well, there will be some outstanding pups from this pair as well, perhaps next time around. GÆDA is just starting to cycle, I expect her to be in full heat soon, so she is not far behind Tora, the litters will be about 3 to 4 weeks maybe apart. It will be noisy here again, as Jaegar he is a noise maker when he can't get to a female in heat.
GÆDA, she is a good female, a feminine girl, still lean and strong though, just not as bulky and heavy as Mia or Tora. Her features are terrific, she has a very easy going personality, she is still a little shy though, where she began life was obviously rough on her, she is slowing getting over some of it, but it's not the way I like to see dogs act, you know they have been mishandled. Somebody was not too good with dogs.
She is not like our lineages in protection, Takoda excels at this so will fix all that, don't get me wrong, there is nothing wrong at all with her instincts, abilities etc. it's just some lineages are strong in some traits over others is all, and Takoda, well he leans toward the protection end more, although his personality is great as well, so we might just end up with a litter of really nice dogs who like everybody, go figure. Me, I tend to like that little bit of mean to come out when it comes to watching over the kids, the family, the yard etc. I like to know if I send the kids walking down the road with one of the dogs, doesn't much matter what comes running up, Rhodesian Ridgeback, Akita, Doberman, doesn't much matter, it won't be getting close to anywhere near the kids.
Of course if it was Takoda, well it would most likely take a SWAT team to get close, but that is another storey. GÆDA, she would just wag her tail and be all nice and pretty, polite and pleasant, think oh this is great, some new friends.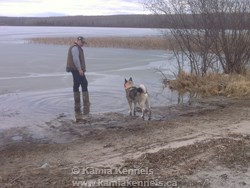 Torsten Elkhound Male and Owner Brian
I always enjoy getting updates on the pups from previous litters, lot's of folks keep me posted regularly, and Brian and Lindsay, they always stay in touch, and I appreciate it. Torsten is an outstanding male from Tora and Bram's first litter, this big fella is the same age as Jaegar just above.
These two boys would have fun playing, and it's about the only dogs they can play with at this age, as they get pretty cocky for sure. Torsten he got lot's of features from both sides, but it's easy to spot that Black Mask from the old Norway lines and the dark saddle from Bram. His big feet to carry that big boy go back past Tora way back to the old boys in Jamtland region, old sled pullers and bear hunters.
He has a big thickness to him, he fleshes out nicely, there is a line of dogs in his background that come from a very good, in fact outstanding old girl name Varga.
She is pictured below Torsten here.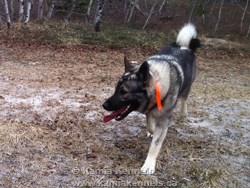 *Note* - this is not my photo of Varja, I give all credit to the Varjdalen Kennel - and all credit to a great line of dogs they have as well. As you can clearly see in all of Tora and Bram's pups, old Varja's traits are still loud and clear coming through.
The traits of this most respected female: INT NS UCH NS J(B)CH Varja still pass down. Her posture, strong and straight, look at the shoulder development, the powerful hind end, look at how well she stands, take a look at the photo of Torsten in the water, we knew where he got that stance from.
This girl was born 25 years before Torsten but only 4 generations separate them. All of Tora and Bram's pups can trace back to this great female. We have a great deal of respect for the folks who raised her and her offspring.
Torsten, like his brother Ryker who we featured in a previous newsletter these boys are some good dogs. They are companion dogs, yet, like Torsten who is in agility trials and training is very agile and capable in all areas, and social and decent to take to events and work with.
Wyatt and Gryffin, they are full brothers to Torsten, different litter, you can clearly see Wyatt and Torsten are pretty much the peas in a pod statement, Gryffin he brings out the Silver Black from Takoda's lineage.
Torsten, he is fearless big bruiser, Brian was telling me, they were hiking North of the Lac La Biche area and Torsten took off into some heavy timber, you can tell the difference in the bark of these boys, Brian said it changed once he got a ways away, it really intensifies if there is a threat, he obviously encountered what it was Brian said as it turned into an all out war.
Torsten made it back to Brian a while later, pretty much no worse for the wear, though the blood all over him was a dead give-away though, that whatever he came across didn't fair so well. Torsten he has capable scrappers in his lineage on both sides, but when it comes down to drag out battle till it's done, he can thank his old grandmother Mia for that trait., she is still handing out scars, and will be for quite a few years yet.
We thank Brian and Lindsay for staying in touch and we really appreciate all the updates, and again, our credit for the beautiful photo of Varga goes to the Varjdalen Kennel in Norway, thank you.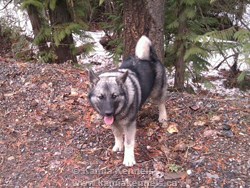 Cinder, Female Elkhound
I got this update just after my last update, back in April, so Cinder will be a lot bigger by now, she is a beauty, as you know, I like the dark females, they are hard to come by, only show up in the ancient lines, and only every now and then, prized females like this are rare on North American soil, you'll basically never find these beauties, we are most fortunate to have some old lineage black genetics in the background of Takoda, he has a few of these girls, Nika, Kari, Lexi was, also Cinnder, and now his grandaughter shown here, Cinder .
A big thank you to Christy and family, they are raising a wonderful female here, no doubt, thank you for keeping all of us posted.
"Hi Merv!
Cinder is doing wonderfully here! We get out for at least 5 kms daily, yesterday she did her first 15 kms, and today she did 18 kms. Needless to say he was ready for a nap when we got home :)
She is fully house trained, and she does a few little tricks for treats. She sits, lies down, shakes a paw and does the army crawl! Each time we've decided to teach her a new trick, she learns it in no time! She loves to play with other dogs, and has been getting a little more "play time" with others lately. She is certainly wary of strangers! Heaven forbid someone approach us too quickly, because she will be in front, blocking me and sounding rather vicious lol
What an intelligent little girl! I had her weighed last week and she has already reached 30 lbs. Unbelievable how fast she is growing. I'm starting to think she is going to reach above the average female size. She's a brute lol
I've included a few pictures for you. The one in the snow was back in mid March, and the rest are from today!
We are loving her. Puppies take a lot of work, but she's been well worth it!"
Christy and family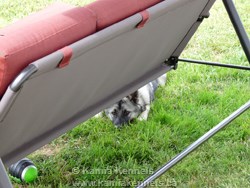 Freyja - Elkhound Female - her grandfather below, Takoda
This is one of those times I talk about, where I get a photo and the look, style, posture, something says to me, you know, I have seen that before, that exact look, that exact picture. It takes me a long time sometimes to go through, but I know I have seen it, so I look and find it.
These two are about the same age at the photos, you would be hard pressed from this angle to know they are not the same dog, at the very least you know they are very closely related just from the eyes alone.
Freyja is a granddaughter of Takoda, she takes after him a great deal, more than all the other pups of Tora, male or female. She has all the characteristic nature and traits as well, not just the style and looks, but the posture, the little way that she looks and puts her head, the gaze it's pretty neat for sure.
The big tall swedish grey females, formally they were known as Norrland dogs, they roamed up in the Northern regions, they travel bush country fast, an easy moving female, they glide along, not heavy, not light and bouncey, just a nice glide. They lift the feet up almost a prance type gait they have, can go for miles. These dogs have deep chest and lung capacity, most all have a flat belly, which allows even more lung and organ expansion. They breathe silent, travel with the head high most times, air scenting the whole way.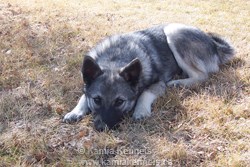 These girls they take a bit more feed, they don't flesh out like the southern Norwegians, it's extremely rare to see one overweight, you couldn't possibly do it. These are the most personable nature of all Elkhound types. These are the very best for families with this lineage in the blood, that characteristic passes down. These are the Silver dogs, some mistake it for Grey, but stand it beside a Grey and you can see it like night and day, the Guard hairs are longer tipped black as well, full half inch or more of black. Silver faces, ears in most cases.
These are the old Keepers of the Gate, you could leave these females at home, take the Male, and know, upon return the Gate would still be closed, these girls they fear nothing, are not aggressive in any way, but an utterly fearless girl. A very big thanks to our Washington Friends, Amber and Clint and family, they have a lovely female and we appreciate them sharing with us.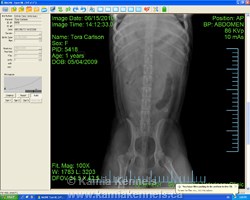 Tora, hip x-ray - perfect set
If you have never seen a perfect set of hips before, you can say you have now, I should have put this up before but, you know how it is you get busy. Tora has a set of ball sockets you could write a book on. She is a pretty amazing female, no doubt about that. We are not big proponents of x-rays and such, but she was in for a check up and I asked for our vet to do a set so I could see them, I knew her hips were perfect long before I took this, I didn't take this for any reason other than curiosity really. Neat to see though isn't it.
People sometimes ask about hips, not sure why, Elkhounds don't have any issues with hips to speak of, I can't say I have ever even heard of an Elkhound with a hip problem, but, sometimes people ask, somebody else gave them some incorrect info perhaps, or maybe just asking to be sure, you never know right. But here is the straight and narrow on that, hip issues are not something you'll find in an elkhound. Good ole lines likes these, well lets be real, you don't get 4000 year old genetics with issues. Ancient dogs have few if any problems, sure some people introduce problems by environment, food, care, bizarre circumstances, but for the most part, you can rest pretty easy knowing an Elkhound is about as trouble free as can be.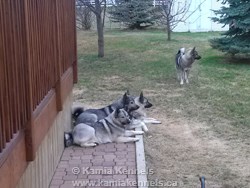 Takoda and his crew
My big fella Takoda, he has quite the crew helping him keep an eye on things these days, Tora she has been his sidekick from the day she was born, and GÆDA, she rarely leaves his side either. Jaegar, him and Mia, they have a special bond, she looks after him, makes sure he never feels left out, not that he ever does, but she babies him anyway. But Jaegar, he is some serious help for Takoda, not that he needs any, but it's fun to watch them all work anyway.
Elkhounds are very pack oriented, follow a very structured pack system, for the most part they lead a very content life, no fuss nothing but a fun time. Of course, there are those times when females are in heat, this causes commotion and chaos, but aside from that, all is well.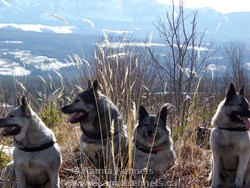 Highly Efficient Dogs
*Note* I have put another great article up from 2016 about mountain hiking offleash with dogs
Elkhounds are one of the most efficient dogs. All areas and aspects of an Elkhound are with efficiency in mind. When breeding Elkhounds we try to keep that efficiency. Things like the feet, you want compact feet, that have strength, flexibility, with the pads close for warmth, yet able to withstand the punishment of daily long hikes. The front leg and shoulder needs to be sufficient power to withstand the jumps and carry the Elkhound up and over deadfalls. The chest needs to have enough capacity for maximum stamina, deep chests allow for more oxygen, this combined with the flat belly allows it expand better, more room for bigger heart, stronger organs. The belly should not tuck up like a greyhound, this constricts the organs, doesn't give the female room for reproduction and carrying those new little rascals.
The eyes need to be protected, the skull should protect the eye from external strike or damage, the oval eye, black rimmed and dark brown, these dogs are in snow most of the time, so the black rim and deep color are important for sun blindness. The muzzle needs to be be strong, taper even, should be pretty close to exact plane and angle as the skull, and pretty much the same length. Raw fed keeps the strength, genetics maintain this heritage. Ears need to be protected from cold, nice covering inside for warmth, not too big, not too small, just right. Not flat topped, slightly closer together at the top than the base.
The back is relatively short in appearance, a strong back, flat, big room for the lungs to expand back, not too long so the agility, the ability to almost turn in the air never gets diminished, a short coupled, powerful package should appear, basically square, almost same length as height at the shoulders. The top of the shoulder at the start of the back measuring down to the bottom of the chest, should in theory, be the same as measuring from the bottom of the chest to the ground. This allows these dogs to move effortless in close quarters, rough terrain, but most importantly up and down hills. Put an Elkhound with a group of any scent hounds and let them run in hilly ground for a few hours and you'll quickly see where this makes a huge difference, the scent hounds will be dragging their butts, the Elkhound still bursting up the hills.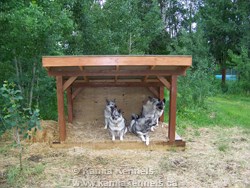 Big power rear quarters, this area propels the Elkhound in all aspects, this needs to be a strong point in your breeding program. They need to be able to be "as if on springs" stand right beside a ledge and go as if "straight up and on" it. The power in the rear brings that deep brush and heavy timber work into reality, they are constantly up and over stuff, around, on, the balance, sometimes you think they are goats, this is that powerful rear, short back, and stout front end in action.
The gait needs to be even, a nice clean efficient movement, no wasted effort, lot's of spring to the step, not heavy, not too light, a nice movement, hour after hour. There has to be enough strength and flex in the joints to handle the stress of this up and down, over stuff, angles, drops, rough ground that it always allows them to maintain footing and not create stress. The size can't exceed the ability to carry the weight, the big males have to have great bone density, big chests and very high percentage of muscle to fat ratio. Our males are the upper limits of efficient males, any bigger and you compromise the efficiency, the tendons, the joints, they have limits. 55 - 65 lbs for the males give or take a few.
The mental stability needs to be there, flighty, anxious, or irritable highly aggressive are not to be sought or bred, age old instincts need to be preserved, the ability to work independent, yet recall, loyalty, yet aloof to strangers need to kept. The bite instinct should not be bred out, the ability to air scent needs to be maintained, the hunting and guarding work above all maintained. Nice stable dogs over all, good solid working dogs, dogs that enhance your life, not frustrate it, an Elkhound today should be the exact same dog it was hundreds and in fact thousands of years ago, very much unchanged.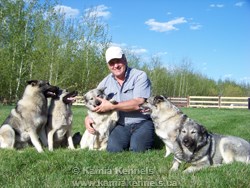 5 Elkhounds, Jaegar, GÆDA, Tora, Mia and Takoda, Kamia Kennels Elkhounds and Me
I want to thank all the great folks who shared their stories with us, and all the great photos, really neat to see these rascals all growing up and how nice they are treated and great homes they have.
It's been a fun time for us around here as well, we are so excited about the new litters, this is going to be really neat over the next while. Both Tora and GÆDA are content these days, they are couple of really nice females, I am really excited to see the GÆDA and Takoda combination, as well as another great set from the Bram and Tora combo.
If you are out with your Elkhound, send me a photo, a write-up, I'll get it into one of the newsletters, next issue I am pretty sure I will hear back on Loki, out in BC, and will no doubt hear from Henry, he has Kobe down in Calgary, most likely Lynn will be dropping me a note on that Shasta soon as well.
Wonder how that big Ryker is doing in Calgary, I know they were pretty busy, but we might hear about his exploits also.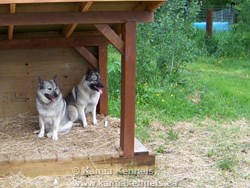 So, we should have a new litter on the ground next newsletter, or maybe two, depends on timing, but at least we have a pretty good date for Tora's litter, and GÆDA, well, most likely she will come into full heat soon, so you can pretty much mark that down as well.
It's green grass here now, I have my new Finnish potatoes in the ground I got from Linda, who has young Nola in Montana, they are out of the ground, the leaves are out, all good dogs, and even if that scrappy Tora has to battle with me at every picture, she does it in good fun, who could ask for more, till next issue.
Merv Carlson
Kamia Kennels
Tora and GÆDA
June 10th 2012 Just after a real nice rain