We get to our new home just in time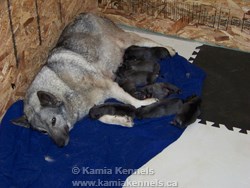 We just got moved to our new home, barely got the pen up, and Tora had her pups
Tora is a model of consistency, no doubt. I said in the last newsletter August 18-20th and sure enough, August 15th, Tora had 9 new rascals nursing, she made me hustle to get her pen done. This was a fun litter, the new home and new kennels are great, we are loving it here, and Tora, she thought it was too perfect. This pen held them real nice till I finished the outside pens, I was working fast, as I knew they would be growing like crazy.
Tora had 9 pups this round, 5 females, 4 males. Tora has replenished the Norwegian Elkhound population in North America, all by herself. 21 Males. There is no female anywhere that has better Norwegian Elkhound males than Tora, and 21 of those big boys roam from the West Coast to Ontario, from northern BC down to St. Louis Missouri. 13 Magnificent females. Again, there is no female anywhere that has better females than Tora. She has females from Whitehorse all the way to Colorado. If you have a female from Tora, you have an Elkhound like no other.
No doubt about it, when it comes to all traits Elkhound, Tora Rules. You can't find a better Elkhound female.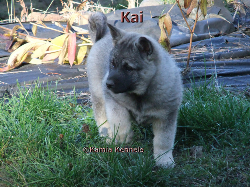 Tora brings out her best to carry her genetics forward
Tora has truly outdone herself. She must have had a deep instinctive code at work, she knew this was her last litter and she wanted to send forth a female to carry her traits on. We introduce young Kai. Wow, what a female. We have looked through all the beauties that have came before her, we could have used any of those truly awesome females, but we waited. Patient. In Old world breeding principals you try your best to go as long as possible without changing the genetics. Basically take replacement females late in the cycle.
Tora as you well know is a powerhouse. A highly prolific female. This is what keeps the breed alive, and what has allowed the Elkhound to become one of the oldest breeds, with very little change I might add. Well, young Kai is going to carry forward the mighty genetics from Tora, which of course stem from Mia.
Kai is a very strong, solid, well balanced female. She is wide and thick. Carries all the traits of her Grandmother, the big chest, the square build, she has the full on confidence of Tora, and the high energy of Bram and Grandpa Takoda.
We could not have dreamt a better female to arrive. We are so thankful.
Tora can relax and watch over Kai, train her, and come on hikes with me, she has now passed all the genetic material to Kai, as she develops and we watch her grow, she will mature into a beauty, and she will most likely, turn Tora and Bram into a grama and grampa down the road. Go Figure.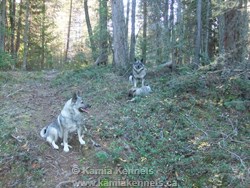 3 Generations of Ancient Elkhound Females
Three generations of ancient elkhounds roam the mountains of BC near the old ghost town of Phoenix. Tora and Mia give me a hand to train young Kai. As I have said many times, training a new pup is many times easier with an older dog, well, multiply that by two and it's Way Easier.
These are ancient elkhounds, true bush dogs, mountain hiking and hunting elkhounds, and young Kai, she is all power, keeps up, works her butt off, but she is game. No quit in her. She will be handing it out to these two soon, they best get working out on their wrestling skills, as finally, a new ground and pound female is on turf. Kai is not one of the light, dancy fluffy types, she is going to do battle, low down and tough. It's going to be fun watching this over the next while, no doubt about it.
Both Tora and Mia, they love the new location, tons of hiking and trails, and did I mention, no end to Salmon, they are both in great shape, ready to train young Kai. Looking at Tora you would never know she just weaned off nine of the biggest pups she has had.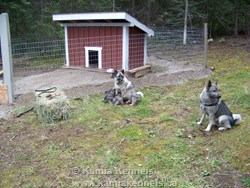 GAEDA and Jaegar have a terrific litter only days after Tora and Bram
GÆDA had a terrific litter only 3 days behind Tora, so once again, just a scrambling to get a new outside pen for her as well. She had some truly awesome pups, GAEDA can really raise some great Elkhounds. This litter we used Jaegar with GAEDA, and my goodness, what thick rascals they were. These are some awesome Elkhounds.
Emit was the largest of all the pups this round, a super male out of GAEDA and Jaegar, and next largest was from Tora a big fella named Boulder, a big black male from Tora, then a female from GAEDA, Tuula, a real silver beauty. GAEDA has a knack for raising big females and this time was no exception. As well, they brought forth an ancient black. A female, Jaegar has proven the old ancient genetics are alive and well. Neela is a very special female and resides now on the the Island with Gerry and Solvieg who will provide an awesome home for her. She will be a beauty for sure. The males from this litter are outstanding with Gunnar and Morice, both big Silver boys, brothers to Emit. They are all in great homes, I will fill you in below.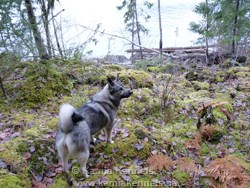 Tula - A Daughter of Takoda and Mia
We received some great photos and a write up from Jenn and Clint shortly after we moved to our new home. They live over toward the Creston / Nelson area and have Tula. A beautiful daughter from Takoda and Mia. The Elkhound is a great family dog, Jenn shared a lot of the great times they have with Tula and it's neat because, her good friend June, has a sister to Tula, her name is Sophie. Both families get together often and the two Elkhounds get to spend a lot of time together.
It was great to hear about the two females and I look forward to getting over and visiting them all as soon as things settle down a little bit. Of course, I most likely will take Tora, she is a full sister to these two, as you all can tell I am sure. No guess work there. Mia has raised some really great females and it's always such a great thing to get the updates on them.
A few years back, I was traveling out with a big fella named Nanook, and I was going through the Creston route and phone Jenn and Clint, we met had a short visit, I got to see Tula then, and I then drove over after taking a really neat ferry ride across to Nelson with Nanook, and visited with June and her family, and got to see Sophie. Now to get the photos and hear about the exploits is so cool. I will be able to take a road trip over with Mia one day as well and visit, she will think this is awesome.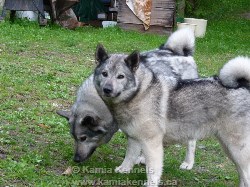 Tula and Sophie - Daughters of Takoda and Mia
Sophie and Tula stand here, both tremendous Elkhound females. It's so great that they can see each other now and then and spend time together, and I have another neat connected story about these two. A fair while back I received an email from Dennis, he and Tracey have Tegan. She is an amazing female, a sister to these two, she is featured on the site, and here they were at a fuel station, the Elkhounds saw each other, made contact, and the folks had a chance to visit, and low and behold find out they each have a daughter from Mia and Takoda. That was so neat to hear about. Tegan is also in the Okanagan area.
I sure want to thank Jenn and Clint for touching base and also thank June and her family for all the great care they give Sophie, and we can see Tula has it made as well. Keep us posted, we sure like to get the updates.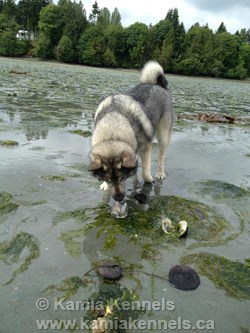 Cinnder - Elkhound Female Daughter of Takoda and Mia
We heard from Amber and MacKenzie a while back, never had a chance to get this update online, but no better time than right now. Cinnder is a sister to Tula and Sophie, one of the big Swedish girls from Takoda and Mia. She is right at home on the west coast, she is in magnificent shape. You can spot those big daughters of Takoda anywhere, anytime. Amber and MacKenzie have a lot of fun with Cinnder, she is a super smart female, Amber says she is sometimes a little too smart. I know exactly what she means.
I remember when they first contacted me, Amber did not tell her daughter MacKenzie she had spoke for a pup, even though MacKenzie had shown her the site, the pups, encouraged her to get one, they kept it a secret while they came out to pick Cinnder up. Wow, how they did that still makes me smile. That is an awesome surprise, no doubt. Cinnder is in great hands, she looks terrific, you could not ask for a nicer Elkhound.
Thank you Amber for keeping us posted, we look forward to hearing more exploits and fun stories about Cinnder.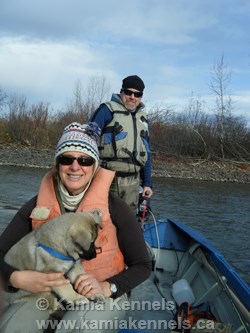 Morice - a Son of Jaegar, at his new home with Sandra and Jim on the Buckley River Northern BC
A while back Sandra made contact with me about the possibility of getting a new pup. Her and Jim live up near Smithers and they were wanting a new companion. They are an active outdoor couple, and wanted a good solid family dog, that would take to the outdoor life they enjoy. There is no better dog than an Elkhound for this life, no doubt about that. They had some questions, they wanted to have a good solid dog, a steady boy, not one prone to instability, or fearful or flighty. They didn't want an overly aggressive dog as they spend time with other folks camping and so on, but wanted a fearless boy, one who if push came to shove, would stand beside them, and in front if needed.
I let them know that when it comes to stability, the Kamia dogs are as stable as they come, all fearless, all dominant, yet not trouble makers, but trouble handlers. I spoke with both Sandra and Jim about the life they would have with the pup. When big Morice came I knew he was the boy for them. Jaegar and GAEDA are nice dogs, they are both social, very well balanced, well adjusted dogs. Jaegar is about the most versatile Elkhound in Canada, he can do most anything anywhere. So a big male pup from these two would be super steady and calm.
Mia is a coastal Elkhound, she brought Jaegar the big thickness and the steady nature. Takoda brings forward to Jaegar the deep protection and stamina. Jaegar combined with GAEDA to yield a worthy companion for Sandra and Jim, Morice. They are cruising the Buckley river here, Morice is right at home. He is named after a river up there as well. Like his ancient ancestors, he travels the water and hikes the northern regions now, providing companionship, fun and excitement to Sandra and Jim.
Elkhounds are one of the best dogs for an active couple, they have the nature to be very personable, very social, yet can remain aloof and protective at the same time. They are one of the most versatile dogs there are. As far as quality of pups go, Jaegar and GAEDA are a combination that will be very hard to find better. Morice is a testament to that, for a fact.
A big thank you to Sandra and Jim, they will provide a great home for Morice, and as you can see, he is right at home.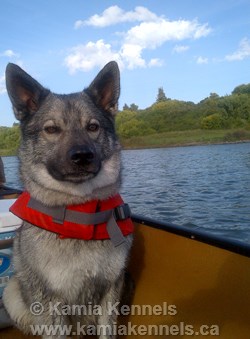 Bosco, Elkhound Male, and Uncle to Morice, Brother To Jaegar
Take an Elkhound, a Canoe and your off on an adventure, no kidding. Lindsay always stays in touch and we sure do appreciate it. She has Bosco, a really great Male out of Takoda and Mia, a brother to Jaegar. You can see where Morice above gets his water legs, it runs in his genes. His Uncle Bosco is a cool customer in the old canoe.
Lindsay always has some fun times to share that her and Bosco have been doing, but much more than that. Everyday activities, things they do together, just every day things, weeding the garden, Bosco has his nose in everything, if you have and Elkhound, you have a working partner in everything you do.
Lindsay has old Bosco around all the time, he is a great companion no matter if it's a 20 km hike, carrying his own pack, or pulling some weeds out of the garden, he is a buddy and pal. An Elkhound is one of the most personable and companion oriented breeds in the world, they live to spend time with you, and Lindsay and Bosco are prime examples of that.
A huge thank you to Lindsay, she always stays in touch, and she sure is giving Bosco a great life!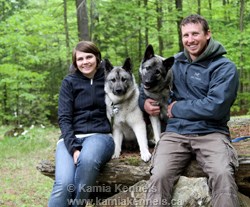 Jenn, Tynin, Leto and Daniel
I have a really neat update to share on young Leto I received, in the photo he is the one closest to Daniel. Now, around this same time last year, GAEDA and Takoda had a really phenomenal litter, and big Leto was one of those males. He was able to spend a little more time with us and also hang around Takoda. Leto was a great pup. Dan and Jenn have two incredible Elkhounds, Tynin is from another breeder, and Leto out of our lineage. Both spectacular Elkhounds, no doubt about that. A big thank you to Jenn and Dan for providing such a great home and life, and yes, absolutely a big happy Birthday to Leto. We look forward to more updates on his adventures.
Hi Merv,
Jenn and I feel terrible about our lack of updates so I figured that since Leto's birthday was on the 14th, it was about time we sent out an update on our "little" man. We have attached some pictures of our wonderful boys for you, hopefully they came through alright. We read through your latest update, what an ordeal! To have Tora so close to having her litter and moving all at the same time. Then Gaeda close behind again what a plate full you've got, hopefully you can find some time to unpack a bit. I was particularly fond of the picture you've got posted of Takoda, I've seen that look plenty of times on the faces of my boys.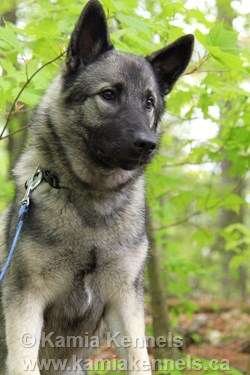 Living with Leto has been an adventure with it's ups and downs. He's everything we were looking for in an Elkhound and more. We have managed to work with him through his dislike of being crated and the separation anxiety that accompanied which has been a big relief. However, he's developed a destructive tendency when left alone for longer periods of time (because lets face it chewing things that aren't your toys is pretty fun). He's done well in adapting to our lifestyle and the dynamic nature of our every day. He definitely enjoys getting out into the woods with us hiking around no matter the weather. This past weekend we took him to the local cliffs for a bit of rock climbing and he enjoyed himself immensely. Brave as ever he charged down the steep down climb to get to the bottom while the rest of us (Tynin included) carefully picked our way down, it seems like no obstacle is going to slow him down. He's had great fun chasing deer through the woods and what's most exhilarating for us is that he always comes back to us. It is taking a bit longer then I had hoped to get his recall to the point it's at but we are working on it. He's beginning to check in with greater frequency which is a solid first step. It was interesting to watch his development off leash as he grew. When he was very young he would stay close to Tynin and follow him around. As he got a bit older he would separate from Tynin a bit but would always be first back when we called. Then, as he became a doggy teenager, he would just take off with us having no hope of calling him back. He's beginning to come through that phase as he figures out how far he can be from us. We've tried to be very patient and allow him the freedom to explore the world around him but as you know, sometimes you just need them to come back. All in all it's progressing nicely. He's grown into a very handsome young dog, strong, more agile then Tynin ever was, faster then Tynin currently is and lean. I'm wondering how his body will fill out in the coming year because he almost seems a bit to skinny even though we feed him as much as he'll eat, we'll see I suppose. He's about half an inch taller at the shoulder then Tynin and an inch or so longer, with the longer Swedish Elkhound legs he moves through deep snow (and every other terrain) a lot easier then Tynin's shorter Norwegian Elkhound legs. Everything Leto does is with confidence and great intensity but he is also very sweet and kind. Jenn love's it when he's calm because she can get all of the cuddling in that she wants, Leto soaks it up and seems to enjoy the attention.
It's been an incredible year and it's gone by so quickly. We feel really bad for not sending you an update sooner but it seems like each day passes faster then the last. I hope all is going well with you and yours and that the pups are healthy. We look forward to seeing more pictures and reading your adventures with this latest brood.
Looking forward to hearing from you soon,
Dan & Jenn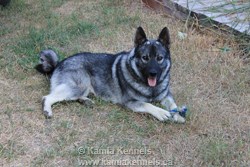 Jocko, Elkhound Male, Son of Tora and Bram
Dick and Sherry keep me posted now and then on this big black faced rascal, son of Tora and Bram, Jocko. Him and Leto were buddies when they had the chance to get together and play as pups. Bram had some big input on the mask of ole Jocko, no doubt about that. Bram's lineage really works well with the Takoda genetics, you get the real dark boys, the black comes way down the front legs. Tora and Bram both have the dark come way down. The real dark Elkhounds are old world lines, ancient dogs from a time long ago.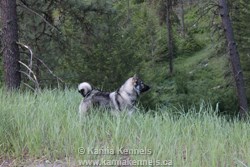 Sherry she says that Jocko, he is a fine eater, but if he has a choice, he is a chicken man. Well, he came by that naturally, Tora was eating a full big heavy farm raised chicken per day when she was nursing young Jocko, along with fish and beef and tons of other stuff, but I fully appreciate he likes chicken. He is a raw fed Elkhound, and is in some incredible condition and shape, Dick and Sherry, they are active, they give him tons of exercise. Jocko travels with them, goes every where they go. He is a GQ male, works the tall timber, and still does the hotels, just like his uncle Jaegar. Elkhounds are versatile.
Elkhounds like Jocko learn fast, they keep the handlers young and on their toes, as Sherry has mentioned. Her and Dick can't believe how fast he learns and how much he just instinctively knows.
It's a great pleasure to see how the pups turn out, and to watch them grow, it's very rewarding to hear how they are doing and I thank Dick and Sherry for staying in touch and for the great life they provide for Jocko.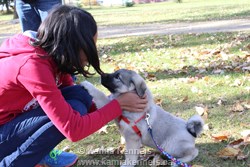 Tuula - Elkhound Female, Daughter of Jaegar and GAEDA, meets up with her new pal, Anjana
This young lady was patiently waiting for a long time for her puppy, no kidding. Her father, Sashi contacted me a long ways back, young Anjana had brought it to his attention that there were some beautiful dogs out in Alberta, Elkhounds no less. He contacted me, they have a lovely spot out in Ontario, Toronto area, and he travels this way regularly, was there a litter perhaps that was coming. They had done a lot of research into the breed, into raising and lifestyle commitments and more. They knew this was the breed. They were excited to see if we could have a puppy for them. I said we could I was sure.
GAEDA and Jaegar combined to bring forward for Anjana a magnificent female, Tuula. She was truly a stunning female. She will be one of the most impressive looking females you'll see in a very long time, there is no doubt. A Silver female with such crisp black markings, wow. And what a nice pup. So pleasant, and one of the largest we have ever raised, she was basically just 1/10th of a pound behind the big boys, Emit and Boulder, she was larger than all other pups this round.
This family wanted a social female. They wanted a companion dog. A pup that could grow with them and be a pal and friend for life. The Elkhound is well suited to an active lifestyle and they have that, it's a perfect fit. I wish Sashi and his family the very best times with young Tuula. I can't begin to share how powerful the bond can be with a young handler and her dog, and as you can all see, the bond began right from the very start. Pretty cool indeed!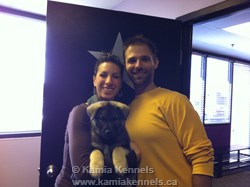 Emily and David with young Boulder
Now there is a great couple with a great young dog. I really enjoyed meeting Emily and David, we had exchanged lots of emails and phone calls as they inquired about a pup, and they had done a lot of research into Elkhounds. They were very knowledgeable and knew what they were after. David stayed in touch for months checking in, waiting for Tora to cycle, he had already begun to make plans to come and pickup Boulder, even before he was conceived, pretty neat.
David and Emily wanted a companion dog, not just any dog, but a big dark Swedish Male. They wanted a smart boy, but easy going, with tons of character and personality. David had said he preferred the bigger darker type, and he would be pleased with any one of the males, but if possible a big dark fella. Tora and Bram, they have the big dark boys, no doubt, so I knew odds were high, he would get exactly what he was after. Boulder is a very confident male, easy going, but none of the pups pushed him too far, if he decided to tune them in, he had a streak of toughness that none of his siblings wanted to see for long. But he is a good boy, a real nice fella.
Emily and Dave came all the way from St. Louis Missouri for Boulder, now that's a fair stretch. No doubt about it. They made a nice holiday of it, and we had a great visit when we met just east of my new place. I know Boulder is in the best hands, they will give him an incredible life, and he will be the buddy and pal, protector and friend they were looking for.
I want to thank David and Emily for putting the trust and confidence in our program and I know and appreciate the effort they expended to research and find just the right pup, serious Elkhound owners this young couple. I am very proud to have been able to find them just the right big fella, and of course, all of that made possible by Tora and Bram. There are few things in life better than when you get a new Elkhound, few indeed.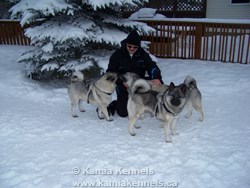 John and Teeka visit with GAEDA, Tora and Kamp
This first photo is from last spring, John came up to visit with Teeka and he is pictured here with GAEDA on the left, Teeka right close, Tora next to her and Kamp closest. Teeka has always enjoyed visits up, and she plays hard, has a fun time and really enjoyed being around the other Elkhounds. Just so you know, an Elkhound knows another Elkhound, they can spot them from a long ways off. They get all excited, it's very neat.
John at this time inquired about the possibility of a sister for Teeka, a pal. Perhaps there would be a chance to get a sister for her from Tora. I suggested it was a very good thing. I am a believer in having two siblings, I think it's better all the way around, for the handler and the dogs. Two Elkhounds are terrific companions, and quite honestly, if they are closely related that works perfectly as well, you don't actually need them to be siblings, they still think so much alike.
So when Tora had her litter, sure enough, there was a beautiful female to match Teeka. Her name is Nikeeta. She is a very pleasant stable female, but tough and strong, a good match for Teeka, who is a big strong agile female with tons of energy. John and Denise have two wonderful Elkhound females, we are very happy for them and thank them for the great care the provide these beauties. These two girls will be so spoiled, Nikeeta probably thinks, wow, is this the life, toys, bones, great company, what fun.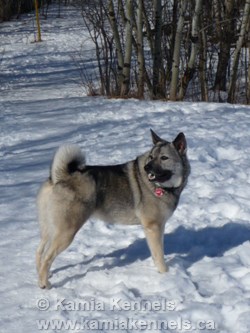 The Middle photo is of Teeka last spring, she is an outstanding female.
The bottom photo is of Nikeeta playing with the new toys she is finding, and Teeka keeps a watchful eye out on her sisters behalf.
Hello Merv
We want to let you know that Nikeeta is doing super and would like to thank Ashten and Jay for bringing her to us. The meeting in Black Diamond went smooth and Teeka met Nikeeta for the first time. The trip home went fine as both dogs were great. When we got home, Nikeeta was greeted by our three cats and amazingly there was not one hair raised, not one hiss and not even a twisted whisker. They all accepted one another immediately. Teeka and Nikeeta have been playing together in the back yard and get along superbly. Nikeeta has helped herself to Teeka's toys and has found Teeka's private reserve bone pile. Nikeeta will take a bone from Teeka, who will then calmly walk over and take it back. Nikeeta will repeat the bone theft again and Teeka will observe her with amusement.
Teeka and Nikeeta both sleep in our bedroom. On the first night Nikeeta was in her crate but the last couple of nights she stretched out on Teeka's bed and slept till morning. Teeka just laid on the floor and slept beside her bed while Nikeeta snoozed away in maximum comfort. Rest assured that Nikeeta is in great paws (cats included).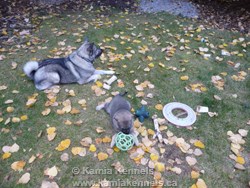 You should be very proud of the dogs you have bred. They are beautiful physically but more importantly are beautiful in their personalities as well.
Please find some photos attached.
Thanks,
John and Denise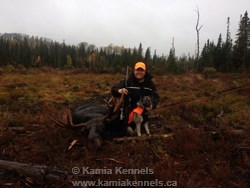 Gerald and Wolf An Elkhound Male From Tora and Bram - 2nd Hunting Season, Big Success
Remember last year, about this time, Gerald had just got home with Wolf and went hunting and had terrific luck, Wolf was able to bring success to the hunt. Well, there is no doubt, this Elkhound has a ton of old Bram's heritage running in his veins, because, you bet, check it out, another Bull Moose. Gerald and Wolf are a super team. As most everyone knows, this breed, and this particular lineage, more than most any other lineage in Canada, they are Moose hunting dogs.
In Norway, in order to be a Champion and be truly recognized, the dog has to hunt among his peers. Wolf's grandfathers, ancestors many generations back are all Champion hunting dogs. Gerald needs to be commended for using the Elkhound truly to his instinctive roots. There are few hunters that know the value that a good Moose dog can bring to a hunt in the Canadian Wilderness. Now what is really interesting about this hunt is that on the other side of Wolf's amazing genetic heritage are the bear dogs. This lineage of Elkhounds are again, one of the few, if not the only lineage of bear hunting Elkhounds in North America, and as you read Gerald's update on Wolf, you will know he has the right dog, no doubt. Thank you Gerald for giving Wolf the chance to live to his roots, and a big thank you as well for keeping us posted on the big fella. Also, good aim there buddy, some mighty fine Moose roasts this winter you'll have, and top bones for young Wolf, he has it made.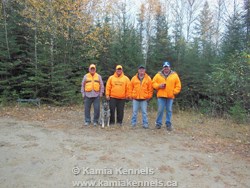 Hey Merv how's things after the big move? Things are good with me and Wolf, he's an amazing dog :) Thanks again
Just writing you this email to update you that me and Wolf were successful again to get our moose this year. He was better this year being bigger haha. Remember last year I took him out as a pup just after I got him from you. Already that dog has been with me for two successful hunt and he's not even two.
The hunt was good I called in a small bull with a paddle. He was 44 1/4" wide. Funny thing was wolf saw it first and kept quiet while I brought the moose in closer to make the shot. In Ontario we are not allowed to have dogs roaming in an area where there could be the chance for big game.
We cleaned it and dragged it back to the trailer. Wolf was so happy and couldn't stop barking while we cleaned and moved the moose.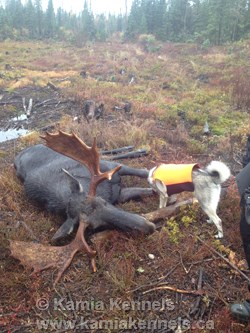 To top it off the day after that a bear took my moose head at night right from my truck. Wolf barked at him while we slept but we looked for the bear with flashlights and couldn't see anything. It was in the morning after that I noticed my moose head wasn't in my truck anymore. So I took my rifle and my dog and went looking for it. My Uncle and cousin said I wouldn't find it and that it was gone. Right away I let Wolf see the truck where is was and told him "Go find your moose head". You could see were the bear dragged it away but it was hard to notice. I got Wolf to smell where the bear dragged it and kept telling him "Find the bear that took your moose head". We finally found my moose head in the bush on top of a small hill about 150 yards away from our cabin. Wolf lead me right to it without him my rack would still be in the bush.
I took Wolf back to camp then recovered my moose rack. You could see where the bear looked in the back of the truck and lifted it from my truck (The moose head wasn't light trust me, it was a good sized black bear for sure}. I haven't been that scared in awhile taking a kill back from a bear. The bush was very thick were he dragged the head too. I took the whole moose head back to camp by myself. I should have waiting for someone but adrenaline can do wonders haha. I was very happy I found the rack my self
Here's some pictures of me and Wolf's hunt you can see the bears tracks on my truck and I took a picture of where he dragged the head in. There is a picture of Wolf looking down the road at a Mommy bear and her cub. Wolf was so focused when we would see a bear or partridge on the road while we were driving. It was funny because he would try and peak over hill as we were coming up to the hill. There is also a picture of our hunting party from left to right that's my Uncle Duncan, then me, then my Dad (Gerry), then finally my cousin John is the tall one.
I was also wondering if you still have the picture with Wolf as a pup with all his brothers and his sister? I remember the picture had their name underneath their picture.
Thanks Gerald Hynes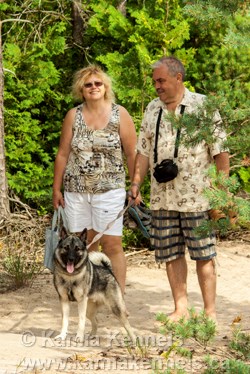 Ragnar with Barbara's Parents
Ragnar is a tremendous male from Bram and Tora. He is on an outing here with Barbara's parents, there were over for a visit from Russia and were having a great day with Ragnar. Barbara has done a great job with this young male, he is a very dominant fella, yet personable, he carries himself very well. Nice alert gaze, sharp looking boy, very nicely marked, the old world markings. Bram and Tora put out not only hard working boys, but those boys look like a million bucks as well, you can't find a better looking Elkhound than these guys.
Make no mistake though, all instincts are intact, young Ragnar in not all show, but all go. He can handle himself, and look after things, his heritage is strong.
Hi Merv!
Well, my arm's all better and I took a few pics of Ragnar when I took my family out to Sanbanks Park. My family absolutely loves him and he adores my parents. He's growing into a real guard dog, got rid of his puppy voice, now he has a deep impressive bark and a really scary growl. He got the chance to show them off when we went fishing. Another interesting thing is that when we are outdoors for a long time and in one place Ragnar digs himself a hole in the ground to sleep in. And not just a hole but one that fits him perfectly - he makes sure of that trying the fit several times before settling in. I haven't seen dogs do it but I know that wolves have this behaviour, so I was surprised. And impressed. I'm happy that Ragnar has such strong natural instincts that are meant to help him survive.
Anyway here are the pics from a few days ago.
Best wishes,
Barbara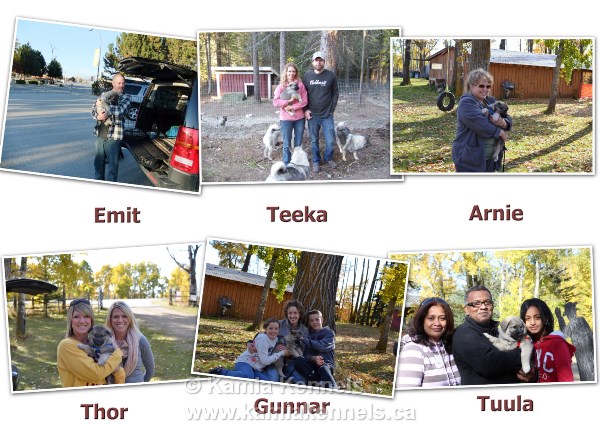 Just A Few Of The New Pups Going Home
We really had a fun time getting the pups organized and out to the new families, I sure want to thank all of the folks who waited so patiently for these litters, wow. It's tough waiting for a puppy, I know, there are few things in life harder to wait for, especially a new Elkhound puppy.
I remember when Sharlene, Wayne, Conner and Lauren came out to Kayton to visit with us and see about getting a pup. They had some questions, wanted to meet with GAEDA and Tora, and all the others, they had time to spend with the dogs and we really enjoyed our visit. They decided to go forward and put a deposit on a male from GAEDA. Gunnar was the big fella that GAEDA and Jaegar came through with for them. An outstanding big male. I am looking forward to lots of updates on Gunnar, I know Sharlene, Wayne and especially Lauren and Conner will be giving Gunnar a great home and fun time.
Our pups go to a wide range of folks, young and old, and as you can see from this newsletter, we have families who have not had an Elkhound, folks who have had one before, we also have a lot of people who already have one of our dogs come for a second one. Emit is at home with Ian and Allyson and the girls, they have Wyatt, a son of Tora. Emit is a son of Jaegar. Arnie went up to Fort St. John, Sharon has had Elkhounds before, she wanted a nice big dark male from Tora, she waited patiently, and Thor, he went up to Trina and Ben at Dawson Creek, they were patient to wait for a Male from Tora. Tuula as I mentioned above went out East to a family that is new to Elkhounds, Sashi, Niranji and Anjana are having a great time with Tuula. And Teeka, she is over at Creston with Wendy and Dale, they have a nice farm over there with dogs already, and are excited to have an Elkhound as a companion.
There are a wide range of lifestyles that the Elkhound can handle, they are such a versatile dog, so good with families, with young folks, and of course, super with the older generation as well.
Now, I have a lot more families to get updates from, we want to Thank Everyone for putting the confidence in our program, and this time around we had a bit of a juggling schedule to get all the pups to the new families because of our move, so do appreciate all the help I had from Ashten and Jay, they were busy driving pups a fair ways. Ashten also ended up going to meet with Sandra when she took Morice up and also she ended up driving out to Vancouver so that Lily could get up to Whitehorse and home with Ramona.
Sandra was super also as she was able to take Tala up to Smithers with her, Ashten had taken Tala and Morice to meet Sandra and then Sandra drove back home, and Anna came down from even further North, up towards Terrace to pick up Tala. Anna, my goodness she had some serious patience, as she had wanted a female from Tora last litter, as there was only one, young Scout, of course she had to wait. Good thing Tora had some females this time around.
It's an awesome group of families who are now raising some serious Elkhounds, hat's off to all of you.
We also have the Kamp litter to go home yet, those beauties are still here till about December 15th, I'll keep you posted on those pups, they are awesome!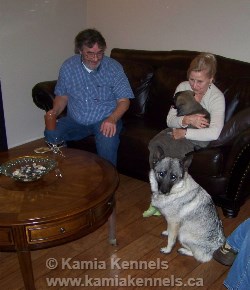 Gerry, Solveig and Neela, get to meet GAEDA
This was particularly rewarding for me. Solveig contacted me a long time ago, her and Gerry live on the Island and had prior to her call they had recently lost a beloved companion, a Swedish Elkhound, Nala. They had Nala 18 years, she was a loyal and trusted friend and pal. They were unsure if they should get another dog, they had lived so long with Nala and she was so trouble free, just a joy to have, she really enriched the life they had. But, as time past things seemed like they were somehow missing something. They didn't want just another dog, they really wanted another Nala. They were unsure if it would be possible, they are so hard to find. Solveig started to see if it were possible to find another big old Swedish girl. Her search online lead her to us.
Now, she and Gerry wanted a dark taller girl, a replacement to match and be very much like Nala was. Gerry hand wrote me an eight page letter complete with all kinds of photos of Nala and the life they had so that I could get a real picture of just want they were after. Let's face it, they knew just want they wanted and I knew that we would get just the right female. I knew that Jaegar was the boy to use to bring the old black out, the Swedish lineage is strong, it's an ancient line, goes back thousands of years. GAEDA has just the personality and character to produce the temperament, the affectionate loyal traits. There were many things they were after, I knew the traits of these two and the background of the genetic combination would be exactly what they wanted.
As everything has went so well in our move, everything went our way, so was it with the litters. We saw with amazement the big black female grow, we knew, things way beyond what we were doing were at play, no doubt. Neela, the new name for the new pup, grew and we kept Gerry and Solveig updated. They were so thrilled, and couldn't wait to come out and get her. She is at home now and they could not be happier, she is exactly want they needed, and what they wished for.
I seriously thank them for working with us to find the right pup and all the effort and patience they put forth so that we could plan and select Neela for them. As you can see, she is in great hands, I don't think she left Solveig,s arms till them got home. That my friends, that is an Elkhound Couple, through and through, and Neela, she has it made, for a fact.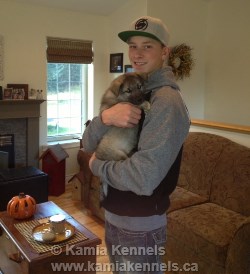 Thor, Male Elkhound with his new handler, Kylor
Merv,
I've been meaning to touch base with you. Thor is great! And before I go too far, I have to mention how professional Ashten and Jay were. Ashten gave me some pointers on food and she was a real sweetheart. I sure appreciate them bringing Thor up closer for me to grab.
Thor travelled home for part of the way on my lap, then we switched him over to the kennel and he did just fine. Whenever he whined we stopped and that meant pee break lol. I have two other dogs, a lab and a sheltie. Thor and the sheltie are new best friends. He is pretty sad at night time. The first night he slept in the kennel beside my bed with the door open and he didn't even try and creep out. When he woke up at 5:45 am we were off on an adventure outside for 45 minutes. Night two he slept with my youngest son Kylor, and last night he slept outside in his kennel beside my other two dogs, but when my husband Ben got up at 3:00 am to go to work, he couldn't bear the thought of him being sad outside and I found the two of them sleeping on the couch when I got up this morning. Ben said he was waiting for some parts to come in for a machine he had broke down, but at 8:30 am he was still sitting in the porch playing with Thor. So he is getting alot of TLC from the whole family.
We were outside with him almost all day all weekend. On Sunday night my son Brandon came home and he has a loud diesel pickup. He got out of his truck and walked over to me on the lawn where I was with Thor, and Thor sure gave him what for. He scolded him with quite a few loud barks just to let Brandon know he was the new boss around here! So if we can get him to settle a little better at night we will be on our way. I bought him a crate today that is 42" by 28" by 31" and I am hoping that he might like this a little better than the small kennel for nighttime till he gets a little older. I read your tips on getting his used to the kennel and I am going to try them.
And one other thing. We have hardwood floor in our whole house upstairs. Thor did not like this at all! It took him till last night before he would venture out on it. He had a bed on a rug beside our sofa in the living room, and that was his safe zone. Ben would move his toy "moose" off the rug about a foot, and he would stretch out as far as he could, and then creep over to it, grab it and back up all the way onto his rug again. We were laughing so hard at him. So overall Merv, Thor is just great. Thanks for a great little pup and I will keep you in the loop as to how he is doing. I attached a pic of Thor and my youngest son.
Trina
I want to thank Trina for sending this great update and photo , it's so neat to hear he is settling right in, and to see the big smile Kylor has, they will be having some fun times those two, no doubt.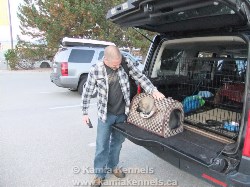 Ian and Emit, a Male Elkhound - Son of Jaegar
So early this summer, before we moved, we got a visit from a real nice family. Ian and Allison and they have three terrific young daughters, and a they were expecting a fourth child. Congratulations to Allison and Ian they have a new son now as well. Now you may remember a while back, a few litters ago, Tora had a big black male named Wyatt go out to Ian and Allison in Ontario. So they have been keeping in touch and sending updates, and remember that terrific update I got from one of the girls, Alyssa, on Wyatt. That was a such a great update.
Well, they were on a holiday up to the Yukon, Ian is a competitive kayak man, and is extremely good at it, so they were racing up there while having a holiday, and decided on the way home to stop in, they were headed through to southern Alberta as well. So we had time to meet and visit, Ian of course had picked Wyatt up at the airport same as he did with Emit. As we were visiting I got to see how good they were all with Elkhounds, especially the girls. Now these are young girls, and they are Elkhound Handlers extraordinaire. They were dealing with Jaegar, GAEDA, Tora, Mia and handling them all at once just like it was old hat.
I was so impressed, and they had tons and tons of stories to share on Wyatt and the adventures they have, I got a chuckle out of Alexandra a few times, she is so articulate, when she tells a story, it's a story. I wish I could tell mine as good as she can, no doubt. Ian and Allison can be very proud of their girls, that is for sure. While they were there they had inquired about the upcoming litters and what my thoughts were on a companion for Wyatt. I am a big believer in companion dogs.
As you can see, Ian flew out to pick up Emit. A big fella from Jaegar to be a new buddy for Wyatt. They will get along terrific, although Mr. Emit will be testing Wyatt on a few bones that is for sure. So a huge thank you to Ian, Allison and all the girls, and now the young son will be there later to help out train and exercise these rascals.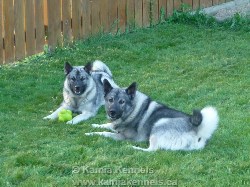 Gunnar and Torsten
Speaking of two brothers, here are two amazing big fellas, Gunnar on the left, and Torsten on the right. Both sons of Tora and Bram. Gunnar is just over a year, and Torsten is from the first litter of Tora, he is coming three soon. Brian and Lindsay have these two big boys up in Northern Alberta, they are some terrific males.
As you know I am a believer in having a couple Elkhounds, for many reasons of course, but the main thing is companionship. There is truly nothing like the bond two dogs develop and two siblings or close related Elkhounds, it's really strong. Don't get me wrong, you don't lose any companionship yourself with either dog by having two, the bond with you is just as strong, however the bond they have is in addition. It allows them to play, and tussle and work each other physically and mentally in ways we can't.
Brian and Lindsay spend tons of time with these two boys and they are very well behaved and well mannered, I am very proud to be able to have owners like them come to us for their dogs. At some point, Brian and Lindsay will be passing through this part of BC and I'll get to see both these boys again and I can hardly wait. I have lots of room now for these boys to run and play and stretch out here, much better than my old place. I want to thank Brian for sending the updates on Torsten and Gunnar and we look forward to seeing more of these two.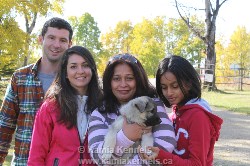 Jay and Ashten, a huge help this time around
I need to thank my children, Jay and Ashten, they helped out big time this litter. They are shown here just getting Tuula to Niranji and Anjana when they met up with the group of folks out in Alberta. It's not hard for us to travel with pups, we are used to it, the pups know us, so are pretty calm and relaxed, but just the same, it's an eleven hour drive with many stops traveling that far with six pups. Calm and easy going pups they may be, it's still a big task cruising that far with that many. So hats off to Ashten and Jay they sure deserve a big thank you, So Thank You both.
Also, they have been each doing a great job with helping me and Marlene throughout our move, and Ashten had to make more than one trip of course. I can relax when I send the pups off with them, they each have raised an outstanding Elkhound, and handled all of ours as well, so I knew the pups would be in great hands. Ashten of course is particularly proud of Tuula, as this is her big boy Jaegar's first daughter. Jay was out to spend time this last weekend with Kamp and her pups as well, beauties they are as well.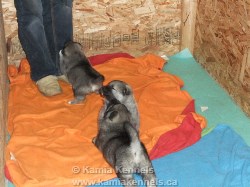 Just finished with GAEDA and Tora, and Kamp has her first litter, 3 beauties, all females
I have to say, these three females are really something. So thick and solid, all friendly and fun, they are moving around now, eyes opened a while back and now are burning around. Its a really fun time now, I have to get a camera with a much faster shutter speed as they move like a blur. This is the first litter for Kamp and Jaegar. Kamp is very particular, she is so protective of her pups from the other dogs. She hairs up from head to tail before we even open the door out of the kennel, just in case there is a dog there she figures, she chases them away.
She never even came out for the first two days. New litter females are fun to watch, so particular. These females will be some of our very best pups, no doubt. Kamp is staying in great shape, although she is eating really good but these females really nurse. As you can imagine they are growing super fast with all the milk to just three. We suspect we were just off our timing a bit bringing Kamp out, she was still in with Jay when she started cycling, so we might have caught her at the tail end of the cycle, perhaps, or Kamp just figured let's go easy this first round. Both Ashten and I were waiting for a quite a while to see if she would have more, but this round, just three. Our first litter of all one gender.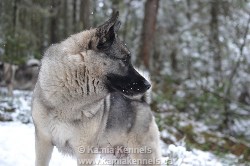 Kamp is sure enjoying a break outside today, some fresh snow, she stayed out a bit longer. The pups are fine now she figures, pretty well big enough to fend off a coyote on their own with her and Jaegars personalities in them. They will be some tough females. Kamp and Jaegar are both what I call GQ Elkhounds, they can live in the big city, or stay in the bush, doesn't bother them either way. Both of them are super socialized, yet remain true to instinctive behaviours, put a threat in front of them and stand back. They will handle it swiftly.
It's funny now with Kamp and bones, no one takes a bone from a first litter female, even Takoda turns his head going by, he wants none of that wrath, he knows they take over the food and bones supply and there is nothing, and he knows nothing that will come between a female and eating to feed her pups.
The folks getting these females, they are some lucky folks no doubt, it would be a long boat ride to the far Northern Scandinavian countries to find dogs of this calibre, and lucky even then to find a pair as complimentary to each other. As I have said before, finding one good dog for a pair is something, to have both sides of the genetic makeup so profound, well that my friends, that brings forth some truly outstanding female Elkhounds.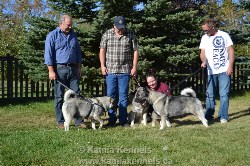 Bram and Tora, Torsten and Gunnar
As my newsletter draws to a close I am reminded of all the pups this sensational pair of Elkhounds, Bram and Tora have produced. It will be next to impossible to ever witness such a pair as these two Elkhounds. Blaine and Cathy have been so good to work with and I can't say enough good things about them, Marissa and Rob, the whole family is just excellent. And Mr. Bram, Wow. Has he been a stud or what. No Doubt.
Tora is on the left, Bram on the right, and between them, two of the magnificent 21 big males they brought forward for families to enjoy and share life with. Those great folks between Blaine and I are Brian and Lindsay, that's Torsten and young Gunnar.
So a HUGE THANK YOU to Blaine and Cathy, and of course, Bram. We might never find a match up as prolific and well suited for Bram as Tora was, but we do have some plans for Bram in the future, we ran it by Blaine and Cathy but haven't sorted it all out, but pretty sure we are going to let him have a litter with Nola, a full sister to Tora this coming summer, and we are pretty sure we will have one litter with another female as well in the works, so Bram, stay in good shape big fella.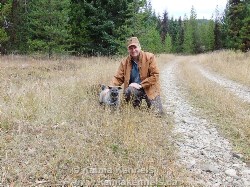 Emit and I
I can remember all the pups we have ever had, and yet, each litter there is usually a few that I somehow end up spending just a little more time with, they may stay longer, they may come over more often, just the way things work out some times. This set of litters was no different, I ended up spending a bit more time with Emit this round. I really liked this big fella and he liked me, which always helps of course, but he was a very personable male, reminded me of his Grandpa Takoda. Always ready to come and say hi, would stick around just a little longer, wanted to spend time just that little extra. This is a trait in this lineage and sometimes it really shines through, as with Emit.
I am shown here with Emit in the mountain country between our home and Kelowna, a beautiful part of BC. I got to spend the day with Marlene and Emit when we took him to meet up with Ian, we had a great time. These are smart pups, they are alert, pay attention, and you could not ask for a better pal. Emit is going to a great home, and they are getting a super dog to match the one they already have.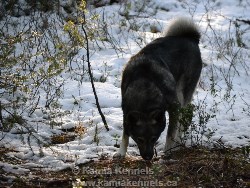 Takoda
I will wrap up this newsletter with some tales of the big fella himself. Ole Takoda Man. Right now he is in the very best shape he has ever been in, weighs in over 70 pounds, no fat, all muscle. He is a machine out here in the mountains, moves like a ghost through the tall timber, he is blacker than ever, dark as the night here. Still mean, but tempering, unless you cross his turf, big mistake. As good a dog as you'll ever find, way more dog than many want in all kinds of ways. As personable and friendly to our family, and especially me above all others. The Swedish traits just get better and stronger with the years.
This mountain home and territory lines took him a little getting used to. He did test my cross country trekking abilities within a week of getting here. He put the run on something, most likely a big mountain cat, I didn't see it, he hates cats, it probably took a look at Takoda and thought I best exit, stage left, and it took to running and it didn't stop running, and neither did Takoda, straight across the mountain range for 5 miles. Takoda was probably thinking, I can catch any cat, what's up with this cat, why can't I catch him, steroids, what? He might have got a good look at that big cat, I am not sure, but most likely he did. He was probably thinking, finally, something worth chasing, Tora, where are you when I need you? Tora was back at the kennel, she was probably thinking, Takoda, I saw that cat, he was 120 pounds and 5 feet long, had a tail bigger than me, you can chase him if you like, me I'll take a break.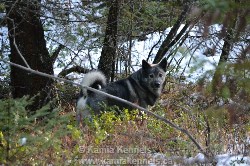 I had to run back, grab Jaegar, harness him and have him track him down, fast as we could go, I lost 25 pounds that day. Found him though, way to heck and gone, he was on his way back. So much for ranging with some new turf to patrol. I have been able to get him to understand we don't need to patrol the whole lower BC, just an area around the yard. He is a good boy though, no problem. Thank goodness Jaegar was here to track him. I put Jaegar on his trail and we were hustling. Elkhounds are air scent, so you can go as fast as you can cover ground, Jaegar was practically dragging me, up and over and around trees, rocks, hills, mountains, and then more mountains. Darn near killed me though, tough going out here, every direction is up hill seems like. Go figure.
Takoda, he rules the upper yard and buildings for us to a degree of protection rarely found. Jaegar, his big boy, rules the lower yard, kennel pens and does it well, just like his dad. To date, every pup that has been raised at Kamia Kennels can trace back to Takoda. Even though all of you already know this, I'll say it anyway, you do not get as impressive a group of Elkhounds as all the pups and dogs featured on this site without some seriously good background sires.
Takoda, he can chase all the cats he wants, big or small, he can keep the neighbours in the car and not let them out, who drive up when he is in the yard, he can spook the garbage man to crap his pants, chase the power man right up the pole, won't bother me a bit, he gets to do pretty much what he likes, because this my friends, this is an ancient Elkhound.