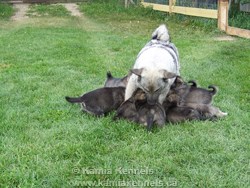 Tora with 9 Pups
It seemed like everytime I turned around this summer there was a female nursing and it just seemed like there were pups everywhere. Wow, what a summer! Tora started this all off with 9 big rascals, 8 Males and 1 Female. Go figure.
She has turned out to be an absolutely phenomenal female that Tora. She can raise some truly outstanding pups, and do it while she stays in shape. She is prolific, can you believe in 3 litters she has 25 pups on the ground.
The old world lines speak volumes as to why the Elkhound is such an ancient breed, females like Tora ensure the success of the future generations. The pups from this litter were some of the very best she has raised, a very even group, nice and steady, so stable, a really good set of family dogs this litter.
I have some stories of the pups below and Tora is now relaxing, she has new bones piled all around her, she has them all to herself, she thinks this is some terrific, time to rest, time to sleep in, well let me say this, she deserves it. With 8 Males in this litter and Scout for great measure, Tora came through in fine condition, however she had no extra coat on her lower half that is for sure, those boys, they scraped that off, just like a groomer. There most definitely is a difference in raising 8 Males and 1 female, than a more even gender base that is for sure, only a rough and tumble female can handle that many males and still remain sane. We will be a long time finding a better female than Tora.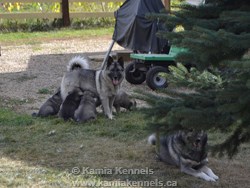 GÆDA with 5 Pups
To say we will be long time finding a better female, well I might be speaking too soon according to GÆDA. She was not too be outdone by Tora. Sure, Tora came out with more pups, but GÆDA, she figured, well, lets just give this a go and see if these babies can catch up to those rascals. Sure, Tora had a two week head start, but no doubt about it, GÆDA she powered those lean and mean rascals of hers right on up and past those boys of Toras. GÆDA has done what no female here has done before, she has brought all five of her pups into the 5.50 kg weight at the 7 week mark, and has put Kijsa, at the third heaviest weight of all pups we have raised, and by far the biggest female ever. Keera, the second female again, by far the second biggest.
GÆDA was not foolin around, to be clear she had something to say and did it loud and clear. I am really proud of her, and low and behold she came out in better shape than she started as well, matching Tora in Condition at the same time, go figure.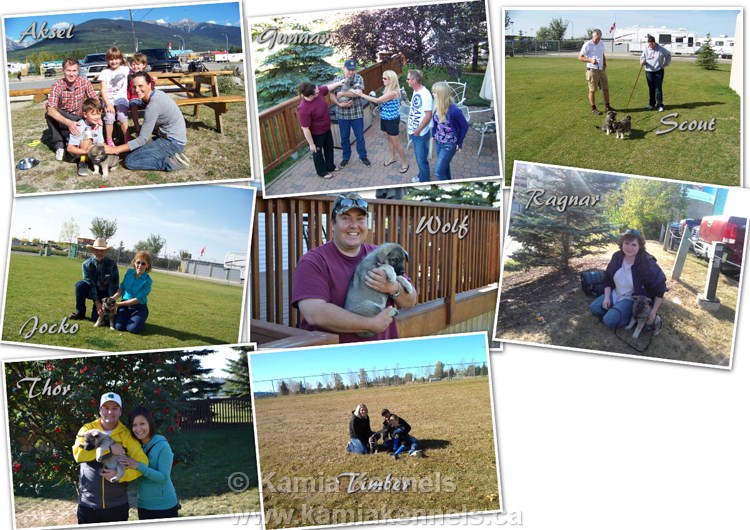 There are no better days than when the new owners get the pups, what a great time
When you raise Elkhounds there are many great days, but the very best days of course are when the new owners get to meet the new pup. This is such a great time, there has been so much anticipation and excitement leading up to it, just a great day each and every time.
It started out with TuYa, heading out on a Jet out of Calgary, bound for Telegraph Creek BC, which is Northern BC, almost straight east of Juneau Alaska. He'll be looking after things for Rod Day up there, keeping an eye out for Grizzlies and eating fresh Salmon. I picked out an easy keeper, a thick very strong fella, with tons of condition and thick coat, he'll be nice and warm up there.
I then loaded up my gear and drove out with Aksel to meet Michael and Susie and their great family in Valemont BC. They had drove all day from Pemberton BC, where they live, and had left early in the morning to meet me. The Kids were so good on the road and just a great family, I had a chance to spend some time with them while they got acquainted with Aksel, he loved them all the minute he saw them, especially young Floyd. They have emailed some photos already, he is right at home, doing terrific.
The next pup to go was Gunnar, we had a big fun time when Brian and Lindsay came down to get Gunnar. Cathy and Blaine, along with Marissa came up when they came, and they brought Bram so he could meet Gunnar and Torsten, who came down with Brian and Lindsay. We had a great day and I have a super newsletter on our visit, Torsten Returns.
Day after that I loaded up my gear and Two mighty black rascals, Big Jocko and Tough little Scout, a couple of my favorites from this litter, you just can't help but have Scout as a favorite when she is the only female among 8 big brothers, and Jocko, as a big dark male, him and Scout they kinda hung out together. I met up with Paula and Steve in Lethbridge and we had a very nice visit. They had drove all the way up from Colorado to pick up Scout, who by the way is the second female they have from us, Wow. They have a beautiful female from Tora's first litter, Kaia, and now Scout will keep Kaia company, and Vice Versa. At the same place, a great couple, Dick and Sherry drove up from down by Missoula Montana to pick up Jocko. They had a chance to visit with the great folks from Colorado also and we all had a fun time while the pups were burning around.
A few days later we had a great visit from Gerald and his sister, Gerald had flown out from Thunderbay Ontario to get his new hunting pal and companion, Wolf. They were flying back out of Edmonton in a day or so after leaving here and heading back to Ontario, Gerald is an avid outdoorsman and hunter and wanted a great companion out in the bush and on the hikes. Wolf will make a terrific pal for him.
The next day I loaded up my gear and headed back to Calgary Airport, as Barbara was flying in from Ottawa to get young Ragnar. We had a super visit out in the grassy area where Ragnar could burn around till take-off and Barbara had a chance to get to know him a bit. She had waited a long time for him, over a year, she works at the Russian Embassy and works around the world, and Ragnar, he is going to be eventually keeping an eye on her place in Russia, just making sure those Russian Laika's aren't sleeping over there while the wolves make off with the hens, Ragnar can handle things for her just fine.
Day after that John and Janice came out to meet and pick up big Thor. They had drove down the night before from Fort McMurray and were heading back up north with the big fella, we had a really good visit, Thor he loved those two, no doubt, and I could easily see he was going to be well looked after, I wasn't sure who would spoil him more, John or Janice.
Just the other day I took young Timber over to meet a young family who had drove down from Edmonton to pick that rascal up. Wayne and Christie have 4 young boys, so Timber is going to get some exercise no doubt. Wayne grew up with an Elkhound and has tons of experience to share with his boys. Timber is a tough rascal he will be able to keep up with all the activity they have planned, no doubt about that.
I just a couple a days ago took three mighty Elkhounds right south to the edge of Canada, right to the border, the great folks from Utah, Robert and Janet came to meet me there. They have now two great Elkhounds, Kijsa and Koda, some of our very best, along with them they took Kona, a magnificent male going all the way to Andrew and Caroline, down in Colorado. There are now some serious Elkhounds getting placed around the United States let me tell you, ole Nola she doesn't feel as lonely now, her Kaia and Freyja have been keeping things in order. Now with Scout over in Colorado and Jocko in Montana, wolves, cougars, they are sleeping a bit restless.
Today, the 10th, of October Felicity came over for Keera, she is a beauty for a fact. Felicity wants to have GÆDA after she has had a litter or two more as a pal for Keera, that would be a great thing, GÆDA would like to spend time with Keera, they are the same personality, very nice, easy going. So, just big Leto here for a few days yet, Daniel is coming for him soon, fly's in from Ontario. I enjoy having Leto around for a bit yet.
So, a busy time getting those guys all set up for sure, but I have to say, what a terrific group of people that I get to work with. I have been really fortunate to meet so many great folks. A huge THANK YOU goes out to all the families for the confidence in our program and for your love of Elkhounds, there is no better dog, as you well know.
I will be putting up some tales and exploits of these Rascals as we go along, I already have some feedback on Big Aksel out in Pemberton, and Jocko is keeping things in order down Montana way, Scout and Kaia, having a blast together, it's all good for sure.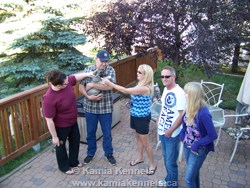 Blaine, Cathy and Marissa, meet Lindsay and Brian and Gunnar
All of us know, without the great work of Bram and his superior ability to pass his genetics through and combine with Tora, we would not have such outstanding pups. The combination of Bram and Tora has yielded some of the best Elkhounds you'll see in your lifetime. And, as your all aware, without the co-operation of Blaine, Cathy and Marissa and Rob, we would not be using this great male, who is maintained, he is extremely well looked after and we all know this takes work and commitment.
A huge thank you once again to them, and to the big black faced fella himself, ole Bram. Good gosh he puts out some big black faced Males, did you see that Jocko this last round, or that Wyatt the litter before, what about that tremendous Ryker. And don't think his Silver boys aren't just as spectacular, check out that Gunnar, or Kobe, what about that big fella over in Kamloops, Gryffin, magnificent Elkhounds. And that is just a sample, he has 25 outstanding pups this boy, and no fooling, his females, second to none.
Scout is a beauty, with brains, tough as nails and really smart, remember she has a sister, Kaia a super female, and they both have a sister in Calgary, named Kaia as well, a real Silver beauty. And what about that Cinder, dark as night, fast and strong, and the big fearless girl, Freyja just to name a few of his outstanding females.
Nope, there is no mistaking the quality that these two can produce, and ole Bram, he has done the Elkhound proud for sure. He is prolific also, granted Tora is dropping the eggs, but old Bram is making sure everything is accounted for, they have some great litter sizes.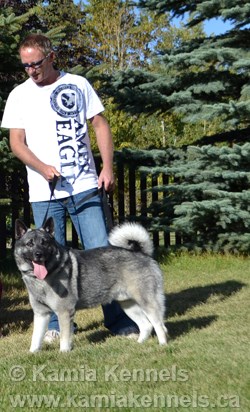 Bram and Blaine Shown Directly Left
Bram came up to visit and to hang out with the big males, whoa man, you need to check out that update on Torsten's return, you'll see ole Bram strutting his stuff for sure, proud as can be, cocky and sure of himself, and not afraid to push his weight around, even though his big boy Torsten, had more weight, he didn't care, he is a mighty confident fella.
And, does he like Tora, you can't get those two separated, they are like magnets. Around the big boys he is all Male, chest out head up, no fooling around, get him with Tora by himself and he is falling all over himself, too funny.
He bulked up nicely this last year, he is 58lbs now, a perfect example of a great Elkhound Male. They had him brushed out, he looked just a like a GQ dog, our guys are still in their work clothes compared to him. They take good care of Bram for a fact. He is a fast boy, lean and powerful, very agile, he found out he needed to be, as Kamp was here, she is the exact same type and style as him, they bounce a lot, work up in the air, faint and dodge a lot, sparring type those two, and she is fast. So, he was having fun with her, Tora, she is a ground and pound female, no light fluffy female dancing from her, she will just grab you and on the ground you go, so Bram enjoyed the play with Kamp. He never actually really gets to "Play" with Tora, she just growls at him.
Yep, it's hats off to Bram, another outstanding group of Pups, Thank you Blaine, Cathy, Marissa and Rob.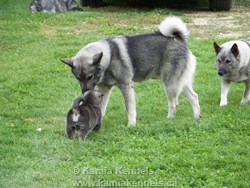 Jaegar, he knows Tora is a serious Momma
We all know, Tora, she is not to be messed with, nor her pups. She clues one and all in and fast. Here she has a serious approach, young Jaegar he is coming face to face with Jocko, Tora, she is not to let any of this business just play out, nope, she comes over, makes absolutely certain to Jaegar, you mind your manners. Ears back, lets him know, mess around and misbehave around these guys, new scar time for sure. Jaegar, he is no fool, he knows full well, best just to leave those pups be. Tora can be what you might call a wee bit rank when it comes to her pups, she has even let me know more than once, time to go pal, I got this.
Tora is a machine when it comes to staying in shape, as you can see here, she has better condition than Jaegar for crying out loud, and just raised 9 super pups. Now Tora is the old lineages, she is the easy keeper type, thick, powerful, meaner than a cut cat, and eats like a wolf. She can clean up a large chicken every day, and some smelts and dry for good measure.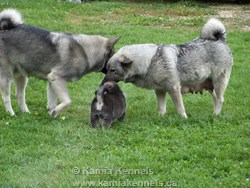 I had a real nice mixture of Elk, Bison, Beef in a ground ration, and fed lots of chicken, and salmon this round, Smelts as often as I had them, and dry puppy ration free choice, as much as she likes. I had a fair bit of heart, liver and some lamb cuttings, and fed plenty of raw pork ribs for the bone content as well. The chicken of course is all bone in, same as all the fish.
The pups went on the ground hamburger at the 4 week mark, and by the 5th were on the Elk/Bison/Beef ration, and got to chew on lot's of rib bones as well, tons of meat on them. Dry to them as well. Again, feeding pretty much all they can eat basically. This was a nice group this round, not as noisy, quieter, calmer, a very steady bunch. Not sure exactly why, I thought it might be the fact it was summer maybe, they could get out earlier, burn around more maybe, spend more time out? Who knows. All in all one of the best groups we have raised, or should I say, that Tora has raised, she is one superior female Elkhound, no doubt about that!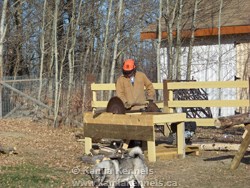 Acclimatize your pups to all kinds of noise and variety of command tones
I have mentioned before that all the pups from our females are stable, however it's crucial that you continue to introduce your young pup to sounds and noises. You want them to be calm and steady around a wide variety of sounds and noise, as you can see here, Tora is just munching away on an old bone while I am cutting up some firewood on the old / new frame buzz saw. Takoda, he walks around the Husqvarna like it's no big deal. Of course it's a Husqvarna, not a Stihl, so he knows his old countrymen made it, if it was a Stihl, well he might have given me a hard time, who cuts wood for an Elkhound Kennel with anything but Swedish gear would be his thought, especially his Swedish pups coming up in it.
Just so you know, I didn't just get this chainsaw for this picture, I bought it when I was still a young logger, back in my prime, 1981 - she has bucked up a huge amount of timber that ole girl, and still, fires up just like the day I bought her. The old buzz, well I got that from my dad, he from his, I rebuilt the frame a year ago and put a new Koehler engine on, even has electric start, but I didn't hook up a battery, figured if that motor lasts 1/20th of the time that the saw did, I might put a battery on it then, otherwise I can still pull start it for the time being.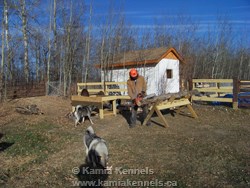 You want to introduce your pups to all kinds of noises, sounds, engines, lawnmower, weed whacker, etc. you sure don't want them taking a run at the old 480 while your bucking some firewood. They need to be calm. So have your wife run the saw while you sit with the pup, half a cord or so, maybe a bit more hey Marlene, should have the pup used it...
Always remember as well, when you are doing some work in this area, don't forget to train with different tones and loudness. It's a guaranteed fact, that some situation will occur and your going to sound like a crazy man when your calling your dogs to come to you, literally you might be screaming like a banshee, all the days of recall work at different tones, shouts, loud calls, all that work will pay off, they won't think you have lost it and run the other way. I always tell everyone, run at your dogs shouting down, down, down. Because guaranteed, that is exactly what will happen one day, and if they haven't seen it in training, it's guaranteed, they will be running away, not going down. In crucial times you may need your pup to go down and stay, till you get there, and if it's imminent danger to him, you may need to scream and run to him. Car coming, truck, who knows, train for extreme situations with your pup, not just calm voice, down little fella, here boy stuff.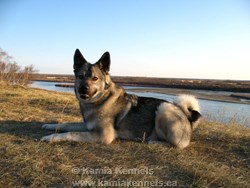 Bosco - Male Elkhound Son of Takoda and Mia ( Bosco is a brother to Tora same litter)
Lindsay sent me this awesome photo of Bosco the other day, she had tons of great stories on him, I thought I would let her share the great times she has with him, and Thank You Lindsay, he has it made for sure.
"Hi Merv,
As summer has come to a close I thought I would send you an update on Bosco.
He continues to be such a good-natured, resilient dog. This summer he had surgery on his side to remove a benign cyst which seemed to have developed from a tick bite from last summer. The very next day he was himself again – it was hard to keep him quiet for a week. And despite his surgery, he still loves the vet. Luckily, his hair has finally grown back and he'll be ready for the snow. He has finished filling out and sits around 55 or so lbs, nice and lean.
He is still one of the friendliest and fastest dogs down by the river. People are always charmed by his good looks and his friendliness. I can't take him anywhere without someone wanting to know his breed or wanting to pet him.
We've had a good year. Last winter I took up cross-country skiing (a better way for me to keep up with him), and if at some point I get brave enough I may try skijoring. We had a busy summer with several camping trips, Bosco's first trip to the mountains and BC, road trips to friends' houses. July 1, less than a week after his surgery, we were stranded on the side of the highway for a couple of hours waiting for a tow truck and friends to pick us up, stayed in a house he'd never been to, and went to fireworks in a downpour/thunderstorm. He never makes a fuss and is happy wherever I take him. Guarding us when we sleep in tents, calm when camping with small children, relaxed for 7+ hour car rides.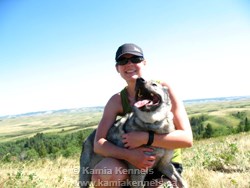 Last year, because Bosco is such an incredible dog, a friend of mine also acquired an Elkhound. They have been fast friends. I have taken them both out on some 20km hiking trips – two Elkhounds are a riot.
A while back I saw a video on your website of his litter – of course Bosco was the last one to come when you call him. It is amazing how his personality has not changed since then – always understands what I want, but sometimes takes his sweet, meandering time coming back (just in case there is a gopher or vole to catch). Despite that, he is always good at keeping me in sight and running back to find me (or the rest of our pack), and I am never afraid that he won't come back. Now that he is 3 and out of his terrible 2's, he is much more reliable and on several occasions he has checked his stubbornness when I have really needed him to.
We are doing well and will continue with our outdoor adventures – this winter we're hoping for more snow.
Photos attached.
Regards,"
Lindsay Jones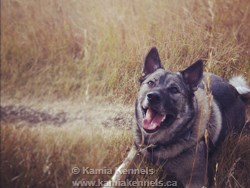 Ryker - A Beautiful Dark Male of Tora and Bram
Amber sent me some neat photos of Ryker the other day, thank you , and a great write up on his exploits, he has been busy this summer. He is a truly outstanding big male, I liked Ryker from day one, he was a big dark faced rascal, steady and calm.
"Hey Merv! Hope the summer has been great for you guys. Ryker has been really busy playing with friends, going for hikes, chasing mice and squirrels and hanging out at the cabin. Thought I would pass along a few pictures for you. He hasn't put on any more weight, still sitting at the 67 lbs. but man does he have a lot of energy! Also, I think he is the only dog I know who doesn't inhale his food as soon as it is put down in front of him - especially raw! " Amber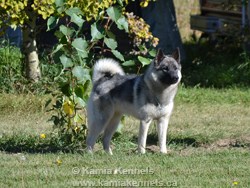 Kamp, Female Elkhound
Jay and Kamp came home for the weekend with Ashten, they are all in Kamloops now, and they came to give us a hand when we had our Torsten Returns big day. Kamp was burning around playing with Bram and having a fun time with Jaegar and Mia, she is such a beauty. Kamp has tons of style and class, she is a big frame girl, she will eventually outweigh all our girls, and she is pleasant to be around, but doesn't take any lip from any of the dogs. Quite sure of herself actually, according to Tora maybe just a little to pushy, but they still get along.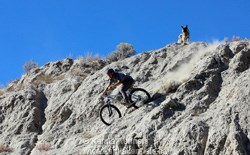 Jay is a mountain biker, does those wild rides down the sides of the hills, and acrobatics' and so forth, you can see, Kamp gets tons of exercise, she just can't figure out, what gives, we just went down here, but she has a blast, she loves it, up and down, a real well conditioned powerful young female.
Kamp is an urban Elkhound, but gets out everyday, tons of stuff to do, and lives with Jay, he is still in University for two more years, Jaegar just left for Kamloops this past week, Marlene took him out to Ashten, so she has her big fella with her now as well, as it should be. I hope they get together with Gryffin some day soon, those would be some awesome photos.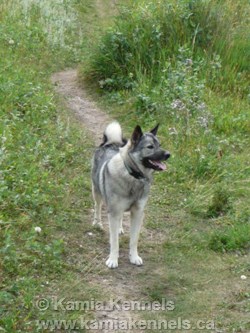 Teeka - Female Elkhound - Daughter of Tora and Bram
I always like the photos that John and Denise send up my way of Teeka, a daughter of Tora and Bram. They take such great shots of her, and she is such a photogenic female, she always looks so good, so alert and sharp. She is a very well built female, good limbs, strong shoulders with a big wide chest combined with solid power in the rear. She has that flat back of Tora's, gives her that width and stability, she has Bram showpiece tail curl, and his darker face.
These Elkhound females are terrific companions, they keep you active, as John knows, keeping up with her, well, you stay young just doing that, and she is getting well looked after, you can see that. Our thanks to John and Denise, for keeping us posted, and providing such great care. Teeka is a great looking female Elkhound.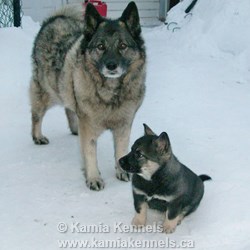 Lexi, our first female pup, black as coal - Daughter of Takoda and Mia
I talk a lot about the dark pups that Bram and Tora have, and as special as those great pups are, they are following in the paw prints of some truly great Blacks from old Takoda himself. Takoda he came out and made a very serious statement to all the Elkhounds in North America, if your going to bring out a dark old world Elkhound from far back in the DNA, bring out a dandy. Lexi was the very first female we ever raised, Takoda's first and only female of that litter. She is shown here, black as coal, standing by old Kelsey, they were fast friends to be sure.
Nika and Kari, both sister, different litters black as coal - Daughters of Takoda and Mia
There is little doubt if you have read much of this site, my preference to these big black daughters of Takoda. Don't get me wrong, he has magnificent pups, Silver or Dark, but these big dark girls, well they are so rare, so hard to come by, and so striking and sharp looking, you just gotta like those females. So, even though we may tend to think that those big blacks are predominately coming from the Bram Tora combo, Takoda was stamping those girls out some before Tora was even born.
There is no mistaking the old Swedish genetics when they come out front and center, the big white chest line, the white under throat, white jaw area, with the diamond. Well, Takoda, he decided, even though he is mated with a new female, GÆDA, he might as well continue the trend, a big black first litter, only this time he switched gender, and brought out a big Black Male.
These new pups of Takoda and GÆDA, wow, they are some nice pups, and all of them are even as the day is long midsummer, however, there are 4 Silver beauties, and this one big black guy, his name is Koda. I just took him down to the Border where Robert and Janet drove up from Utah to pick him up, along with his sister, Kijsa, and his brother Kona. Kona is traveling with them to a great new home in Colorado. Andrew and Caroline are going to pick him up in Utah, it was very nice of Janet and Robert to offer to take the big fella along.
So this big fella he weighed in right close to the big boys that go before him, Jaegar and Torsten, so he is going to be a pretty stout fella, his brother Leto, a mighty Silver male, weighed just a dab more, and of course Kijsa, she outweighed him as well. I have a few things to say about her as well, but for now, Koda.
So the dark colors, they go back in the genetics a long ways, those blacks were really prominent in the old country in the Northern regions late 18 hundreds, right up to 1920-1930 and they started to really become scarce. The push was for the silver dogs, the smaller of the two. Breeders in the north kept the old lines though, rare as they were, they found the females, used the old males, and kept that strain running. It is still alive and well today. In the old days, many, many years ago, dogs were selected more by region and work, than the way we do today. The big blacks were taller, longer, bigger in most cases, they ended up in the higher snow and boggier locations, just because it was better to have the extra couple inches.
Now over decades the big blacks eventually became seedstock, and you ended up with full big black litters, all pups following the same style, these have been developed over literally thousands of years and recently going back about 70 years ago, they did take a group of the very best, oldest known lines, all big blacks and began a new foundation organization, the Swedish Elkhound Association. They are now tracking the breeding of those selected.
In Canada there are no seedstock big blacks genetically outside Takoda, he is like a last of the Mohicans in Canada, however we can still get one from the old country. Currently there is no place to register the big blacks, as they are not recognized as an individual type in Canada yet. Our feelings on registering are not important to the quality of the dog, however for some people they do ask, and unfortunately, there is no way in Canada to do that yet. So, as all our dogs originate from Takoda, none are registered of course, and quite frankly we never worry about it, but I put the information here so others may understand further.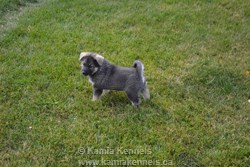 Koda - half brother to Lexi, Nika, Kari - different mother, black as coal - Son of Takoda and GÆDA
Bottom line is this, the ancient lines that lead back 4 and 5000 years, many say older, some of the very oldest known are the big blacks, the sheer fact that every pup from us has Takoda genetics, either through him directly, or through Tora, means quite a great deal. Ancient lineages, they are not everywhere, in fact they are hardly anywhere, so registered or not makes no difference, every pup from our Kennel is an ancient lineage Elkhound. The few that arrive that portray the old black lineage, well, my friends, they deserve a special place in my mind, a testament to the old lines, the power of those genetics, the fact they can resurface just as strong today, as refined, as clean as they did 1000-5000 years ago, man, that is a genetic blueprint. Just like a person has a hard time telling the big Silver pups apart, well, if we were to have put Lexi, Nika, Kari and now Kona in the same pen, same age, you wouldn't know one from the other of those either.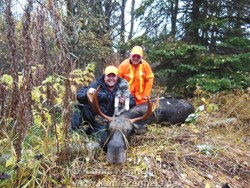 Wolf, Gerald and his hunting partner and the young Bull Moose
I can honestly say, without a doubt this is one of the neatest photos I have received on a pup in a while. Gerald contacted me a long while back, he had been following the site, now he is an avid hunter and sportsman in Northern Ontario, and he mentioned when we talked he wanted a serious working bush dog, from old lines. I said, well, Bram is one of the very best Moose hunting lineages alive, and Tora's lineage, is pretty much the best bush/bear protection lineage going, you most likely will never find a better bush dog than a big fella from them.
Gerald did his homework and put his name down for a big Male, a serious, no fooling around track all day Elkhound. I picked out Wolf, he could air scent by 4 weeks that boy. Gerald came down, he flew to Edmonton, drove out with his sister, now, get this, talk about a Great Omen, as he was only a minute or so away, in the clearing right near us he spots a Big Bull Moose. Go figure, what are the odds? A Moose hunter, coming to pick up a Moose hunting dog, flew half way around one of the biggest countries in the world to get this dog and to see that big bull. You couldn't make this stuff up.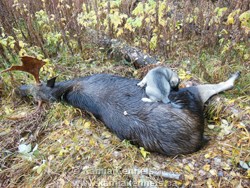 He tells me he has to get Wolf back as they have a hunt planned in the next couple days and they need him for the hunt, their luck has been down the last couple years. Well, sure enough, I get a couple of photos, quite easily some of the most heart warming for a breeder of Moose hunting Elkhounds you could ever get. Here young Wolf sits on his first Moose he barked, you can see him saying to Gerald, way to go buddy, I am so glad your aim was true, some mighty fine eating this winter.
If there is one thing every Elkhound hopes for in an owner, it's that if they bark a Moose to a standstill, he best be a good enough shot to make the kill. If you do that, your Elkhound will cherish you for ever. Gerald, good aim buddy.
Check out that photo of Wolf eyeing up that hind quarter, some might fine roasts and some serious leg bones to chew this winter he figures. Gerald, way to go big man, that is some pretty awesome hunt you were on, and a huge thank you for putting ole Wolf back to his roots. There is no doubt that Wolf he likes you, and you cannot get him any closer to his natural environment and instinctive behaviour.
Now, I can honestly say I did not get all the details of the hunt and Wolf's participation level, but one thing is a given, hunting luck runs with him, it's in his DNA, and that my friends, that young Great Grey, that is an Elkhound.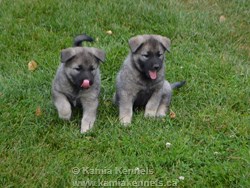 Dark of the Moon Elkhounds - Keera and Kijsa, Female Elkhounds - GÆDA and Takoda
The two big Dark of the Moon Elkhound girls shown to the left are the biggest females we have had at 7 weeks in any litter, and only a handful of Males were ever bigger than Kijsa, who is on the right. Now, these pups, wow, they are magnificent Silver/Black beauties, no doubt will rival all the females we have had to date, and they have some very stiff competition, but they are up to the task. I said when they were born, these Dark of the Moon pups would be some of the best, there is no mistaking that. Some of the old sayings, well, they are old for a reason, they hold true.
The personalities, however close these two look, they are not the same. Keera took after Gaeda and is just the friendliest, nicest female, and Kijsa, she has been handing out scars from like 3 weeks. She had a full grown snarl at 4 weeks, I thought when I came into the kennel one time Takoda was in there, here Kijsa was just tuning in a couple of the males, and they are no slouches, but no match.
A couple of Tora's big boys, they were pretty rough, pretty mean, when we put to the two litters together, they each took a crack at Kijsa, never to return, found out in a hurry, she is not backing down, and is a snarling tooth barring in your face, big female. Keera, she would have to exit, stage left, or hang with Kijsa, or Leto, he could handle Tora's boys. Koda and Koda were pretty much an even match, win some lose some.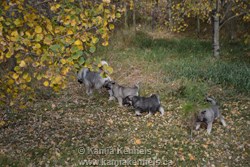 GÆDA - Elkhound Female - 3 of her first litter pups Kisja, Koda, and Kona
This litter of Elkhounds is one of the best we have raised, and easily the most even. All these pups were within .25 of a kg of each other, and all at the 5.5 kg mark at 7 weeks. There are 4 Silver / Black beauties and 1 big black, Koda, a male. These dogs are very stable, even though GÆDA is sometimes a little flighty, they did not pick up any of that, all pups are confident and stable. Let was the largest of the litter, just a tiny bit heavier than Kijsa and he is great male.
What's interesting with these pups is they are pretty much silent, they don't make a bunch of noise, rarely are they barking, if ever, and only make a couple notification growl barks when I come by, no where near as noisy as Tora's. This is a longer leaner group, they will have some very deep chests, will have some extreme stamina, and be super fast. They already have some personality from both parents, but what is most definitely evident in a couple, Kijsa specifically, is Takoda's protection instincts. Now, if Janet watches her and does not over socialize her, she will become very close to Takoda for that aspect. She is very easily one of the most dominant females. A while back we had a litter from Takoda and a daughter was born, young Shasta, she was a fireball, same dominant characteristics in Kijsa, with Kijsa being much longer, taller and just overall a bigger girl, and quite frankly, even meaner than Shasta. Shasta was dominant not mean. Kijsa she is out to give a scar if you tackle her. She does not take kindly to males coming after her.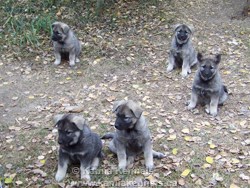 The Elkhound has the ability to be a great watch companion, you can quickly over socialize the pup though, and she then comes to know people as all friendly, she won't watch them the same way as if you did not socialize her. Keeping your pup aloof to strangers is a great thing in many cases, she will not become aggressive or anything of that nature, but she will treat people as a stranger, and not allow that same interaction, she will provide more protection. You can ask her to even ramp up that protection so that she instinctively brings out her instinctive protective behavior. A female like Kijsa they can basically be taught to keep a person from approaching without permission. Takoda of course, he does not let anyone come past 12 feet. You enter his 12 foot radius, you have him to tell you, no more. Not everyone wants this of course, but, hey, let's face it, nowadays, this is not a bad thing at all. Having this instinctive behavior in the Takoda lineage, well makes raising one of these dominant girls much easier.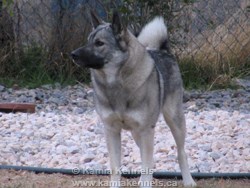 Kaia - Female Elkhound - Sister to Scout below now home in Colorado with her - Daughters of Tora and Bram
Marlene, she calls my Kamia site my braga site, and rightly so, I blow my own horn a lot, and constantly brag about how good my dogs are, forgive me for my fat head, my Dad once told me I need a size 20 hat. Well, it's females like this that causes me to do this, can you imagine not bragging about a female like this Kaia? Steve and Paula, God loves them for sure, he has blessed them with some super ability to raise and train a female Elkhound, they now have two of the very best in the World. You couldn't find a better looking female anywhere than Kaia, and believe me I know where all the great ones are.
A person with absolutely no clue about Elkhounds, no idea about dogs even, could look at that Kaia and go Wow, that is a beautiful dog. If you have a clue about dogs, and say even a clue about Elkhounds you can easily spot the perfect stance, the proud alert posture, the dominant sure confidence she exhibits. The ears alert, the tail up tight, no doubt in anyone's mind, here is a female to beat all. Now, if you have experience with Elkhounds then you can spot even more things, the wide power in the front shoulders, the chest down below the elbow, the thick bone density, the power in the jaw, the flat skull plane, the muzzle length same as the skull, the oval eye, the ear set perfect, the big power coming way down the rear legs, the big flat short coupled back, the heavy strong neck to give a killing shake.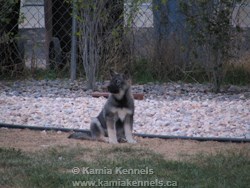 You can see she would hair up in a instant, scrap for her pups or handler if they were in danger in a second, you can see the intensity, the power, the courage. The coat is excellent, terrific markings, deep inner coat, clean guard coat, not too fluffy, not too tight. Lot's of cover on the ear, we can't see her paw but we know from the leg her feet are compact, close toes, set straight.
And if you really really know your Elkhounds, then you can spot the black dot, lower cheek, the white throat, the white bar chest, the longer black guard hairs and know, hey, hey, hey, this is not just a super Elkhound female, this my friends, this is a Super Ancient Lineage Female - best there is. What's interesting, is everything I have just said about Kaia, you can say again about Scout, that my friends is why I need a size 20 hat.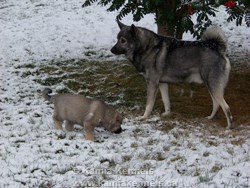 Takoda and his big boy Leto
It's fitting that the last pup here is big Leto. He is going out to Ontario in a few more days, Daniel is flying in and we will meet at Calgary. Leto will get to spend some time with Takoda, and all the big dogs. This time he will have with Takoda will make him a better dog. He will have his instincts woke up over the next week or so, and hopefully there is a predator, or stray something or other comes by, Leto can get a few lessons on turf management that only a full throttle male like Takoda can instruct. Daniel contacted us a long time ago, waited a long time for Leto, I appreciate the patience he and his family had to wait. We thank them for that.
Leto is a great young male, everything you could ask for in an Elkhound, he has a steady temper, a keen interest to be with you, he is fierce if pushed, yet causes no trouble. He will be a very powerful lean and long Male, deep Silver/Black, a really handsome Male. Let will portray all ancient traits, he will have superior instinctive behaviours, he will have some of the greatest recall skills going and he will have endless stamina and drive. But above all, Leto will carry with him and will always have Takoda's personable nature to the handler, that extreme loyalty you can't find in other lines, that ability to stay and protect the handler at all costs, this is what Leto takes with him.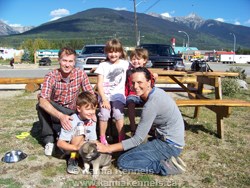 Aksel and his new family
Elkhounds are first and foremost a family dog. They have been known for centuries as one of the very best dogs a young family can have. I have a great deal of pride in my dogs, and I am always so pleased and it's a great honour for me to be able to provide an a Elkhound to a family. I have a great respect for folks like Michael and Susie, they took the time to research breeds, ask questions, look into family dogs, they knew what they wanted and did the work to find the right dog. They made the right decision and this is the best dog for the family and I also take a few extra evaluations when selecting a pup for this situation.
This family deserves to have a personality, a temperament that is suitable and a dog that will grow and fit and live with this young family for the entire time these young kids have till they are young adults. Aksel was the perfect match for them. He is a strong boy, yet so steady. He is going to have lots of stamina, but can sit still when asked. He has tolerance, he has patience, yet can go at a moments notice if the kids jump on the bike, or hit the trail. He is fearless, they encounter a bear on the trail, woe be the bear, the kids can skedadell out of there, Aksel has bear instinct all through him, he'll look after them.
Both Bram and Tora contributed great qualities to Aksel, I couldn't have asked for a better pup, and it's the opportunity to provide the best dog you can have and its new memories, new friendships with families like Michaels that I raise dogs for. That my friends, that there is a great new Elkhound family.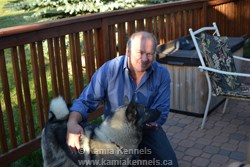 Elkhound Male, Torsten and I
I want to thank all the folks who put their confidence in our program and decided to have a Kamia Kennels Elkhound, for some families, a second one. No small thing, to be sure, we sincerely thank you all.
It's been a great time this summer, I received updates from all over the place and a huge thank you to everyone who sent updates and shared with all of us, there is nothing better than following the pups as they grow and develop, it's so neat, again, a huge thank you, and keep sending me updates everyone.
So in closing I sit here with Torsten, I am proud as a peacock with this big fella, again, many thanks to Brian and Lindsay, Gunnar will be a terrific companion for Torsten, keep us all posted.
Be sure to review the Torsten Returns page, some neat photos and stories on this big fella.
till next time,
Merv Carlson
Kamia Kennels