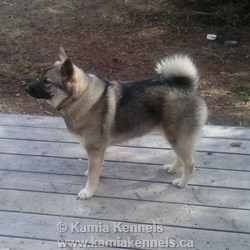 Tala, Female Elkhound
As with all newsletters there are many new Elkhound stories. Some more about the patience of the owner than so much to do with the new pup. This is both. I am always honored to have folks contact me to assist them in getting a new pup and this particular young female Tala, is at home finally with Anna, up in Northern BC. Anna contacted me almost two years before she got Tala to speak for her. That's right two years. Anna wanted a female from Tora and Bram, and as you all know, the litter prior to this last one, Tora only had one female, so Anna waited.
There is no doubt in her mind she did the right thing, and none in mine or anyone else's. This is a magnificent female. All of Tora's females are amazing, and Tala is an outstanding young Elkhound, they are having a blast together and Anna is definitely keeping her in top shape.
Tala is a not quite a year old in the photo as she has a birthday , 1 year old August 15th, Happy Birthday, Tala. And a big thank you to Anna, for the confidence in our program, and more importantly the great care she gives Tala.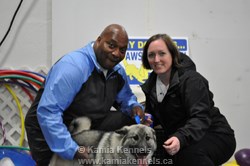 Todd and Jennifer with Storm at training school
This is so neat, here in this photo Todd and Jennifer have Storm at her training centre. Storm is a daughter of Kamp and Jaegar. Now what's really neat is this is a grand daughter of Mia, and Mia, she got kicked out of obedience training. She was just a trouble maker, and here is her Grand Daughter Storm getting top marks. Too Funny.
Todd and Jenn are doing a wonderful job with Storm. She will be one of the best trained Elkhounds in North Western USA, I know she is one of the sharpest young females we have raised.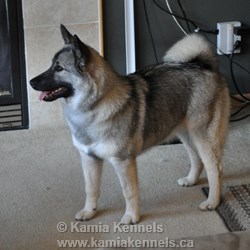 Storm has two other sisters from the same litter, Saga and Nahanni, those two females are some sharp as well. Kamp and Jaegar are a great match up, no doubt. As anyone can easily see, this is a very strong well balanced powerful young female. She is as sharp looking as you will ever find. What a great stance and for such a young female you can see the power in the front and rear. Awesome feet, her Grandmother Mia passed it down, although both Kamp and Jaegar have great feet as well.
Todd and Jennifer have been awesome keeping me posted on this young female. They have a great time with her, and she with them. I really enjoy getting updates on the pups and it is really rewarding to see such a great couple have such a terrific companion.
Storm is a stunning young Elkhound female. No doubt about it, Jaegar and Kamp were working to prove they could bring forth some ancient Elkhounds with all the old traits intact, and WOW did they succeed!
I sure do thank Jennifer and Todd for the fun updates, all the photos, the video's and much more. I am going to be putting more up on Storm soon as I can.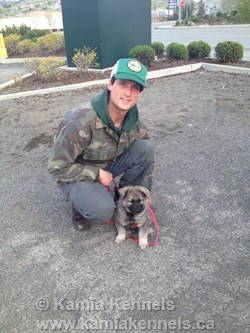 Kazoo - Elkhound Male with his new owner Gustav
For those of you who follow the newsletters this story will ring a bell. Remember back in 2011, early part of 2012, Mia and Tora were going to each have a litter and Mia ran into some trouble, she lost a couple pups. One of those males was slated to go to Henry. Now at that time Henry would have to wait for the next litter, as all of Tora's boys were spoken for. Gustav, who you see sitting here with his young pal Kazoo, was one of those on the list. Now as luck would have it, Gustav had some plans change, and he couldn't take a pup at that time, asked if I could find a home for his, I said sure. It was then a call to Henry, and he was thrilled to have Kobe. As you all know Kobe is a super dog, and Henry and him are best pals.
Now here is a feel great story. Gustav stayed in touch, always keeping me posted on things and letting me know that when the timing was right, hopefully I would have a great male for him. Gustav works the remote regions, is an avid hunter and hikes all the time in the back country and wanted a full instinct male. He wanted an ancient Elkhound. As time passed things were going well for him to organize his time and so forth and he was ready for the pup. As luck would have it, Jaegar and GAEDA had just the male he was looking for.
I knew the minute that young Kazoo came out, this is the boy for Gustav. Over the weeks I watched the young fella develop, he was steady, sure of himself, full of power and courage, a very special young male. This was going to be one bear chasing cougar scrapping hiking machine I thought. I was right.
Ashten arranged to meet Gustav with young Kazoo up near Kamloops and first thing young Kazoo did was walk over to Gustav and sat right on his feet. There is no better confirmation than that. This was his handler, his pal, his buddy, and he would live to protect and work with Gustav.
Low and behold, a few days ago, Gustav phones, has a great bunch of stories on the young fella, but sure enough, out hiking and working surveying, young Kazoo ends up getting stalked by a big black bear. No fake, Kazoo, true to his ancient heritage, turns that big black around and chases his behind out of there. No Doubt. Now that is what I am talking about. Your out hiking and working, spending time in remote regions, don't be taking no baby dogs, you best wait your time to get a real bear dog. A dog that would be just like young Kazoo, tough as his old man Jaegar, and twice as mean as his Grampa Takoda, to bears that is. Kazoo is as great a social dog as his mother GAEDA.
You just can't beat that neat update as a breeder, you want to know your keeping those old instincts intact. Hat's off to Gustav for his continued confidence in our program, and also for the great life that he is and will provide for Kazoo.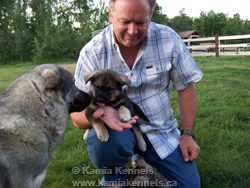 The Tough Part of My Newsletter - Remembering Nika
It's with a heavy heart I share this bit of tough news. Shelly contacted me some time ago now and let me know that Nika had passed on. I feel for them and think of them all the time. It's been a blessing knowing that Brett and Shelly provided Nika with the greatest home and care she could ever have experienced. I have a ton of respect for that young couple. I know it has had to be a difficult time, hopefully with the passing of some time this newsletter section will be easier to take.
Nika was always a favorite of mine, right from very early as a pup. I would always pick her out and visit with her a little longer than some of the others. Takoda he took a real liking to her as well. I think he knew she was a special female, a big dark Swedish type, ancient like his ancestors. Not sure how it happened but the first big dark female that was lost was Nika's older sister, Lexi. She also was a special favorite of mine. I guess I like those big dark females as they show so much of Takoda in them.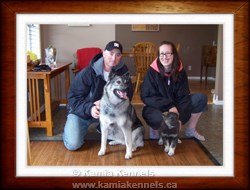 Nika spent a great deal of her time with a younger sister, Kari. Kari now travels the trails of the Yukon on her own. She is fully capable of handling what comes her way, she is a daughter of Takoda and Mia as well. Brett and Shelly have came down to visit us as well with Nika when they came to get Kari. I was so impressed with Nika as a young maturing female. Wow, she was always such a beautiful dog. There are no dogs in the world as nice as the big dark Elkhound females.
I have a photo of that visit to the left with Brett and Shelly, and Nika and Kari.
Nika loved to pull a sled, she taught Kari as well how to pull, and Kari is a natural, she loves to pull. Nika loved to go fishing with Brett, and hiking the trails with both of them. Camping, spending the long great days of the Yukon checking the scents and sounds out. She was an outstanding companion for them both.
If ever I needed a reference or someone wanted to know about an Elkhound, I would always reference Nika, and many is the time I asked Shelly and Brett to share their experiences and time, and stories with Nika and Kari. They were more than happy to share the great times they had. I sure always appreciated that.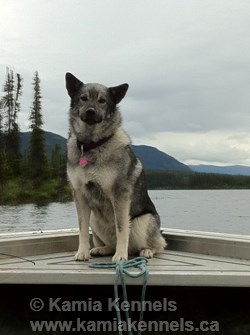 It's a tough thing for sure for Shelly and Brett to lose such a great companion and pal, there is no doubt about that. All of us here know the pain that would cause. But as with all things having had the time to spend with such a great female is also a real blessing. For many, they could only wish for such a great time with dog like Nika. So we all can take from these tough times some lessons to spend some more quality time with our own pals. I can bet that Brett and Shelly are spending some extra time with Kari now as well.
I know I sure do stop and think now and again, turn and give ole Takoda a call, say hey big fella, what about a trail hike. I give Tora a head's up, she comes burning along, call Mia, come on Mia lets hustle. So, as tough as it is I feel blessed myself to have the opportunity to raise good dogs for good folks. No doubt about it.
One thing for sure, Takoda would crank out a new big dark female in a hurry any time Brett and Shelly ever felt the urge to have another sister for Kari. We all know we can't replace Nika, but we for sure could have another great sister for Kari to train. I am sure she has a few of Nika's old tricks stored away for later, to be sure.
Nika shown to the left on her favorite spot on the boat, out fishing for some supper with Brett. Nika was one truly awesome female Elkhound.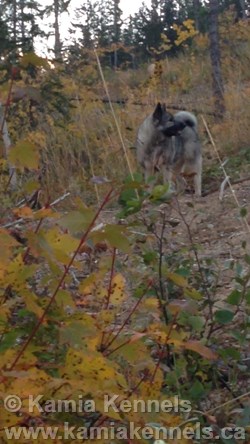 Tegan - Elkhound Female, with a Bull Elk in Tow
From the same litter that Nika was from, so was Tegan. She is a beautiful Elkhound female that took a huge deal of her looks from her mother Mia. Tracey and Dennis have Teagan up in the Kelowna region, and are avid hikers, hunters and outdoors a great deal.
Dennis and Tracey sent me some terrific updates on Tegan over the years, and most recently these great photos and updates. Tegan is as I have said before the Quintessential Elkhound female. If you wanted to see exactly what the breed guidebooks and standards and all the style and ability that breeders work for all their life, just take a look at Tegan. She is quite frankly as close to a perfect Elkhound female as they come.
The neat thing about Tegan is she has so much more than good looks, she has the instincts and true heritage flowing through her veins to work and hunt. Dennis and his daughter were super successful over the years as hunters, and this season was again another success. Tegan of course a big part of that, although I never discredit the ability of a good hunter to guide and instruct a good dog and to know when to rely on the instincts of the dog. This is a skill all in itself. Takes a good handler too and our hats are off to Dennis.
In all good outdoor activity, there are times as well when the instincts of the dog can just be used to enjoy the interaction with nature and how the animals respond and work with a good Elkhound, this first section is one of those great stories.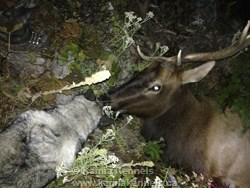 In the first image you can see the Bull Elk directly above Tegan, Dennis tells about the story here:
Merv,
It is tough to see, but behind Tegan is a 5X5 elk that she brought into us. We saw there was a young 5X5 bull and let Tegan go "play" with it. She brought it in from about 300 yards to 23 yards. We took some pictures and videos, then waited until the elk wandered away.
Dennis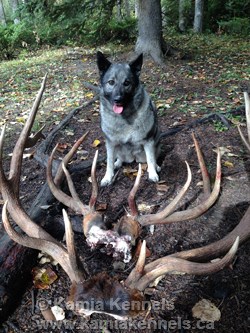 Merv,
Here is Tegan with a couple of elk racks from the elk that my daughter (Brittney) and I got this year.
Thanks,
Dennis
As you can see, Dennis and his daughter Brittney are skilled hunters, and it sure doesn't hurt to have a skilled hunting dog like Tegan to ensure a successful hunt. Tegan will be eating some pretty fancy Elk cuts and chewing on a ton of Elk bones this winter for a fact.
It's great updates that make life as a breeder so rewarding. No doubt I have an absolutely fun time with my own dogs, but to have the opportunity to share the fun I am having by working with great families who want to experience and have the kind of companion that Tegan can be is so special.
To see a family raise a great female in an environment of care and passion for what she was bred to do is such a great thing. This is a happy female, she is as Dennis said, in her Glory.
No Doubt About It. Thank you Dennis, Tracey, and Brittney, what a great update.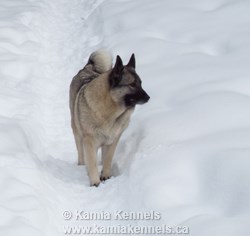 GÆDA - A truly stunning female Elkhound
GÆDA has developed into a stunning female. She has had a tremendous time out here, she loves the snow, the creek, the mountains, the solitude, this is as good a place for an Elkhound as you could ever imagine and she is flourishing.
She has always raised some great pups, but this year she was amazing. That big fella up top Kazoo, she put her best into that big fella, and his sister Kya out in Montreal, Wow. She was and is a beauty. GAEDA is the most polite female you could ever find. She passes this polite trait down. However, when mated to Jaegar, they also get the Jaegar wild side, so you have a very versatile pup.
She is a pack oriented Elkhound. She stands by all her pack. She rarely barks, however when she does I know something is up. Guaranteed. She never, and I mean never barks for no reason. She raises her pups with no hassles, all polite pups, they are all so well looked after. She is excellent that way.
GAEDA has a huge list of quality traits but her most important trait is her ability to pay attention. We can go hiking and I can have multiple dogs along, and at any time I look around I will see dogs off here and there and I won't see GAEDA and I turn around and right there behind me is GAEDA. Always aware of me, always in contact, she is truly outstanding in that area. She will rarely if ever go in front without me saying "Go Ahead", very polite that way. Always waits for the go ahead. I'll talk more about GAEDA's litter that is on the ground right now down below. This is a very good female. She weighs in at 58 lbs, stands just taller than Tora, not quite as high as Kamp. A very well balanced female. A really beautiful Elkhound.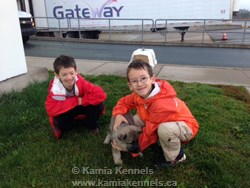 Gunnar - Norwegian Male Elkhound - Home on the East Coast with the Murray Boys
I receive some great updates all through the year and I always look forward to them all. The ones like this one are just AWESOME. Take a look at the welcome young Gunnar got from the Murray boys at the airport in Halifax. This my friends is pure happiness as the wait for the young pup is finally over. These young fellas have a lifelong companion in young Gunnar. He is one outstanding Norwegian Elkhound. This boy has no swedish blood, he is all Norway this fella. His Dad Bram is first generation in Canada from that great lineage, and of course Kamp, her mother was from Norway and her dad is from a long line of Norwegian Champs. These are some very seriously good bloodlines.
I can share this with all of you. For family dogs there are few if any breeds older and better suited to families than the Elkhound. For centuries as one of the oldest breeds in the world they have been the family companion and still excel far beyond other breeds in all areas of co-existence with a family.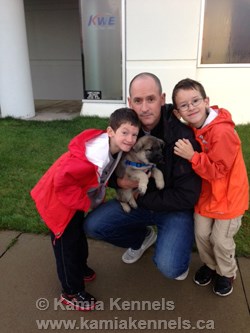 I have to also express the appreciation and respect I have for Teri and Jeff, the parents of those great young boys, Connor and Quinton. This family did the homework. There is more to getting a dog than just finding a pup, any old pup. You need to take the time like they did to research the breeds, study some traits and characteristics. They spent time understanding what they wanted from a set of genetics, they have young boys, they wanted a suitable companion dog that would grow and work with them as a family. That would fit the lifestyle and habits they have.
These folks pay attention to detail. I respect that type of approach. I truly admire that fact that they were willing to go to some pretty serious lengths to get just the right dog. It is always better in the end to get the right dog, they both knew that and pursued a great Elkhound. Bram and Kamp are two very high end Elkhounds. They come from some of the very best Elkhounds in the entire World. These are very smart dogs, the pups learn fast, never forget, are so predictable. You can count on these dogs with your life. This is the breed you want to share with your family, with your young sons. These are long living dogs, healthy, trouble free. They don't cause you grief and hardship, they reward and enrich your life.
I am very proud to be able to say without a doubt that a truly great young family on the east coast of Canada, in Nova Scotia, has a great home for a Kamia Elkhound named Gunnar. We sure do look forward to more updates on Gunnar and boys and want to thank Teri, Jeff, Connor and Quinton for taking such great effort to get Gunnar and for providing him with a true East Coast Welcome Home!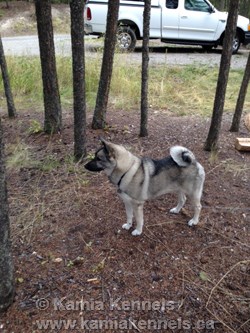 Kaia - out camping hunting squirrels
I get some great photos and updates from Dianne and Jayson who have Kaia down in Calgary. They are always out camping and doing some hikes and neat things with Kaia. Kaia is a daughter of Tora and Bram, not to hard to tell, and I always said that right from a pup Kaia was a super showy female. Take a look at that beauty. Now that is a showy female or what? Solid as a rock, stance to beat all, and what a tail.
She has a great personality and this is the perfect dog for a couple like Dianne and Jayson. She causes no trouble at campsites, or hikes in the city, yet is sure on the watch for things around her. This is a granddaughter of Takoda so if she has to throw down with some raccoon or other predator intent on taking the picnic basket, she is all for it. A watchful Elkhound like this makes sleeping in bear country a lot more peaceful.
Kaia is from the old bear lineage of course and one of Kaia young sisters Lily is up in Whitehorse in the bear program, so it's a natural for Kaia out in the Rockies to be ever watchful. These are no odour dogs as well, so very nice in an RV or camping environment. A big thank you out to Dianne and Jayson for keeping me and all of us updated on this great female, and even more so for the great home they provide her with.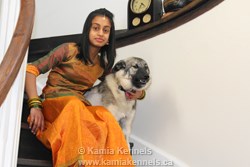 Anjana and Tuula - a remarkable story
You might all remember a while back there was a great family came out to Alberta to pick up Tuula. Sashi, Nira and their daughter Anjana. They live in Toronto. Tuula is a daughter from GAEDA and Jaegar, a lovely big silver female. Shortly after they had Tuula home she developed fluid on her lung from some type of foreign object. She needed surgery to remove the object. Sashi and his family were remarkable through the whole process. They proceeded to do everything to make it as comfortable and as nice as possible for Tuula. Providing her with the very best care available. The surgery was not once but multiple trips to the top vet hospitals. I was so thankful she was in such great care.
Tuula is back home now and doing fabulous. She is able to get out into the parks around the city and is mending and growing fast and is a beautiful Elkhound. Sashi sent these great photos recently and I can not thank them enough for the level of care they all provided for Tuula. Tuula looks great and Sashi says her favourite spot is that seat in the car. She likes to get in and find out where they are heading to next.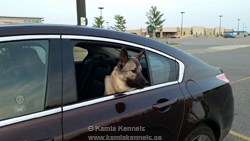 The Elkhound is such a versatile breed. I have many folks who have found the Elkhound to be the ideal urban companion. This family is a prime example of that, as are many others with our pups. Extreme veterinarian work is rare with Elkhounds, however sometimes things happen. No reason or forewarning. Elkhounds however are very strong, they can come through a tremendous amount, and are for the most part so patient and trusting, they work with you, as Tuula did with Sashi and his family.
I am so thrilled to see her and her best pal Anjana, who finally can really get to enjoy her companion and go for those walks in the park and spend time together. My hat's off to Sashi and his family, talk about dedication and commitment. I am very proud to have families like this with our pups. Keep us posted on Tuula, thank you.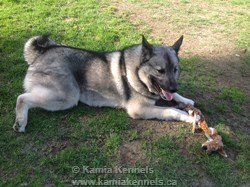 Finn - Tora's Boy
I always get some great regular updates on this big fella, Finn. He was a bone stealing rascal from day one that Finn. He sure has turned into one handsome male, no doubt about that. You can spot a Tora Bram boy from miles away. Norma and Steve provide an awesome home for Finn. He has a couple of rough and tumble buddies at home to play with and steal bones from, and burn around with. He has it made.
The Elkhound is well known to adjust the level of play and power to the dog they are playing with, Finn is no different. Norma has said he has just the right level of power exhibited depending on who he is playing with, this makes it great if you have a smaller dog with the Elkhound.
Tora and Bram have over the years been so consistent, all the boys have been super males like Finn. This is as nice a male as you can find. A big thank you to Norma for the great updates, please keep us posted on this big fella.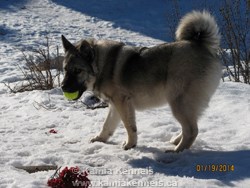 Gunnar - Elkhound Male from Jaegar and GAEDA
You know I am way behind in my newsletters when I am just getting around to putting up the notes and photo Sharlene sent me ages ago. Wow, how this time has flew by, I feel bad being so far behind. However I have some stories to share about this big trouble maker. He is a rascal this boy. He was causing Sharlene and her family some grief no doubt. Jaegar man is a rough and tumble big fella, he plays rough, and he passed this to his big son, Gunnar. Now for some folks this is okay, but not everyone appreciates a fast moving, heavy built tough young pup who hardly knows his own strength. One who is really taking rough play to the far end. I appreciate the concern and shared a fair bit with Sharlene and Wayne.
They are happy to report things are working out, much better at the time of this update, of course Gunnar would be almost a year old now, a huge big fella, so I am anxious to hear how things are going. As he matures he will be more relaxed and easy going, although I still get some pretty tough workouts from his Dad Jaegar.
Elkhounds can play rough, be prepared for how strong they are. However, they will relax with time. But that information is no consolation when he is ripping your hand with those sharp pup teeth. I try hard to get the pups used to some hand bite control from early on, this helps them to know when it's too hard. However this training is for a very short time. They don't have enough time to fully realize what I am trying to teach. Going to the new homes they immediately transfer all the energy they were expending playing with the littermates to the new pack, the new family. I can tell you this, Sharlene is not the first to call wondering just how rough this is going to get. Some males are just longer coming to know the bite strength, and some have also just a real abundance of extra energy to burn. Combine those two and you have a handful. Sharlene, Wayne and the family did some good work with this fella, I appreciate the patience they have and look forward to hearing more on Big Gunnar.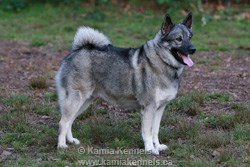 Tesla - Elkhound Male, Full Brother to Jaegar and Shasta - Son of Takoda
I received this terrific update on Tesla from Julia quite a while back, again just sharing it now. I really enjoy the updates from Julia and the fun she has out there with this big fella, he is a handful there is no doubt. Tesla is an uncle to Gunnar right above, as he is a full brother Jaegar, Gunnars Dad. Tesla will be 4 in the spring of 2015. He is a son of Takoda and Mia. I thank Julia for staying in touch and keeping us posted on this magnificent big fella and the great home they have for big Tesla. Those big boys from Takoda and Mia they are something aren't they?
Hi Merv, I'm sorry we haven't written much lately. We've started our own business and wow, what a lot of time that takes (don't' have to tell you that, I know). I've attached a few recent photos of Tesla and our gang for you, Lynn and Ashten. Tesla has a funny look on his face in the pix with Matthew 'cus he knows he's busted (he's never allowed on the bed) but Matthew invited him up and who is he to say no :)
We're really happy with Tesla, he's been an amazing companion for us all and for my son, in particular. Matthew has some learning disabilities and lots of frustrations so he really appreciates the pure non-judgmental love and loyalty he gets from Tesla. So many of our pictures of Tesla have Matthew in them because they're never far apart :)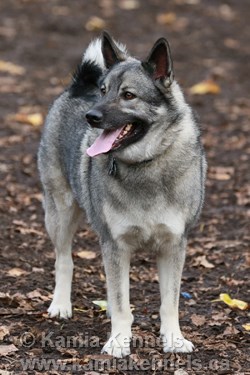 I wish we had more time to take Tesla for long hikes so he could explore but for now he loves our local dog park and is always wrestling with the dogs there. One of his best buddies is a 140lb Rottweiler, one of the few dogs he can't wrestle down. He couldn't care less about chasing balls (though if he catches one he'll destroy it in seconds), he just loves wrestling with the other dogs.
On a related note, just for fun, I'm including a photo of what a bored young Elkhound can do when left alone in the house and not getting a walk in the morning. Took a long time for my blood pressure to come down. Little bounder got the doll off of the headboard in my daughter's room (a room I've never seen him go into). Grrrrr
I'm pleased to report that Tesla's broken leg (broken when he was about 9 mo old) has healed really well and you'd hardly know it had been damaged; the only clue is that after running/jumping, he'll often hold it up for a while rather than standing on it. He's getting a lot of flexibility back in that joint now too; lately, we see him laying on his back with his paws in the air and he can bend both of them now (the damaged one used to stick up like a chimney). I credit the "cool" diet that you recommended (the bonier the better, I recall you saying). It's amazing how quickly he can crunch through pork ribs and chicken bits (raw, of course). My neighbour feeds her pets raw (but "city raw", pre-ground) and was shocked to see me hand Tes three pork back ribs and watched him crunch 'em to bits and devour them in about a minute. Now when someone asks what I feed him, I say "raw and unprocessed". I've tried adding cut up apples or berries (which he liked when he was younger). Now he (like my son) surgically avoids the bits he doesn't want. He will, however, pick his own blackberries off the vine in the summer. Go figure. Loves 'em fresh, I guess.
I'll send you a video of Tesla treeing a raccoon once I clean it up a little. Too funny! Since the last big clash between Tesla and the coon in late Dec., they've pretty much avoided our place or confine themselves to the top of the kids' treehouse where they know he can't get 'em. Last week, he almost caught one on the ground. It's hilarious seeing the 'coon trying to climb a really spindly nut tree. It finally escaped along the top of our 6' fence and over the other side. Go Tesla!
Take care,
Julia and family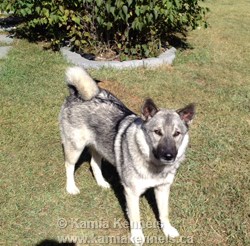 Thor - A Great Silver Male from Tora and Bram
I got a great update from Trina on Thor back in September and he is doing terrific. This is a really nice Silver big male from Tora and Bram and tons of Tora showed up in this big fella. Trina says that Thor is a hunting machine just like his Dad Bram. Too Funny the story of Trina out looking for him. A big thank you to her and her family for the great care they are giving the big fella, and for keeping us posted.
Hi Merv,
Well we have enjoyed our "brat" Thor! He is definitely part of the family.
He has grown into a great dog. His favorite spot's are on the couch right beside one of us, or riding in the backseat of our vehicles. If we go he goes lol. He has lived up to his hunting traits. We have a cow moose and two of her babies that are living in our yard. About three weeks ago, he wouldn't quit barking, so I went outside at midnight to bring him to the house. He was a little ways away from the house, so I drove down the driveway to get him. I drove up, got out of my SUV and started to call him.
Keep in mind it is midnight and I'm in my big fluffy white bathrobe. I walked towards the bush and out came Thor with the moose right on his tail doing 90!!! Lucky for me my vehicle was right there. I turned tail and ran and jumped in my vehicle with both Thor and the moose flying right by me!
My heart was going a million miles an hour. I drove back to the house and there he was on the front step. We have a big dam out back, and for many mornings, we would get up and he would have a mallard duck for us. Last count he had gotten seven. I think the ducks have flown south or he cleared out the whole flock, since he hasn't brought one up for a few weeks now. I never know what he will do. We have spoiled him. He's a softy and gets alot of attention from all of us. I have sent you a few pictures as well so you can see how he roles around here!
Take care,
Trina
Boulder - Elkhound Male from Bram and Tora
Yep, you guessed it, a Bram and Tora boy. No mistaking those fellas. This big rascal is down way down in St. Louis Missouri with Emily and Dave. They provide him with an awesome life, tons of fun things to do, no end to bones, raw diet and endless first class training.
Yep, again you guessed it, he learns fast as Dave can teach. All of Tora's boy's are super smart. Dave is a teacher though, so he does have a few tricks up his sleeve. I can bet that Boulder is sure able to follow more commands than his mother Tora, but I sure won't tell Tora that. Not unless I want a shorter arm.
Dave has Boulder doing service work, he has sent me a number of video's of Boulder doing work at various places, and it's amazing the work he has him doing. Really a well schooled young pup. Boulder gets a raw diet, these boys will do so much better on raw, and unprocessed, exactly like Julia said above. They have huge jaw power, no worry about them devouring some chicken and turkey, venison or Moose.
Don't get me wrong, they will do just fine on other food as well, but they will just be healthier on raw is all. I want to Thank Emily and Dave for keeping me posted on Boulder, he is a great fella. And once again, thanks for such a super home you give him.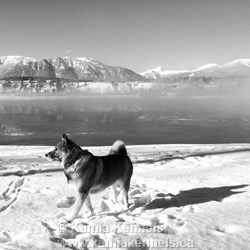 Ryker - Elkhound Male from Tora and Bram
People who follow this newsletter come to know certain dogs. Many is the time folks contact me who have been following the newsletters and site for a couple years prior to contacting, they already know some of the dogs. Ryker is one of those folks comment on. He is a striking big fella. one of the big boys from the first litter she had. He is a full brother to Konig and Torsten.
Amber keeps me up to date on the happenings with this big fella. I sure do appreciate it. He has been a favorite of mine no doubt. Amber recently got in touch and let me know the big fella is still a tank, loving every minute of his time with her and Chris and loves to get out to the country and mountains. She mentioned she has been doing scent work and tracking, search and rescue stuff, and Ryker is a natural, a very smart air scent dog, he follows his nose, head up, and makes fast work of things. We want to thank Amber for keeping up posted, and for the awesome photos she always sends, what a great Elkhound.
Hey Merv,
I have been doing some tracking and scentwork classes with him for the last couple of months. He's very good at it, although our instructor says there is no way we would be able to get an official certificate for it, he doesn't follow the rules! It makes sense, you said right from the beginning when we were first meeting with you that Elkhounds are air scent dogs, and I have definitely seen that come out! Tracking class is more ground-work based - we lay a scent track with our own scent and some treats, throw a couple of corners into the path and then try to get the dogs to follow the path. The other dogs are great at it. Ryker cheats. He grabs the first treat at the start of the path, puts his nose in the air and sniffs for a minute, and then makes a beeline for the very end and the reward waiting for him. He gets his reward and enjoys the praise a little bit and then backtracks to find the rest of the food! Apparently he would make a great search and rescue dog, I should have just started him earlier!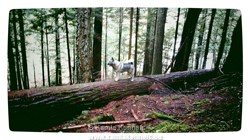 Aksel - Elkhound Male from Tora and Bram
I see great Elkhounds every day of my life, but even I have to say, WOW, this newsletter is jam packed with a stunning set of Elkhounds. Check out this big fella, Aksel. Remember he is up with Michael and Suzie, young Floyd and his sisters in the Pemberton region. What a great spot for a mighty son of Tora and Bram. Michael sent this the other day and mentioned he is such a great guy in the bush. I remember hiking a short ways up to the headwaters of the mighty Saskatchewan River, right where it starts at the Glacier on the Icefields Parkway with this young pup when he was 8 weeks old. He was no doubt a super mountain Elkhound then, true to his instincts and heritage. It was a day I won't forget spending time with him. I can just imagine how great he is now.
These are as superior dogs for hiking and companionship, and Aksel has it made up with Micheal and his family. A big thank you to all of them for the great home they give this big fella.
Marlene and I - with Mia, GAEDA, Kamp, Kai and Jaegar
Even though we were busy, we found time often to take the dogs and hike around our place and beyond. This great trail is on our place, we have some pretty neat trails to hike. We love it here for sure. We are pretty much in any direction surrounded by crown land so that we could hike for literally hundreds of square miles. We pretty much always hike multiple dogs, as we have a lot to work, so always now I am working with many at a time. It's a fairly rare day that they have leashes however I usually will put harnesses on Takoda and or Jaegar, but really no leash. The females pretty much for the most part don't even need a harness.
Elkhounds are pretty smart in the bush, sure you could have a young one take off or something like that, but for the most part they are going to be "around" . Not always beside me or close but around. I can usually call, wait a few minutes and they all show up. We have heavy timber here, it's pretty hard to see through, so I have to rely on my dogs to return, which I do. They in turn have to pay respect to me to get the leeway to range as well.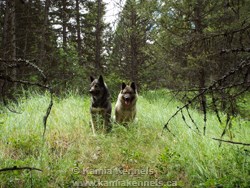 Takoda and Kamp - Future Litter Planned 2015
I always enjoy my time out with Takoda and Kamp. Now this pair they are very well suited to each other. Kamp is a big girl, tall, long and strong. She really can move and cover ground. She is a very aggressive style toward the yard, other dogs sights and sounds, right up Takoda's alley. She can handle all sorts of rough play, and really can dish it out. Takoda is the only one she can really play with and have at least a match. Even Jaegar has his hands full with Kamp. Now in the bush these two are great. They both listen with precision and never hesitate to follow commands. These are nice dogs to work with, they are very attentive in the bush, instinctively watchful.
I really like the big easy moving Elkhounds, they travel with such ease and efficiency. Takoda his ancestors run all the northern regions, and they have tremendous stamina. The deep chests and lean muscle fibres allow for continual easy motion mile after mile. These boys have been selectively bred for the deeper snow regions. They move so much easier through it than the shorter coastal dogs. You don't notice such a difference in the summer but in the winter the ability comes out.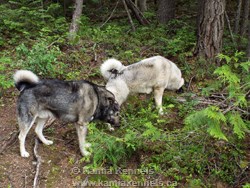 These are both very personable and and nice to be around. They are not hard to live with in any fashion, are content and stable. They are steady and not rushed or in any way concerned with any thing you may have going on. These two are both super smart, they understand anything you want to convey to them. Neither of them are easy keepers, they both stay pretty lean, and they both eat, lots. That is the one thing with the big easy movers, they can eat.
Pups from this pair will be outstanding. They will be some of our best to be sure. They will all be in the upper limits of size, full instincts intact as we would all wish, and highly trainable with some superior ranging and recall skills instinctive and right on the surface. Odds are, if you wanted to, you could take a pup from these two and never need a leash again. The pups would be excellent hunters, the prey drive is very high in these two, so you won't have any raccoon, fox, coyote issues in your yard either.
I mentioned one time I would talk about my experiences working genetically connected Elkhounds. Working two Elkhounds period is great, but working genetically connected Elkhounds is something really special. Not a lot of folks in the world get to experience doing this type of thing. And this exact combination I am going to share my experience with is a rare opportunity. Yes, I have genetically connected Elkhounds on the premises all the time, so it's easy for me to witness the difference between our connected Elkhounds vs those that are not. However this particular summer I had a visit from Nola. She came to stay with us for a few days. Now Nola has been raised down in Montana and I have not seen her for a few years. She was the last pup from Mia and Takoda. A tough little female. Nola is a genetically connected Elkhound to many of mine of course.
So when she was here I had a chance to do quite a bit of mountain work with her, Takoda, Mia, Kai and others, but I will share the story of Tora and Nola first. So Tora is boss around here, and Nola is boss at her place, it was immediately apparent that these two were now bosses. Go figure, sure Nola was not pressuring Tora, but you could tell these two were peas in a pod. So I had never hiked with Nola and wasn't 100% sure of her recall or ranging, hadn't really thought to ask Linda, but I knew any daughter of Takoda was going to be just fine in the bush. So, off we went. Now taking Nola out was like watching Tora with a string tied to Nola. Nola stops, Tora Stops, Tora turns left, Nola turns left, it's like they had been hiking and working together for a hundred years. They had not seen each other before. Oh maybe Tora saw her for a moment when she was a pup but nothing more than that. Now you couldn't get another Elkhound to function that way in a hundred years. Oh yes, you can hike and work two or unrelated lines very easily, no problem at all, but not with the unspoken communication and level of togetherness that was exhibited. It was pretty astounding to watch.
Nola had worked with me as a very young pup, I spent every day of her life with her till she was eight weeks old, she knew my voice. Commands were executed as if she knew exactly what I just said even if she never had heard it before, although Tora was also responding at the exact same time, so Nola may have been listening to me, or she very well may have actually been listening and taking her cues from Tora. Either way, truly astounding the times we had. I couldn't get Kamp and Tora to work this well together and they have been together for years. What I find so neat is that even though Tora and Nola had never spent a moment together, the instant we went to work, it's like I was working the same dog.
Now I had seen this before one time, but never had as much time, nor was I as aware and paying attention then, but now as I look back, Mela, when she came home for a few days was the same way. Young Tallak when he came back exhibited the same thing, Jaegar after being gone for a long while, same. This is no scientific study or anything, but I can say this much, working style, work ethic, skill and ranging ability, these are easily identifiable as totally genetically transferrable. I am going to put more on this into a separate article shortly, as I have more to share on this great visit with Nola.
Morice - Male Elkhound - Son of Jaegar and GAEDA
Sandra sent me down a nice update on Morice. He is up in the beautiful Buckley Valley outside Smithers. This is a great area for an Elkhound, he has it made up there. Sandra and her husband Jim camp, boat, hike and hunt, all sorts of outdoor activities and they wanted a really easy going Male with a couple special traits. One trait that they wanted was the ability to stick around, the other was the ability to be amongst other dogs, yet still retain all the watchfulness when camping and hiking.
The Elkhound is perfect in those settings. I went over the instinctive territorial traits the Elkhound has, and the Dominate yet not aggressive behaviour of their nature. A territorial dog sticks much closer to home, or the territory, and a dominant breed causes less disturbance amongst other dogs as it can usually avoid an issue simply by ignoring it. This makes the Elkhound a great dog where everyone gets together has a dog. Campouts, weekends with friends and families, these are where an Elkhound shines. Yet you can take him for a walk in a remote region like the area where they live and he is all business. He will stick around, walk with you.
Sandra mentioned he is great on her walks off leash, and that Morice loves to hunt mice and rodents, exactly like his parents, Jaegar and GAEDA.
This is a great young male, he is a very pleasant easy going big fella Sandra mentioned, and yes, he is no doubt polite, thanks in large part to GAEDA. If you have ever been covered in slobber by a big no manners retriever, you can quickly come to appreciate a polite dog. We sure want to thank Sandra and Jim for the great home they give to young Morice and please keep us posted on the big fella, we appreciate the updates anytime.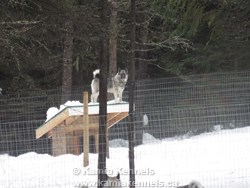 Kai - Female Elkhound - Daughter of Tora and Bram
Some of you will remember we kept a daughter from Tora back on her last litter. That female is Kai. She is a beauty. Kai is as tall as Tora but will not be as heavy. She is closer to the breed standard than Tora. Kai is super smart, very agile, she can move so fast you can hardly keep up watching her. Makes our other dogs look slow. She is feisty, her and Tora tussle for hours each day, and then she turns her attention to Kalia and tussles with her for hours.
At this point I don't have a male picked out to mate with her when the time comes, I am deciding between a couple, as she is related to all mine so I need an outcross male. This is as good a female as there is in Canada so I am going to be pretty fussy about the male, as there are few boys in her league. It would have been great to use a nice big fella from Norway so I am going to see what can be accomplished.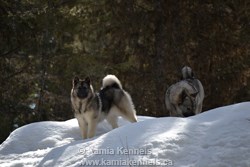 Kai has great manners and uses them. She is very independent, yet also very personable to us, a really hard combination to find. It's a very good set of traits. She has really good confirmation and style, a lean feminine female, but is very strong, hard to believe strong if you know what I mean. She has the old jaw power. This is a very good thing to keep alive, she can eat anything that Tora or Jeagar can, with the same ease. That is a feat in itself.
Never barks or whines or makes any fuss for any reason. If she is barking something is there. She will travel a bit though, she was born here so her territory is pretty big in her mind, I am having her develop a few limits though. She is young yet, so not to worry. She has had a leash on a couple times max, yet would heel better than GAEDA when I ask her to, which is another feat in itself. You all know GAEDA could win obedience and leash competitions with ease. So says a lot for Kai. Only took limited work to accomplish it as well. She is easy to train.
I couldn't find a better female than Kai, no matter how long I looked. This my friends, this is an Ancient Elkhound!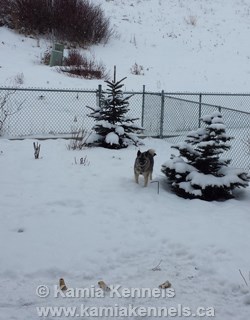 Tallak - Male Elkhound - Brother to Kai and Son of Tora and Bram
I received this terrific update on young Tallak. Tallak as you all might remember is a brother to Kai right above, a son of Tora and Bram. Tallak is an awesome young male and I'll let Laurel tell you about him. Thank you Laurel, we appreciate the great home he has, all the care he gets and attention, and patience, too funny. Stay in touch.
Hi Merv,
Thank you for the birthday wishes for Tallak. I tell you he is the perfect pup. When we first brought him home my son and husband thought he was boring. They were used to two high strung alpha male elkhounds. They had not met one with manners. Tallak took awhile to settle in and feel at home. He seems to have a reserved personality and likes routine. Seems to get out of sorts when out of his routine. That said, as long as he can walk out the front door and get to where we are going on his own four feet he is great. Does not like the car. It seems to stress him out. He likes home and out exploring. Once he gets to his destination in the car, river park, ski hill he loves it. Has a blast. But once we get home, next day he pulls away from the car like the plague. I don't blame him, I am also a home body.
We typically go for walks for about an hour a day. Now that the weather is good, we spend most of the day in the yard. I have some pretty high maintenance gardens. Tallak has his own opinions of gardening. When he first came home, he thought it was great fun to take the dead plastic planters and pull the remains out and run around the yard with the dirt and the planter. He truly entertained the neighbours. He had way too much fun running around with a planter on his head. Gary and Trevor started to think he was not so boring.
He does have a way of communicating with the plants. We had 20 year cover on the ground around the bushes. He thought that was just wrong. Tore it all up so the bushes could get thicker by putting up shoots from underneath. Pretty smart. He decided that mock orange bushes and hydrangeas have no business growing in Calgary. He dug those up 5 times so I gave up. They were toast.
In the house he is so good. But when TV time comes around at night, watch out. You will have a pup in your lap if you do not show some authority. He typically gets my daughter as she is a push over for the pup. Trevor, my son has total control. He plays rough and he loves it. Gets him growling and it is so funny because he is such a sweet dog. He loves everyone and all dogs. For his birthday we bought him a dinosaur that is actually a bit bigger than he is. Trevor picked it out. He took to it like crazy. Carries it around and it is so funny. He has to think on how to move around the furniture. He gets it in open area and shakes it around, loves it.
We have lots of open area around our house. Lots of wildlife. Magpies supervise his meals with all the raw meat. Nothing left for them but a cat and mouse chase afterword. Tallak caught his first mouse this week. We have plenty of mice and voles around under the bird feeders. He tries so hard on our walks to get one, but just a second too late.
Speaking of wildlife, Tallak did have a bad encounter one night. I always take him out to the yard on leash around 11:00 pm for his last trip. The one night I just let him out, we had a visitor in the yard. Tallak though he could make nice with a porcupine. Well, needless to say, he learned the word danger. He only got about 30 quills. The emergency vet at the hospital said he was very lucky. They typically see dogs with 100+ quills per encounter.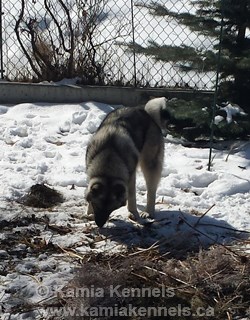 Tallak has discovered the raspberry bushes in the back yard. He checks them out daily for fruit. On his birthday he got a rib eye steak from Costco. Big and thick. Did not know what to do at first, but two bites in it was gone.
Tallak is a wonderful addition to our family. I had a spill a few weeks ago and twisted my right ankle and left knee pretty good. Could not take him for a walk for a couple of weeks. He knew I was hurt and did not fuss a bit. Always let me go down the stairs first and was gentle. Dogs know and can sense pain. They are such wonderful company.
I am so happy we were able to find Tallak and bring him into our home. My son thinks we still need a pup that is ours from the get go, not a two or three time go around as all our previous dogs. The time is not right to get one from his mom's sister and dad. That would have been the perfect addition in my mind. We are probably going to move to an acreage soon and would love to have one of Tallak's sister's pups. Elkhounds are very social and need a buddy.
I have attached a couple of outdated pictures. My son has went to bed and my phone is not downloading to the computer. I will forward a couple more recent photos in the coming days. I am not that savy on digital photos. Tallak is not that savy on posing for a photo. I get the camera focused and he has run away or turns around. The first picture is after I did some extreme early spring clean up and put all the clippings in two big garbage bags, Tallak decided that the plant rubbish did not belong in a bag, but back to the yard for good play. The other pix are in our ravine area behind the house. Tallak at night loves his stuffies, antlers, and his dog bed. These pix are from Jan to Mar. Once we get the rest downloaded I will forward some more recent ones.
Best Regards
Laurel Anderson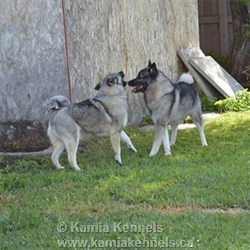 Nola and Bram
Even with all the things happening this summer I had a great trip out to Blaine and Cathy's this summer. We were treated royally, what a great time we had, Blaine had steak and lobster all cooked up when I arrived with Nola and Kamp What a feast, Thank you Blaine and Cathy. I took both females down to see ole Bram. You should have saw the smile on Bram's face when those two sharp females stepped into his back yard. He thought whoa now this is what I've been waiting for.
Now, this is a nice pair of Elkhounds, nice complimentary pair. Bram is a stunning male, with the Dark black Silver color pattern and he is an awesome match for Nola genetics. Nola is a full sister to Tora, so we all know the great dogs Bram and Tora have, so this pair will be identical. Now, for whatever reason Nola wasn't ready. We had either waited too long, or it was a false heat, something was just off for her. No worries, we are expecting her to cycle again relatively soon, perhaps early spring, and we can take her down again.
This is going to be an exciting pair, I will keep you all posted on the developments of this potential litter.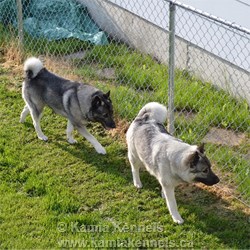 Bram and Kamp
On that same trip as I mentioned above, I also had Kamp along. Now she did hook up with Bram and Wow, did they have a beautiful group of pups. 8 rascals, nice as you could ask for. That big fella up top there, Gunnar with the Murray boys, he was one of those.
Lyyli, she is over in Kimberley, she is a great young female. Takara and her family sent me a nice update and she is doing well. Marlene and I met 3 other families up in Jasper that came down from the Northern regions to get the other young female, and two of the big males. Janine and Stephan, a great young couple from Fort St. John area are at home with Maya. Maya will be well trained this young couple are going to raise an outstanding female. Janine had let me know that young Maya is doing fine, they are spending some early time bonding well with her.
One of the other big fella's, Odin, went to a great home. Trisha contacted me early on wanting a really well balanced male, they have an active life and had done lot's of research on the breed, the characteristics, lifestyle it was suited for, health and much more. I had a great fella for them.
Nordic was another of the males, Cassidy contacted me early on, she wanted a nice steady male. One that she could have around the horses, yet an independent boy that could take car of himself as well. Nordic is fitting right in at home with Cassidy, she has been in touch a few times on the big fella.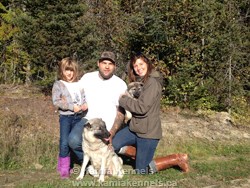 Hrute - Elkhound Male - Son of Kamp and Bram heading to his new home
Leona, with her Dad Phill and Mom Megan, are shown here with Kamp and young Hrute. This great young couple came up from Bellingham WA to pick up Hrute while Marlene and I were up in Jasper with the other pups. Ashten was here to give big Hrute a send off along with Kamp. Megan and Phill had to do a few extra steps to take young Hrute across the border, nothing to worry about, but the rules have changed just a little since some of our other pups where going down to the US. Megan handled the documents with ease. We had the health certificates all done by our Vet and the boosters and it was no problem.
I want to Thank Phill, Megan and Leona for the confidence in our program. I know that he is going to fit right in, they are an active family and love the outdoors area around Mt. Baker and all the surrounding beauty of that part of Washington. I am excited for Hrute to travel the trails south of us. Keep us Posted on the big fella.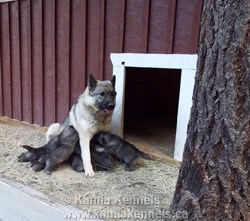 Kamp and 8 Pups
I want to take this time to thank all the families who placed their confidence in our program and has one of Kamps young rascals. We look forward to hearing all about the excursions those young Elkhounds have, please keep us posted. We also want to take this time to thank Blaine and Cathy for working with us over the years with Bram. He has been a tremendous addition to the breeding program. Bram brings that outcross lineage to our lines and it is an excellent match for our genetics.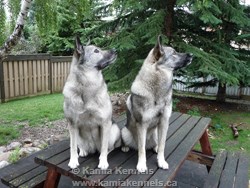 Teeka and Nikeeta - Sisters - From Tora and Bram
John sent me a real nice update on the two sisters down in Calgary, Teeka and Nikeeta. They are from different litters, but the same parents, Bram and Tora. Two Elkhound siblings will really have a great life as they can provide a full time companion for each other, as well as providing companionship for Denise and John. I am a firm believer that having two dogs will allow the dogs to live healthier longer lives. If you have ever seen two playing together for hours you'll know what I mean. They can exercise each other 100 times better than we could them alone.
John gets these girls out on the trails around the city and the outlying areas of Calgary a lot. He has a great time with them. He is retired and has the time to devote to two great females like this. I thank John and Denise for the great life they provide for these two and also for staying in touch. For me it's a real great thing to see a nice pair of Elkhounds spending time with a nice couple like John and Denise as they begin retirement. These girls will keep them active and in shape and busy and provide a great way to get out and enjoy that great area around Calgary.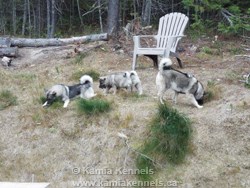 Kai, Tekla, Tuva and Kalia - The Future Females of Kamia
I have a great time each day watching the future unfold her at Kamia Kennels for our Elkhound Program. Kai far left carries forward the prolific Mia lineage. Mia's side of our genetic program is in good stead with young Kai. Tora has been a powerful female in Canadian Elkhounds and Kai will follow her mother and Grandmother.
The two twins, Tekla and Tuva, they will be carrying forward the Bram/Kamp lineage so equally suited to Jaegar and or Takoda. As they are both Outcross to either Jaegar or Takoda they make a perfect addition to our program. Over the next while I will share more on these two young amazing Elkhounds.
Our other great young female is Kalia. She is an outstanding large Swedish type female, a perfect match for Takoda. We have searched a long time for her, we are so proud of her, she is a great female, I have lots to share over the next while on her and all these girls.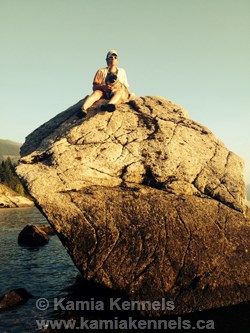 Dale and Tika
I received a nice update from Wendy and Dale the other day. They have a sister of Kai's over in Creston Area, Tika. Dale first contacted me back when I was in Sylvan Lake and he wanted to speak at that time for a female from Tora. As luck would have it, he was able to get a beauty out of that last litter of Tora's. They have themselves a really great companion. I want to thank Wendy and Dale for sending the update and for the fun time's Tika is having.
Hi Merv.
Great to hear from you. We were just saying the other day that we should update you on how Tika is doing. Here are a few pictures attached, some recent and some of her as a pup. We are always amazed at how well she listens and enjoy watching as her instincts kick in. She rarely has a collar and leash on unless we are in a public place. She goes just about everywhere with us, travels well, and has been a companion in the tractor this summer for Dale as well. She also spends a lot of time outside on her own – with our livestock guardian dogs. We have not had any issues with her running away, she knows her home and barks along with the big dogs to protect it.
She is very agile, can jump on top of a 4-1/2' tall hay bale from a standing position, and loves to climb and be at the top of every hay stack, pile of rocks – you name it. She loves to go sniffing, but always keeps an eye on where we are. The only time she doesn't listen is if there is a squirrel near by!
This summer she started barking and herding the pigs when they get out where they are not supposed to be. She takes her cue from Dale to "get em" , "round them up", but also does it on her own. You can see the old world hunting traits as she circles them and rounds them up to chase back to where they should be. No real training involved, Dale just refined what she was doing naturally.
Tika is quite the companion and we love watching her develop. She has wiggled her way onto the bed and into our hearts. We absolutely love her and would not hesitate to get another elkhound in the future.
Take care – we talk about stopping by one day – will give you a call if we are heading that direction.
Dale & Wendy
Creston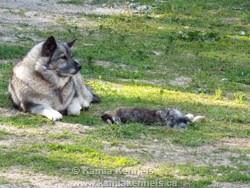 Mia, The True Example of Prey Drive - It's Really Prey Catch For HER
Here is a fun story. I wanted to share the true example of prey drive. In the world of Mia it's not Prey Drive, it's Prey Catch. Now for those of you reading this newsletter and coming to the site for the first time, Mia is the foundation of our program, our oldest dog. Everything starts with her. So when your looking at hunting instincts, and agility, and true prey drive, take a good look my friend. Most folks who write about prey drive, and that would include almost anyone who talks about dogs, most of them don't have a dog that has ever chased anything other than a ball. Furthermore, 99% of them don't have a dog that has ever caught anything that was alive. And even less of them have a dog that is this old that can catch a jackrabbit in summer time. That takes some scrambling and hustle.
For anyone reading this for information on the Elkhound, the agility of the Elkhound is so far superior to almost all other breeds it's not funny. The real hunting instincts in almost all breeds is long dead, not so with ancient Elkhounds. Ancient Elkhounds can thrive in the wild, not famish. There are few breeds, in their prime who can actually catch a jackrabbit, the amount of breeds that would be able to do it at her age, I can't think of one. I have seen some really awesome Border Collies at work, and some really good Blue Heelers, they would be close to Mia in terms of agility, but only the blue heeler would have the instincts to catch a rabbit and I am not sure they would have the speed, they have the agility.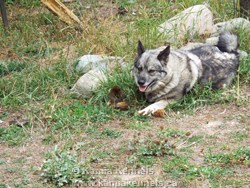 There are a lot of squirrels, and a lot of rabbits here, we sure don't harbour any issue to either, and we like the squirrels around, but sometimes they just get a little too noisy and cocky for Mia. She has the run of the place and so she is basically free to hunt them if she feels the desire. She doesn't really worry too much about them as long as they don't come into the main area of the yard, if they stay in the perimeter trees then she leaves them be, but we all know squirrels, they are known to bug dogs. However bugging a dog as fast and quick as Mia, well, that my friends is a mistake.
Mia is a major rodent terminator as well, we can't believe the amount of mice, and rodents, etc. up here, and thank goodness the Elkhound is much better than cats, or we would be overrun.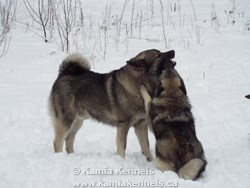 Jaegar and Kalia
Speaking of Mr. Jaegar Man. He is a awesome big fella this winter let me tell you. He has a new buddy. Kalia is hangin with him these days. Bunks out with him and spends time looking up to him. He is enjoying it. His old pal Kamp is busy with training Tekla and Tuva so spends her days and nights with them, so Kalia is a great new pal.
Kalia and Jaegar will be our biggest dogs. She will mature out in the plus 60 range, Jaegar man I don't even have a scale big enough anymore. I have to wait till Ashten comes home, she can lift him, and the scale won't max with those two so we can get a reading. Over 70 lbs easily, as he is much bigger than last time we weighed him. He is a pretty nice GQ male to folks. He has been around so is social and can greet people. Overall his a very nice male, he has a tendency to be pretty vocal and doesn't allow other dogs in the yard. He holds his ground, and if that takes a little shove, he is more than willing, although not a real trouble maker, but I can rest easy if a female is in heat, there will be no stray males coming by that's for sure. Well let me rephrase that they may come by, but they won't be coming into the yard put it that way.
He is overall as well balanced a male as we have ever raised. He is even throughout, solid and extremely strong. Massive bite strength. A fast moving big fella. Huge bark. We are mighty proud of Jaegar. Mia's Boy.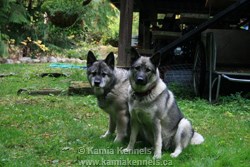 Nahanni (right) and Arwen (left)
While we are just finished talking about Jaegar, check out his daughter Nahanni. Marion has Nahanni over toward Vernon area. Marion has raised Elkhounds for years and contacted us when we were back in Sylvan about a pup from Jaegar. Nahanni is turning out to be a truly stunning young female. Her buddy Arwen keeps her company, and can still put her in her place if she gets too rambunctious says Marion. Marion mentioned she is doing great with the training, all is going well, they are working on meeting other dogs though, that for some reason is just taking a little bit of extra work. I guess a little bit too much of Jaegars personality in that area rubbed off.
It's great to see that Arwen and Nahanni are best pals and that they have such a terrific home and lifestyle. We sure do appreciate the feeback on Nahanni and the photos and please keep us posted Marion. Thank You.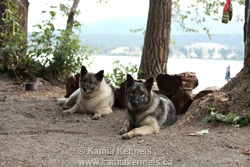 Saga (right) and Sloan (left)
We spoke above about Nahanni. Well Saga is the full sister to Nahanni and to Storm who is featured at the top of the newsletter. These three sisters are some of the finest females you'll come across. Joshua and Kim sent over some great photos of Saga and her buddy Sloan. The lifestyle thee females have is enviable for a fact. They get a ton of outdoor activity, as Josh and Kim are active and live in a great part of BC over toward the Invermere region.
Kamp and Jaegar produced three sharp looking females.
We are grateful for the confidence that Joshua and Kimberley put in our program and for the care and great home they have provided for Saga. I am also happy for Sloan, it's sure great she has a good companion, please keep us posted on how things are over there.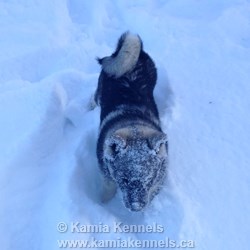 Nordic at home in Fraser Lake BC
We mentioned earlier that Cassidy had been in touch about the big fella Nordic. He is a Son of Bram and Kamp, and is up in the Fraser Lake region of Northern BC. A great place for a snow loving Elkhound. A big thank you to Cassidy for keeping us posted on the big fella.
Hello Merv
Winter has arrived in Fraser Lake and Nordic is loving it. I tried to keep him in the house as its a bit cooler out today but he wouldn't have it. He wanted outside.
He has really grown the last couple weeks. He looks very much like his dad down to the light strip behind his front legs. He weighs about 25lbs now.
He is doing well. He goes in for his next shots next weekend.
I hope all is well with you and your family and Happy Holidays!
Cassidy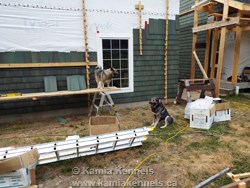 My Main Crew, Tora, Takoda and Mia Assisting me
Right now my garage is serving multiple purposes. I have been using it to house the females when they are whelping as I set up some temporary pens inside for a few weeks while the pups are small. The building has radiant floor heat with a good programmable thermostat so I can keep it nice for the pups and females. No matter the weather outside. IT has a good floor drain system, hot and cold water is there, I have some nice counters and shelves finished up for food prep and so on. I have my deep freezers, fridge and so on for the food in there.
It also has served as my main supply storage area for materials, and of course serves as our garage as well.
The pups are able to stay in that building until they can motor around good, which is about that 3 to 4 week range, then they can be moved outside. I can then take the pens down, and have the space back. So for the time being until I have a dedicated building it's working pretty good. I had the same situation in Sylvan until I had a dedicated building.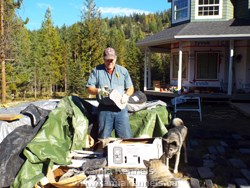 It is all drywalled and finished up with nice window cornices mouldings I put on last winter, I built a nice set of custom cabinets and some custom benches I welded up but I would still like to have some better counters, but all in good time.
In the future I have a plan for a dedicated building down by the pens just needed to get the main house finished up first before tackling that. This garage of course is way fancier than what the females need but it sure is nice for me to spend time in while they are having them so that's a bonus. I am working toward having all summer litters if possible so that makes things a lot easier. That of course is easier said than done. I am at the mercy of the cycle of the female.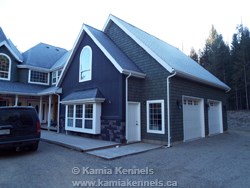 The supply boxes on just about any material were always getting shredded. Either by mice, or by the doges after the mice. I went through a lot of tarps as the dogs would tear them hunting the mice. They are so focused on getting them out you wouldn't believe it. Up here there seems to be a real abundance of mice, so it keeps them all busy. As well the squirrels are all over stuff.
The other time the building is valuable for the dogs is when the females are cycling and we are not breeding them. Two males like Jaegar and Takoda make a tremendous amount of noises and racket while that ten day period is on, and we have to have a place they can go at night out of sight and sound of the female. They can at least be a little bit calmer, they can still smell her, but they can't see her so it's a little calmer, not much. Sometimes we reverse it and put her in, say if when we had to go to town or something. Then I don't want a female outside as you never know how hard they will work to get together, and of course a stray male could come by, I sure don't want to have to bury him in the back when Jaegar and Takoda are done with him. So it's a pretty good building for me right now.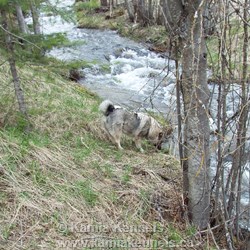 Tora - spends her day exploring
We would not have much of a newsletter without Tora. As you all know Tora is the most prolific Elkhound female in history. We have some truly outstanding Elkhounds, and if Tora isn't the best Elkhound female in Canada, then it would be one of her daughters or sisters. With our new property, our training ground, facilities and recreation area it is now finally matching up to our dog quality. The area that we live in is so well suited to Elkhounds it's quite unbelievable. There is a saying in BC, it's Supernatural. No Doubt!
You don't need anything fancy to have a great dog, a great dog is happy wherever you are. But if there were a perfect place for Elkhounds to spend their time, well, this is pretty much as good as it gets.
Tora and I get to roam around the mountains, this creek is down behind our kennel pens and flows from one end of our place and out the other. Tora likes to stop and grab a drink from this clear cold fresh water. Both Marlene and I are workaholics, we have spent all our life working, we don't mind work, but we can resonate with Tora on a day like this. She put her time in and raised some awesome pups, now she gets to wander around and enjoy things a bit. Sure she is not afraid of work either, but both her, Marlene and I enjoy the time we get here now.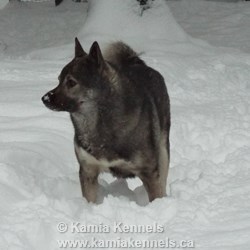 Takoda - At 7 Years a Picture of Health
This has been pretty much one of those a Year in the Life of an Elkhound Breeder newsletters. I will wrap up my newsletter with some tales on the big Fella Himself, Takoda. At 7 years of age he is in the best shape ever. No fat on this boy, all lean muscle. Still rules his turf. Virtually every dog on this site runs his blood. The ones that don't are there for outcross mates for him and his kin.
He has a litter on the ground right now as I write this I am watching them play in the snow at minus 20 degrees out. They sleep outside in the outdoor kennel now. Tough as nails little rascals. They are the most personable dogs I have seen in a lot of litters. I take his little guys and him and we can go hiking with all of them right now at 6 weeks, they keep up, they follow commands, true working dogs, at 6 weeks. Smart as can be. Some of the best guys ever. 2 Silver boys, 1 big Black, and big black female. Go Figure.
Takoda is my best dog, best friend and pal. He lives to spend time with me. There are no more loyal dogs than Elkhounds, and Takoda is the greatest.
Till later,
Merv