Thanks to MacKenzie, Amber and Andrew for sharing the experiences and photos of Cinnder and providing such a great home.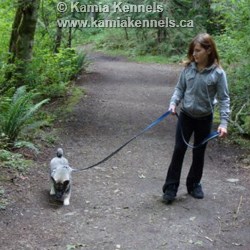 "Cinnder, at home exploring the trails with MacKenzie "
There is the photo we all want to see, young girl out on the trails with her new pup, a Norwegian Elkhound no less, life doesn't get much better for anyone. These two will grow together, exploring and learning new things for years, Elkhounds live a long time, they are a tremendous companion dog, this young handler is doing a terrific job as well. See how she has slack in that lead, she is also using a halter, our choice as well, they are communicating and paying attention to each other.
"Having Cinnder makes for some busy days...Cinnder sure loves to play, she is not so keen about her training classes, but she does it with just a little bit of attitude...We are enjoying her company and she makes us laugh at least once each day..!" Amber, Andrew and MacKenzie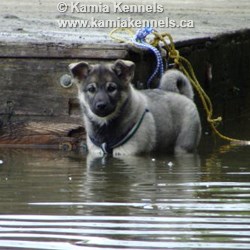 Cinnder, Female Elkhound, summer 2010
You can view a larger image if you click the image
When Cinnder first arrived home she took to the water around Mill Bay and Brentwood Bay on the west coast like a water dog. Elkhounds are versatile, they have been coastal region dogs for centuries, and as you can see, she is not shy.
Cinnder, for whatever reason spent a fair bit of time around Takoda as a young pup, they got along really well, she spent more time with Takoda than Mia after a while. You always have a stable dog if it can be around both parents as a pup, they get something more, hard to describe, but you just have a better dog because of it.
"Cinnder is a very curious puppy, she loves to check everything out, we have taken her to a couple of beaches and she loves the rolling waves and long beach full of pebbles..." Amber, Andrew and MacKenzie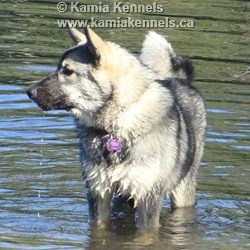 Females Elkhounds are terrific companions, they make one of the best family dogs you could ask for. Cinnder is a perfect example of that, she is easy going, not shy, very stable and has the traditional independent streak of Elkhounds, yet very trainable.
Cinnder is a very good looking female, she stands very well, her stance always shows her dominant independence, this is a good female. She has the tight curled tail and nice erect ears that all Elkhounds are known for, combined with a very good muzzle. She was a very good looking dog right from a pup, very pleasant to be around, our Daughter Ashten really liked Cinnder and knew that this would be a great pal for MacKenzie, Amber and Andrew.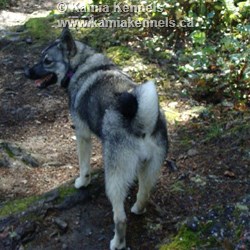 The Norwegian, or Grey Elkhound Females Are Coastal Northern Dogs
It's photos like these that illustrate why the Elkhound is so well liked by families as Cinnder portray's all the quality that have made these dogs famous over the years. She is still very young in these photos, but with a maturity and stability beyond her years already.
Her coloring is very characteristic of pups from Mia and Takoda, they all lean toward the darker grey, and Cinnder has excellent confirmation, her stance and her feet are well placed and straight, nice clean shape to her paws, just like they should be. Cinnder has the black dot on her cheeks that Takoda stamps on all his pups, her's is really easy to see, this is a quality female, it's so nice of Amber to keep us posted with photo's as she develops.
I always enjoy watching the pups develop into mature dogs and the good care is evident that Cinnder is getting, one can easily see she has it made, we want to Thank Amber, Andrew and MacKenzie for providing such a good home for her.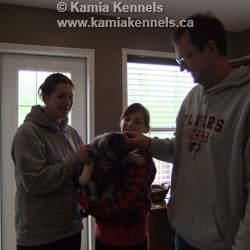 The wait to pick Cinnder up is over
There is quite a story about Cinnder and her selection and how she came to be selected, I'll try to relay it with as much accuracy as I can. Some time before Amber contacted us, they had been looking as a family as perhaps getting a new puppy. MacKenzie had been doing some research on pups and kennels and had been presenting quite a few options and one day she came across the Kamia Kennels site, from my understanding she really liked the dogs and puppies she saw and brought the site to the attention of Amber and Andrew.
There was some discussion and so forth, but from my recollection, Amber and Andrew decided to go forward with a selection from us, but decided to keep that from MacKenzie and instead plan a suprise. They managed to speak for a pup in good time, to ensure they would get one, and somehow managed to keep this quiet the whole time, and even were able to travel out here with MacKenzie unaware they were coming to pick up Cinnder. Remarkable really, what a beautiful suprise.
There is nothing quite like getting a new puppy anytime in your life, it is probably one of the greatest things, and to get such a lovely surprise, especially when MacKenzie had suggested this is the puppy she really wanted, to be a part of something so nice is really special for us.