Leif - Male Norwegian Elkhound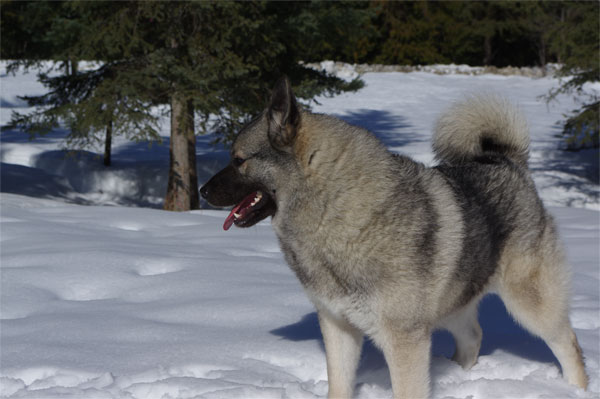 This my friends is my new stud, Kamia's Pretty Boy Leif. Now Leif is a full Norwegian Elkhound, all the way back to the very beginning this is all Norwegian blood in his background. This is an amazing young fella. I have a lot of great things to share about this rascal, no doubt.
*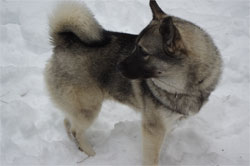 I have only had Leif here for just a few short days when I took this photo, he came at the time Tuva was ready to mate*
All of you know we raise ancient strain working dogs. We do not raise show dogs. However, as all of us know, we ancient working dog breeders need an outcross male as well. I had decided along time ago to do the same thing this time round as I did with Aina and that was to contact one of my old friends. She was a breeder of Norwegian Elkhounds for 25 plus years and I knew she could help me find what I was looking for in my new stud dog.
We started the process a long time ago when the Twins Tekla and Tuva were growing up. They were becoming such great dogs I wanted to have a really great male for them. Kai was also a top priority for me as I wanted a great match for her at some point as well. Hachi is an awesome fella, but I did want a full Norwegian at some point here. Believe me it's tough to find a really good male out there, you may think there should be lots, there isn't, a lot are not worth using. So my old friend was able through some of her contacts to suggest a really good lineage. A lineage that was the top lines, from the top breeder in North America.
I had let her know that we were after a full instinct lineage, a working lineage even though we knew it was a show style breeding operation. Those breeders know their dogs, they dug through the blood lines and found me the ancient bear lineage. As it so happens to have worked out Leif comes with all instincts intact. Exactly what I wanted.
Below: Leif meets Tuvas Mother Kamp, good gracious he thinks, the mother -in- law lives next pen? Tuva is on the left, and Leif on the right, Kamp the mother of Tuva is in the next pen. You can see Leif has one other obstacle to over come and that is that long lean streak of misery in the background you see, Aina. Leif, he made the mistake of snapping at Aina through the fence, he just didn't know, how could he. But that is not something you want to do if you wish to keep that pretty boy muzzle. Aina, she is going to tune him in when he comes out, no doubt about that. Kalia she is sure wondering who this pretty boy is as well?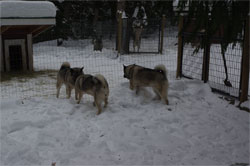 Now I have to let everyone know that Leif, he comes in here as a young fella, comes late one night. He traveled over 3500 kilometers to arrive at our location. He had not seen snow in his lifetime before this trip, and it's cold out when he arrives. I give him a little time around the yard, and he stays in the house with us that first night. I take him out first thing in the morning, he takes one look at Tuva and just about fell over. He is like get me over there. Just pulling on the leash. Too Funny!
So Tuva, she is in full heat, she see's Leif and it's like Hello Handsome, you could not have had things work out better for the young fella. Him and Tuva, they were hooked up 20 minutes. He couldn't imagine a better place to be.
So we should be having a litter from this totally awesome pair in a couple months, early March 2017.
Leif has a line of champions a mile long in his background, as far back as I could look on either side, every pair was Champion this, champion that. Now, all of you know we don't show our dogs, but we feel we have as good a set of dogs as exists anywhere. I still believe that even after this young fella showed up. Standing him beside Tuva, I gotta say, that Tuva, she is an amazing female. It's a very good thing Leif is as good a stock as he is because she is so spectacular. Tuva, Tekla, Kai and a few of the others, they are superior females, no doubt. Leif is good, but those girls, they are truly special.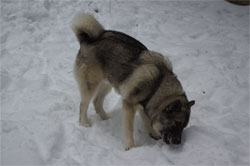 As anyone who visits our site knows our dogs are pretty rough and tumble. The big boys, they are some rank. Well young Leif here, he did good. He hung in there by the fence even when Jaegar and the old boy himself, Takoda Man came by.
Most young males would have turned away, he stayed there with his new gal Tuva and stood his ground. Good thing I have pretty fair fences cause the big boys of course would have just eaten him for breakfast, but he was standing fast, no fear in this rascal. I was very proud of him for that. That is no small feat to maintain a presence in a brand new turf dominated by some big old males.
So good for Leif! He is happy to be able to chew some bones now after his big arrival.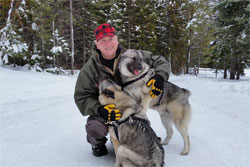 I have some more to share on Leif. He has been here for a few weeks now and is doing terrific. I have him shown here with Tuva, his best pal. Now this Leif, he is a VERY NICE Fella. Super personable and friendly, a really good Norwegian Elkhound.
Leif came with few "trained skills", meaning he had virtually no off leash command response, he couldn't even sit, but he has been in the "Desna Training Program" and is doing very well. Now he can sit, come when I call, can't stay yet, but we are working on it. His offleash is progressing. Overall I am very happy with him. I have him switched over to raw, he loves it and is bulking up, stays outside of course with Tuva.
He is going to do very well here. I am super pleased, and I am pretty sure Tuva is starting to show a little belly, isn't that Neat?
Tuva and Leif have had some stunning pups together, that young male on the right, Torleif is one of them.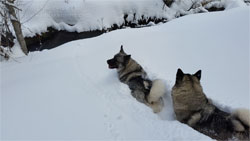 Leif loves the snow. He has fit in around here just perfectly. Here he is showing off to his new gal Tuva that he can plow through just as much snow as Jaegar and do it with a smile.
He loves going down to the creek, all through the mountain trails and his proving to be a very good young fella. His training off leash is progressing perfectly, he is a good learner. Leif is so good natured he wants to please so that makes training really easy.
I put a great article up on Leif and Jaegar, this is a good article to review, I'll be back with some more updates on Leif soon, we have his litter on the ground now, outstanding pups. Here is the article Ancient Elkhounds Meet At A Creek.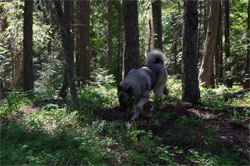 This photo of Leif is summer of 2017, early July. I had him out hiking with Kai and Tora and he is a machine right now. Fully muscled in this mountain lifestyle has worked well for Leif. He had such a great frame and with our tough conditions he has really filled out. We feed raw and that I believe also helped him out.
Now Leif will never be as heavy as Jaegar is just due to the genetics and the structure he carries but he is definitely going to be a nice fully conditioned male.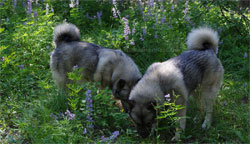 As you can see from this image he can now stand right beside Tora and look terrific, and let me say, that takes a fair bit of conditioning to equal the muscle development Tora has. She makes bull Terriers look like little babies.
He also has really came a long way on his off leash skills and hiking abilities. When he came he literally had no skills. I put him through the Desna program and he is now very good so I am super pleased. His instincts for remote work are not as sharp as our working dogs but they are waking up fast out here. So again, super pleased with him.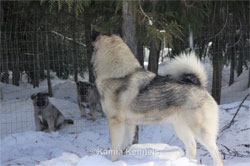 This photo was taken February 14th, 2018, Leif has been here just over a year now. What a tremendous young male he has turned out to be. Those two big boys are his, that is Viking and Vitnir. Sons of Leif and Tekla. They had a litter of six phenomenal Norwegian Elkhound pups.
I have decided to keep a daughter of Leif and Tekla, her name is Velma. I'll keep you posted on her as she develops.
Leif produces good thick boys and some really nice fancy females with substance. They are all very sharp young pups with excellent personality and behaviours. Instincts come fully alive when mated to our working females as well. So we are thrilled with that.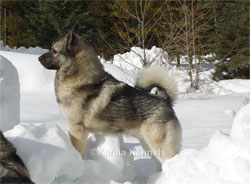 I took this photo the same day in February 2018. As you can see he has muscled right in with the workouts he gets in the mountains with the snow and climbing. I doubt any of his siblings can match his power now. He is no longer a light show dog male anymore, he is packed with muscle and has a tremendous attitude to go with it.
He has the job of security on the fringe pen, meaning he is first line of defence on one full side to the big cats, bear, coyote and whatever else prowls up his way. He handles that with his chest out, he thinks it is awesome. I am very proud of him, he has fit in perfectly.
This my friends, This is a Norwegian Elkhound Male - Full Tilt!