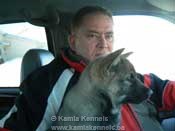 Loki - seen here with Dan heading out to the Provincial Park, near Cold Lake, Alberta
The owners of Loki, a powerful young male Elkhound have recently sent us some photos, thank you, Dorothy and Dan for touching base with us and sending these photos. You have a great young male Elkhound, and looks like he has it made up in Northern Alberta.
Loki Photo Gallery - Album 5
"We thought you might like to see some pictures of Loki, we took these today out at the provincial park. He is doing awesome. Loki is more than we could ever have hoped for in a pet. He is a fast learner and even faster grower...We weighed him today and he is 13lbs. Hope you like the pictures, there will be many more.
Take care, Dan and Dorothy."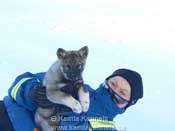 Loki is a darker Male, the darkest male of the litter, he wasn't as dark as Lexi the female, but considerably darker than say, Shadow. Loki likes to sit on that console in the truck, Dan has a big Ford Super Duty with a large console and Loki appears right at home. It's funny as he sat on the console when we went to the vet as well the first time for his check-up, looking around like such a big guard dog.
He has a real true guard dog heritage so Dan's truck should be safe with Loki around.
It is a beautiful part of Alberta where Dorothy and Dan reside, my son Jay and I have traveled up in that region and I always enjoy the Cold Lake area, the lakes around the region, we have went a few times to Lac La Biche and this is the right dog for there. You couldn't pick a better dog to have in that part of the World, actually you can't pick a better dog in my opinion no matter where you live, the Elkhounds rule.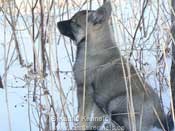 These dogs are in their element in Northern Canada, check out Loki.
We have a full photo gallery up for Loki as well, Dan has sent some great pictures, he has some terrific photo equipment and you can see they get some great photographs.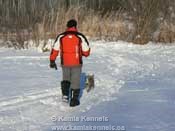 Loki and Dan - Northern Alberta - 26th of January, 2009