Aina and Rico, New Jamthund Litter Planned - Oct 22nd Time Frame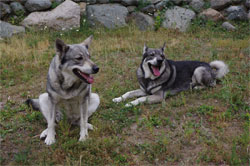 We are truly excited for the new litter we have planned with Aina and Rico. Aina was successfully mated to Rico August 20th, so around that October 22nd time frame we should be seeing some brand new little Jamthund Rascals.
This is going to be the second litter for this pair, they have had 1 litter already, ARK is the result of that mating. A tremendous young Jamthund Male.
We have a great deal of families waiting on the pups from this litter, they were waiting on last litter, but Aina decided to only have 1 pup, so they are still waiting, very patiently I might add. We sincerely appreciate that.
Aina and Rico are having a fun time together again and ARK is SO HAPPY to spend time with his dad Rico. They just have a blast, its so fun to see.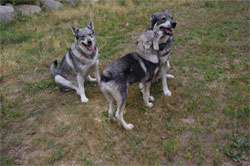 Aina, Rico and thier son ARK shown August 12th, 2018
This is a very happy group of Swedish Elkhounds, a magnificent young family of dogs. All of them have such fun together and enjoy the company of each other, truly amazing.
We are having a great time watching them play together and it's so cool to see Ark having such a relationship with Rico. This is the first time he has seen him and had a chance to interact with him, it's very cool. Rico is very good with him of course. He is a very well mannered male.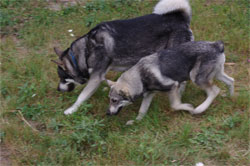 These are stunning Elkhounds, the Swedish Elkhound is a much larger dog being longer and leaner and taller. They are extremely robust hunting dogs and can travel great distances on a hunt.
Young Ark is shown here with Rico scouting around and just having some time together. What a great thing to witness, so cool.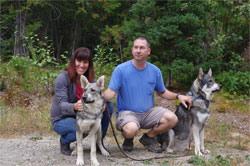 Ark and Rico are shown here with Beth and Russ when they came up. They are super proud of young Ark, they love that rascal. They have done an amazing job raising Rico to be such a joy to work with and so well mannered. He has had a ton of great schooling by Russ and Beth and is the perfect companion for them. They are both hoping that Ashten will travel down with Ark for a visit with his dad in the near future, perhaps even stay a while. That would be fun for those big fellas.
We are very excited for the new litter coming up. I have a new video of them together, enjoy.
Tuva and Jaegar, New Litter Coming - October 26th!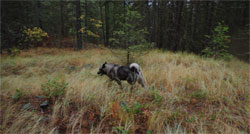 I am fortunate to have the sons of Takoda, no doubt about it. This big fella, Jaegar is a tremendous working Elkhound. Photo of him left is mid September 2018. I had been planning to have a litter with Tuva and Takoda, but we were unsuccessful in getting a hook up with Takoda and her.
However I had Jaegar here for just that reason, if there was any issue I was going to use Jaegar. As it turned out, Takoda he could not get a hookup, so Jaegar was put in. At first, he as well could not, so we took them both to the AI Center in Kelowna, did a collection on Jaegar and went the AI route. As it turns out, they came home that night, bunked out and sure enough, have a natural hookup that night. Go Figure!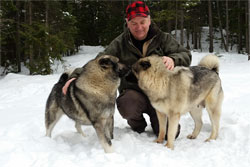 This is a photo from a few years back with Jaegar and Tuva's mother, Kamp. As you may all know we had some truly outstanding pups from Jaegar and Kamp, so the upcoming litter with Tuva is going to be incredible for sure.
We have seen the Bram/Takoda/Kamp genetics at work many times that is an outstanding set of genetic material, it all matches up perfectly.
Jaegar and Tuva are going to have some really great Elkhounds.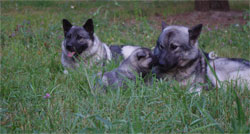 I was able not too long ago to get a really neat photo of Tuva she was hanging out with Jaegar's brother MANE, and young Teuvo, a son of Tekla. Tuva is such an awesome female, very intuitive and extremely focused on the handler.
She is a full working Elkhound as well, her background of course is spectacular, nothing but awesome Elkhound after awesome Elkhound.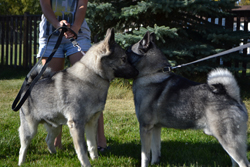 Another neat photo from the archives is this one of Jaegar and Tuva's dad, Bram.
I always thought those two saw things eye to eye!
Too funny. What a couple of cocky rascals boy. Tuva was just a thought in ole Brams mind at that time. Bram is a magnificent fella, an outstanding working Norwegian Elkhound, first generation in Canada. We are very proud of all our pups from Bram, we have some magnificent heritage of his.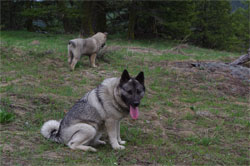 Tuva is a fully skilled mountain Elkhound, one of my very best. She is an outstanding female to use in my Desna training as she is entirely focused on me when we are out. There are few Elkhounds in her league in the world for off leash work.
She has ran beside me at this location her entire life, and basically her entire life off leash as well. She has leash/harness skills but has only been on it maybe 4 hours total in her life.
This is a true working Norwegian Elkhound this girl. Photo of her with a young Tofa.
I did get a short but neat video of Jaegar and Tuva just before Jaegar went back to Kamloops, we are all excited for this litter, it's going to be amazing.
Bane with Tiffany hiking in Utah! Son of Jaegar and GAEDA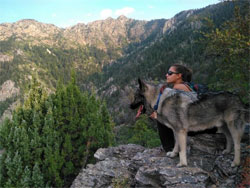 Tiffany sent me a couple really cool photos of Bane working down in Utah, she and Mike are avid outdoors enthusiasts and this big fella is the ideal companion.
She is waiting patient to get a pup from Jaegar and Tuva as another great pal for Bane down in Utah hiking the mountains.
Bane as you know was here for the Desna program, a total Rock Star, him and his brother Havoc went through it together, you can see Tiffany has continued his awesome training and lifestyle.
This is the perfect dog for individuals like Tiffany. These big males are spectacular to work with, have manners and can respect the handler. I also have to say, Tiffany, as well as Mike of course, they are the perfect individuals for our dogs. They are active, have time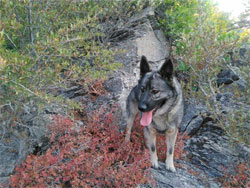 and energy to work these big boys. Want great companions to assist them in such rugged terrain, it's so awesome to see.
I want to Thank Tiffany and Mike both for staying in touch all the time and providing updates on this rascal. I remember young Bane well of course, he was a Desna training program big fella so I spent time with him each day and had a good bond with him.
It's such a great thing to witness the life and adventure he has, we sure do appreciate the work and effort Tiffany and Mike have put into Bane, we know what that entails, it shows as well. Boy, look at that big fella. Jaegar and Tuva will be putting out some serious Rock Stars just like this fella, I am hoping that a sister is down with Bane soon, and if it so happens that it's Luna that puts her out with Tiffany, that will be just fine as well.
Both Jaegar and Luna are brother and sister, both from Takoda, so a pup from either litter is going to be a world class companion for Bane. And with the skill Tiffany and Mike have, along with the Rock Solid modeling of Bane, that my friends will be some fun.
Luna will be cycling in October, please contact us early on her litter!
Luna is doing a fair bit of the training these days till she cycles. She is a total rock star in the mountains like her brother MANE and sister Tora.
Luna is most likely going to be bred to Pretty Boy Leif, we are having difficulty getting a collection in Norway to have sent over for AI in time for her cycle, so that is just fine. Leif and her make a genetic match to beat all, no doubt about that. We have that litter filling up very fast, please contact us early on.
I have a video of her assisting me training Osa and Koda, sons of Leif and Tika, enjoy.
Norwegian Elkhounds bring tons of smiles to new Virginia friends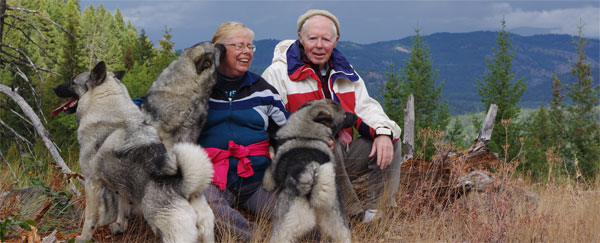 Lynda and Paul phoned one day and we were having a nice conversation about the dogs and they said they were calling to see if they could come for a visit. They said they would like to see us but especially the Norwegian Elkhounds and if possible experience working with the dogs in some Remote terrain like they had witnessed on the video's. I said that should be no trouble, for sure, when would they like to come. They said it would take a while to get there, so say, Mid Sept. I said where are you coming from. Lynda states, from Virginia, 4160 kilometres away. I said, Whoa, are you for sure coming that far just to see the dogs? They said, yep, we are retired and have a lovely RV Sportsmobile and we'll just drive on up. I laughed, I said, well, good timing, I have some great hiking dogs, and Norwegian Elkhounds of all sizes and ages to see, so please hit the road.
They did, we had a lovely visit. The dogs, Marlene and I we loved visiting with Lynda and Paul. It was a real treat to be able to take 4 of the best hiking Norwegian Elkhounds in the world on a great high elevation hike with them to share the fun with. Tora, Tekla, Vida and MANE came along. When you click that image it will open a new photo gallery of the hike, you'll see that they made fast friends with the Elkhounds.
I'll say this much, I have taken photos of every kind of event, weddings, holidays, family reunions, sporting, grads, school and much more, none of the events had so many smiles as this set. Lynda and Paul brought to my attention something that I take for granted for sure. I am very fortunate to have a "Once In A Lifetime Opportunity" every day when I hike with my Elkhounds. For Lynda and Paul, they had been around Elkhounds for many many years, had two long time companion Elkhounds themselves, knew the breed very well but had never experienced the true working Elkhounds, multiple Elkhounds no less, in rugged remote working conditions off leash. They had wanted to just have that chance to see them working, scenting out, ranging, working off leash in the mountains.
So a new appreciation they brought me as well, a renewal of effort to continue to provide the very best in working lines to folks that hope to have the same experience as we all did enjoy that day.
This summer we have had numerous visitors from great distances, it's been an incredible time for us and I'll be working to make sure that folks like Lynda and Paul get to have the joy we all did and still do as well. A big thank you to all our visitors, and of course thank you Lynda and Paul, what a great time we had.
Click the image above for the Slideshow of our hike.
A working visit to my family farm to assist my sister with her roof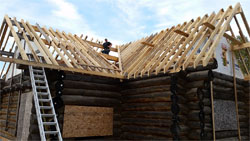 I am normally home every day but this summer I took a couple weeks to go out and help my sister with her roofing project. I had committed a few years ago to help her assemble and get her log home off to a great start. I had been out a few times over the years to help put the floor down, then went back to assemble the logs and begin the roof assembly. This time we were dedicating our time to the roof. My nephew Dan is shown on the roof, he has been a rock helping out his mom. We had my dad, my cousin Arch came by, another cousin Jeff stopped in, some Uncles and aunts it was great. A young fella named Sheridan, a son of a long time neighbour and friend also was there giving us a hand. A few other neighbours dropped in as well. We made great progress.
So for a lot of folks that contacted us while I was away, they did not get a reply, no services for me out there and way to tired anyway to respond. Ashten came down to help Marlene while I was there, and my son Jay as well, but they had their hands full with breeding, pups, big dogs, training so didn't answer any inquiries, they leave that to me. So lots of you didn't get a reply, I am working my way through the emails, hopefully I'll catch up soon. But, don't hesitate to reach out again, as I am back now and playing catch up on the email. Around our place sometimes the computer work gets to the back burner so please accept our apologies for the delay.
Vitnir with his dad Leif - High Mountain Hiking Machines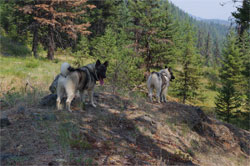 An amazing big rascal came back for a visit, Vitnir son of Pretty Boy Leif and Tekla. Him and Tofa came to stay while their folks were over visiting Iceland.
This is a solid big rascal, larger than his dad and strong as can be. He has his mothers great nature and his dads friendly style. What a combination of genetics he has.
There are few Elkhounds left in the world anymore like those we raise and when we get them back for a visit it's a very special time for me for a fact. A big Thank You to Brent and Christine for sharing Vitnir and Tofa with us.
I have a super video of this hike and these big fellas, enjoy.
The Legacy of Leif - Vitnir's Brother Viking
The breeder of Leif - Pat Trotter once said and I might have it not quite correct, I apologize, but I have the idea, she said that a dog's pedigree will tell you what he should be, and the showring will tell you what he appears to be, but his offspring are what he really is.
What a profound statement! There is no place more fitting than right here at Kamia Kennels to test that statement out to it's fullest.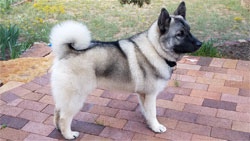 Leif has been presented with the worlds greatest female Elkhounds, Tuva, Tekla, Kai and Tika - All sisters no less. 4 of the most amazing representations of old world genetics you can find anywhere. Now let's take a look one more time, even though this entire page is full of his sons and daughters, each one incredible, let's take a look at this stunning rascal, Viking.
I just got another great update from Anita, her and Ron have Viking down in Santa Fe and I have to thank her immensely as she keeps me posted on this rascal and gives him the greatest care, as you'll soon see. Vitnir and Viking stayed with me for the Desna program at the same time, they are full brothers. Now, just so you all know the connection on this page, Teuvo and Maija-Kamp are full siblings to Viking and Vitnir as well, just different litters. MANE and Luna are of course half siblings to Viking and Vitnir, Teuvo and Maija-Kamp and most of you know I have the incredible Velma, full sister to Viking and Vitnir here with me. Is the Elkhound world getting better each day or what.
Check out this amazing fella, is it any wonder that our list for pups just keeps getting longer and longer when pup after pup comes out like this, amazing.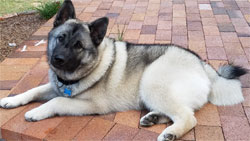 You can travel around the world, anywhere you want to go, your not going to find better than these Kamia pups, no chance. Wow that Viking is something!
"Greetings, Merv!
Well now that the really hot weather has left NM and the National Forests are open, we are all enjoying the great outdoors! We have been slowly introducing Viking to other dogs at various dog parks with great success, despite not being "fixed" yet. He loves to run with "the pack" probably find memories of his early days with YOUR pack! He's a really friendly fella! Our favorite is a five-acre fenced-in park where he can run and run and run and I can still see him. We are working on recall (with a dog whistle) and he's coming along.
At 8 months he was 46.5 lbs. I fully expect when I get him weighed tomorrow he will be at 50 or much closer. Here are pix from this morning.
We also continue to take Viking to the Plaza where people "fawn" all over him and he loves it, and them!
I've even had him groomed twice (it gets dirty down here) and he looks fab afterword.
And as I mentioned before, Viking is the calmest and coolest elkhound we have ever had. Doesn't get excited, doesn't excessively bark. Just a cool dude!
And Panda and Viking are very close now.
We'll be taking them with us on a day trip to central NM in a couple of weeks. They travel well.
Loved your pictures of Vintnir when he came for a visit recently. Fine looking fella!
Well, that's my update for now!
Thanks again, Merv, for this outstanding dog!❤️
Anita and Ron Warren "
Santa Fe

Shaka - Son of MÅNE and Kalia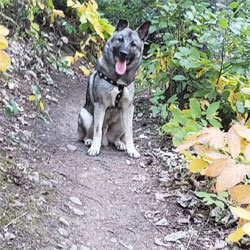 I got a really great update from Jordon the other day. He has Shaka, a young son from MANE and Kalia out in Calgary. Shaka is a very well mannered fella and is doing great out there in Alberta. Jordon keeps him active and lets me know how he is doing often.
A huge thank you to Jordon for keeping us posted, and for the great home and life Shaka has.
"Hi Merv,
looks like I forgot to email you last month. Sorry I've been super busy with work things. Shaka is doing great. I took your advice about increasing his food and he shot up 15 pounds of muscle. He weighs 35 pounds at 7 months now. He loves keeping active with me on my workouts and hikes in the mountains. We had stopped stay indoors for a week though because of the smog from the bc fires. It was too much of a health risk to go for runs or hikes in that smoke. 1 week ago a husky jumped on him and nipped his ear pretty bad. His left ear is flapped down a little but the vet says it will heal fast. Again I find myself repeating the roderic of shaka being a very intelligent dog that listens to all commands. His temperament is better then dogs older than him. I attached some photos as per usual for. Our last hike! Hope all is going well for you at bc and that the smoke from the fires didn't affect you guys .
Sincerely,
Jordon Bernard &
Shaka :) "
Cosima - Daughter of MÅNE and Kalia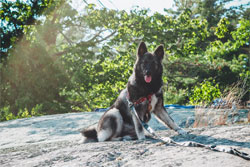 Well, Well, Well, will you look at Cosima. My friends your looking at some stunning Elkhound female from generations gone by. Trust ole MANE and Kalia to go back in the DNA archives and bring out these magnificent dogs. Oh my goodness!
Alina has sent me a few updates on Cosima, and I just enjoy so much getting them and seeing her grow. She has such a fabulous life.
Now as all of you may remember Alina had asked me to find her the old ancient lineage pup as her family in the old country, mother Russia had always had the old ancient strains of Elkhounds and she remembered them and wanted one to cherish. We got her one to beat all of course.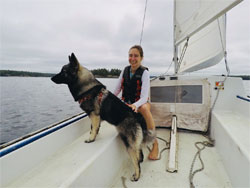 Takoda as you know his northern roots go deep up along the Northern regions of Scandinavia and run toward Siberia of course, and that heritage and genetic influence is no longer found in North America other than here. Young MANE he and Kalia, they both pull from DNA thousands of years old, and whoa that genetic material is strong.
These are truly great Elkhounds and Alina has herself a stunning companion. I have a bit of information on Cosima's brother directly above, Shaka, as well, I have on the side Tófa, another stunning sister.
Alina is shown here, smiling and happy, I would be too, lovely day, sailing and having a fun time with of course, a Sea Faring Elkhound like no other lineage. I have said many times, Takoda's old ancestors, the big blacks, they sailed down through the Bering Strait, ancient warriors from a time long ago. I'll say this much, those old warriors they would be some PROUD of these pups like Cosima, Tófa and Shaka, that old heritage lives on yet.
We all send out a big Thank you to Alina for staying in touch and having such a great life with Cosima.
Loki - Son of Kai and Leif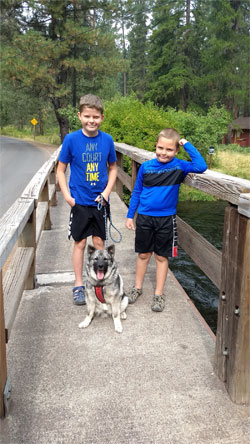 This is a neat update that Brian sent me a while back as well. His boys are great handlers, they came here and went mountain hiking with us a while back when Loki was in the Desna training program, so I know they are sharp. Loki is in great hands. We can all see that Loki he keeps that old Viking heritage alive and well doesn't he?
A big thank you to all of them for taking such great care of Loki and giving him such a fun life.
"Hi Merv,
I thought I would send you a quick email with a Loki update. Hope all is well with you. The boys and I just finished two weeks of RV camping through Oregon. Loki did awesome. He travels in the car great. Basically sleeps in the backseat the whole trip. We did lots of hiking and just hanging out. He's doing very well with his training. He has his moments but overall he listens well. Most of the campgrounds require dogs on a leash, so he got lots of practice with that.

Everywhere we went he got lots of attention from people. He's turned into quite a friendly guy. I think the Leif side of things is coming out strong. His personality is just great, he likes everyone, kids, other dogs, doesn't matter to him, as long as they pet him. One thing that's really cool is when he greats people he sits next to them instead of jumping up, very polite. I think he would go home with just about anyone that pets him. I gave several people your website and probably sold a few dogs for you.
Attached is a couple of pictures from our trip. As you can see he's good in boats too.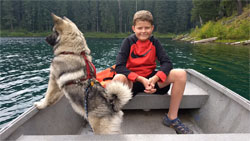 Brian"
Denali - A Son of Leif and Kai - ( Brother to Loki above)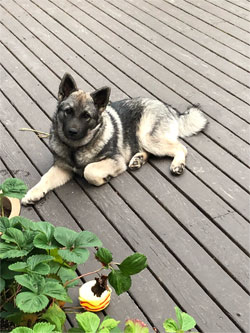 Julie recently updated me on this rascal, Denali one of the superior males that came out of that litter of Kai and Leif. I remember working Denali on the Rim Trail with his great grandpa, he is a true Rock Star. Thank you Julie for taking great care of this fella, and glad to hear you can get some time with him all to yourself, Way To Go! Keep us posted.
"Hi Merv! Happy Sunday! Just checking in. Denali is an absolute blessing for me and my family! I love him so much! Every weekday morning he wakes we up with a fun cuddle playful mood where he gets overly petted and scratched and loved then I put him outside while I make his breakfast and my coffee. Then we sit to get her in the yard and enjoy! It's summer so the kids are gone most days and so that means I get him all to myself!!! Ssshhh!! I got him for me! Thank you so much we will send more updates soon! Hope all is well take care!
Julie "
Miss Nora - A Fancy Daughter of Leif and Kai - ( Sister to Loki and Denali above)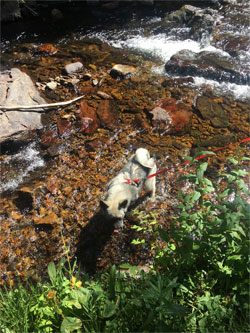 This is just awesome to get these updates of this litter of pups. All of them are such great rascals its so fun to see them growing up and doing so well in their new homes.
Wow, such a great group of folks we get each time for the pups, we can't say thank you enough to all the folks who provide such loving homes. Andrea and Chris contacted us and really wanted a special female, a spectacular Norwegian Elkhound female to be a companion for them down in Colorado.
I told them I had a pair of Elkhounds like no other, our beauty queen Kai and none other than Pretty Boy Leif who we were planning a litter with. They were so excited to hear when Nora was born, oh my.
Miss Nora is a full tilt working Elkhound don't ever kid yourself, but at the same time, she is this super showy awesome rascal, she could make her ancestors who have won Westminster, who have won Championships all over the world look like old wannabe's she is so fine. You get a female out of Kai and Pretty Boy Leif, whoa nelly, you have a female like no other in the world. A big thank you to Chris and Andrea for getting the famous Miss Nora up in the high country and providing her with every opportunity to shine.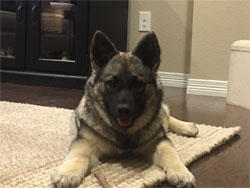 "Hi Merv,

Hope all is well up in Canada! Just wanted to send you an update on Nora. She's such a doll and we're having so much fun with her. We've both already built a bond with her and just love her affection towards us. Like you always said, very personable which we ❤️! Additionally she's super smart with lots of energy.

Nora has already been hiking and exploring the Rocky Mountains here in CO! She likes her walks but LOVES her hikes. Photos attached. Look at this girl at almost 9000 feet! What a Rockstar! Additionally she's pretty spoiled with toys and beds also see photos! We're looking forward to enjoying the Colorado Fall and Snow ❄️ with her!

Thank you for an exceptional Norwegian Elkhound! We'll keep you updated.

Cheers,
Chris and Andrea"

Mr. Norway, Torbøjrn - Went North To Alaska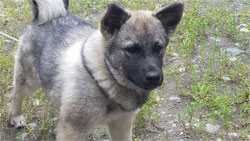 This is very cool to have all the updates on this litter in hand while I am putting this newsletter together. A huge big thank you to everyone, and of course to Jay for sending down some super updates on Torbjørn.
Torbjørn is a really "Stand Up" kinda fella. Tough rascal like his mama. Has that attitude if you will. I figured that Norway trait came straight outta Kai, down through Grampa Bram, so I liked to refer to him as Mr. Norway. Jay has told me she is seeing that come out already up there in Wasilla. Too Funny. It's a great trait for her, she has some mighty big Moose for him to bark around that range, so a little attitude is great.
Thank you Jay for the awesome life this fella has, and your right, let them know who is really in charge - good luck with that.
"Hi Merv and family!!!

Torbjørn sure has a strong head on his shoulders! But oh boy, what sweet personality, just a loving little pup!!!
There's been a few little tiffs between my Siberian husky, Tayler and Torbjørn. But I think they both know who's boss in the house...me!!! 😉
He went on a hike in Hatcher Pass today, but not very far, since it was raining and Tayler got tired early. So we went and visited with a friend and her granddaughters. The little girls fell in love with Torbjorn!

Here's some pictures so far from Wasilla, Alaska! (Maybe just the home and the yard so far.)
Jay Lein"
Kaia - Home on the Island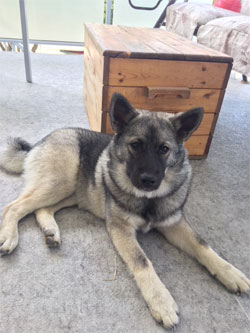 This is another superb daughter of Kai and Pretty Boy Leif. This litter was all phenomenal pups, each and every one. Carol contacted me a long time ago. She had been wanting a companion for some time, she had experience with Elkhounds for years and it had been a goal of hers to once again have a female around.
She is an active senior who lives on the Island and has access to parks and trails and literally lives right next to a park like area for walking and hiking. She has great friends that come by and have dogs and they all go together.
Carol has sent updates a few different times, she loves this Kaia. Carol has had a trainer give her a hand as well, just as a helping hand more than any other, she is fully capable of working with Kaia.
We sure do appreciate the opportunity to provide a pup like Kaia into such a loving and caring home. Thank You Carol for giving Kaia that chance to be all she can be and assist you in staying active and engaged. Kaia is a great help to her and comfort to have around. What a Beauty!
Signi - Daughter of Kai and Leif - Sister to Kaia and Nora above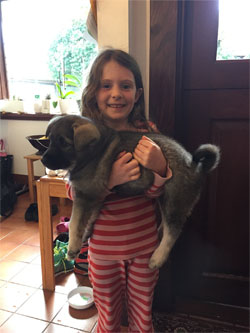 The other amazing female is Signi, Jennifer had sent some updates a while back as well, she is settling in wonderful. I'm hoping to hear more updates her great time out on the coast soon as well. Steve and the kids had a swell time out here when they came to get her and we enjoyed our visit.
"Hi Merv
Here are some pictures of little Signi ! We can't believe how much she's grown already. And her ears are starting to pop up - usually one is up in the evening but by morning it's flopped over again.
She's finally getting used to her crate & she's slept through the night in it a few times now - yay!
Tait and Bianca adore her ( as do Steve & I) and she is a great addition to our family.
Jennifer"
Kalani - Daughter of Kai and Leif - Another sister to those featured directly above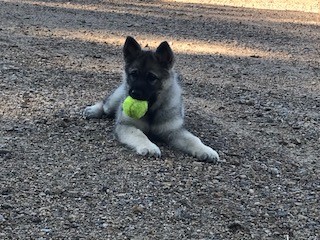 Teresa sent me the update a while back on this fabulous sister to all the others featured above. She is out in Alberta and has a very loving home and environment. We are so proud of this litter, each and every pup is totally outstanding. What an amazing thing to witness all these Rock Stars growing up. A big thank you to Teresa, she waited a long time. She passed on a few litters as she only wanted a Female, and only from certain pairs. Thank you Teresa and family for your outstanding patience.
I selected Kalani first overall of all the pups, I felt she most matched that family and it has proven out to be a perfect selection, in fact all have been perfect selections, go figure.
"Good morning!

I just wanted to send a quick update. Kalani is doing great and growing like crazy. She is learning lots and listens quite well. She is off leash most of the time on the farm now and comes back when called. I think she had bonded with us nicely as she never gets too far from our sides... yet. She has a lovey curious and playful nature, we are having such a great time with her. I am including two pics from this morning.

Teresa & Family"
Letta - Daughter of Kai and Leif
There is one more female from this litter and this of course is Letta. She is here with me. Letta will continue this awesome lineage on as she is retained for breeding.
As with each and every pup that comes from Pretty Boy Leif, Letta carries the world class genetics of some of the most famous female Elkhounds of all time in North America. The Vin-Melca Norwegian Elkhound females are "The Only Females To Win Best In Hound Group At Westminster".
One such female is as you all know the world class Marketta. She won the hound group Twice. Absolutely Remarkable Really.
I had to find a way to pay respect to all the years of dedication, the years of work and effort that Pat Trotter put into the Elkhound Breed with her committment to excellence. I felt one small way I could do that was to name this amazing young female daughter of Leif and Kai after that famous female. We all know that the most auspicous year to gain a dog, a famous Elkhound lineage no less is 2018, Year of the Dog. And considering all the stunning pups we have seen over and over from Leif, to have a famous name such as Marketta to influence me I felt was right. This is the reason for Letta. I took the L from Leif, and the remainder from Marketta.
Leif as you all know was brought in to preserve my female lineages and allow me to continue that heritage. Leif is easily considered the most genetically rich Elkhound Female background of almost any Norwegian Elkhound anywhere in the world, so matches my world class females superbly. Leif carries both Marketta and her mother, Calista in his background. Calista of course is the very first Norwegian Elkhound female to win hound group at Westminster, and she set the stage for her daughter as she also came back the second year and won again. These two females are absolutely remarkable.
The final female from Vin-Melca to win was recently, and she is not in Leif's background but carries all similiar genetics, she was a granddaughter of Marketta. Like breeds Like.
I have a great video of Letta I took on July 1st, Canada Day, enjoy