Aina and Rico, New Jamthund Litter Planned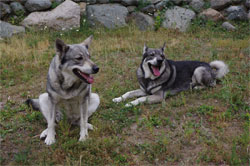 We are truly excited for the new litter we have planned with Aina and Rico. Aina is cycling again and she is in terrific shape and we have Rico here for the mating. This is going to be the second litter for this pair, they have had 1 litter already, ARK is the result of that mating. A tremendous young Jamthund Male.
We have a great deal of families waiting on the pups from this litter, they were waiting on last litter, but Aina decided to only have 1 pup, so they are still waiting, very patiently I might add. We sincerely appreciate that.
Aina and Rico are having a fun time together again and ARK is SO HAPPY to spend time with his dad Rico. They just have a blast, its so fun to see.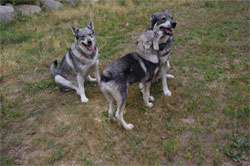 Aina, Rico and thier son ARK shown August 12th, 2018
This is a very happy group of Swedish Elkhounds, a magnificent young family of dogs. All of them have such fun together and enjoy the company of each other, truly amazing.
We are having a great time watching them play together and it's so cool to see Ark having such a relationship with Rico. This is the first time he has seen him and had a chance to interact with him, it's very cool. Rico is very good with him of course. He is a very well mannered male.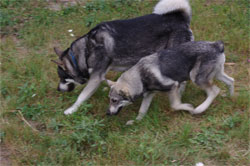 These are stunning Elkhounds, the Swedish Elkhound is a much larger dog being longer and leaner and taller. They are extremely robust hunting dogs and can travel great distances on a hunt.
Young Ark is shown here with Rico scouting around and just having some time together. What a great thing to witness, so cool.
We are very excited for the new litter coming up. I have a new video of them together, enjoy.
Tika has her new litter of Norwegian Elkhound Puppies!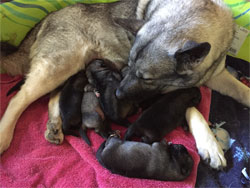 All of us are super excited around here as Tika has her litter on the ground now. Super fat little rascals and oh man, some tough little fellas coming up as there are 7 Males and 1 Beauty Queen female. Go Figure!
Pretty Boy Leif he matches up with that lineage of Tora's daughters really well I have great expectations for these pups. They will be some of the very best we have had.
I can see some bear chasing, coyote scaring rascals in there. Osita, Tor, Torq are just a few of the great pups getting fat in there. Folks are mighty happy these days.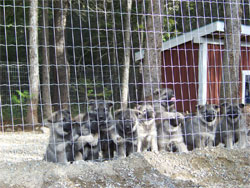 I can't help but think back 5 years to the last litter Tora had. It was 5 years ago today, less a month. Her and I were out on a hike yesterday and I was thinking about that litter awesome pups and how now Tika is carrying that great lineage forward in the exact same style and quality. So awesome really.
That photo to the left, I am not exactly sure which one is Tika, or Kai, or any of their great siblings, but she is one of those rascals. I spoke with Cathy just the other day, and Bram, the grandfather of Tika's litter is doing terrific, his chest is way out of course. He figures it's really neat that some more little Moose Hunters are here to carry on.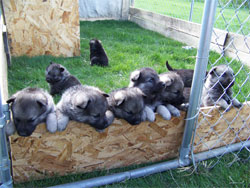 As I was hiking with Tora, thinking about that litter of Tika's I couldn't help but remember just how excited I was for all the folks getting pups from the litter Tora was born in. And for myself as well as I was keeping her back out of that litter.
I have a photo to the left of Grandma Tora and her siblings from many years ago.
This is a prolific lineage of Elkhounds there is little doubt about that. No guessing why the Norwegian Elkhound is such an ancient breed when you see females in a lineage having these awesome little pups.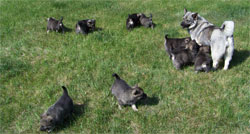 Here is a photo from a long time ago, this is Great Grandma Mia she was a Rock Star let me say that, check that out, 10 pups. Those little rascals of Tika's will be having some fiesty traits come shining through, thanks to Great Grandma Mia, especially that little Female. She will be some special now won't she?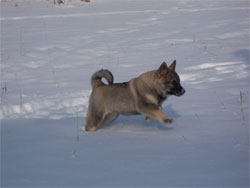 Now it's making me feel a bit old, but a long time past a young Great Grandma Mia and I were out doing some early training - same as I do today with the pups but didn't call it the Desna program back then. But check out that Rock Star would you, what a tremendous ancestor to these great pups that Tika has.
For those lucky folks getting a pup from Tika, Wow, they have an awesome Elkhound coming.
Four Generations of Awesome Norwegian Elkhounds - Pretty Cool Indeed!
Tekla had her new litter, July 1st, Canada Day!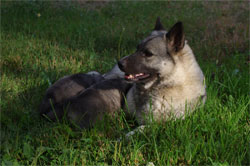 Tekla is doing so good with her young rascals. They are up and about now, walking a little and paying attention.
They are focused young pups, exactly like Mama Tekla and they are FAT! Did I mention they are FAT!
Too funny, but help is here, Denali has been helping me train them already. He is a Rock Star young fella just 16 weeks old, but he is super skilled and very good around them, a tremendous influence for those young pups. It's a fun time now.
Tika, Daughter of Tora and Bram - Full Sister to Kai
Tika is an amazing Norwegian Elkhound, she is a bit larger than Kai, virtually the same size as her half sisters Tekla and Tuva. She is a strong athletic female, took a fair bit of her mother Tora's muscle and that lean strong lithe build from Bram. She has the stunning beautiful dark face and Silver/Black coat from Bram.
The genetic match-up of Tora with Bram was as you all know one of the very best in North America and produced world class Norwegian Elkhounds with full instinctive abilities.
We have decided to utilize the depth of Pedigree of Pretty Boy Leif to match up with this sister of Kai and Tuva and Tekla. He has proven over and over to be the absolute perfect match for this genetic that Tika has, and with her build these pups are going to be some very serious hiking and working Norwegian Elkhounds.
The background of Tika reads like a who's who of Scandinavian based Norwegian Elkhounds, and you bring in that Rock Star stacked pedigree of Pretty Boy Leif my oh my! Is this a fun time or what for Elkhounds in Canada, North America and the World!
Varja - Champion INT N S UCH N S JCH - Norwegian Hunting and Show Elkhound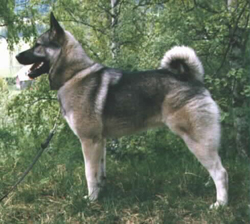 This is the famous Varja, she has a significant impact still today in our program as you can see from this image of her and Tika above. Our breeding females, Tika, Kai, Tekla, Tuva, Velma, Luna, RANE and now young Letta all pull serious genetic traits from this magnificent female.
Varja is one of the very best Norway female Elkhounds there has ever been, over 30 years have passed since she was born and Tika's litter will still have a ton of influence from this magnificent female Norwegian Elkhound hunting champion.
Varja is one of the very early hunting champion females to win Internationally, and in show. No doubt why, that my friends, that is a superior Norwegian Elkhound. A huge Thank You to the Varjdalen Kennel for such an amazing dedication to raising some of the very best Norwegian Elkhounds in Norway.
Mini G - Champion Norwegian Elkhound - Nordic Hunting Champion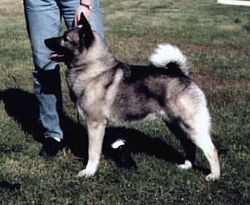 The famous hunting lineage of Tika's background is incredible. Champion hunting Elkhound after Champion hunting Elkhound line up her background. Now seeing as there are 7 males I thought I would take a minute to highlight one of the most famous Norwegian Elkhounds in history.
This is the famous Mini-G, from the Varjdalen Kennel in Norway, his genetics run straight through to those 8 little rascals in that pen nursing on Tika. Mini-G is one of the very few hunting champions that has achieved the Nordic Hunting Champion recognition. Mini-G is one of the very few Norwegian Elkhound males that gained Championship recognition in 3 out of the 5 Nordic Countries. An amazing accomplishment. Those 7 males that are in that pen, they have some very serious heritage backing them up. Moose hunting Rascals - Oh Boy!
Pretty Boy Leif and his son Torbjørn - Leif is the father to Tika's pups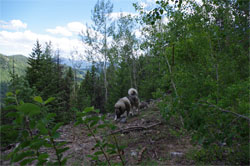 The list of absolutely stunning Norwegian Elkhounds in the background of those pups of Tika's are from around the world. Pretty Boy Leif as all of you probably know by now was brought in as a sire for our program. He is from the Famous Vin-Melca Kennels. I am extremely proud of Leif, he has turned into a magnificent Elkhound Male.
As you can see he has matured out into a solid piece of Elkhound muscle, the high mountain work, deep winter snows have worked wonders for him. This is as good an Elkhound Male as you could find in the world. He has an incredible heritage, but more importantly he has developed all of his old ancient instinctive skills. He hikes the rim trail with me while training his young son Torbjørn.
Leif is a full off leash Rock Star, thes my friends these are Elkhounds.
4th Generation Elkhound Male Denali Mountain Hiking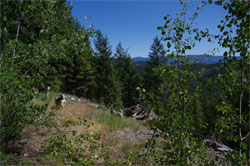 The other day I had Denali out with Great Grandpa Takoda and his Grandma Tora. We were hiking the rim trail. Wow we had fun. Denali is here for the Desna training program and is a phenomenal young Norwegian Elkhound.
Now for those of you that don't know, Denali is from Kai and Leif, Kai and Tika are full sisters. So basically those 7 rascals Tika has are full sibling brothers to Denali, what you see in this young Rock Star is basically coming in that litter, is that neat or what?
I have a great video from our hike, what a great day.
Tora and Vida help me do some Desna Training with Loki
Norwegian Elkhound Bram and Tora - Parents to Tika and Kai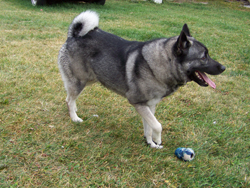 Here is a photo of Bram at the time that Tika and Kai were conceived. He is still a rock star Norwegian Elkhound, he will be coming 11 this fall. Kathy just spoke with me she had him up to the vet he had cut his paw, she got him all fixed up, he is ready to hike again already.
This is the father to Tekla, Tuva, Tika, Kia and about 40 more pups for us, all superior Norwegian Elkhounds. Those young rascals outside in the pens from Kai and Leif, they all owe their good looks to this big fella.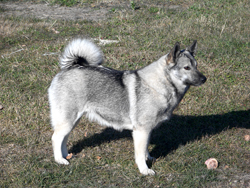 And of course none of the females we have, nor any walking around North America compare to Tora in her heyday, nor today as she has just turned 9 a while back. Still a massive powerhouse, rules the joint around here and keeps the pups, big dogs, and bears all in line.
Those stout rascals in that pen with Kai, they owe a huge debt of gratitude to grandma Tora for all the instincts, all the skills they have, the dominant style and of course, all the muscle to this magnificent Elkhound. Tora is the mother to Tika and Kai, and over 32 more superior Norwegian Elkhounds she had with Bram!
You want to see perfect Elkhounds in every aspect and trait, just look around this page, starting right there with Tora and Bram! Pretty Amazing to say the least.
I took a nice short video of the sisters, Tika, Tekla, Tuva, along with Vida and Silver Nova while Tika was here mating with Leif.
Luna is set to begin helping her mother and aunts continue the heritage!
Luna - High Country Summer 2018
I don't have any hesitation at all in saying that all the incredible females that line the background of Luna were fortunate not to have to stand beside her, she would make the famous Ravenstone females take a backseat!
Luna is the Rock Star full sister to MÅNE, daughter of Tekla and Takoda. No greater pairing of genetics could I hope to acheive than her parents.
Luna will be cycling late summer, early fall is my guess. Could be as late as October perhaps. When she cycles I will let her have a litter. She is a fully developed big female. She is the biggest one I have right now, her sister Tora might still outweigh her a little bit, but Luna is taller and longer still muscled in, but she is a bit more refined. Tough as nails too. No one pushes her around.
I have not 100% decided on the male for Luna but have some remarkable options available for her. Every dog that lines MANEs background lines up Luna's, you can check out the page on MANE here, as I don't have Luna's done yet.
This is a video of Luna helping me out with Nora, just doing some final Desna testing with her.
Ravenstone Champion Falda of Ardenwood - Foundation Female with her son Gunnar
I can see the influence of the life of work the Ravenstone Breeding program contributed to Elkhounds every time I work with Luna. She pulls her roots back to this magnificent female very strong, the foundation of the Ravenstone program, Champion Falda of Ardenwood.
The Ravenstone program is one that has left it's mark forever by providing incredible pup after incredible pup to the Elkhound genetic pool. As a conservation breeder we are extremely proud to continue this work in some small way, and to continue the heritage of those great Pioneers in the early days of breeding, Ted and Margaret Harper, owners of Ravenstone.
The Ravenstone Norwegian Elkhound breeding program was one of the longest running and most successful programs in the world. I do believe they still hold the record for the most championships in the UK, with basically the entire program based around this amazing female, Falda of Ardenwood.
Gunnar - Decendant of Falda of Ardenwood - Son of Kamp and Bram - Full Brother to Tekla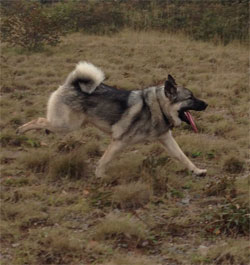 This is the stunning big full sibling brother to Tekla and Tuva, Gunnar. This is an amazing male. He has this awesome family, the Murray's to look after and protect and he does a spectacular job of it. It's in his heritage no doubt.
The Murray boys have done a wonderful job with this big fella and a long time ago they contacted me about getting another pup so Gunnar could train it with them. They were hoping that if possible they were in time to ask for a pup from Tekla. They have as of Canada Day, a brand new little neice for Gunnar to train, as they have the female from Tekla.
Pretty cool that Champion Ravenstone Gunnar, born in 1956 still today has brand new little descendants cruising the tall timber and looking after families, same as he did some 50-60 years ago.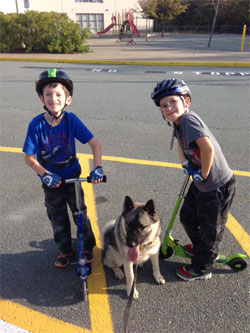 This is a younger Gunnar with the Murray boys, they are some awesome handlers these two rascals. You can she the mischief all three of those rascals have. It's a great honor to always provide a pup to anyone, but I take a little bit more satisfaction when families come as they know and have done the research, we will provide them with an outstanding family companion.
Teri and Jeff have a great family, to have them select us again to provide the second Norwegian Elkhound is again a great honor. We truly thank them for the outstanding life Gunnar has and their confidence in our program.
We know the little female ( Already Named Maija-Kamp) is going to be smothered with affection and she will learn all the rules and tricks from Uncle Gunnar super fast. Little Maija-Kamp in with Tekla now will be just like her big sister Luna and with very little imagination just like her Grandma Kamp, and will be able to keep up with her Uncle Gunnar in a flash.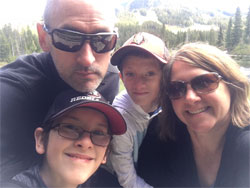 "Hi Merv,

We had a grueling Battle Royale of the Names to narrow down an extensive list of possible names for our new tough girl. We were down to two names and neither side was giving in...it was a tough decision but a great compromise was reached.

Our little rockstar will be named Maija-Kamp officially but we're going to call her Kamp in the everyday. It just seems like a good fit.

Hope you're having a great day! Sending our loves and cuddles to Maija-Kamp and the two boys as they find their way in their new world...and patience, rest and recovery for Tekla.
Gramma Wendi and Grampa (Wendi & Geordie Futer) are anxiously awaiting their trip later in the summer to pick up our girl and send her to Ottawa.
All our love,
Connor, Quinn, Teri, Jeff & Gunnar

Maija-Kamp, that is Pretty Cool, Pretty Cool Indeed!
Viking - Son of Tekla and Leif Previous Litter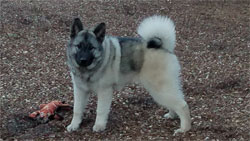 Anita and Ron stay in touch with me on this Norwegian Elkhound work of art, Viking. Now for those getting a pup from either Tekla or Tika, take a good look at what is coming, a total Rock Star Elkhound doubt!
Viking is 7 months old as I am writing this, I know that Anita has some special things planned for him today and I wish to Thank Anita and Ron for the great life that Viking has, and for sharing such great photos and stories with us.
"Viking after his first grooming experience!
Everyone remarks on what a CALM puppy he is. One of my friends who has never had a dog said she would get a puppy if it could be as good as Viking!
Honestly, Merv, you have a magic formula.....Viking IS the coolest, calmest elkhound we have ever had.
Good gene pool and excellent nurturing
Thanks, Merv!
Anita"
Loki - Son of Tekla and Leif - hiking the BC Mountains with Carsen and Seb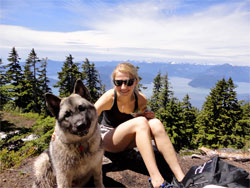 Carsen and Seb have sent me a tremendous update on young Loki. They are an awesome young couple that live out on the coast of BC and are serious hiking and avid outdoor adventure seeking young folks. I am very proud to be able to get a great Elkhound like Loki for Carsen and Seb as a companion and pal on all the adventures they have. What an awesome life they all have. Check out that scenery where they are hiking with that Loki, is that cool or what?
Loki is a son from the first litter of Tekla and Pretty Boy Leif, good gracious he is filling in awesome. That is a magnificent combination of genetics. Those rascals I have in the kennel right now are full siblings to this boy. He is a full brother to Viking directly above.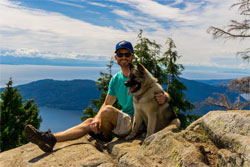 "Hi Merv,

I hope that you are having a great start to your summer. We just wanted to send you a couple of shots from one of the mountains near Whistler. Loki is getting to be a big strong boy and has been busy putting us to shame on the hiking trails and playing in the snow whenever we can find some. Everywhere we go we get stopped by people saying what a great looking and well-mannered pup he is.

I also wanted to ask if you will be around for the long weekend in August. We are going to be visiting my folks in Creston and will likely be driving right by you on Sunday the 5th. If you're free we would love to stop in and say hi and let Loki have some fun with his family.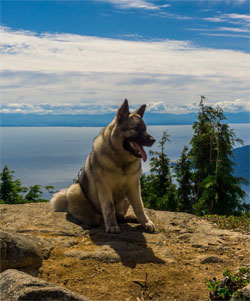 Thanks again for everything that you did raising and getting us set up with such an amazing pup. All the best to you and the family, and we hope to talk again soon.

Seb and Carsen"
I wanted to give a Monster Thank You to Carsen and Seb for the awesome life and fun times they are giving young Loki. He is obviously loved and cared for very deeply and it's great to see him out exploring that rugged coastline of Western Canada, very much like his ancestors did for Centuries.
I can just see way off in the background there the Silhouette of his ancient forefathers coming down that exact coast in an old Viking ship the style of "Bjarni Herjolfsson." Leif Erikson would be very proud of this old descendant of those old warrior Elkhounds.
That my friends, that is an Ancient Elkhound!
Vida - A Takoda Daughter as well!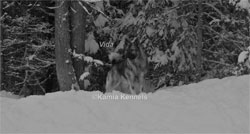 Last winter I got a really neat photo of Vida. I have so much to share on Vida and will get around to putting a lot of information up on her but wanted to let everyone know this is one of the very select old lineage females from a time long past left in the world.
She is bringing forward all the old genetics that founded the early Elkhounds of course as she is a daughter of Takoda and GÆDA. Vida is actually cycling now, a fertile female, no doubt she comes by that super easy with her parents. This is one of the major reasons the Elkhounds are such an ancient breed, fertile females like Vida. Vida will not be bred till next year.
Vida goes back to the very early beginnings of the Elkhound, you can learn more here: Norrland Elkhound Type
Here is a new video of Vida and Silver Nova, two amazing young females we have in our foundation program
Torleif - New Stud Dog In Waiting - Planned for Vida - Torleif is a son of Tuva and Leif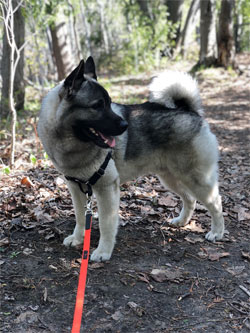 I have been watching young Torleif since he was born with a great deal of interest as he is one of the very few males we have raised that is an outcross to Vida. Vida is an old world superior genetic female daughter of Takoda and GÆDA so it takes a very serious male to be up to the task of quality. Well, I have to say, Torleif, or should I say, Prince Torleif is just such a male.
I have spoken to Kim and she is thrilled that we have decided to use him. We have some logistics to plan, but we have time. Torleif is a son of Tuva and Leif, so combining all that genetic make-up with the background of Vida, OH MY GOODNESS!
Can you actually believe that the potential litter that we have planned has the two old best pals, GÆDA and Kamp as the anchors to this ship of genetics, along with Bram, Takoda, Leif, and throw in Tuva just because she is the mom of Torleif, good gracious. Can anybody say "Stacked Pedigree". Too Funny.
Now I have a very neat story to share that Kim sent, you'll know exactly why she calls him Prince Torleif, he actually believes he is Prince Torleif! I know I believe him.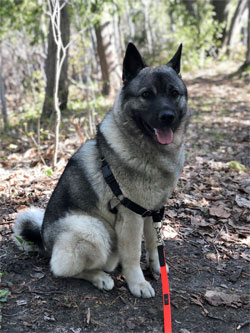 "Merv!

What a terrific video!! Those little rascals coming in right on cue and everything. Wow, what awesome pups! Absolutely love to see the new generations getting trained up. And Måne just glued there right beside you. Love it!

I tell everybody I know that there's no better dogs anywhere in the world! Thankful every day that we have our Torleif!! :)

He's doing just great. 50lbs on the nose so far. Pretty lean and fit if I do say so myself. We don't have those big mountains for him, but we make up for it with super-consistency and good distances over varied terrain. We're out 2-3 hours a day — every day no matter the weather, all year round. He's well travelled around these parts! Everybody knows Torleif!!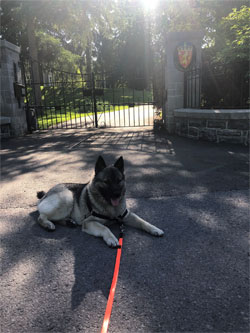 Here's a couple photos for you — and for Kathy too! :) I hope Grampa Bram is doing well. He'd be pretty proud of his grand pup Torleif I think.
This last photo was kind of a cute story. We pretty often walk in a forest right near the Governor General's estate. It's one of the best dog parks in the neighbourhood. Torleif had had a grand time and we were just starting our walk back home.
Just outside the forest Torleif decided to lay down — he'd had a good run with his buddies and it was a pretty warm morning. I said "come on boy, let's go, time to go home!" Nothing. Didn't budge. Torleif looked at the gate behind him, then looked back at me as if to say — "but Mom, I'm already home." He'd sat himself down right outside the gate of the Norwegian ambassadors residence! I just had to snap a pic with the royal crest in the background. You know, Torleif being a regal Nordic dude himself! Lol!!

That's all for now. More photos and stories to come I'm sure. Torleif is endlessly entertaining!

My best to you and your family — and Mama Tekla and her new pups too!

Kim
Tuva - Daughter of Kamp and Bram - Twin Sister To Tekla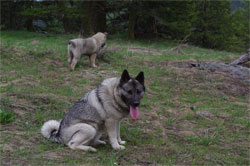 You could not find a more loyal companion than Tuva. If you have ever watched her in a video she would rarely, and I mean rarely take her eyes off me.
When we are hiking she knows where I am every second, she is an impeccable trainer for the young pups. Even MANE has to really focus to keep as much attention on me as his aunt Tuva.
She has no flaws, has this amazing instinctive skill, flawless features and conformation, a stunning old world Norwegian Elkhound.
She is going to cycle this fall again and I am going to try one more time to get a hook up with Takoda. However, if I can not get that hookup I will use Jaegar, somehow. For whatever reason Tuva is a fussy female in mating. She has zero interest in Jaegar. She really wants to mate with Takoda but we couldn't get that hookup, not sure why. We might this time. I can't collect from Takoda or I would do AI.
Jaegar I can collect from, most times, I have not stored him yet and I should have done that before, but next female in heat I will be trying collection.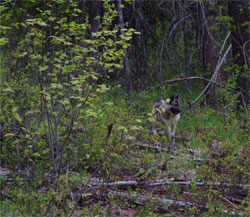 Tuva is like a ghost in the forest, she is a very stealthy female, has this deep protective instinct to watch for me. She is quite something to work with in the deep timber where I can't see her. I'll stop and look around, can't see her and then, boom she just appears. Sometimes I will be looking around for her and she is watching me, it's very cool to know she is out there. I would hate to be something she thought was out to harm me and meet her in the dense brush. That would be spooky, late in the day, sun going down. Whoa man, you would crap your pants. She is fearless.
Tuva can create masterpiece Elkhounds, everyone of her pups are amazing, just look at Torleif above. I have quite a few folks that are waiting for Tuva's litter, folks that really want that old world style, behaviour and instinctive skill, they, as am I are hoping beyond hope that either Takoda or Jaegar work out, as that my friends that is going to be one of our best litters ever. You need to contact us early for these upcoming litters as our list is way out there now.