Kalia - Kamia Kennels Foundation Female Elkhound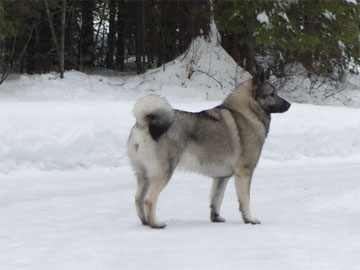 Kalia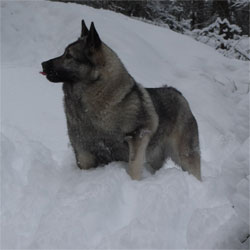 Everyone who follows the site knows that Kalia is an extremely powerful big female with ancient old world genetics. She was initially brought in to match up to the genetics of Takoda. Her background is a very good line of dogs that have strong ties to the "Swedish" bloodlines of Elkhounds.
As all of you know the Elkhounds roamed all thru Scandinavian countries and the Norwegian Elkhound was in Sweden as well as Norway, although slightly different, a little larger and longer taller dog, somewhat darker as well.
These two countries eventually after about 37 years came to an agreement on breed standard but it was not easy as the Swedes they had some things about the lines they wanted kept, and the Norwegians had some they did. So they finally agreed, but thus the reason you do see some differences in the those old lines as the breeders were not in agreement to a standard for a long time.

Takoda and his shadow, Kalia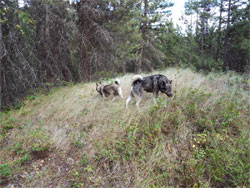 The old lines have very strong pack instincts and Kalia is as true to a pack instinctive Elkhound as you can get. She sorted out Takoda in minutes and basically if she could spend all her time beside him she would.
She is a very good pal for him. In the old days breeders would always have 1 or 2 females that ran with the big pack leader male all the time. They would rarely take those females away. Those females were like lieutenants. There is little neutering in the old countries and as your well aware, little fence. Pens were good, but yards were open. It was very common for the yard males with these one or two females to be running out and around keeping the yard safe all the time. As you know, they hunt off leash all the time. It was one of the best ways for breeders to keep their males safe and keep stray males out was to run two of these big females with them. A stray male comes by, he might want to tackle a male on his own, but no chance does he hang around when all three push back. It worked as a strategy for centuries, even today still in use. These lines are very territorial, protect what they know is theres, bond extremely strong to the pack and can run together so well.

A Young Kalia With Jaegar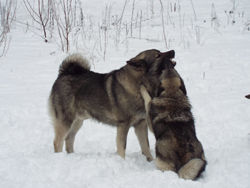 I was able to witness very early on the bond that Kalia also had with Jaegar. The combination of genetics from those two I knew would be very good. The pair of them would be destined to create some incredible pups.
We had hoped to see Kalia with a wide range of our males as she was a full outcross to all of them. In this photo Kalia is young and sure thinks this Jaegar fella is some handsome.
Kalia and Kamp - Great Pals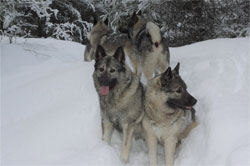 The beauty of these old pack oriented lines is that they work very well in a pack situation. They understand deep in the DNA the rank aspect. Its not often breeders in North America discuss this feature as most don't "have packs". They might run a few but don't run them in an old world pack situation like we do. They also don't have much for pack instinct left. We see what occurs with our show genetic dogs we have brought in, they are like thorns in the side of the pack dogs. Don't blend in, don't understand what rank they have, are always having to be "placed back in line" by dogs like Kalia. She doesn't tolerate any of that crap. She knows her spot, knows where everyone else is, and if Kai, who is the enforcer is having to tune someone in that is out of line, Kalia is right there to back her up. These are amazing females to have in a family situation, truly amazing.
K
alia, Tora and Takoda - Extreme Winter Hiking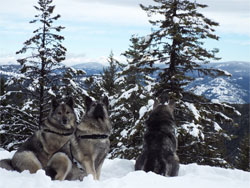 This is as extreme as it gets. The photo shows three very powerful Elkhounds at 5000 feet in the dead of winter. No frozen trail either, it was either break trail, which Takoda did most of the way, or follow in my snowshoes, which Tora and Kalia did a fair ways. But all three can break trail, all three can power through all day. Nothing fazes these big working Elkhounds. I can hike all day and never say a word to a trio like this. Simply Amazing!
Jaegar Elkhound Sire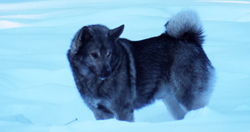 Jaegar - Norwegian Elkhound Male - Kalia and Jaegar have the first litter
Kalia and Jaegar paired up for the first litter she had. They were amazing young rascals. Some of the very best pups you could wish for. She had six terrific little Elkhounds.
Jaegar is a perfect match for Kalia, they each contributed to some awesome young pups.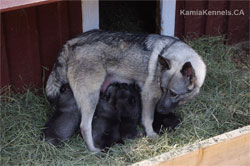 As you can see also, Kalia is a very good Mama. She looks after her little rascals, oh man. They are so fat, she can milk like crazy so they grow fast and they are stout. I have been out in the bush with her rascals at 5 weeks, they are burning around like mad, tough as nails.
She is shown here with her second litter of pups with Jaegar. She returns to form very well and she can rebreed early. She had consecutive litters with Jaegar.
Jaegar - Elkhound Sire of Two Litters With Kalia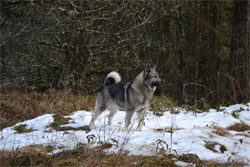 I had wanted to try Takoda with Kalia but we always encountered a little setback. Kalia is a mover, meaning she moves when mating. She doesn't stand perfectly still. She will always be stepping ahead a little. This is very difficult for males to gain a hookup with a female like this. Takoda is not one to work with me in the pen, he just waits for me to leave, so I can't assist him. Jaegar on the other hand has no qualms at all if I want to help, so I can just steady Kalia, long enough for him to hookup. It's a great thing that Jaegar works like that, and also of course you can't deny that Jaegar himself is some fantastic male, so it's like a great match either way.
Kavik - Half Brother To Kalia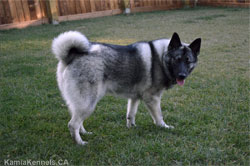 This big fella shown to the left is Kavik, one of the tremendous young males from Kai and Hachi ( Kalia's Dad), the first litter Kai had. Kavik is the half brother to Kalia. Look at the power and substance of this fella and he is shown in the image at 7 months.
I have a full write-up from Chris on this big fella named Kavik.
Please click here to view the Kavik Update
Coho - Half Brother to Kalia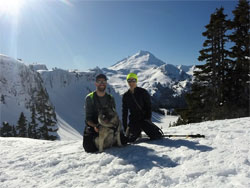 I got a great update from Nate and Erinn a while back. They have a son of Kai and Hachi from first litter, a tremendous young male named Coho. Thank you Erinn and Nate for such a great home you give Coho, AWESOME!
I have a full write-up from Nate and Erinn on this big fella named Coho, he is a half Brother to Kalia and as both MÂNE and Jaegar and Uncles to Kai he is genetically close to the pups that Kalia and Jaegar had, and those of MÂNE and Kalia as well.
Please click here to view the Coho Update
Cosima - Daughter of Kalia and MÂNE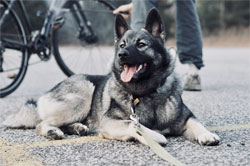 This stunning beauty is Cosima, daughter of Kalia and MÂNE. This is such an incredible female. She has taken all the best from her two unbelievable parents and put it all together in this amazing package of genetics. Oh Wow!
Alina and Mark have Cosima out in Ontario and they are doing such a fabulous job with Cosima. I am so blessed to have the very best people contact us for our pups and I am so thrilled for Alina and Mark. Of course I am overjoyed for Cosima, what a life she has.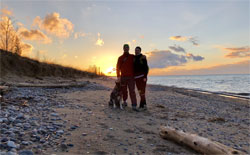 Alina and Mark send me updates regularly on Cosima and take a look at that location they are hiking. Not a soul in sight. Fantastic area to run that Cosima. They are active and provide her with tons of adventure.
Cosima is a stunning example of an Elkhound that hails from a very long time ago. There used to be many many Elkhounds like her, now, basically our kennel is the last link to that magnificent lineage of Elkhound blood.


Cosima - Ancient Lineage Elkhound Female Daughter of Kalia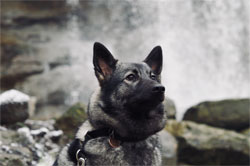 Alina sent me this amazing photo. I will be able to share with you a stunning background genetic photo so that you can see just how strong the genetics are in this lineage.
The famous Holmes kennel founded their whole program on dogs out of Norway and more importantly Sweden. The foundation blood came from some seriously good working bloodlines that were in the Northern Regions of Sweden.
As you might not be aware, Cosima of course traces back to the very starting foundation dogs of Holme.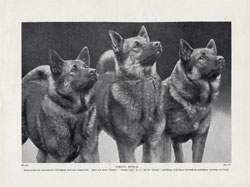 Marko, Marka and Lyn all of Holme watching a plane overhead. Now take a look at that photo of Kalia, Tora and Takoda, guess who is watching a plane over head. Then of course study that Cosima and these three. She could just stand right beside all three and literally be from the same litter.
The three are almost 100 years older than Cosima.
These were incredible Elkhound genetics way back then and they are every bit as good today. This is what Elkhound genetic preservation is all about at it's finest. No one seems to understand that the goal of a good breeder is not to change the breed, it has always been perfect. The goal is to preserve it. You can not find a better representation of genetic preservation that the pups from Kalia.
* MÂNE - Sire To the third litter and the upcoming fourth litter with Kalia*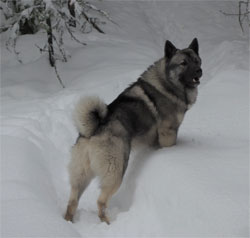 This outstanding Male is MÂNE. He is the father to Cosima above and sired the third litter Kalia had as well she is bred while I write this to him. Her fourth litter should be on the ground late January 2019.
MÂNE is a brother to Jaegar. He also has ties of course to Kalia's pal, Kamp. Kamp is the Grandmother of MÂNE. You'll see Kamp sitting beside Kalia up near the top of this page.
The genetic combination of MÂNE and Kalia is perfect. We are so excited to see the new pups that are coming once more from this stunning pair.
Tofa - Daughter of Kalia and MÂNE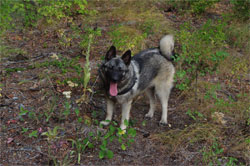 I had a very special visitor this past summer, Tofa came to stay with us, along with Vitnir. Now Tofa is a daughter from the Kalia / MÂNE pairing. She was here with me for the Desna training program and then went to live with Vitnir in WA state. Christine and Brent have both dogs there. Stunning Elkhounds both of them. Tota takes after her mother a great deal and is a very easy female to work with. I want to take this time to send a huge Thank You to Christine and Brent for the fantastic life that Tofa and Vitnir share. Way to go!
Tyko - Son of Kalia and Jaegar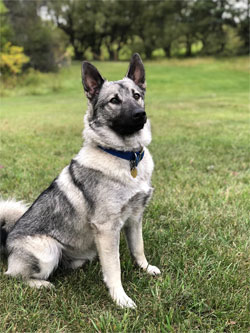 I have to the left Tyko, an incredible male from the Kalia and Jaegar pairing. This is a really sharp looking male and he is ultra smart. Sharlene, Wayne, Connor and Lauren have him out in Alberta. This is a very good young male with no end to quality.

I get some very nice updates from Sharlene and she has been letting me know that this rascal has a few tricks up his sleeve. Tyko can open doors that have a lever handle. He has figured out that if he needs to be in another space than the one his is in, he can just open the door and go. Needless to say they have changed a "Few Lever Handles". Go Figure. We want to Thank Wayne, Sharlene, Connor and Lauren for the Great home that Tyko has.

Blair and Lindsay with Ruhne and Bosco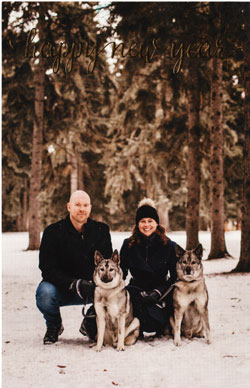 I received this lovely New Years Greeting Card from Lindsay and Blair recently. One of the nicest cards I have ever received for sure.
Now this is a really great story of two Elkhounds, let me share it with you. Pretty close to a decade ago Lindsay contacted me and shared with me that she would love to have one of our pups. She had been wanting a Male Norwegian Elkhound and had decided that we would be the breeder to select that pup for her. We were very thrilled to be able to do that. She drove an entire day to visit us and see our program and dogs.
The male we selected is the one on the right, his name is Bosco. What's very neat is that Bosco is a full sibling brother to Tora, same litter, and a full sibling brother to Jaegar, different litter. Bosco is just a bit older. This past year Lindsay asked us once more to select another male for her, one that Bosco could train and spend time with.
As it turns out Jaegar and Kalia were the pair. That young male on the left is Ruhne. As far as I am concerned that is as nice a card as a person could ever get, no doubt. I am so happy for Lindsay and Blair, heck I am probably as happy seeing this photo knowing the care these two males get as Lindsay is in the photo. And she is about the happiest woman I have seen in any photo in a long time.
Ruhne and Bosco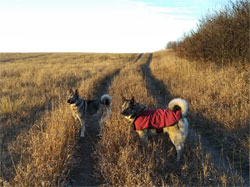 This is a great image of the two boys, Ruhne and Bosco. Lindsay sent me this recently and I wanted to share how genetically connected these boys are a bit more.
Ruhne on the left side of the photo is the son of Kalia and Jaegar.
Bosco on the right side is the full brother to Jaegar, he is a son of Takoda and Mia. Bosco is a full sibling brother to Tora, who is the Grandmother to Kavik and Coho featured on this page, the half brothers to Kalia.
Kalia January 9th, 2019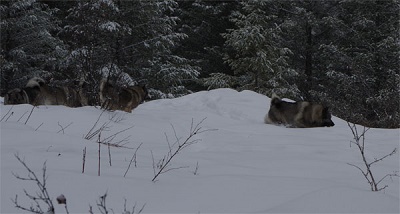 This is Kalia in early January, she is still a powerhouse female and is breaking her own trail here. We are out for a remote snowshoe hike and she is in tremendous shape.
She is due on the 26th of January 2019 for her fourth litter with MÂNE. We are very excited.
Brothers MÂNE and Jaegar - Sons of Takoda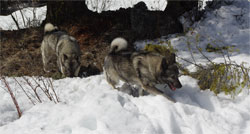 Even though we could never get the hookup we had hoped for with Takoda, the fact that we had these two magnificent sons of his, MÂNE and Jaegar worked out equally as well.
These two boys have paired with Kalia to Produce outstanding pups and soon another litter.