The Tekla litter is heading to the new homes.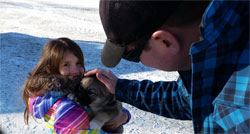 I always have one of the greatest days when we are meeting the folks who have been waiting patiently for the new pups. There is no better time than this right here.
Young Carley she is so happy to have her new pup Ranger. I am very proud to produce the greatest family dogs for families exactly like Bob and Amanda's. They have one of Takoda's boys already, a stunning big fella name Sky. So Ranger has a mentor already in place and I have heard back on Ranger from Amanda, he is already sleeping with Sky and following him around, pretty cool.
Michelle and Dan were here yesterday to pick up Willow and Sage. A beautiful pair of twin sisters. I know these two sisters will rival Tekla and Tuva all day long, and they are going to have a terrific home. Dan and Michelle have recently retired are very active and have waited very patiently for this set of pups. I want to thank all the folks who are getting pups from us and we will be keeping you updated on how the litters are coming along.
I took a video today of the remaining pups, 7 out of 10 still here, I have moved them outside today. Now they are living of course exactly where their mother grew up, so she knows the pen well. On Monday we begin the Desna training program, working first on the off leash and recall in the mountains. I will be making a trail in the mountains on the snow shoes for them, we have a couple feet or more of snow. I'll pack it down and it will freeze like a runway for them. We can then motor around the bush gaining some great recall skills while they grow a bit more.
While I was taking the video of the pups out in the outside pen I decided to introduce the young new dogs I have, and the older gals, the new females that are going to be coming in and it turned out pretty fair. You will be introduced of course to our New Norwegian Elkhound Stud Leif, and in the pen with him is Tuva, the stunning sister to Tekla. We also will show you our Jamthund Aina in all her splendour now, she is a magnificent beautiful Jamthund female. She is in the Pen with Shorty, who incidently is no longer a stud dog, but still is a really great male. We had Shorty tested this breeding season and he is sterile, go figure. So, I am looking for a nice home for Shorty. I would like you to contact me about him if you wish for a really great male as a companion dog. He has all kinds of leash skills, recall, works off leash, doesn't roam, great dog.
Also I showcase the Big Fella Jaegar, he is in the Pen with Kalia, the stunning big pair of Swedish dogs are really something in the winter, all dark and in full coat. Two awesome dogs these two let me say.
Also you will see the boss herself Tora, with her powerful clone Daughter, Kai. Kai is now bred to Kalia's father, Hachi, a really terrific big black fella. Hachi can produce some outstanding pups, as you all know how great Kalia is. And Kai is a much better female than Kalia's mother, so the combination of those two is very exciting.
Around back, I do have the two big girls, Kamp and GAEDA, both 64 pound muscled in mountain Elkhounds. Two of the best off leash hiking dogs in the World, no question. I can travel remote regions with both those two, they are side by side, never out of my eyesight, I can do mile after mile. These my friends are awesome Elkhounds. Both these two big girls are bred, Kamp with Jaegar, and GAEDA with Takoda. You couldn't find better pups than those two are going to have.
And of course wandering around keeping a tight rein on the show is the old boy himself, Takoda man.
Now, in amongst the crowd of superstar pups is my new Stud MÅNE and my new female, Luna. So you'll get an introduction to those two soon to be famous youngsters as well. Enjoy!
Kamp and Jaegar Hook Up - Successful Natural Mating Jan 2nd 2017
The litter between Kamp and Jaegar is going to be truly awesome once again. They have had two successful litters already, awesome pups they have. Kamp and Jaegar can raise some really great dogs.
This is a previous spring video of the pups at 5 weeks from that last litter of Kamp and Jaegar.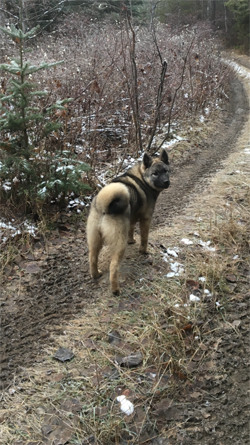 Odin Male Elkhound, Son of Jaegar and Kamp last litter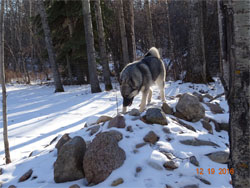 - Left
Odin is a strong thick young male. These big rugged boys are exactly the type of dog we love to see. These young fellas they are masters in the bush and love tough conditions. They are still very nice to be around in the house and yard, but take watching the yard very serious.
These are super smart big fellas. Both Jaegar and Kamp of course are highly intelligent. You can see that big Odin is a watchful big fella. He pays attention to his handler, he has the great recall and personable nature to his handler from his old Grampa, Takoda. Jaegar is able to carry that great genetic trait through, and Kamp of course is extremely good at it as well. If you have looked through this site you know she is a hiking dog extraordinaire. Odin is up with Joe in Northern BC, thanks again Joe for sharing some of Odins great life, and the awesome photos. I'll have that update Joe sent in the newsletter coming out, he has a great life this big fella.
Kaieesha Female Elkhound, Daughter of Jaegar and Kamp last litter - Right
Kaieesha is a beautiful female Elkhound shown on the right. She is a sister to Odin, same litter, the last litter that Jaegar and Kamp had. Those stunning daughters of Kamp and Jaegar are quite simply, AMAZING. A big thank you to Wayne and Sandra, who have Kaieesha for sharing all about Kaieesha and her new life, I'll publish a bunch of info on her in the upcoming newsletter.
These are what working full range Elkhounds are all about. Kamp and Jaegar produce some of the very best Elkhounds you could find in the world. We are so excited about this next litter.
GAEDA and Takoda - She was just bred the other day by Takoda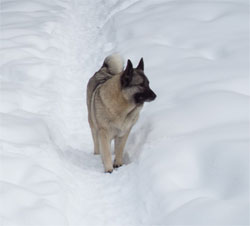 GAEDA is a stunning female. She has produced extremely good Elkhounds for us. She has no flaws. Never causing any issues, healthy as can be, just a super female. Now I had been planning to use Shorty, but I recently had Shorty tested and his semen is no good.
So I have decided at the end to use Takoda with GAEDA and keep a great female for our breeding program so that the GAEDA lineage stays intact. I was going to use Jaegar, had in fact put them together at the start of her cycle, but I decided to switch as I thought if I am going to keep the female, I really like those GAEDA / Takoda daughters. Kijsa, Nalla, those big girls are really great. GAEDA is bred now on the 23rd of December, and so long as she caught, which I have no doubt, we will have a tremendous litter.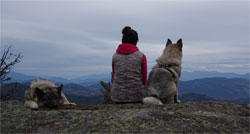 GAEDA and Ashten sitting, Kamp sleeping high mountain hike late fall 2016
GAEDA can hike the high country like nothing. She has a ton of stamina, she is a big girl with a nice light step. She really is awesome off leash. Never would I have to say her name or say a word to her the entire trip, there and back. I have hiked miles and miles off leash with GAEDA. Here she sits by Ashten, happy to share the great view we had at the top of our hike. These two, GAEDA and Kamp, along with Jaegar and Tora accompanied Ashten and I for a real nice full day hike through our rugged part of the world. We had an awesome time. Her and Takoda can create the most amazing hiking and personal companion dogs of any pair anywhere in the world!
Kai and Hachi - Norwegian Elkhound litter, she was bred Dec 16th
Kai the granddaughter of Mia, daughter of Tora, a tremendous young female Norwegian Elkhound was going to be mated with Shorty but as we tested Shorty when she cycled, he turned out to be sterile. So we had organized another awesome male for her, Hachi ( Kai is a half sister to Tekla who just had a litter.)
Now Hachi is the big Elkhound lineage, he is Kalia's father, a tremendous male for Kai. He is larger than Shorty, an ancient hunting strain, and as you all know watching Kalia, a very awesome sire. He is a big dark male, really dark mask, great looking dog.
Kai is going to be producing some of our best pups ever from this matchup. I have always said that Kai is probably as good a female as you could find anywhere, her half sisters, Tekla and Tuva and her are truly three awesome females.
Hachi is a good boy, an older fella, proven breeder. I have worked with his daughter Kalia for 2 and half years now, she is as good an Elkhound as you could find anywhere. Hachi has the old Swedish background, as does Kai's grandfather, Takoda, so you will have some truly amazing working Elkhounds. These pups will be hiking machines. If you have ever watched any video of Kai you know how attentive and good she is. Exciting times coming now, for a fact.