MÅNE out playing with a few of his pups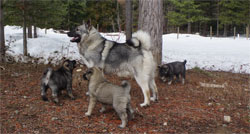 MÅNE is shown here with his two dark daughters, Cosima and Freya, and his stout young son, Shaka. These are some of the 6 pups he had with Kalia February 11th.
They are all heading out to their new homes this week and he is giving them a few heads up tips on how to behave when they get there. He has proven to be an outstanding young sire and we are super proud of these young pups. The entire litter has been truly outstanding.
Kalia and her son Tucker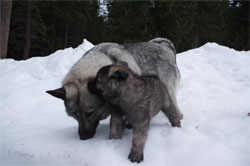 We are so excited for the families getting the MÅNE and Kalia pups. They are phenomenal young Norwegian Elkhounds.
Kalia is out here on April 10th giving a few last minute instructions to young Tucker, one of the stunning young males a few tips and pointers. I am sure she is reminding him to mind his manners, keep his pen clean, at all times keep an eye on his handler.
Tucker is an amazingly personable young male, he reminds me so much of his dad. What an incredible young fella. He has a ton, and a I mean a ton of his mom's alert behaviour as well though. Kalia puts in some really great qualities into her pups and they are all magnificent. Tucker is going home this morning and he will be hiking the BC regions with his new handler John and watching out for him. It's a big fun time now. All this litter will be heading home this week except for Tófa and RÅNE. They are here with me yet for Desna work.
Tófa Norwegian Elkhound Female - Daughter of MÅNE and Kalia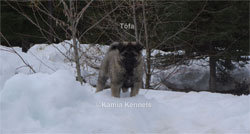 Tófa is one of the 4 stunning young female Norwegian Elkhound pups that these two had. She is just this amazing representation of all the qualities that the old breeders wanted to see in a young Norwegian Elkhound. I'll be sharing a lot of the details on this pup, the quality that she and her siblings have exhibited over the next while as she is here for our Desna Training Program.
You can go anywhere you wish in the world and search for quality Norwegian Elkhounds, but it will be a rare day, if ever anymore that you will find pups to equal this litter, or this young female.
Tófa my friends, she is a serious Elkhound!
I have a New great video of the Kalia and MÅNE pups at 8 weeks now.
New Jämthund Litter From Aina and Rico Is Here!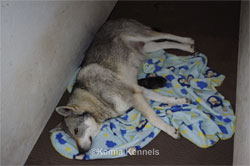 I am very happy to share the news that we have the first Jamthund Male pup now here at the kennel. This is an awesome fella, his name is Ark. As he is the original Jämthund now in Canada, we figured that we best name him after that, and also the 3 main reasons he is now running around this country, Aina, Rico and Kamia.
He is growing super fast already as he is the only one there. Aina must have figured, best test out this Canada Jämthund thing with one ancient big rascal first before getting too carried away. Too funny.
This is the first Jämthund Male Pup born in Canada - How Exciting!
We could not have done this without the help of Russ and Beth, so hats off to both of them for working with us to get this accomplished. They have done an amazing job with Rico, he is such a joy to work with.
Needless to say, but I will anyway, the folks that have been waiting unfortunately have to wait a bit longer. As Aina is going to be having a fairly light load of nursing only ARK, she will be bred again when she cycles. So the folks will have to wait for litter two unfortunately.
Rico - Jämthund Male - January 2018
The big fella Rico shown here was so excited the entire time he was here as of course finally Aina was cycling. Now Aina she loves this fella of course. Her and Rico have been fast friends from the day she arrived.
Beth and Russ have done an incredible job with this rascal, he would be a much larger handful had they not given him such great attention and worked with him so much. He is a dream to handle, even with females in full heat literally all around him.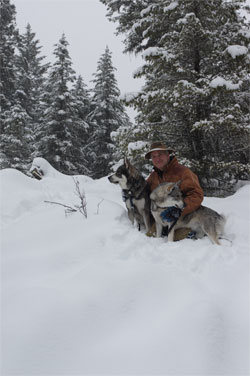 This litter as all of you know is a particularly big deal for me. I am truly excited about the potential for the Jämthunds to be firmly established here in Canada. Russ and Beth are very committed to assisting me and it's been a true pleasure working with them.
Of course Ossi, the breeder of Aina is very excited, and Satu the breeder of Rico is doubly excited as well. They have contributed two of the very best in the Jämthund world to establish this program and my hat is off to them.
I was really pleased that Ashten was here to give me a hand and have the opportunity to spend time with Rico and Aina together out in the remote regions with me. She is behind the camera of course on these images. She is here now as I am updating this helping me with Aina and ARK.
These two big Swedish Elkhounds are at home in this environment much more than you can ever express in words. To see them working in the wilderness is magical for sure. Back in Sweden, far up in the remote Jamtland region the early ancient ancestors of these two would be very happy for them, no doubt about that. They also of course would be some pleased there is now a True Canadian Born Jämthund Male soon to be running the snow covered trails. Bear, Moose, best watch out ARK is here!
New Norwegian Elkhound Litter from Kai and Pretty Boy Leif is here!
Kai is a very proud and happy Moma, 9 Super Rascals in that litter
Kai and Leif have combined once more to produce an outstanding litter of Norwegian Elkhound puppies. Kai had 9 little fat rascals this time around, she is following right along in her mom's footsteps. Kai is magnificent, a truely outstanding Norwegian Elkhound. I can't say enough great things about her. Her mothering instinct is by far the very best of all our dogs. Absolutely incredible watching her care for her pups.
I took this photo 2 hours after the last pup came out, a really nice litter, they were all content and resting, they have big fat bellies already. Some very happy families out there oh my!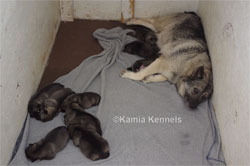 I took this photo on the 8th, they are one week old now. Growing super fast. They take turns nursing, it's like shift nursing. 3 and 6 or 4 and 5, super funny to watch.
Kai is eating 5 times a day, super big amounts each time, she is doing fantastic so far. These little rascals have a great Mom!
I'll get a new photo of Leif next day or so as he has his chest way out, too funny! But I have the great photo below of him from just a few weeks ago when he was showing off. I am extremely proud of Leif, he was my first import from the "Show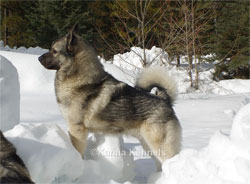 Genetics" and he has adapted very well into this rugged lifestyle. If his show brothers could see him on the forest fringe guarding his pups they would be soo impressed. They wouldn't even believe it's him. If Leif walked into a show today he would win it all. Ribbons, prizes, awards, championships, best in shows, he would own the the show circuit, no doubt!
I took this photo to the left on February 14th, 2018, what a great young Male Norwegian Elkhound. There is no doubt he is an awesome stud dog, this is a seriously good litter with Kai that we are so excited to have for the folks waiting.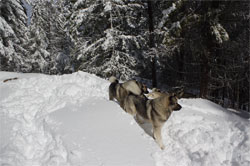 I took this photo March 3rd 2018 of Leif, out with Tekla and the sons they had from last litter, Vitnir and Viking, along with daugther Velma. I had Luna and MÅNE along on this hike as well. They are all, and I mean all stunning Norwegian Elkhounds.
It was so neat really to see Tekla with her offspring from the previous litter with Takoda, who are MÅNE and Luna, out playing and teaching her new pups with Leif, Vitnir, Viking and Velma. The snow was fresh, the snow was out, deep fluffy power, we all had a blast. What a great time. It's also so fantastic that I can run Leif and MÅNE together, I can't express how great that is.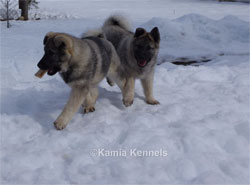 Viking and Vitnir are heading home tomorrow, they are magnificent young Norwegian Elkhounds. I took this photo April 1st 2018. They are truly awesome male pups.
These are sons from Leif and Kai's sister, Tekla. This is what's coming in that litter above of Kai's. I am so proud of these all these dogs, my goodness they are amazing.
I had a fun time going from Aina's pen with Ark, over to Kai's pen with her 9, I have MANE and Kalia's 6 here also, and the three remaining from Tekla/Leif, Viking, Vitnir and Velma.
How Cool Is That!
Pepper - Daughter of Kai and Leif from the previous litter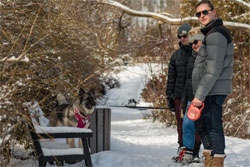 I have to say the photos that Harold takes are magnificent. He is a camera pro and gets these stunning images of his family with their Beautiful Norwegian Elkhound Pepper. A stunning daughter of Kai and Pretty Boy Leif.
Stephanie is shown here with Issac and Eli and Pepper out on a great walk. These are such great folks, I really enjoyed the visits we had, they came out when the pups were little and spent time with Pepper, they keep us posted on her developments, what a great pleasure to work with families like this.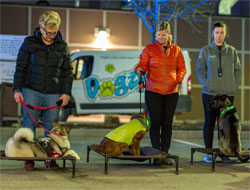 Harold let me know the other day that they have Pepper in high level obedience training and she is a Rock Star. Nobody is doubting that, Kai is her mother, go figure!
They have some very cool images of the training they have been putting her through, very intensive, car washes, horses, parks, tons of other dogs, none of which are anything much to look at compared to that beauty Pepper, but just the same, pretty nice pals for her. I have a fat head about Kamia Elkhounds as you probably already know, there is nothing wrong with the other dogs, just poking fun at them. They are all great. They just wish they could be Elkhounds.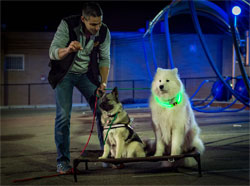 It's really great to see that Stephanie and Harold are putting in the effort and time to get young Pepper to be all she can be. She is a famous GQ Norwegian Elkhound as you all know, her ancestors have graced the biggest dog stage of all time, the Westminster Kennel Club Dog show. As you may or may not recall, Peppers great lineage has the "Only Norwegian Elkhound" to ever win that Prestigeous Show. Top Dog, All Breeds!
It's no doubt this trainer knows the genetic background of this masterpiece young female he is working with, she has his instructions figured, no doubt!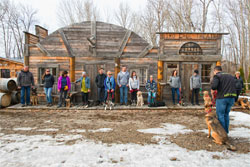 So hats off to Stephanie and Harold, the boys, awesome job with that rascal. She is a showstopper no kidding.
So great to see her out and about, strutting her stuff, her famous ancestors over in Norway, of course there is as you all know a lineage of hunting Norwegian Elkhounds extrodinaire. But did I happen to mention now that I am seeing this Pepper in all her glory showing off her heritage, that on her Mom's side there just happens to be one of the elite Norwegian Kennel Klub Show Winners as Well! Of all the shows to win, that is the One.
So young Pepper, as well as all those 9 pups in that brand new litter, they have a storied heritage like no other Elkhounds in North America, and young Pepper she is proud of her ancestors and she has a little bit of an attitude don't you think, shall we say a "Fat Head", wonder where she gets that.
Way to go Harold and Stephanie, keep us posted. What a Rock Star you have!

Leif and Tekla, along with sons Vitnir and Viking, Daughter Velma, and MANE and Luna
Maya - Daughter of Kai and Leif - First Litter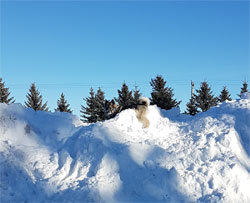 A short while back I got this terrific update from Bryce. He has this incredible daughter of Kai and Leif from the first litter they had. I sure love to get this feedback on these females as they grow and develop. I want to Thank Bryce for the great home that Maya has, all the fun she has out in Alberta, and of course for the confidence in our program and our dogs.
"Hey Merv!

I have to apologize for getting back to you so late. My intentions were to get in touch before new years but my best friend has been keeping me busy!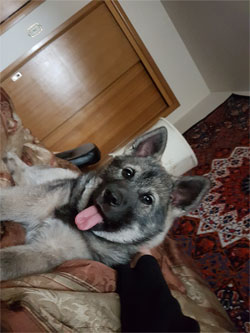 Maya is such a blessing. I can't describe how much I am in awe over her. Never did I think a dog could reach this caliber. Calm as a cucumber yet bolder that a pickle, quick as a whip and smart as can be.. just incredible!
Now let me tell you Merv I don't need anyone reminding me of how awesome Maya is, but the sheer amount of compliments I get for both her temperament and looks are astonishing. I've never been more proud in my life!
You've brought me the perfect companion and I can't thank you enough Merv.
Here are some pictures I've gathered. My mom got a little shih Tzu a few weeks earlier so they are together in a few photos. They are such good friends. Shoot that little things bites Maya harder than Maya bites her (incredible manners and respect trophy goes to Maya for sure).
Thank you for keeping in touch, and thank you so very much for my best friend."



I recently got another great update from Erinn and Nate on Coho, this gives you an idea of how well those boys of Kai develop in a year. Coho is shown in this awesome photo at 1 year of age with Erinn and Nate. A huge thank you to Nate and Erinn for the great life and home that Coho has. Is that a fantastic Elkhound Male or What? Wow!
I put up a brand new page for Coho testing out my new design to showcase a few of these awesome dogs, check it out!
Coho - Son of Kai and Hachi (click to view)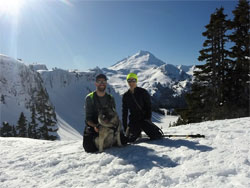 "Hi Merv,

Thanks for the Birthday wishes for Coho. We figured the best way to celebrate his first birthday would be to take him back country snowboarding at Mount Baker. Coho is an awesome hiker and snow dog, everyone can tell he is in his element in the snow. We have also been trying out skijoring and he has been great, we sometimes have to keep him focused though. Coho gives nothing but smiles on the trail and he gets smiles in return. We couldn't be happier with him!!

Attached are some photos from his birthday!

From,
Nate and Erinn."
This my friends, this is a Norwegian Elkhound!
The big fella himself, Mr. GQ, Jaegar Man is here now!
Now In the world of ancient elkhounds few are left like this big fella. This is a full tilt big Rock Star Male, Jaegar Man himself. He is a full GQ big boy, good in the city, parks, stores, planes, you name it, yet can tree a black bear the same afternoon as strolling through the park that morning.
He is busy strutting around here now as he is the next match for Tekla. Both Leif and MANE as you know have pups on the ground here, so they are putting a little bit of pressure on Jaegar now to back up his big talk again. Jaegar is up for it, no kidding. The match up with Tekla is going to be so spectacular. What an awesome pair of Elkhounds.
A while back I got a real nice update from Linda, she has a daughter of Jaegar and Kalia down in the Northwoods of Wisconsin a tremendous location for one of these rascals.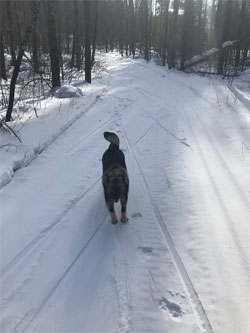 "Dear Merv,
Greetings! Sorry for delay in response. Bergen is doing very well. She has gotten a lot bigger and is now at 32lbs. She loves it up here in the Northwoods of Wisconsin and I think it is a good place for her. We do quite a bit of snowshoeing and x-country skiing together. I will be curious to see how she does once the lake thaws in the spring. Maybe she will be a water do as well as a snow dog? I have attached some photos.
All the best to you and yours,
Linda"
Linda, thank you so much for the great update and the super photos. As well I seriously thank you for the awesome life and fun that Bergen is having. What a rewarding set of photos to see her doing her thing out in the Northwoods. I am thrilled. So fun to see.
Bergen - Daughter of Jaegar and Kalia
For those of you with the females coming from MANE and Kalia, this beauty is pretty much a shining example of your female coming. Those dark daughters from Jaegar and Kalia are identical to those daughters of MANE and Kalia.
These are seriously good outdoor companions, personable as the day is long. I am so excited about the upcoming litter with Tekla as she is a great match for the big genetics of Jaegar.
As some of you recall a few years back we had a few different litters with Tekla's mother, the stunning Kamp with Jaegar. Wow! Truly awesome pups so this Tekla genetic is perfect for Jaegar.
We have folks on the list already for that litter but if you were thinking about a tremendous pup, old world ancient lineage now is the time to speak to us. We are so excited. Tekla has not cycled yet but I expect soon.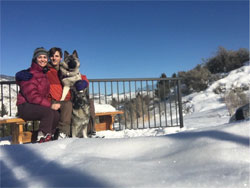 Jaegar just before he came out here had been assisting Ashten and Bryn train young Silver Nova in GQ work.
As you know Silver Nova is our California beauty queen we brought in for MANE. Jaegar as he is MANE's brother and is full GQ got the training detail. Silver Nova is like Wow skilled in urban Elkhound territory, coming out of the capital of California.
So she didn't need any Urban training hardly at all. She is still up there, I might not see her back here according to Ashten, she loves her. And, yes, you guessed it, that Silver Nova she would be a stunning match for Jaegar as well, who knows, Jaegar is keeping his paws crossed!
These my friends, these are Norwegian Elkhounds.
MÅNE - New Stud Male, Kamia Kennels

We have some very good Elkhounds around the yard and out throughout North America with our pups. This young male of course is one of the very best you could find. He excels in every way, his recall skills are absolutely phenomenal. His personality is the greatest, such a personable fella. He has great stamina and energy. There are no flaws with this young male.
Click Here To View The New Page For MÅNE - Norwegian Elkhound Stud
The photo shows MÅNE with his sister Luna up with me at the summit on Saturday the 10th of February. These two Norwegian Elkhounds are in my opinion the two very best in the world right now. Incredible skill level, flawless ability off leash or on. Wow.
Here is a great video of my hike that day, I was able to put the images that I took on the hike once I got a ways out of the lower forest into a neat video. So you will see some flawless working Elkhounds, all off leash the entire day totally remote terrain and what a great day we had. Enjoy.
Takoda and Tuva - I am not convinced yet she is bred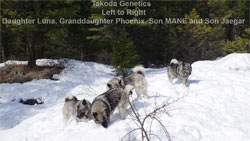 Takoda was to be mated to Tuva, I am not 100% she caught. She might have decided to wait till next cycle, I'll know shortly, but I am doubtful at this point, there is little to no belly.
We may have to wait on that litter perhaps. I have a great image I took the other day when I had 4 awesome Elkhounds out on a great winter hike. I had the daughter of Takoda, Luna. I had the Granddaughter Phoenix, daughter of Jaegar. MANE his son and Jaegar his son.
In the world of off leash hiking dogs there are no dogs in the league of these 4. My goodness, what a powerful group to hike with.
So, Tuva she is in magnificent shape, an amazing female but if she has decided to wait, so be it. Far from it for me to say what she should do. These are old world dogs, ancient as the day is long, they instinctively know the right time.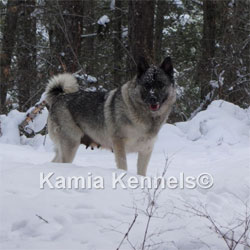 I snapped this photo of Tuva just recently, is she in great shape or what? Keep in mind she just weaned her pups a few weeks back of this photo. Truly amazing female.
Tuva and Takoda are my most personable to me dogs, not so friendly to other dogs. As far as skill level, Tuva and Takoda are the highest skill level as well. The range of work these two can do far exceeds the normal Elkhound. The intelligence these two have is quite simply amazing.
For working dogs, no matter where you go in the world there are few going to have the working background that these two have. These two are full working dogs to the very beginning. If she hasn't cycle, no worries, she will again. Also with Jeagar here now for Tekla, well pretty much identical genetics there. I have folks on the Tuva litter, they will move automatically to the Tekla litter in position if Tuva is not bred. So no worries.
Vida - A Takoda Daughter as well!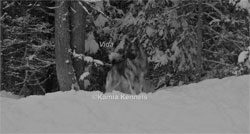 A few weeks back I got a really neat photo of Vida. I have so much to share on Vida and will get around to putting a lot of information up on her but wanted to let everyone know this is one of the very select old lineage females from a time long past left in the world.
She is bringing forward all the old genetics that founded the early Elkhounds of course as she is a daughter of Takoda and GÆDA. Vida is actually cycling now, a fertile female, no doubt she comes by that super easy with her parents. This is one of the major reasons the Elkhounds are such an ancient breed, fertile females like Vida. Vida will not be bred till next year.
Vida goes back to the very early beginnings of the Elkhound, you can learn more here: Norrland Elkhound Type
Best Pals Brandon and Marlowe - Son of Leif and Kai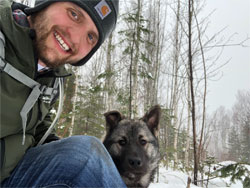 I got a really great update from Brandon a short while back. This is just a great photo!
These two are having a great time down in that region near Bangor Maine. Brandon wanted a hiking companion, pal and overall great outdoor dog. He wanted an old school Norwegian Elkhound with deep roots to the wilderness. There are no better Elkhounds for that exact description than a 4th generation Kamia Elkhound.
Marlowe is a son of Kai and Leif. He is down working everyday with Brandon and having a total blast. A huge thank you to Brandon for the confidence he had in our program, the patience he also had while we got him the perfect male, and of course, Way To Go Brandon for the great home and lifestyle that big fella has.
"Hey Merv,
Marlowe is doing well. he is the best dog I have ever had, and a perfect companion for hiking, boating, snow shoeing and cross country skiing.
Brandon"
Rigel - Son of Jaegar and Kamp, Half Brother to Tekla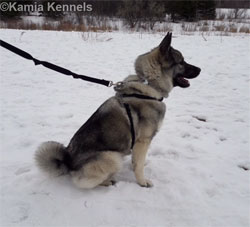 The incredible genetics of Kamp and Jaegar combined to create this stunning big fella. This is Rigel, he is out in Winnipeg with Michele. She has herself a truly outstanding young male. She keeps me posted on this big fella all the time and has recently sent me some really nice photos.
The timing of course was perfect with that planned litter of Rigels dad Jaegar with his half sister Tekla coming up. This big fella is pretty much exactly what is going to come out of that pairing.
Amazing isn't he?
Kamp brings all the big old Norway line genetics to the match-up's as she of course was from the big old Norwegians. Kamp was 64 pounds, way bigger than Leif or Bram, just this powerhouse female. A full GQ female with a background that is so magnificent its hard to believe. This page has a ton of genetic links back to Kamp, with Phoenix, Tikka, Riker and Tuva all leading back to her. MÅNE, Luna, Artemis and Torleif, along with Norris all have Kamp as the grandmother. The litter of Kalia and MÅNE also have Kamp as the great grandmother.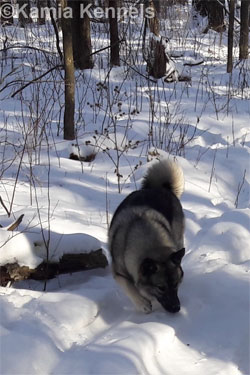 As many of you who have seen the video on my Desna training program outline it was this Rock Star that was featured in it showing his off leash skills. Michele made the trip out here to work with me in the mountains and spent time with us hiking, and working with Rigel. She has continued that great starter work and is turning him into an amazing GQ male, fully skilled in the big city, but equally at home in the back country.
Rigel is headstrong though, has a ton of the independence that both Jaegar and Kamp have shown so she keeps her wits about her as he is still very young yet. Rigel is intact and at that one year mark they get a fat head for about a 3 or 4 month phase, so she is going through that right now, where Rigel figures he knows enough and can make some decisions.
Don't kid yourself, Michele rules though, she can handle this little phase, no problem.
This coat color will show through on the Jaegar and Tekla pairing, it won't have that deep black overtone as Mia, Jaegar's mom, she was a coastal Norwegian so her and Kamp will pull all the color through bringing out that incredible Silver/Black that Bram and Takoda offspring are so famous for.
I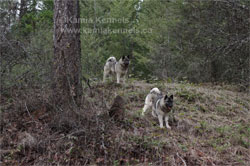 could talk for days on the background of Kamp, the list of who is who in the working Elkhound world goes on forever, and the list of champions in her background literally is endless to the start of the association recording history.
Kamp and her young daughter Tekla shown to the left
These females bring with them ancient genetics, superior genetics in all respects, its powerful females like Kamp that create these big boys like Rigel and stunning daughters like Tekla.
I will keep you posted on Rigel, but a huge Thank you goes out to Michele for keeping all of us updated on this big rascal, and of course for giving him such an awesome life and home. Thank you Michele.
Artemis - Daughter of Tuva and Pretty Boy Leif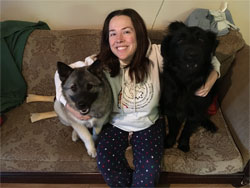 This is a very nice update to get. Sara sent me some really neat photos of a very special young female Norwegian Elkhound, Artemis. Now Artemis, she is our very first Norwegian Elkhound female from our show lineage big boy himself, Pretty Boy Leif. Her mother is the stunning Tuva. Her full sibling brother is Torleif.
Sara contacted us a long time before hand as she wanted a very good female Norwegian Elkhound, she lives up in the North West Territories and needed a good outdoor dog, as well as a "Social Dog" that could do well in her remote community. I am so excited to hear she has fit right in.
From all of us we wish you a big Congratulations on your new son Sara, that is very cool. And, you bet Artemis will be his best pal for many years. Thank you so much for the great home you have provided to Artemis and keep us posted on things up your way, we always look forward to the updates.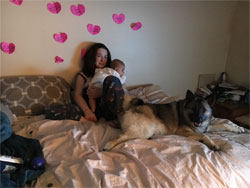 "Hi Merv,
Great to hear from you! Artemis is doing fantastic and it is fun seeing the comparison between her and our other dog. There were so many smells and adventures in the summer that we couldn't let her out loose as she wouldn't want to come back. You can see the intelligence and independence in her all the time and her nose is so very sensitive that she finds dead things whenever we go walking. She has learned to be tough after growing up with our other dog Zeus who was so very excited to have a playmate and played rough with her from the beginning. As he is taller than her she taught herself to go for his legs when play fighting to compensate for her shortness. We were a little surprised that she seems to have reached her full size as we thought she would get a bit bigger. She is full of energy and seems to have springs on her feet and she is a decent jumper. She is loving the cold weather and spends as much time as she can outside in the fenced yard. We were pleasantly surprised with how well Artemis has taken to our new baby. She is very attentive and will follow whoever is holding him around the house. I think they will be very close as he grows up.
Thanks again for introducing her into our lives!
Sara"
Tikka - Daughter of Jaegar and Kamp - Raccoon Hunter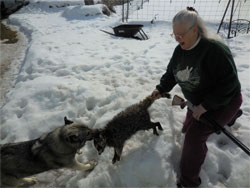 Linda sent me this neat photo the other day of Tikka giving her a hand protecting the seed bags and yard from the never ending onslaught of Raccoons.
Seems that the Raccoons have become a major problem down Linda's way and she is some happy to have Tikka around to give her a hand managing it. They make a tremendous mess for her, ripping open bags, tipping stuff over all the time, just a real pain.
Now Tikka, she is a full sister to Rigel above and Riker below, and to Phoenix who is here. These girls out of Kamp well they don't mess around. You have a yard you need protecting, nothing like a good working Norwegian Elkhound to help out. It's great to see Linda that you keep those old instincts alive and well down Montana way with that Tikka. Keep us posted on that rascal, thank you for the great update and also the great life that Tikka enjoys.
Riker - Son of Jaegar and Kamp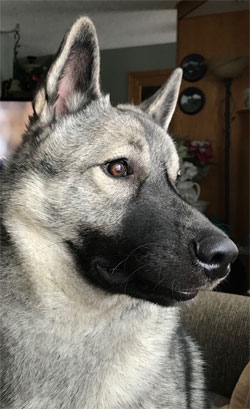 Check out this big fella would you. My goodness it's like one great dog after another on this site, amazing really. And I see them every day.
So this is another of that fantastic combination from Jaegar and Kamp. This is Riker, he is a full brother to Rigel and Tikka, same litter. He has more siblings as well.
John and Helen have this amazing Norwegian Elkhound male out in Calgary. John is a retired RCMP officer and he is now handling the full duties of training this rascal, and is he doing a fine job or what. My goodness.
John keeps me posted all the time on Riker, this winter Calgary had a ton of cold weather, we had snow, they had snow, we had cooler temps, they had Cold temps. I was glad to be here.
Riker though, he loves that cold weather, doesn't bother him a bit. These big double coat Norwegians they can handle that like nothing.
John mentioned he had built him a really nice dog house, "Which He Never Goes In" says John. Too funny. Prefers to lay outside in the snow. I get a kick out of that.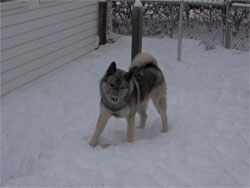 This second photo is Riker playing outside in minus 38, not a care in the world, just happy having some fun in the snow.
I want to Thank John and Helen for the awesome life and home that Riker has, it's so great to work with such terrific folks and to be able to share the fun we have with our Elkhounds with great folks like John and Helen. Keep us posted.
This litter we have planned for Jaegar and Riker's sister, Tekla is going to produce more of these great males.
By all means contact us early for these big boys as they are in huge demand.
Breeding Elkhounds Based On Genetic Selection - Velma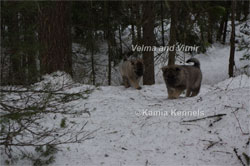 Breeding Elkhounds on genetic selection instead of style leads to incredibly predictable behaviours, instincts and traits. But, don't ever think that by doing that you leave style or type or looks out of the equation. In fact you lock in that incredible look and style when done correctly.
Velma our new foundation female is shown on the left here with her brother Vitnir. Now I was hiking the remote regions with Viking, Vitnir and Velma today, off leash of course doing Desna training. I saw Velma coming toward me and I literally stopped in my tracks as I swore I was looking at Kamp as a pup coming toward me. The hair on the back of my neck came up the similiarity was so pronounced. I hiked with young Kamp years ago at this age as you all know and I was like, Wow, This Is Incredible. Genetics pull hard on these great lineages.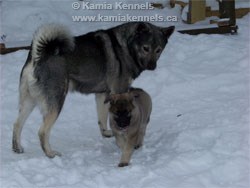 Check out the style, the looks the similiarities between a young Kamp shown here many years ago with a very young Takoda as well, and her granddaughter above, young Velma.
They are both very close to the same age in the photos and in the bush, a bit dark, I had to really stop and stare as I thought, whoa man I have seen that incredible dog before.
So over the next while I will be filling you in on Velma, and of course I'll be sharing my time with Vitnir and Viking, two amazing, and I mean amazing young Rock Star Elkhounds who are here for the Desna training.
While I am at it, I might as well comment on the superior genetics of Takoda, can you believe that photo of him with Kamp, and then many years later directly below with grandson and granddaughter of Kamp with him, they could have been taken the same day. That's pretty cool isn't it? And pretty neat now many years later Takoda is going to be training, Velma, Vitnir and Viking, all grandpups of Kamp. Takoda is probably looking at Velma thinking, didn't I train you already?
Cypress - Daughter of Tora and Bram - Older Sister To Kai
Years ago Ken got ahold of me looking for a truly good companion Elkhound. He wanted a full instinct female with tons of ability as he hikes the West Coast of Canada. He is always in bear country, cougars, they are by the ocean, they travel up the mountain logging roads and more.
Cypress is his beautiful Elkhound, she has a sidekick, the Minpin. She looks after that rascal and let's him deal with the snakes while she handles the bear.
Ken keeps me posted this fantastic sister of Kai's. Cypress is older than Kai, she was 3 litters ahead, out of Tora and Bram's first litter. A stunning big female. Tons of stocky power like Tora. A true hunter of course, daughter of Bram no less.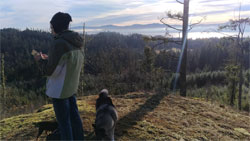 "Hi Merv,
adding to the photo up on the hill Cypress spotted a bear and tore after it into the bush. Every time I get concerned and this time had to abandon her so I could retrieve my truck and bear bangers about a mile away. So I hear a yelping in the bush instead of the barking and figure well she bit off too much but can't leave her so up the narrow logging road with my new $100,000. 00 truck I go and still no dog to be found. Now I park and go on foot and just imagine the bush here is so dense in places 10' off the road is invisible but off I go about a ½ mile to where she was last seen and using whistle and calls to my surprise and relief out she pops from the bush. Glad to see me but won't come near until she sees moma who she runs to and then jumps in the truck. Later I found a hole in her right paw scrapping the flesh to the bone. Ok so she got bit I think and treated accordingly and she was limping by then. Off to the vet for a check and a topical antibiotic. A couple of weeks later we are at the beach for a walk – calm right – she spots an otter coming up the beach (I didn't see it until she was after it) as she has incredible eyesight. I am more afraid of ocean otters than bears but at least it wasn't a cougar. Rabbits, mice, Salmon, voles are the most common and the minpin kills snakes before you can say jack rabbit. Killers -no – hunters you bet and incredibly good ones.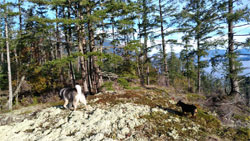 Cypress can run down the beach over logs and rocks for half a mile and back in the same time it takes me to start my smart phone even though she is a bit heavy since Christmas. I weighed her in at 60lbs at the vet so I have reduced her food trying for 55 but the vet thought she is ok. I know she is fat because the minpin is too and Turkey is delicious. People stop to admire Cypress and those that know she is an Norwegian Elkhound are beaming. For all her fearlessness and power she is gentle with people and is not a fighter of dogs, she will stand her ground with an aggressive dog but will always look for a way to leave not wanting to be in a fight. Just this year I have taken to leash walking to expand our base, for her safety, travelling in the united states and she is ok now that she is 7 - I had hoped at 3 she would have been ok with a leash but 7 is good. She doesn't like cuddling unless she wants a scratch and the well don't stop until I say stop.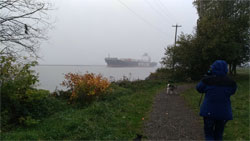 Can't imagine life without her. I have a training tracking collar I will use next time I am up in the bears lair so maybe I can break her from pursuit long enough to get a leash on her. We have a huge list of carnivorous predators up the coast so if she one sad day it gets too much for her well she has had a good life been in the bush like her ancestors hunting, fishing, playing. I have purchased a couple of rifles for this place because of the wildlife but never hike with a weapon so bear spray and bombs is all I will have with me. I did break up a Mexican standoff with a bear and Cypress a couple of years ago with bangers so they do work. Lots of deer and elk which in turn brings the predator.

I love the picture of the elkhound by the forest as it shows the camouflage off. I printed it and put it on my calendar. You have an exceptional amount of snow and that is good for the ranchers and forest to prevent another drought.

It is always good to hear from you and looks like you are doing well which is good.

Regards Ken Epps"
A Monster Thank You to Ken for the terrific update on Cypress. I sure do appreciate all the great care and life that Cypress has and receives. She has it made out there. That photo Ken mentioned of the Elkhound in the forest is that photo of Vida above. Vida is way younger than Cypress, but she is her aunt .
For those of you who might not have seen the other great story on Cypress click to go over on the Kamia Kennels Elkhound Adventure site.