Kalia has her first litter, 3 Males, 2 Females - Feb 10th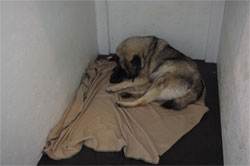 I am very excited these days as I have a whole bunch of new little baby pups around. Kalia had her first litter Feb 10th, awesome little rascals, 3 males and 2 females, black as coal. They are doing terrific. She is a really good mama, they are already like double in size in just a few days. She is doing well, happy and content, eating good and relaxed.
Just next door to her there is more exciting news as her best pal and lifelong friend Kai has her litter as well, 7 little rascals, more on that below, but I find that is really fitting for these two. They do pretty much everything together since they were little tiny rascals.
Kai has her first litter, 6 Males, 1 Female - Feb 12th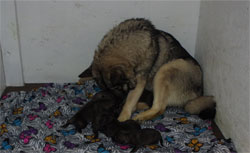 This is totally awesome having the young females finally with their new litters. As all of you know I raised Kai from the last litter that Tora had, so she was born here. Kai has her new litter here now, 6 males, and 1 really stout female, all black little rascals.
Kai is a best pal to Kalia right above and it's neat that they have grown together, and now are both brand new moms together, tons of fun around here for sure.
Kamia Elkhounds - Luna, Tekla and Tuva, Kamp, Jaegar and Tora
Kamp and Jaegar Hook Up - Successful Natural Mating Jan 2nd 2017
The litter between Kamp and Jaegar is going to be truly awesome once again. They have had two successful litters already, awesome pups they have. Kamp and Jaegar can raise some really great dogs.
This is a previous spring video of the pups at 5 weeks from that last litter of Kamp and Jaegar.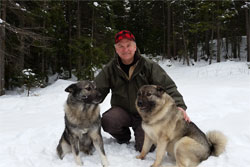 Jaegar, Kamp and I
Jaegar and Kamp make a truly awesome pair. Jaegar is a big thick dark fella and works extremely well with Kamp. Kamp of course is a very large female, solid as a rock, 64 pounds of muscle. She and Jaegar play mighty rough, no doubt.
These two are in their prime. You'll probably never see two big rugged super powerful Elkhounds like these two anywhere these days. All the "Show lineages" all the focus has been on the so called "Breed Standard", well I can say, these are "not breed standard by any stretch". Kamp and Jaegar are the ancient old world Elkhounds, the ones our ancestors came over here with. These my friends, these are full tilt Elkhounds.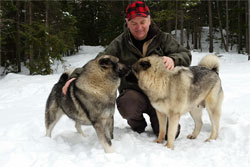 Both these two are the big Elkhounds, they are a very strong pair. Both are GQ Elkhounds so can go anywhere, like in planes, cabs, all around the city, yet can move a bear off the trail without batting an eye. Around people they are super social, very nice. Good around kids and families, can be in the house or live outside, matters not to these two.
We have hiked miles and miles with these two, they never need a leash. There is no such thing as a "stray dog" getting close to the yard with these two. Very territorial, and can handle themselves. Both of these two have every instinct intact. Nothing bred out!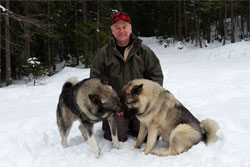 Kamp of course is the mother to Tekla and Tuva. Tuva is featured down below with Leif, Tuva is going to be having a litter almost the same time as her mother. Tekla has just finished raising her litter of 10 pups. What an amazing lineage.
These are what working full range Elkhounds are all about. Kamp and Jaegar produce some of the very best Elkhounds you could find in the world. We are so excited about this next litter.
GAEDA and Takoda - She was bred December 23rd by Takoda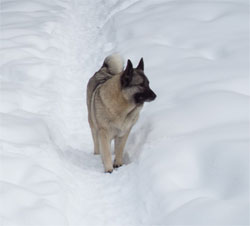 GAEDA is a stunning female. She has produced extremely good Elkhounds for us. She has no flaws. Never causing any issues, healthy as can be, just a super female. Now I had been planning to use Shorty, but I recently had Shorty tested and his semen is no good.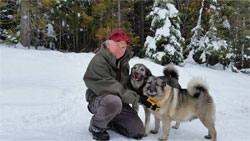 So I have decided at the end to use Takoda with GAEDA and keep a great female for our breeding program so that the GAEDA lineage stays intact. I was going to use Jaegar, had in fact put them together at the start of her cycle, but I decided to switch as I thought if I am going to keep the female, I really like those GAEDA / Takoda daughters. Kijsa, Nalla, those big girls are really great. GAEDA is bred now on the 23rd of December, and so long as she caught, which I have no doubt, we will have a tremendous litter. ( GAEDA and Takoda Shown January 17, 2017)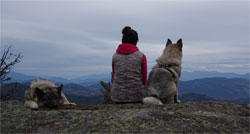 GAEDA and Ashten sitting, Kamp sleeping high mountain hike late fall 2016
GAEDA can hike the high country like nothing. She has a ton of stamina, she is a big girl with a nice light step. She really is awesome off leash. Never would I have to say her name or say a word to her the entire trip, there and back. I have hiked miles and miles off leash with GAEDA. Here she sits by Ashten, happy to share the great view we had at the top of our hike. These two, GAEDA and Kamp, along with Jaegar and Tora accompanied Ashten and I for a real nice full day hike through our rugged part of the world. We had an awesome time. Her and Takoda can create the most amazing hiking and personal companion dogs of any pair anywhere in the world!
3 Generations of Prolific Norwegian Elkhound Females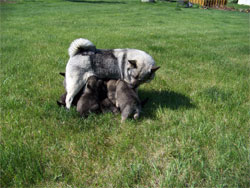 Mia is shown to the left many years ago with her second litter of pups with Takoda. That was an awesome litter of ten tough rascals, no doubt about it. In that litter there were 7 females and 3 males. We decided to hold back a female from that litter and that young pup was of course Tora.
Tora and her siblings were truly awesome pups, all the Elkhounds that Mia produced were outstanding dogs. Virtually everyone of those dogs from every litter she had are featured all over this site. Mia was an exceptional female.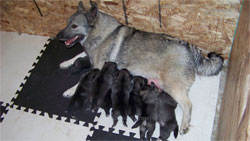 Tora is shown to the left in this image quite a few years ago, basically just a few weeks after we moved to our current location Tora had her 4th Litter. She had 9 pups in that fourth litter, and we held back one of the stout females in that litter, her name, you guessed it, Kai.
Tora has been a model for the Norwegian Elkhound stamina, prolific nature, ability to rebreed, stay in condition and is running our day to day operation here as I write this.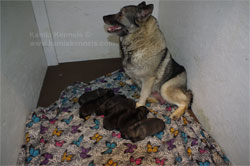 A short few days ago Kai is now following the footsteps of her Grandmother Mia, and her famous mother Tora helping to keep the Elkhounds strong in North America. Kai has a litter of 7 Norwegian Elkhound pups. She had 6 males and 1 fabulous female. They are all doing terrific.
The breeders of Norwegian Elkhounds in North America have slowly over the years moved to a very select show lineage, whereas here at Kamia Kennels we still breed the old ancient genetics. We are very proud to say that Kai, she is going to continue to bring forth those old ancient genes and continue to produce the true old outstanding Elkhounds. Kai as you all know is only second generation born in Canada as her father was the first. Kai's grandmother on her sires side was a Norway born female. These little Norwegian Elkhound pups are 3 Generation of Elkhounds from Mia down through Tora, all bred and born at Kamia, and on the sires side of Kai, three generations back they were in Norway. Pretty neat time isn't it!
Mia and Kia