Desna training in full swing!
GÆDA and her daughter Vida are playing a big part in the Desna training this season. As you may remember the whole "Desna" program was named after the son of GÆDA and Takoda, Mr. Desna himself. Vida is a full sister to Desna.
The young female that they are training out on this snowy day is a daughter of Jaegar and Kalia. Interesting thing is, Mishka, who is the young female is going up to be a pal to Desna in Anchorage, is sired by his brother Jaegar. How neat is that?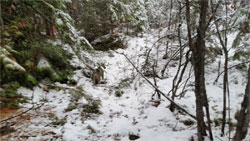 Mishka is a very smart female Elkhound. She is watching her aunt Tora who is along with her here, as well as GÆDA and Vida. The whole modeling the big dogs concept works exceptionally well to train the young pups how to behave in the mountains off leash.
Of course this only works if you have skilled mountain dogs to do it with. We just happen to have of course the very elite in off leash mountain Elkhounds to train them with. It also would not be possible to do this without the genetics, it would be chaos with just any old genetics. Pups would be going everywhere. Our genetics are all based around ancient working lines, so it's not all just the modeling by any stretch of the imagination. Also, you have to be able to communicate with the pups in a way they understand, that takes a little skill as well.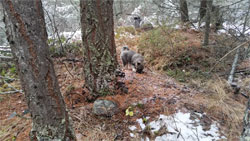 Lark, a young daughter of Jaegar and Kalia is out working with her role model Tora. Now Tora and Lark are very, very much alike. As Tora is a full sibling to Jaegar genetics in Lark are going to be very tight to Tora. I can hardly believe that I am not watching a young Tora some days when I have Lark out.
They move through the bush the same way, they stop and check things simultanteously, it's really cool to watch the genetics and the instincts at work. Young Lark follows cues from Tora but she is so sharp already, I could be hiking this region very easily with just her alone. In fact any of these pups I could.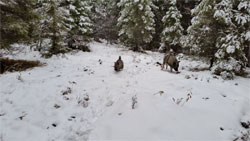 Ruhne he loves his uncle MÅNE, who is a brother to Jaegar. MÅNE is a superb trainer, in fact one of my very best. Rivals all the big dogs and only 1 year old. Ruhne, this is a neat story, he is headed out to be with Jaegars full brother, Bosco out in Saskatoon. How neat is it that here almost nine years since Bosco was born, one of Bosco's brothers is training his new pal and nephew, that another brother, sired. Go figure! Ruhne is a super smart fella, just an amazing young Elkhound Male.
Dakoda the big fella looks at his dad Jaegar wondering what's up next dad. Where to? Any Moose around here?
These two are fast moving big fellas, Dakoda is 21 pounds at 12 weeks, a chip off the old block no doubt. A big thick rascal. Jaegar of course is a tough trainer, he is a fast moving fella and has big range. I use him, but no where near as much as the others. I can take him with young rascals like Dakoda as he has impeccable recall skills already and likes that little extra adventure.
Bergen of course she loves her Grandpa Takoda. As luck would have it Bergen was working her independent off leash training with the old master himself, Takoda. Bergen and Takoda of course all the ancient black genetic material from the old Norrland dogs comes flying out. So Bergen she thinks she is in northern Sweden 300 years ago. Takoda he thinks he never left!
There are no better trainers in the world than the Kamia Elkhounds and Takoda as you know is the Premier mountain training Elkound. These my friends, these are Ancient Elkhounds!
Tuva and Leif, and the 3 males out mountain hiking
Pretty Boy Leif and Tuva along with the 3 spectacular males they produced this last round were out on a great hike in the mountains up above our home on November 18th, 2017. These are some seriously good Norwegian Elkhound pups, my goodness.
Great little mountain dogs already, they are tough rascals and can hike very well up here. Leif and Tuva are super to them, constantly checking on them, Tuva she is like a set of secret service agents around her pups.
This is the video I did while we took a break on our hike, enjoy, they are 7 weeks old.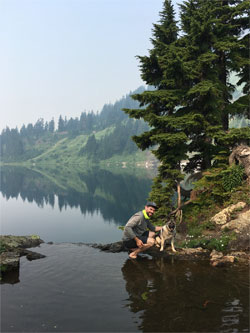 I got a great update from Nate and Erinn the other day. They have a son of Kai from last litter, a tremendous young male named Coho. Thank you Erinn and Nate for such a great home you give Coho, AWESOME!
"Hey Merv,

Great to hear from you. We have been meaning to send an update for a while.

Coho is doing awesome. He really is a great dog. What you say about these dogs having good instincts sure is true. He has been a great hiking dog from day 1. He will always stay nearby and never roam or lag too far before checking in. Something we never trained, he just does. We are still working on a few commands but he keeps getting better the more we practice. On leash is still a bit of a work in progress but for the most part he keeps a nice loose lead. Still gets a bit distracted from other dogs here and there but will listen up quickly when commanded.

I have taken him up snowboarding with me a few times and he just loves it. Will follow right behind me. I attached a video of him following me in June up at cypress mountain. I have never seen a dog so happy than when he is in the snow. Ive attached a few other photos of him on some hikes and even paddle boarding. He also just went for his first swim ever the other day. I wasnt sure if he would ever like water but he went in and swam all by himself.

The amount of compliments we have got about him is endless. People every day asking what kind of dog he is. Im sure we have sent you some business by now.

Overall we just love him to bits and couldnt be happier with him. Thanks again. We will keep in touch for sure.

Nate and Erinn"
This my friends, this is a Norwegian Elkhound!
Phoenix - Luna - Vida - Tekla
I got a neat video of all the young females playing and having a fun time yesterday. September 22nd 2017. Tekla was hoping we could have a serious video shoot but alas, the young females were having none of that. They just wanted to have fun!
In the video I did on the 22nd of Sept I speak about a video I did earlier. This is the video I am referring to. It's the one showing young Luna in her red harness, she is a fun little pup that Luna.
Tekla and Leif hook up on the 30th of September, some amazing pups on the way!
Tuva and her sister Tekla winter hiking - Offleash mountain Norwegian Elkhounds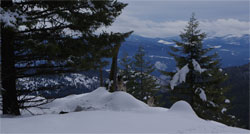 No one can deny the quality of the twins, Tuva and Tekla. They are shown with me on a high elevation mountain hike in the winter, two stunning females. Tuva and Tekla, along with their half sister Kai are in my "Not Humble" opinion the three best females in North America and can rival any world wide. Leif is going to have his work cut out matching quality with those three, but he is proving to be up to the task.
Leif and Tuva had the first litter, all outstanding pups. I am so thrilled. Tuva and Leif did hook up again, and I have now on the ground as of the 29th of September the second litter from Tuva and Leif. I need to point out as well that Tuva and Leif are "All Norwegian Elkhound" they are one of our few pairs that have no Swedish blood as far back as can be found. Leif and Tekla have hooked up as of the 30th of September. Now we will be able to see what Tekla and Leif can bring forward. Tekla is a stunning female, I have some high expectations for this litter, I am very excited about this. Give or take 63 days and we will see them here. Please contact us about the Tekla litter, you might still be in time to speak for a pup, we have folks on the list already, but contact me anyway, there could be potential for one.
Leif , July 2017 A Tremendous Young Male Norwegian Elkhound!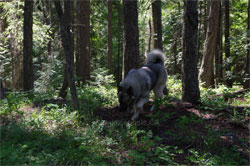 Now Leif is a pretty boy, don't get me wrong he is full ancient dog, but he is all Show Dog genetics. Grand Champion Father and Mother, Grandfather, and every dog in his lineage for as long as you wish to look a champion. Father was best in show, etc. etc. Now, for all of you who read this site, show titles are no real big deal for me, as I don't show, I go. So we needed a "Show Line" that could "Still Hunt" if you know what I mean. We finally worked it out with the help of some really great breeders of Elkhounds. They knew the quality of Tuva, and of course Tekla, Kai and a few others we might use Leif with, so they got us an outstanding young male.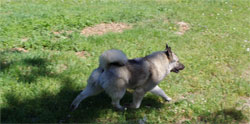 It's really something to see young Leif when he stretches out in his fancy show gait. There is nothing quite like it no doubt about it. He has his entire background of ancestors bred almost exclusively for this far reaching gait and when he steps on out, Wow it's really something to see.
This particular photo of course explains a fair bit why his ancestors were the only Norwegian Elkhounds to win Best in Hound Group multiple times at the famous Westminster Dog Show.
So for those of you in line for a pup, the range of incredible combinations just got a little bit wider for sure.
You can learn more about this terrific young male, click here: Leif Norwegian Elkhound Male
I did a neat video on Leif and MÅNE working with and all the male pups from the 5 litters I think you'll like it:
MÅNE - New Stud Male, Kamia Kennels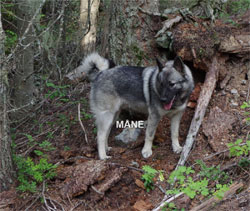 We have some very good Elkhounds around the yard and out throughout North America with our pups. This young male of course is one of the very best you could find. Pretty Boy Leif is a great male, no doubt about it, but he is not in the league of MÅNE, few Elkhounds are. This is a son of Takoda and Tekla. That is an amazing combination of genetics.
The Leif and Tekla combination should yield truly amazing Elkhounds like this one. Tekla is a better Elkhound than Leif so she will bring out all the best in Leif, and he has the genetics in him, those genetics just need a female like Tekla or Tuva or Kai to bring them out in full view. We have already saw that with Tuva. MÅNE is a stunning example of what can be accomplished if you plan the genetics around both parents. You could look your whole life, actually two lives and not come acrosss such an Elkhound as this. Luckily, for the folks waiting on the Tekla litter, or getting a pup from the recent litter of Tuva, it is possible to get this great a dog.
Those pups upcoming from Tekla and Leif are going to be excellent dogs, very much like MÅNE. By all means get in touch with us early, don't wait.
Kamia Elkhounds - Kai's litter out mountain hiking at 8 weeks
Willow and Sage - Michelle and Dan have stunning twin daughters of Tekla!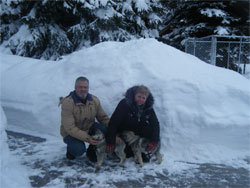 As you may already know, we are big proponents of two Elkhound families. Dan and Michelle have two of the very best Elkhounds you could find in the world. These two, Willow and Sage are stunning daughters of Tekla and Takoda.
The genetic combination of the parents of these two is amazing and it creates such a fascinating young Elkhound. To have two beauty queens like this is really something, no doubt about that.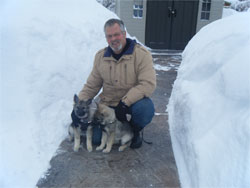 Getting a great Elkhound is a super day, getting two, at the same time Wow. Neat times ahead. Now Michelle and Dan have been focused on training these two young rascals. They have been working each female individually, yet also working them together as well.
The key when raising two litter mates is of course giving each one individual training and individual time with each handler. You can work them together a fair bit, but that one on one with each dog, each handler is where it really pays off. Each dog them develops into all it can be, as well, they develop into an amazing pair of Elkhounds. Dan and Michelle have done a world class job with these two.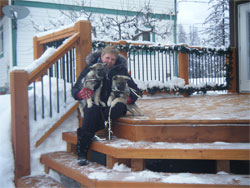 Willow, Michelle and Sage, what a happy photo. These two young Elkhound females have it made, no doubt about it. A huge thank you to Michelle and Dan for working with us and having the confidence in our dogs and program. This is a big committment and they are providing an awesome home for these two females. A bit hats off to both of you, what a stunning pair of dogs you are raising.
Great young adult dogs and mature Elkhounds take much more than just superior genetics, it takes all the hard work and time that the owners put into them. Michelle and Dan are doing exactly that. Pretty Awesome!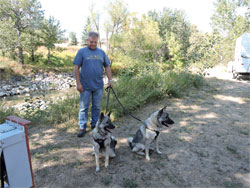 Dan with Willow and Sage late summer 2017
Great exposure to all sights sounds and traffic, they do an excellent job conditioning these two young females. Dan is shown here at a campground, they do a fair bit of RV and traveling around with these two. They wanted to have "Social" yet instinctively protective females, that way they could go to RV spots, get along with all the folks, yet still hike and walk remote trails and have the best in hiking and remote terrain behaviour out of these two!
You would be hard pressed to find two nicer females than these two, not only are they stunning to look at they are very well trained, well mannered and of course, these my friends these are Full Instinct Elkhounds!