New Jamthund Litter From Aina and Rico In 60 days or so!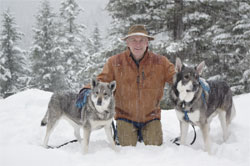 We are so excited about this upcoming litter. Rico was up here and spent the week with Aina and I am positive she has caught. I'll know for sure in a few weeks as she develops a belly.
This is going to be the first Jamthund Litter in Canada - How Exciting!
So Ashten and I had these two rascals out for a great mountain hike while they were taking a break in the mating. We really enjoyed our time out, they were focused on each other of course but we all had a fun time.
These are magnificent Swedish Elkhounds. I am so proud of them, we could not have done this without the help of Russ and Beth, so hats off to both of them for working with us to get this accomplished. They have done an amazing job with Rico, he is such a joy to work with.
I have a neat video of Rico chasing Aina around, he was still thinking there was some work to be done yet in this video, but Aina figured she had it covered, so we had fun. Enjoy!
Rico - Jämthund Male - January 2018
The big fella Rico shown here was so excited the entire time he was here as of course finally Aina was cycling. Now Aina she loves this fella of course. Her and Rico have been fast friends from the day she arrived.
Beth and Russ have done an incredible job with this rascal, he would be a much larger handful had they not given him such great attention and worked with him so much. He is a dream to handle, even with females in full heat literally all around him.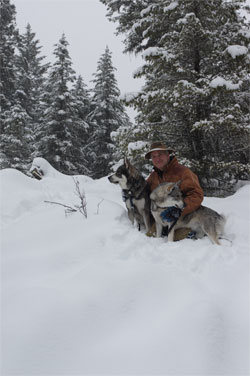 This litter as all of you know is a particularly big deal for me. I am truly excited about the potential for the Jämthunds to be firmly established here in Canada. Russ and Beth are very committed to assisting me and it's been a true pleasure working with them.
Of course Ossi, the breeder of Aina is very excited, and Satu the breeder of Rico is doubly excited as well. They have contributed two of the very best in the Jämthund world to establish this program and my hat is off to them.
I was really pleased that Ashten was here to give me a hand and have the opportunity to spend time with Rico and Aina together out in the remote regions with me. She is behind the camera of course on these images.
These two big Swedish Elkhounds are at home in this environment much more than you can ever express in words. To see them working in the wilderness is magical for sure. Back in Sweden, far up in the remote Jamtland region the early ancient ancestors of these two would be very happy for them, no doubt about that.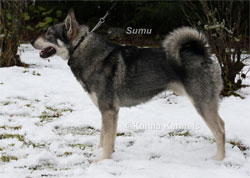 Satu - the breeder of Rico stays in touch, inquires how the two are doing, and in the meantime amoung all other things she is taking Rico's brother, Sumu through his championship hunting trials. He is a stunning big fella, a very close match to Rico and Satu has worked with him to channel that tremendous drive these boys have into a Champion hunting recognition.
Congratulations once again Satu on such a tremendous achievement in a world of the very best in hunting dogs. As most of you know the Karelian region of Finland is a harsh tough environment for hunting and to excel in one of the areas in the world with some of the finest hunting dogs on earth is quite an accomplishment. She is a world class dog handler and we all could only wish to be able to do what she has done.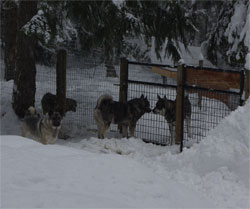 Now I do have to add that not everybody was happy that Rico was here for Aina. Takoda of course felt a little bit put out and took a few minutes to let Rico know that he was not too pleased. Luckily both these two big old Swedish fellas have a real common understanding and things went well.
It's kind of funny really as they seem to know each other at a very deep level, not sure how to explain it but I am positive they know that they both go back many hundreds of generations to a place far away from here. I know it sounds a bit out there, but they look at each other way different than other males look at each other, kinda of like they are agreeing to carrying on this lineage no matter who is in the drivers seat this round, each supporting the other. Takoda of course the primary reason that I have been so focused on getting this lineage established as he comes out of the very early Swedish Elkhounds that came from the Jamtland region to Canada back in my Grandfathers time when he arrived, long before I was born. My family has been involved with the big Elkhounds for many generations so to fulfill this dream now and get them firmly established is awesome, and let's face it had Takoda not been so totally outstanding, I may not have went to all the effort to do this.
Kamia's Pretty Boy Leif - Norwegian Elkhound Stud Winter 2017
Leif has been busy giving me a hand training his other pups. He has pups on the ground here yet with Tekla, we have Viking, Vitnir and Velma. He has been busy mating with Kai this past week.
Leif has impeccable skills and his personality is something you can only believe when you see it. Truly amazing how personable and friendly this guy is. He has really fit in well around here, he likes to guard the fringe edge so I have given him the outer limit pen. He really thinks that is awesome, it's a big responsibility but he thrives on that.
I am extremely proud of Leif, he was my first import from the "Show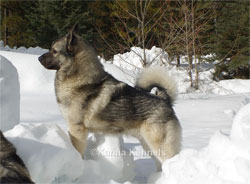 Genetics" and he has adapted very well into this rugged lifestyle. If his show brothers could see him on the forest fringe guarding his pups they would be soo impressed. They wouldn't even believe it's him. If Leif walked into a show today he would win it all. Ribbons, prizes, awards, championships, best in shows, he would own the the show circuit, no doubt!
I took this photo to the left on February 14th, 2018, what a great young Male Norwegian Elkhound. His upcoming litter with Kai is going to be again, fantastic pups.
Loki - Son of Leif and Tuva Goes To His New Home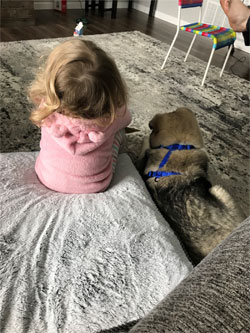 I took my little buddy Loki to the airport in Vancouver to fly to his new home and he was such an awesome fella. I had him and his brother Norris here for the training, Norris is also at his new home in Alaska now as well. I really enjoyed those two boys, what tremendous Elkhounds they are. These pups from Leif and Tuva are rockstars, no doubt about it!
Kim and James have a great family down near Fargo and have been following along with the updates on the site for years, waiting for the perfect time to get a pup. Hats off to them for the patience and the ability to wait for the right timing. Timing is everything no kidding. They have at home one of the very best family dogs in the world, and they are providing him with an awesome life. A big thank you to Kim and James for the confidence in our program and most importantly, our Elkhounds. Here is the neat update:
"Hi Merv!

We love Loki more and more everyday! His energy has picked up but he will still just lay on the floor and nap while we watch a show. James has been taking him on walks. Today James walked him off leash for the first time and he was fantastic! We live on the outskirts of West Fargo and have farm fields in our back yard and to one side of us. James walked home through the farm fields and up behind our house. Once they got within hearing distance the girls and I stood at the back door and called Loki. He came racing up to the back door and made our girls' day! He is the best puppy we have ever met!

Thanks again!
Kim and James

Leif and his son Marlowe out hiking with me doing some Desna training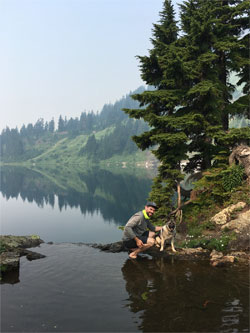 I got a great update from Nate and Erinn the other day. They have a son of Kai and Hachi from last litter, a tremendous young male named Coho. Thank you Erinn and Nate for such a great home you give Coho, AWESOME!
"Hey Merv,

Great to hear from you. We have been meaning to send an update for a while.

Coho is doing awesome. He really is a great dog. What you say about these dogs having good instincts sure is true. He has been a great hiking dog from day 1. He will always stay nearby and never roam or lag too far before checking in. Something we never trained, he just does. We are still working on a few commands but he keeps getting better the more we practice. On leash is still a bit of a work in progress but for the most part he keeps a nice loose lead. Still gets a bit distracted from other dogs here and there but will listen up quickly when commanded.

I have taken him up snowboarding with me a few times and he just loves it. Will follow right behind me. I attached a video of him following me in June up at cypress mountain. I have never seen a dog so happy than when he is in the snow. Ive attached a few other photos of him on some hikes and even paddle boarding. He also just went for his first swim ever the other day. I wasnt sure if he would ever like water but he went in and swam all by himself.

The amount of compliments we have got about him is endless. People every day asking what kind of dog he is. Im sure we have sent you some business by now.

Overall we just love him to bits and couldn't be happier with him. Thanks again. We will keep in touch for sure.

Nate and Erinn"
I recently got another great update from Erinn and Nate on Coho, this gives you an idea of how well those boys of Kai develop in a year. Coho is shown in this awesome photo at 1 year of age with Erinn and Nate. I'll be getting those other terrific photos up soon. A huge thank you to Nate and Erinn for the great life and home that Coho has. Is that a fantastic Elkhound Male or What? Wow!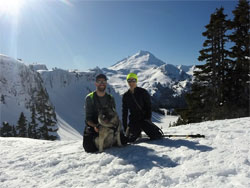 "Hi Merv,

Thanks for the Birthday wishes for Coho. We figured the best way to celebrate his first birthday would be to take him back country snowboarding at Mount Baker. Coho is an awesome hiker and snow dog, everyone can tell he is in his element in the snow. We have also been trying out skijoring and he has been great, we sometimes have to keep him focused though. Coho gives nothing but smiles on the trail and he gets smiles in return. We couldn't be happier with him!!

Attached are some photos from his birthday!

From,
Nate and Erinn."
This my friends, this is a Norwegian Elkhound!
MÅNE and Kalia, New Litter of Pups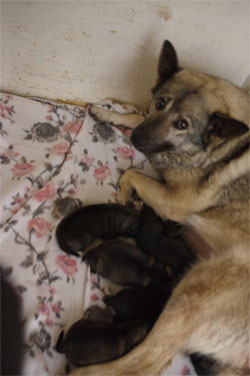 We are so excited for the new owners of the MÅNE and Kalia pups that were born late on the 11th, early the 12th of February. These are tremendous working Elkhounds and the pups from this will be some of the very best we have raised. As all of you know I have nothing but compliment after compliment on Kalia and MÅNE, and these pups, wow, they are doing so well.
As with all my litters I am there while they are born, just to make sure they like me right away. I know most of you already know I am keeping a foundation female out of this litter, so I like to be sure that little rascal is bonded to me as well as she is to her mother, but that isn't happening, but I like to think so.
No doubt they are doing fantastic, Kalia is so good with them. MÅNE is on duty outside guarding the yard and his chest right now, HUGE! he thinks he is it, no kidding. His dad, or Leif, or Jaegar come around, he is like, check that out will you. Too funny.
So there are some seriously good dogs in there, a little Cosima, a little Tofa, and I'll be getting more names shortly, those few I have.
And if you want to hear something really neat, Alina contacted us for a pup from MÅNE and Kalia on February 13th, 2017 and was hoping she could get one of the old world pups from us as she grew up with an old world Elkhound over in Russia. Both MÅNE and Kalia of course are the old world Elkhounds, exactly like she had when growing up, very few of these old world lines left, but no better lines exist than this pair. So little Cosima, the little female that is nursing away in that photo is going to be a lifelong companion to Alina and no better companion could be found. Pretty Cool!
Kai and Leif have hooked up, Some Awesome Pups Coming!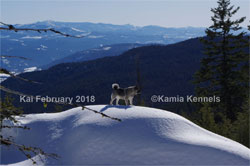 Now In the world of ancient elkhounds there are good dogs and there are great dogs. We happen to have a yard full of great dogs. Kai of course is one of the elite in the Elkhound world. Now her young pal Leif, he happens to be the absolute perfect match for Kai and her genetic make-up. Kai of course her dad Bram is first generation in Canada and her mother, the famous Tora. So her genetics combine with the phenomenal background of Leif so perfect it's hard to believe. I have a recent image of Kai up on a high elevation hike we did on the BC family day long weekend. She is a rockstar that Kai.
Now you need to speak with us fairly soon as this litter list is already pretty long, but Kai is prolific, so she could have a pretty good sized litter. If you are wanting a tremendous Norwegian Elkhound pup, this is the litter to get it from. Kai and Leif are two of the very best.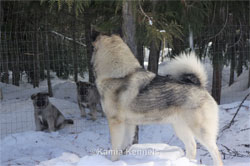 Pretty Boy Leif is shown here on February 14th, 2018 giving his two young sons Vitnir and Viking a couple of pointers on yard watch. They are sharp boys, very instinctive and really don't need the input, but they take the guidance from their dad seriously. These are Kai's half sister Tekla's pups. So pretty much a splitting image of the quality that Kai and Leif have.
I have a recent video of Vitnir and Viking out on a solo hike with me, I'll put them below so you can see the calm steady nature of this combination of genetics.
These my friends, these are Norwegian Elkhounds.
Viking - Son of Leif and Tekla
I am going to share with you a video of two young rascals from the last litter Kai and Leif had, Marlowe and Fiska, they are a son and daughter of Kai and Leif and they were here going through my Desna training program. We are up on a mountain hike with Grama Tora and Kai. These pups are so truly awesome, the whole litter was spectacular. Please contact us early as the litter list is getting long already.
MÅNE - New Stud Male, Kamia Kennels

We have some very good Elkhounds around the yard and out throughout North America with our pups. This young male of course is one of the very best you could find. He excels in every way, his recall skills are absolutely phenomenal. His personality is the greatest, such a personable fella. He has great stamina and energy. There are no flaws with this young male.
The photo shows MANE with his sister Luna up with me at the summit on Saturday the 10th of February. These two Norwegian Elkhounds are in my opinion the two very best in the world right now. Incredible skill level, flawless ability off leash or on. Wow.
Here is a great video of MÅNE and Luna.
Takoda and Tuva - They should hook up today/tommorrow 9th/10th Feb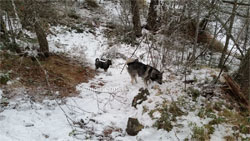 Takoda is shown in this image this winter just turned 10 years old assisting his young granddaughter Bergen learn the mountain ways. Takoda is funny, he seems to really enjoy teaching the young pups in the bush, and if they look like him, he is super good to them. Bergen of course is true Swedish style, no doubt.
So, Tuva she is in magnificent shape, an amazing female. She has had a couple litters now with Leif and has had awesome pups. Last time she would easily have stayed with Takoda, she of course grew up with him, considers him the pack leader, and as strong pack female she instinctively wants to be with him. I am going to let those instincts play the hand they should. The combination of genetics of Tuva and Takoda is a match made in heaven far as I am concerned. You have to believe I like that combination as literally my entire program is based around some variation of it. I doubt I could find a better female for him than Tuva. Tekla the full twin to Tuva, look what she produced my goodness. So I will give them a chance to see how it goes.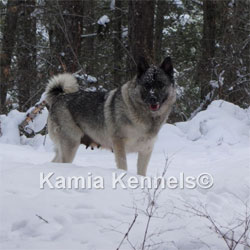 I snapped this photo of Tuva just recently, is she in great shape or what? Keep in mind she just weaned her pups a few weeks back of this photo. Truly amazing female.
Tuva and Takoda are my most personable to me dogs, not so friendly to other dogs. As far as skill level, Tuva and Takoda are the highest skill level as well. The range of work these two can do far exceeds the normal Elkhound. The intelligence these two have is quite simply amazing.
For working dogs, no matter where you go in the world there are few going to have the working background that these two have. These two are full working dogs to the very beginning. I would lay odds right now that the best looking dogs we have ever seen are going to come from this pair as well. Both of these two are the Black / Silver combination. No Grey. Stunning coats. Dark and flawless.
If I was going to pick a pup to start all over with, I would pick one from this pair. You literally could not find a better set of Elkhounds to get a pup from. Contact us early on this litter, especially if you are after a female, as of course I am keeping the first one.
Putting Some Genetic Layout Of The Incredible Elkhounds On This Page
Cinnder - A Takoda Daughter!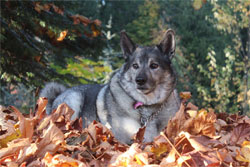 Yesterday I received a great update from MacKenzie on Cinnder, a stunning daughter of Takoda and Mia. As soon as I got the update tons of great memories of those early litters came rushing back. What a stunning beauty of an Elkhound. There are no females like the Takoda daughters, that is a fact! Search anywhere you like, his daughters are amazing!
Cinnder is such a great Elkhound, McKenzie gives her an awesome life out on the coast and it's so great to hear from her and see Cinnder again. Here is an earlier page on Cinnder.
A Monster Thank You to McKenzie for reaching out and sending this update and great photos.
"Hey there! Just an update from Cinnder! She greets me everyday and still makes me laugh! I love her so much! Her face when I get home everyday definitely makes a long day a lot better! McKenzie
Vida - A Takoda Daughter as well!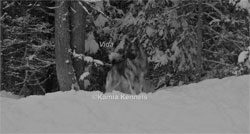 A few days back I got a really neat photo of Vida. I have so much to share on Vida and will get around to putting a lot of information up on her but wanted to let everyone know this is one of the very select old lineage females from a time long past left in the world.
She is bringing forward all the old genetics that founded the early Elkhounds of course as she is a daughter of Takoda and GÆDA. Vida is actually cycling now, a fertile female, no doubt she comes by that super easy with her parents. This is one of the major reasons the Elkhounds are such an ancient breed, fertile females like Vida.
Vida goes back to the very early beginnings of the Elkhound, you can learn more here: Norrland Elkhound Type
Mishka and Desna, the two rock stars on the right side, they are tied into this genetic package, with Takoda and GÆDA the parents of Desna and Jaegar and Kalia for Mishka. So it's no wonder Dajr below looks exactly like Desna as they are full brothers, and Vida of course very much like Syn, as thats her half sister.
Dajr and Syn - A Takoda Son, and Granddaughter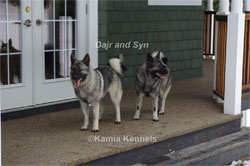 A short while back we had a visit from Tammy and Duane. They came by with Dajr and Syn. Now Dajr he is a full brother same litter to Vida, and he is a half brother to Cinnder directly above. Syn is a granddaughter of Takoda, as she is a daughter of Jaegar and GÆDA.
It's extremely easy to see why the most sought after Elkhounds in all of history come from these ancient lineages when you look at the dogs on this page. So Syn and Vida are half sisters by way of their mother.
Now Birgit she is shown on the right of the page, she is full sister to Vida and Dajr, and half sister to Syn. MÅNE he is half brother to Dajr, uncle to Syn, and Luna also shown on the page lower right is half sister to Dajr and Vida, Cinnder as well. Neat thing is, Ragnar, his grandfather is Takoda and his father is Bram, so he runs the same genetics as all of these. It's no wonder they are all stunning Elkhounds. Tora she is an aunt to Syn, half sister to Dajr, mother to Kai, and then which makes her the grandmother to Ragnar, and she and Jaegar are half brothers to Luna as well. Tora is a full sister to Cinnder, just one litter older. Jaegar is full sister to Cinnder also one litter later.
Bram and Torsten - Incredible Genetic Elkhounds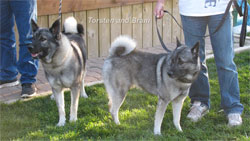 Tying all the incredible genetics that are at play here at Kamia is no small feat, there is just incredible Elkhound after incredible Elkhound, and I will only be scratching the surface on this page. Take a look at Torsten and his dad Bram. Now is that a pair of male Elkhounds or what? My goodness. So that combination of genetics coming through Bram and Takoda the match ups are an Elkhound match from heaven. Torsten is a son of Tora, he is a full brother to Ragnar. As all of you know, Tuva and Tekla are daughters of Bram, half sisters to Ragnar and Torsten.
Bram is the grandfather to MÅNE and Luna, so the upcoming litter from MÅNE and Kalia, then Bram is grandfather to that litter, as is Takoda.You can begin to see where the stacking of incredible genetics takes place.
Coho, directly above shown with Nate is a son of Hachi and Kai, Bram is the grandfather to Coho, and Takoda the great grandfather, Hachi is as you all may know, the awesome old world boy, father to Kalia. So that loaded up litter from MÅNE and Kalia will feature all that powerful genetic material from those boys, and that doesn't even count the females in that mix, I would need some long page to highlight that incredible set, but I will do some of it here.
The video of Marlowe ties into all of this as Bram is the grandfather to Marlowe, and Takoda is the great grandfather, Tora is the grandmother of Marlowe. Loki shown in the photo above is a half brother to Marlowe as his mother is Tuva, father is Leif.
What we are finding and we knew it going in, but it's quickly proving out is that Leif is a perfect genetic match up for all our lines. With proper genetic selection you can bring select lineages in that match perfectly to what exists.
Takoda and Kamp - Their Genetics, combining Bram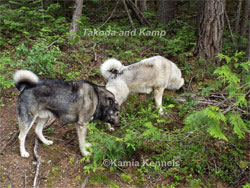 The incredible genetics of Kamp of course come flowing down now through Tuva and Takoda, who also brings in Bram as Kamp and Bram are the parents of Tekla and Tuva.
Kamp brings all the big old Norway line genetics to the match-up's as she of course was from the big old Norwegians. Kamp was 64 pounds, way bigger than Leif or Bram, just this powerhouse female. A full GQ female with a background that is so magnificent its hard to believe. This page has a ton of genetic links back to Kamp, with MÅNE, Luna, Loki, Tuva all leading back to her. The litter of Kalia and MÅNE will all have Kamp as the great grandmother.
I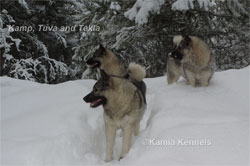 could talk for days on her background, the list of who is who in the working Elkhound world goes on forever, and the list of champions in her background literally is endless to the start of the association recording history.
I have spent a fair bit of time speaking to the males on this update but don't ever kid yourself, without the superior old world females you cannot expect these awesome pups. These females bring with them ancient genetics, superior genetics in all respects, its a powerful set of females that hike the trails at Kamia.
I would very easily state without any hesitation at all that the females of Kamia are a collection without equal. Take a deep look at these big girls and you'll know exactly what I am speaking to.
GÆDA, Kamp and Kalia - Powerful Old World Females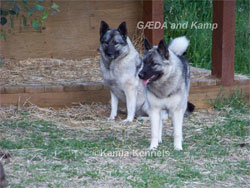 These two females to the left, GÆDA and Kamp have done incredible things for the preservation of the ancient lineages of the old world Elkhound in North America. All these big girls are some of the last remaining big females left in North America, each of these three over 60 pounds easy in thier prime.
We are so blessed to have the genetics that they have provided the Elkhound world with running strong in our program.
These big strong working females are from a generation far removed from the little show females we see today. These girls are what the old settlers came with that brought those early dogs over. These my friends, this whole group, this is a set of Elkhounds.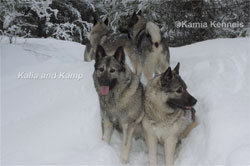 I have the precious opportunity to hike each day with some of the very best dogs in the world and this image shows two of the very best, Kalia and Kamp. The skill level of these old world females is nothing short of astounding.
I have hiked in every type of condition and remote region you could imagine going with dogs and I have hiked off leash basically the entire time with all of our females. Who else can say that?
Going Forward - Unlimited Genetic Potential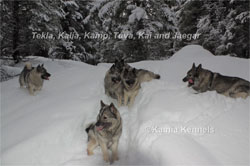 Going forward we have a base of incredible genetics to work with. Tekla and Tuva are proving to be superior Elkhound females, rivaling any world wide. Kai, the half sister to them ranks right in with them. Kalia as the big old powerhouse genetics brings in that ancient outcross lineage to combine with that Kamp/Bram/Leif combination and match up perfectly with Takoda's blood.
Jaegar combines so well with Kalia, he can also match up flawlessly to Tekla and Tuva. We have his tremendous daughters Phoenix and Tikka, of course both daughters of Kamp, half sisters to the twins, Tekla and Tuva. She is the perfect match for Leif as she brings that big dark old work style to his fancy show style. I'll highlight more on Phoenix over the next little while. Tikka will also be mated to Leif when she is ready, she as well has just cycled. She is down with Linda in Montana helping her look after the ranch. A truly beautiful female.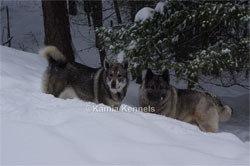 Aina will soon be cemented in history as the foundation female of all the Jamthunds that are soon to follow in her great paws. She is shown here on a great hike I had with her and Kamp. They were great pals. There is the best of the two types: Swedish Elkhound and Norwegian Elkhound, you could not find better representations.
And of course one of the most exciting females I have yet to feature is the soon to be famous Velma, daughter of Pretty Boy Leif and Tekla. My first female we are holding back from the impecable show lineage of Leif and of the contrasting championship working lineage of Tekla. Can you believe all this? Wow! And don't even think I am finished, Silver Nova is featured below.
I will soon have a female from my best buddies MANE and Kalia, Tuva and Takoda are going to be getting me one of their daughters and Kai, she will wait just yet till she is back with Hachi and then she can contribute one more as well. But for right now, you couldn't find a group this good at one place anywhere in the world. For a fact. Luna and the stunning Silver Nova as well are here, this is a great time for the working Elkhounds of North America without question.