Kamp Norwegian Elkhound Female Shown on an April Hike 2016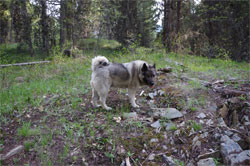 Kamp has been still moving out and around on the hikes well, although she is happy to stay in the shade now that the weather is warming right up. Her belly is growing fast now, she will have some pups on the ground in roughly 3 weeks time. Somewhere right around that May 20th time frame.
She has a huge appetite now and its funny watching her and the other young females, they even glance her way and she is growling. Young females like Tekla and Tuva, Kalia and Kai they like to wander around thinking all is fine, of course, till they wander to close to Kamp when she is growing a belly full of big fat Norwegian Elkhound pups! Don't nobody want to mess with a big female when she is bred, especially the last few weeks. They are fiercely food protective. All the older dogs, they know already, they don't bother her at all.
Storm comes to visit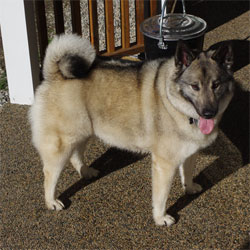 This is the only female probably alive that has a wider chest than her aunt Tora, and stands larger and taller than her mother Kamp all the way around.
This is one of the magnificent daughters from Kamp and Jaegar's first litter, Storm. She came up to see us when Todd and Jen traveled up to pick up the big fella, Havoc. Havoc and Storm, go figure!
She is a beauty, Wow! ( On the sidebar to the right is a photo of Storm as a pup.)
Of course as would be expected, her personality is exceptional. Todd and Jen have her well trained of course, much better than my ruffians. As you can see from this image, this combination of Kamp and Jaegar is some seriously good pairing. What an exciting time it is waiting for this next set of rascals, little mini Storms coming soon!
Kamp Norwegian Elkhound Female Mated To Jaegar 19th March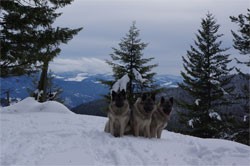 Kamp is a beautiful big female. She has produced some outstanding Elkhounds for us, including the two twins pictured one on each side in this photo, Tekla and Tuva. Photo was taken February 21st, 2016 on a mountain hike I had with the three of them.
Kamp and Jaegar had a litter with three lovely females, her first litter. Saga, Nahanni and Storm. These are all awesome young females. Her second litter was with Bram and she produced 8 tremendous Norwegian Elkhounds. Check out our latest Elkhound News Issue for details on all those young pups and how they are turning out.
We are announcing that we are confident we got a mating between Kamp and Jaegar. I'll put the full details of this at the link right here. The Road To A Litter Takes A Turn Check it out.
Jaegar and GAEDA New Litter December 2015
This Update is as of March 5th, 2016
This is an update on the Jaegar and GAEDA litter, two of the big boys, Bane and Havoc are here proceeding through the Desna training program. They are rock stars these young fellas. I have them out here with the big dogs for an extended off leash training day. To see what mature dogs can do once completing this program, check out the Off Leash Hiking dog article, click the image to go there. Awesome Photos there.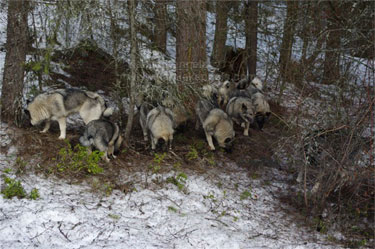 This is a breeding update as of February 2, 2016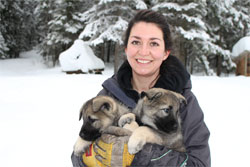 Ashten was out on the weekend to check up on all the pups from her big boy Jaegar. Jaegar and GAEDA had a new litter back in December and they are 8 weeks old now so she came to visit them.
She had a blast with all the young rascals. They are all just like little Jaegars, so much fun and tough as nails, just playing all day in the snow and having a great time.
These are some of our very best pups for sure, Jaegar and GAEDA have really produced some outstanding Elkhounds this time round again for sure. You can tell by that smile on Ashten's face, she is happy with these rascals!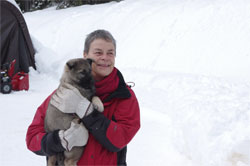 Su was out with David to pick up Hanna just the other day. She is at home now doing fabulous. I have heard a few times from David and Su how the young female is doing. They love that young Elkhound. There is nothing like a great young pup to put a smile on a Su's face. No doubt!
We have some outstanding litters planned for this spring and summer, touch base with us about them early.
Note: We have a lot of pups going to the USA now that we are so close the border, please contact us if your from the US.