Happy Birthday Canada!
Marlene and I had a nice morning hike with our big Swedish Dogs, Takoda and Aina on July 1st, 2017, Canada Day.
Annabelle - Full Blood Working Elkhound Female - Daughter of Kalia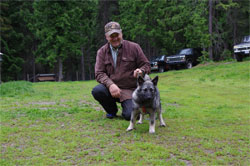 This is the height of excellence in working Elkhound genetics. Annabelle leaves virtually no room for improvement, she is a flawless example of all things in perfect harmony in a full blood working Elkhound female.
We knew that Jaegar and Kalia would be a great match up and this entire litter has been truly outstanding, and young Annabelle was the last to go to her new home. She was still here with me for another day yet when I took this photo, Annabelle has gone to Utah to be with Devin and his family.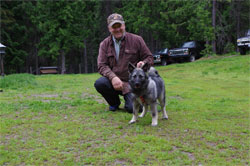 Annabelle was the largest of the entire group of pups we had this summer, she pulled all her old Swedish roots out in full fashion. This is a stunning female. Every aspect of her nature and her composure is awareness and full attention, combined with quick dominant energy and action.
The beauty of having these pups around longer for the Desna program allows me to witness the behaviours and instinctive abilities. Kalia has proven to be an oustanding match for Jaegar, and I am thrilled to be able to offer pups like Annabelle once again soon.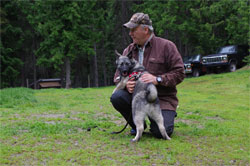 For me a crucial component in our program is the genetics that provide for the close instinctive nature to work with the handler. This can not be understated in working dogs and it needs to appear very quickly in the pups so you "Know" it's instinctive, not trained. At the end of the day it always comes down to instinctive ability. Without that to build upon, training is never going to be as successful.
Annabelle exhibits the height in instinctive skills, combined with a very intense drive and energy, this my friends, This is an Elkhound!
Jaegar and Kalia hook-up for a second litter - pups due August 23rd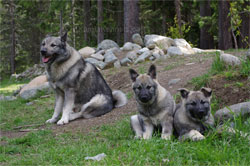 I have in the photo Jaegar and two of his sons, Gifford and Rig.
These are two of the three boys from the last litter with Kalia and Jaegar. They all were outstanding young Elkhounds. These two boys stayed with me for the Desna training program, super young fellas.
So Kalia and Jaegar hooked up on the 22nd of June so we expect some pups around that August 23rd time frame. This is very exciting as we know the pups from this pair are truly exceptional pups, both male and female.
Last litter was Koda, Gifford and Rig, and there were two females, Annabelle and Yxa, stunning young Elkhounds!
Kai and Leif Hook Up July 7th - pups due Sept 7th, 2017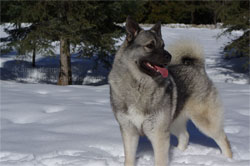 Pretty Boy Leif and Kai hooked up the morning of the 7th of July. So some lucky pups coming from this pairing mated on 7/7/17, if I was a betting man I would be betting on those pups, no doubt, probably will be born on the 7th of September, go figure!
Leif is such a good young male, he has this awesome nature that we really enjoy. He is what I would call, Super Personable. He is so nice he would not make a good guard dog even, I think he might let anyone in the gate. Too funny.
Way back when Kai was a very young female I knew she was going to be amazing and she has developed into the perfect Norwegian Elkhound female. I have always been looking for a really great young Norwegian Elkhound male to work with her. I am very excited to have this opportunity to use Leif with Kai.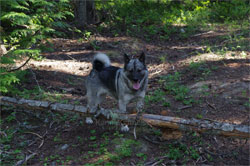 Kai had her first litter with Hachi as Leif was not here, I would of course use Hachi again, he was a perfect match as well for Kai. Those pups are incredible, I had two of them here for the Desna training program, both awesome young males.
But we will move forward now with Leif. I do believe these will be some of the very best Norwegian Elkhounds you will be able to find anywhere in the world.
These two young Norwegian Elkhounds are, in my fat head opinion of course, two of the very best anywhere! Kai brings forth all the best of the working traits going back to her Scandinavian roots, only a generation back, her Dad as you may know was first generation in Canada. Leif he brings all the best of the show world to the pair so we are seriously excited. Leif has his hunting instincts yet even though he is nice, we do have a great photo of his dad out on a successful bear hunt last spring. Combined Leif and Kai will have pups as good as can be found anywhere in the world.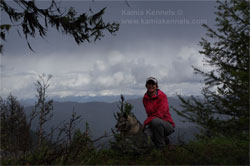 Kai's mother Tora is here with us she is still a powerhouse hiking machine. Ashten is shown here on the 18th of May hiking up the mountains near our kennel. There are few if any Elkhound females with the power and stamina of Tora, other than her sisters, daughters and relations here at Kamia Kennels.
Of course Kai's grandfather Takoda still rules things around here, he will be keeping an eye on Leif just to be sure things are going smoothly around the place.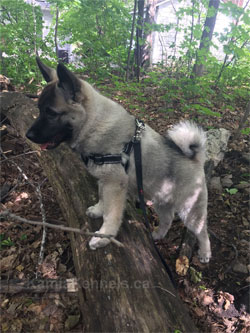 Now below I have a really cool photo of the son of Leif from the litter he had with Tuva. Kim has this young rascal out in Ottawa and he is an absolutely amazing young fella. Thank you Kim for such a great home you have given Torleif, and this awesome update photo.
This is Torleif - Son of Leif and Tuva - aka Prince Torleif
He is a really solid well built young male, super showy, you can see that he got some of his great looks from both parents. Tuva of course is a half sister to Kai, so I am expecting almost identical pups from her and Leif. That is such a great young Elkhound.
Torleif was a big boy at birth and continues that development, Kim weighed him just the other day at 28 pounds. Pretty Impressive.
So Pretty Boy Leif he is not just another pretty face, he has some serious genetics in that fancy package he prances around in, no doubt about that. We all knew he was loaded up with genetics waiting to come out and show off, there is no questions my working boys have to sit up and pay attention these days. As this my friends, this is a Norwegian Elkhound!
Tuva and Leif will be mated again when she cycles this spring.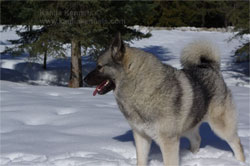 Kamia's Pretty Boy Leif is shown to the left, he is our new stud dog that sired the last litter with Tuva. Leif is an amazing big fella, he is young yet but is doing so well out here in the mountains. I am very proud of him. He has been able to find his own spot in amongst the big boys Jaegar and Takoda and is going to be a really strong sire for us.
The genetics of Leif are all outcross genetics for our dogs, he is far removed from our working lines having come from generations of the best in the show lines. As all of you know we don't have or participate in shows or show dogs, this is our very first ever genetic from that lineage of Norwegian Elkhounds. We brought in Leif as we wanted to have a new genetic material of supreme quality for Tuva, Tekla and Kai.
Tuva and her sister Tekla winter hiking - Offleash mountain Norwegian Elkhounds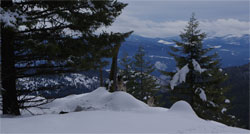 No one can deny the quality of the twins, Tuva and Tekla. They are shown with me on a high elevation mountain hike in the winter, two stunning females. Tuva and Tekla, along with their half sister Kai are in my "Not Humble" opinion the three best females in North America and can rival any world wide. Leif is going to have his work cut out matching quality with those three, but he is proving to be up to the task.
Leif and Tuva had the first litter, all outstanding pups. I am so thrilled. Tuva will be bred again to Leif when she cycles and those are going to be again, truly awesome Norwegian Elkhounds. I need to point out as well that Tuva and Leif are "All Norwegian Elkhound" they are one of our few pairs that have no Swedish blood as far back as can be found.
Leif , July 2017 A Tremendous Young Male Norwegian Elkhound!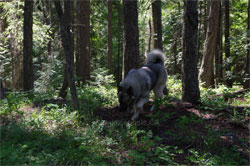 Now Leif is a pretty boy, don't get me wrong he is full ancient dog, but he is all Show Dog genetics. Grand Champion Father and Mother, Grandfather, and every dog in his lineage for as long as you wish to look a champion. Father was best in show, etc. etc. Now, for all of you who read this site, show titles are no real big deal for me, as I don't show, I go. So we needed a "Show Line" that could "Still Hunt" if you know what I mean. We finally worked it out with the help of some really great breeders of Elkhounds. They knew the quality of Tuva, and of course Tekla, Kai and a few others we might use Leif with, so they got us an outstanding young male.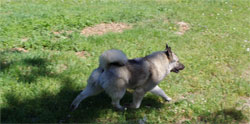 It's really something to see young Leif when he stretches out in his fancy show gait. There is nothing quite like it no doubt about it. He has his entire background of ancestors bred almost exclusively for this far reaching gait and when he steps on out, Wow it's really something to see.
This particular photo of course explains a fair bit why his ancestors were the only Norwegian Elkhounds to win Best in Show multiple times at the famous Westminster Dog Show.
So for those of you in line for a pup, the range of incredible combinations just got a little bit wider for sure.
You can learn more about this terrific young male, click here: Leif Norwegian Elkhound Male
I did a neat video on Leif and MÅNE working with and all the male pups from the 5 litters I think you'll like it:
Kamia Males and Male pups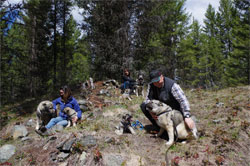 We had a very fun time getting all the big boys together for a photo shoot. Ashten, Marlene and I along with the 3 big males and male pups are shown to the left.
Takoda and Dajr top with Marlene, Jaegar and Rig shown with Ashten and Leif and Torleif with me.
These days it's a rare day to see a breeder with a Male around the pups, let alone 3 Males on site all with pups, as of course it's again rare for a breeder to have 3 males, and to have 3 litters one from each at the same time, probably we won't see this photo again anytime soon.
The other neat thing about this photo is these three males are the Premier Elkhound Males in North America, sons of these males like, Dajr, Rig and Torleif are the very best pups that can be found on this continent, that is pretty cool indeed.
Kamia Elkhounds - Kalia's, Kai's and GÆDA's Litters
GÆDA one of our most polite Norwegian Elkhounds - Now Retired!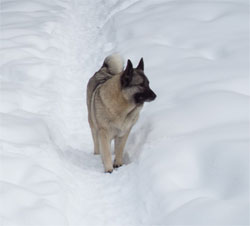 GÆDA is a stunning female who is now retired, she can relax and hike, help me train Vida and just have a fun time. Over the years she has continued to produce some of our very best Elkhounds. GÆDA is a full registered Norwegian Elkhound and is a flawless example of old ancient Genetics. She is still the big lines, matches all my big girls for size, length stamina. She maintains condition at around that 62-64 pounds throughout. GÆDA produces the big Norwegian Elkhounds still found in a few locations. As a northern region Norway line she has that capability to produce some of the most astounding pups. I have a couple photos of her daughter Syn, to the right. As you can see she can really produce some very serious pups.
GÆDA is the most polite dog we have. She is a dream to work with. No doubt one of our best on leash and off, her and Kai are superior that way. I have hiked for years with GÆDA off leash in every type of terrain and I can turn around, or look around and she is looking at me. A flawless mountain female. I am very pleased that for the last litter she produced 3 outstanding females and 3 fabulous males. I will be selecting one of those females to retain in our program to keep that GÆDA genetic lineage. The young female I have decided to name, Vida. The folks getting those other 5 they are getting some truly great pups. It's an exciting time around here for sure. My options for Vida are almost endless as I can use young Leif, I can use Bram and if I wished, could use Hachi. So truly endless potential to preserve this ancient female genetic material. Things are good.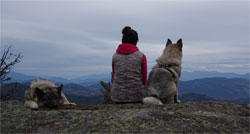 GÆDA and Ashten sitting, Kamp sleeping high mountain hike late fall 2016
GÆDA can hike the high country like nothing. She has a ton of stamina, she is a big girl with a nice light step. She really is awesome off leash. Never would I have to say her name or say a word to her the entire trip, there and back. I have hiked miles and miles off leash with GÆDA. Here she sits by Ashten, happy to share the great view we had at the top of our hike. These two, GÆDA and Kamp, along with Jaegar and Tora accompanied Ashten and I for a real nice full day hike through our rugged part of the world. We had an awesome time. Her and Takoda can create the most amazing hiking and personal companion dogs of any pair anywhere in the world!
You'll be able to see her great nature in this next video, so polite. We have picked out the young daughter and her name is now Vida. She is a beauty, so nice but will all instincts intact and a full watch working girl, true daughter of Takoda and GAEDA, pretty neat.
Here is a very fun video we did with all the litters, what a fun time, enjoy: