Tekla and Pretty Boy Leif - New Litter Coming July 1st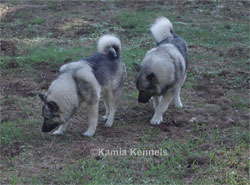 As much as I was hoping to have Jaegar work with Tekla this round it was not to be. She proved to be a little difficult in her decisions this time around and we ended up having to utilize her fancy pal, Pretty Boy Leif. Now as you can see from this photo this is such a stunning pair of Norwegian Elkhounds that decision is a choice anyone would wish for anyway, even though we had hoped to use Jeagar, how rough can it be to have Pretty Boy Leif as a standby. Good Gracious!
Norwegian Elkhound Male, Pretty Boy Leif and his stunning mate, Norwegian Elkhound Female Tekla!
These two are scheduled to have a litter now based on the breeding times right near that July 1st time frame. As far as Norwegian Elkhounds go, no matter where you were to go look right now in the world, these two are pretty much it. There are some Elkhounds in this yard and some of our pups as good, but as a breeding pair of Norwegian Elkhounds go, you would have some serious, and I mean serious traveling to do in order to find a better pair. You can contact us about this incredible litter right away as we know the breeding now.
Tekla and her granddaughter Tófa - Mountain Hiking May 8th 2018
Tekla and Tuva were giving me a hand on the Desna training with Tófa yesterday. We had a spectacular time up in the high country. These three females are some awesome let me say, what a tremendous trio of female Norwegian Elkhounds.
Tófa is super smart, a fair bit high energy, get's that from her mother Kalia, but has the rock solid personable nature of MÅNE, son of Tekla.
Took my camera yesterday on a great hike I had with MÅNE and Tófa, we have the video below. She is a Rock Star.
Kai and Leif Pups Outside Now - 1 Month Old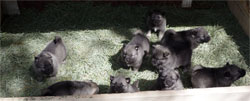 We are so pleased with these young rascals, my goodness these two raise some awesome Norwegian Elkhound pups. Bram is the father to both Tekla above, and Kai, so they are half sisters. This genetic combination is an absolutely stunning match for the background of Leif.
Kai is an incredible mother and these pups are doing so well. What a great group. Some very happy families waiting for these rascals!
Here is a video of these rascals at 35 days of age.
RM Kjekk - Nordic Champion - Norwegian Hunting Elkhound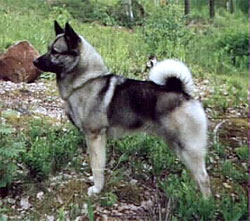 This is the famous RM Kjekk, he brings to that litter of Kai's his ancient hunting savvy. This is one of the very best hunting Norwegian Elkhounds that ran through Norway. He is a Nordic Champion, he achieved a hunting championship in Norway, Sweden and Finland. An incredible achievement.
His traits run deep in our program as all our dogs still hunt, right down to little 8 week old pups. Kai's first litter we were doing a video and young Magnus he caught a mouse while we were filming, snow on the ground and only 8 weeks old. Kai and all her siblings are stopping Moose all the time we are hiking. That new litter, they are just waiting to hunt.
Norwegian Elkhound Sisters - Introducing Tika - New Summer Litter Planned about mid July now. She is here with Leif.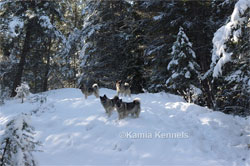 The photo of the 4 Norwegian Elkhound females to the left is Kai, Kamp, Tekla and Tuva. The females, Kai, Tekla and Tuva are all daughters of Bram. Tora is the mother of Kai, and Kamp the mother of Tekla and Tuva.
Now in that same litter of Kai there was another incredible female, a full sibling sister to Kai, her name is Tika. We are very excited to announce that we are going to be having a litter with Tika this summer. She is cycling right now.
Tika, Daughter of Tora and Bram - Full Sister to Kai
Tika is an amazing Norwegian Elkhound, she is a bit larger than Kai, virtually the same size as her half sisters Tekla and Tuva. She is a strong athletic female, took a fair bit of her mother Tora's muscle and that lean strong lithe build from Bram. She has the stunning beautiful dark face and Silver/Black coat from Bram.
The genetic match-up of Tora with Bram was as you all know one of the very best in North America and produced world class Norwegian Elkhounds with full instinctive abilities.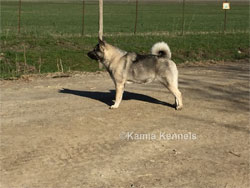 We have decided to utilize the depth of Pedigree of Pretty Boy Leif to match up with this sister of Kai and Tuva and Tekla. He has proven over and over to be the absolute perfect match for this genetic that Tika has, and with her build these pups are going to be some very serious hiking and working Norwegian Elkhounds.
The background of Tika reads like a who's who of Scandinavian based Norwegian Elkhounds and you bring in that Rock Star stacked pedigree of Pretty Boy Leif my oh my! Is this a fun time or what for Elkhounds in Canada, North America and the World!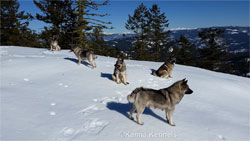 This image to the left has the famous Tora, mother to Tika and Kai, who can still hike with all of them and is my go to trainer for Desna pups. She is shown with Kai, and also her younger brother MANE and younger sister Luna, who are son and daughter of Tekla. Tekla being the half sister to Tika.
Pretty amazing time to be getting a pup at Kamia Kennels this summer, no doubt! Get a hold of us soon on these rascals.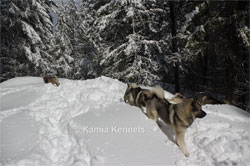 This photo is of Pretty Boy Leif out with his offspring, Viking, Vitnir and Velma who he had with Tekla. You can see the thick muscled in build of this young fella after a year here of hard work. Around here the males muscle right in, we work our dogs in remote terrain and Leif, he is up to the tasks we give him, without question.
He is a very happy fella all the time, such a great nature. I am so excited about the Tika and Leif litter, it will be awesome.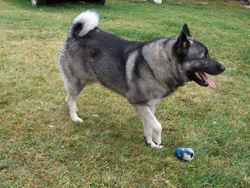 Here is a photo of Bram at the time that Tika and Kai were conceived. He is still a rock star Norwegian Elkhound, he will be coming 11 this fall. Kathy just spoke with me she had him up to the vet he had cut his paw, she got him all fixed up, he is ready to hike again already.
This is the father to Tekla, Tuva, Tika, Kia and about 40 more pups for us, all superior Norwegian Elkhounds. Those young rascals outside in the pens from Kai and Leif, they all owe their good looks to this big fella.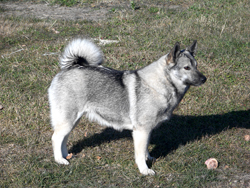 And of course none of the females we have, nor any walking around North America compare to Tora in her heyday, nor today as she has just turned 9. Still a massive powerhouse, rules the joint around here and keeps the pups, big dogs, and bears all in line.
Those stout rascals in that pen with Kai, they owe a huge debt of gratitude to grandma Tora for all the instincts, all the skills they have, the dominant style and of course, all the muscle to this magnificent Elkhound. Tora is the mother to Tika and Kai, and over 32 more superior Norwegian Elkhounds she had with Bram!
You want to see perfect Elkhounds in every aspect and trait, just look around this page, starting right there with Tora and Bram! Pretty Amazing to say the least.
I took a nice short video of the sisters, Tika, Tekla, Tuva, along with Vida and Silver Nova while Tika was here mating with Leif.
She should be having a litter in Mid July time frame if all goes well. I am so very excited.
New Jämthund Litter From Aina and Rico Is Here and ARK is growing fast!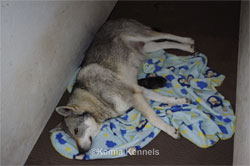 I am very happy to share the news that we have the first Jamthund Male pup now here at the kennel. This is an awesome fella, his name is Ark. As he is the original Jämthund now in Canada, we figured that we best name him after that, and also the 3 main reasons he is now running around this country, Aina, Rico and Kamia.
He is growing super fast already as he is the only one there. Aina must have figured, best test out this Canada Jämthund thing with one ancient big rascal first before getting too carried away. Too funny.
This is the first Jämthund Male Pup born in Canada - How Exciting!
We could not have done this without the help of Russ and Beth, so hats off to both of them for working with us to get this accomplished. They have done an amazing job with Rico, he is such a joy to work with.
Needless to say, but I will anyway, the folks that have been waiting unfortunately have to wait a bit longer. As Aina is going to be having a fairly light load of nursing only ARK, she will be bred again when she cycles. So the folks will have to wait for litter two unfortunately.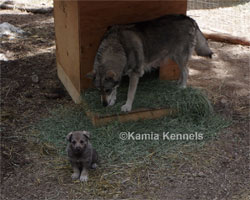 Jämthund Male Pup Ark outside with his moma, Aina.
Ark is such an incredible young fella. Super agile, bouncing around already, comes when I call him, walks along with me already, Wow! That just over 30 days he was responding to my commands amazingly well is something to witness no doubt. This is a very good boy.
He already shows lots of his Mom's dominant traits though, so I will have watch that and socialize him and get him to relax a bit. I allow his mom Aina to flex her muscles but ARK will have to show some manners as he is going to be a very muscled in big boy. His famous Dad Rico is 85 lbs and Ark will muscle in more than him I am certain so I need those manners front and center that Rico has, and we will leave the Aina dominance for the Bear hunting. This is going to be a very famous bear dog this fella, I can tell you that. More to come on him soon now that spring is here.
Rico - Jämthund Male - January 2018
The big fella Rico shown here was so excited the entire time he was here as of course finally Aina was cycling. Now Aina she loves this fella of course. Her and Rico have been fast friends from the day she arrived.
Beth and Russ have done an incredible job with this rascal, he would be a much larger handful had they not given him such great attention and worked with him so much. He is a dream to handle, even with females in full heat literally all around him.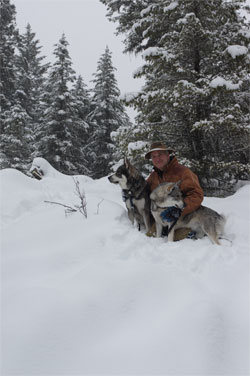 This litter as all of you know is a particularly big deal for me. I am truly excited about the potential for the Jämthunds to be firmly established here in Canada. Russ and Beth are very committed to assisting me and it's been a true pleasure working with them.
Of course Ossi, the breeder of Aina is very excited, and Satu the breeder of Rico is doubly excited as well. They have contributed two of the very best in the Jämthund world to establish this program and my hat is off to them.
I was really pleased that Ashten was here to give me a hand and have the opportunity to spend time with Rico and Aina together out in the remote regions with me. She is behind the camera of course on these images. She is here now as I am updating this helping me with Aina and ARK.
These two big Swedish Elkhounds are at home in this environment much more than you can ever express in words. To see them working in the wilderness is magical for sure. Back in Sweden, far up in the remote Jamtland region the early ancient ancestors of these two would be very happy for them, no doubt about that. They also of course would be some pleased there is now a True Canadian Born Jämthund Male soon to be running the snow covered trails. Bear, Moose, best watch out ARK is here!
Some background on our Pretty Boy Leif!
Leif's mother is the very beautiful Norwegian Elkhound Zinny
I don't have to share with anyone who has seen the pups from Leif, or Leif himself just how great his background is, all you have to do is look at Pepper, Fiska, Viking, Vitnir, or any of the others, but I wanted to share a bit of his lineage.
This beauty queen is a major reason his daughters are such incredible show piece females. This is Zinny, she is a champion Norwegian Elkhound from the Vin-Melca kennels. No doubt that those pups from any combination of our females with Leif yields those amazing young Norwegian Elkhounds. Have you all seen that last photo of Torlief? Zinny comes shining through, doesn't matter if it's Tuva, Tekla, or Kai.
Leif has a ton of depth to his background, years and years of very dedicated study and breeding by one of the very best breeders in the world and his pups show it.
This female is just one of outstanding Norwegian Elkhound after outstanding Norwegian Elkhounds that line up the background of our Pretty Boy Leif. As you can see, he comes by his name very easy, check out his Moma, Wow!
I have shown at the left the Grandfather to Leif, the highest point Norwegian Elkhound of all time currently. This is Tioka's American Ride. It's incredibly hard to just pick out one Norwegian Elkhound out of the background of Leif, but if a person had to, well, I would have to agree that this big rascal would be at the top of a lot of peoples list.
He is a big reason that those pups I have in that pen of Kai's, shown up above are going to be such serious rock star Norwegian Elkhounds, and no disputing where Leif gets his great style.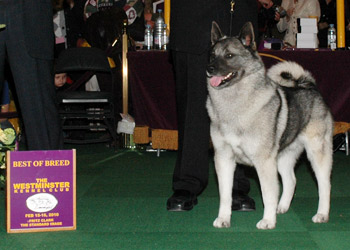 This as you all know is the famous Vin-Melca's Wells Fargo, Best of Breed winner at the prestigious Westminster Kennel Club show a number of years back.
I can share this much with you, there are few dogs anywhere from any country that can equal this fella on his accomplishments and his genetic contribution to Norwegian Elkhounds.
It's a great honor for us to have this fella powering the background of Leif, those pups coming out Tekla, and the potential future pups of Tika now soon as well, all will be able to show clearly the strength and power of this masterpiece of Norwegian Elkhound Excellence.
Pepper - Daughter of Kai and Leif from the previous litter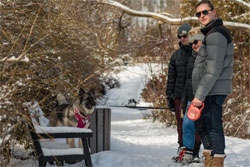 I have to say the photos that Harold takes are magnificent. He is a camera pro and gets these stunning images of his family with their Beautiful Norwegian Elkhound Pepper. A stunning daughter of Kai and Pretty Boy Leif.
Stephanie is shown here with Issac and Eli and Pepper out on a great walk. These are such great folks, I really enjoyed the visits we had, they came out when the pups were little and spent time with Pepper, they keep us posted on her developments, what a great pleasure to work with families like this.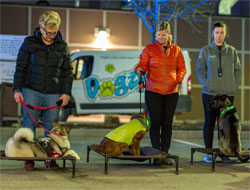 Harold let me know the other day that they have Pepper in high level obedience training and she is a Rock Star. Nobody is doubting that, Kai is her mother, go figure!
They have some very cool images of the training they have been putting her through, very intensive, car washes, horses, parks, tons of other dogs, none of which are anything much to look at compared to that beauty Pepper, but just the same, pretty nice pals for her. I have a fat head about Kamia Elkhounds as you probably already know, there is nothing wrong with the other dogs, just poking fun at them. They are all great. They just wish they could be Elkhounds.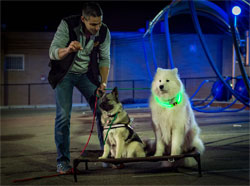 It's really great to see that Stephanie and Harold are putting in the effort and time to get young Pepper to be all she can be. She is a famous GQ Norwegian Elkhound as you all know, her ancestors have graced the biggest dog stage of all time, the Westminster Kennel Club Dog show. As you may or may not recall, Peppers great lineage has the "Only Norwegian Elkhound" to ever win that Prestigeous Show. Top Dog, All Breeds!
It's no doubt this trainer knows the genetic background of this masterpiece young female he is working with, she has his instructions figured, no doubt!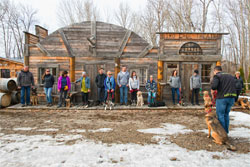 So hats off to Stephanie and Harold, the boys, awesome job with that rascal. She is a showstopper no kidding.
So great to see her out and about, strutting her stuff, her famous ancestors over in Norway, of course there is as you all know a lineage of hunting Norwegian Elkhounds extrodinaire. But did I happen to mention now that I am seeing this Pepper in all her glory showing off her heritage, that on her Mom's side there just happens to be one of the elite Norwegian Kennel Klub Show Winners as Well! Of all the shows to win, that is the One.
So young Pepper, as well as all those 9 pups in that brand new litter, they have a storied heritage like no other Elkhounds in North America, and young Pepper she is proud of her ancestors and she has a little bit of an attitude don't you think, shall we say a "Fat Head", wonder where she gets that.
Way to go Harold and Stephanie, keep us posted. What a Rock Star you have!

Leif and Tekla, along with sons Vitnir and Viking, Daughter Velma, and MANE and Luna
Maya - Daughter of Kai and Leif - First Litter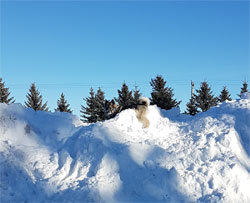 A short while back I got this terrific update from Bryce. He has this incredible daughter of Kai and Leif from the first litter they had. I sure love to get this feedback on these females as they grow and develop. I want to Thank Bryce for the great home that Maya has, all the fun she has out in Alberta, and of course for the confidence in our program and our dogs.
"Hey Merv!

I have to apologize for getting back to you so late. My intentions were to get in touch before new years but my best friend has been keeping me busy!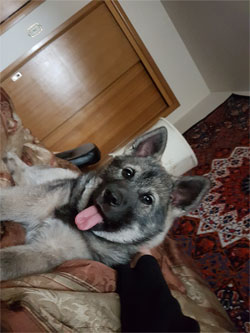 Maya is such a blessing. I can't describe how much I am in awe over her. Never did I think a dog could reach this caliber. Calm as a cucumber yet bolder that a pickle, quick as a whip and smart as can be.. just incredible!
Now let me tell you Merv I don't need anyone reminding me of how awesome Maya is, but the sheer amount of compliments I get for both her temperament and looks are astonishing. I've never been more proud in my life!
You've brought me the perfect companion and I can't thank you enough Merv.
Here are some pictures I've gathered. My mom got a little shih Tzu a few weeks earlier so they are together in a few photos. They are such good friends. Shoot that little things bites Maya harder than Maya bites her (incredible manners and respect trophy goes to Maya for sure).
Thank you for keeping in touch, and thank you so very much for my best friend."



Fiska - Daughter of Kai and Leif
I recently got this terrific update on Fiska from Steve and Shari, I can't thank them enough for the great care and attention they are giving this great daughter of Kai and Leif.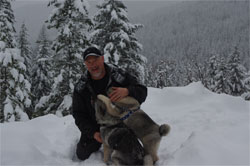 I have a photo of Steve, with Kai and Fiska on a mountain hike we had when he came up to get Fiska. We had a great day. We were able to hike out and Steve was able to bond with Fiska and Kai on the trail. We really enjoyed his visit and as you can see both dogs just loved him.
He is a great handler and Kai and Fiska were so happy to show him the mountain trails they grew up on. Kai as you know was born on this mountain as well.
Once again, thank you Steve for the awesome photos and update.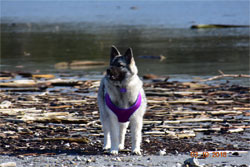 "Hey Merv

What?...give us a chance to show off our dog??...absolutely! Let us know how we can help?

About Fiska- Oh boy...where to start? Shar and I have always been into camping for our vacations, but as we got older we started to get away from it a bit. After back surgery, having to get up and down off the ground setting up tent camp started to not have the same appeal. Now with Fiska in the mix, we've started to come back around to the camping idea again, but this time an trailer is in our future as the Grand Canyon, Yellowstone and Banff are on our bucket lists. I tell you that, to tell you this.....yesterday we went down to an RV show about an hour away as we needed to start to understand what is available for us? As with almost anywhere we take Fiska, she attracts attention.....allot of attention! We can't begin to count the number of times we hear "your dog is beautiful" and "what a calm dog" and "what breed is this?" and "where did you get her?" and the list goes on... We've become quit accustomed to not getting anywhere fast when Fiska is in-tow....or rather, when we are in-tow behind Fiska! She knows shes the center of attention and is thoroughly confused when someone doesn't pet her.....I mean, everyone is just there to see her no doubt! In a couple of hours of walking around that RV show, I'll bet we told at least a dozen people about Kamiah Kennels. You should be proud. One guy even said that he wasn't familiar with Elkhounds specifically, but he went on to say that he felt like Fiska was show quality....high praise!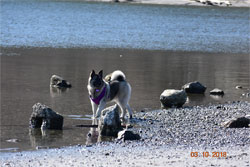 Antics! She is so entertaining. The other evening, we were sitting in the hot tub in the backyard and this is one of Fiskas favorite times as both Mom and Dad are outside too. She loves to play while we are close by. A couple of months ago I pruned about a 10' cedar branch out of tree on our property and Fiska laid claim to it before I could get it to the burn pile. She has since stripped it of all foliage and most of the smaller branches. It's now a 10' long pole with stubby little branches sticking out. So, she decides to pick up the branch sideways in her mouth and run across the yard.....I sat up in the tub b/c I figured this could be entertaining! Yep!! As she ran past the grand-kids swing-set, the small end of the branch clipped it. This caused the branch to rotate 90 degrees....and, unfortunately (for Fiska) it also made the bottom end of the stick dig into the grass. (you can almost see what's going to happen!) Yep, she was half pole-vaulted through the air and crash landed into the fence. I was laughing so hard I was crying, but that wasn't the end of it. She jumped to her feet, ran back to the stick, picked it up and shook the good living crap out of it. You could tell she was thinking, "...and don't you EVER do that to me again!!" She brings great joy to our lives.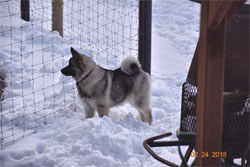 One more little story about connecting with Fiska. I've always hoped that eventually I'd connect with Fiska on a deeper level than on previous dogs, and that happened this past week. Sometimes in the evening I get on the floor and rough-house with her. She loves tug-o-war and keep away. One of the games I play with her is where I make a lot of noise and act like I'm just going to catch her and beat the snot out of her. (all a big bluff and she knows it!) She gets all amp'd up and tears around the house like a mad dog, which is entertaining all on it's own. During that game, picture me on my knees on the floor and Fiska about 8ft away...waiting for me to make a move... I slowly lowered myself to the ground and placed my hands on the floor in front of me and stared directly into her eyes. Here's where it gets interesting. Her eyes darted away...for just a split second. What happened in that split second was so cool because she looked away out of respect for me, but then she also realized that it was ok to look me in the eye too. She turned right back to me and met my stare. I even narrowed my eyes even more menacingly and she MATCHED IT! And in that moment in time, I knew I'd connected with her on that much more deeper level that I was hoping for. And as we sized each other up, all I had to do was slap my hands on the carpet to send her flying. She tore around the end of my chair and crouched ready to dart again. I completely changed my tone and said, "Com'on". She then bolted full speed across the room and launched into my arms. By the time it was done, I had been bowled over and was getting a thorough face washing. Ahhhh...connection.

I hope all is going well for you guys and hopefully there's a bit less snow on the ground! We'll look for an email on our upcoming visit. Cheers.
Steve
and Shar"
Vida - A Takoda Daughter as well!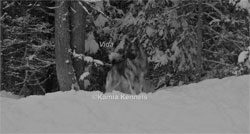 A few weeks back I got a really neat photo of Vida. I have so much to share on Vida and will get around to putting a lot of information up on her but wanted to let everyone know this is one of the very select old lineage females from a time long past left in the world.
She is bringing forward all the old genetics that founded the early Elkhounds of course as she is a daughter of Takoda and GÆDA. Vida is actually cycling now, a fertile female, no doubt she comes by that super easy with her parents. This is one of the major reasons the Elkhounds are such an ancient breed, fertile females like Vida. Vida will not be bred till next year.
Vida goes back to the very early beginnings of the Elkhound, you can learn more here: Norrland Elkhound Type
Here is a new video of Vida and Silver Nova, two amazing young females we have in our foundation program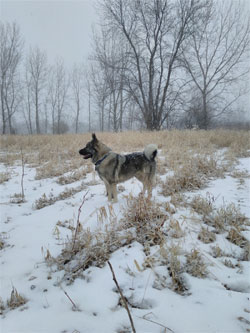 I have to the left a photo of Bane, Tiffany sent that to me a while back and I wanted to get it up. He is a rock star this boy. Wow, this is a half brother to Vida, maybe even a bit more than half, as Jaegar is the brother to Vida, and GÆDA is the mother to Bane. Jaegar is a son of Takoda, who is the father of Vida.
Bane was here for the Desna training program, he went through it with his brother Havoc, another rock star son of GÆDA.
These are incredible working Elkhounds these dogs, they make some of the very best companion dogs of all. This particular lineage is the most unique of all Elkhound lineages. Very few of this line exist anywhere in the world anymore.
Takoda, Jaegar, MANE, they are the last remaining stud dogs of that ancient bloodline. In terms of genetic diversity fullblood Elkhounds like these are very hard to find.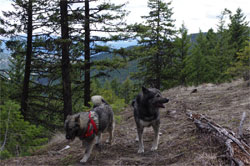 Takoda hikes the high country here with his daughter Vida. This is the style and type of terrain these two thrive in. The tougher the conditions the better they like it. We are on a spring high elevation hike in 2018. Vida is our most agile female, she can actually surpass Kai in agility, a feat we thought would not be accomplished.
The focus of Vida is so astounding i can't put into words how easy she is to work with. These my friends, they are some serious ancient Elkhounds.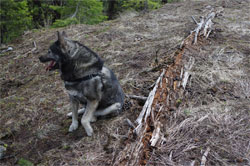 I had to put this photo in, I thought pretty funny! So we have a thousand square miles of remote terrain around us, no end to it as far as you can see. Vida and Takoda and I we are hiking the high country and I am following along, they are leading the way. Sure enough, Takoda he figures let's take a break here. I am walking up, thinking, wonder why here. Takoda looks at me, lifts his paw as if to suggest, well, that Moose was right here a minute ago, where did he go now?
Check out where this old hunter sits down, is that skill, or is that the odds? I am not much of a gambler so I'll caulk that up to some uncanny wisdom, centuries old.
Best Pals Brandon and Marlowe - Son of Leif and Kai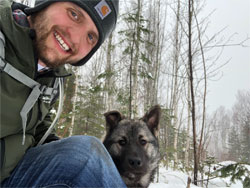 I got a really great update from Brandon a short while back. This is just a great photo!
These two are having a great time down in that region near Bangor Maine. Brandon wanted a hiking companion, pal and overall great outdoor dog. He wanted an old school Norwegian Elkhound with deep roots to the wilderness. There are no better Elkhounds for that exact description than a 4th generation Kamia Elkhound.
Marlowe is a son of Kai and Leif. He is down working everyday with Brandon and having a total blast. A huge thank you to Brandon for the confidence he had in our program, the patience he also had while we got him the perfect male, and of course, Way To Go Brandon for the great home and lifestyle that big fella has.
"Hey Merv,
Marlowe is doing well. he is the best dog I have ever had, and a perfect companion for hiking, boating, snow shoeing and cross country skiing.
Brandon"
Rigel - Son of Jaegar and Kamp, Half Brother to Tekla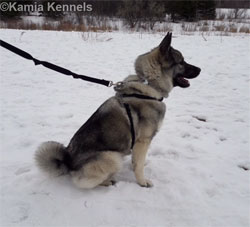 The incredible genetics of Kamp and Jaegar combined to create this stunning big fella. This is Rigel, he is out in Winnipeg with Michele. She has herself a truly outstanding young male. She keeps me posted on this big fella all the time and has recently sent me some really nice photos.
The timing of course was perfect with that planned litter of Rigels dad Jaegar with his half sister Tekla coming up. This big fella is pretty much exactly what is going to come out of that pairing.
Amazing isn't he?
Kamp brings all the big old Norway line genetics to the match-up's as she of course was from the big old Norwegians. Kamp was 64 pounds, way bigger than Leif or Bram, just this powerhouse female. A full GQ female with a background that is so magnificent its hard to believe. This page has a ton of genetic links back to Kamp, with Phoenix, Tikka, Riker and Tuva all leading back to her. MÅNE, Luna, Artemis and Torleif, along with Norris all have Kamp as the grandmother. The litter of Kalia and MÅNE also have Kamp as the great grandmother.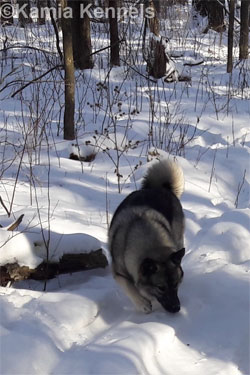 As many of you who have seen the video on my Desna training program outline it was this Rock Star that was featured in it showing his off leash skills. Michele made the trip out here to work with me in the mountains and spent time with us hiking, and working with Rigel. She has continued that great starter work and is turning him into an amazing GQ male, fully skilled in the big city, but equally at home in the back country.
Rigel is headstrong though, has a ton of the independence that both Jaegar and Kamp have shown so she keeps her wits about her as he is still very young yet. Rigel is intact and at that one year mark they get a fat head for about a 3 or 4 month phase, so she is going through that right now, where Rigel figures he knows enough and can make some decisions.
Don't kid yourself, Michele rules though, she can handle this little phase, no problem.
This coat color will show through on the Jaegar and Tekla pairing, it won't have that deep black overtone as Mia, Jaegar's mom, she was a coastal Norwegian so her and Kamp will pull all the color through bringing out that incredible Silver/Black that Bram and Takoda offspring are so famous for.
I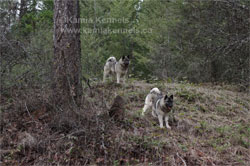 could talk for days on the background of Kamp, the list of who is who in the working Elkhound world goes on forever, and the list of champions in her background literally is endless to the start of the association recording history.
Kamp and her young daughter Tekla shown to the left
These females bring with them ancient genetics, superior genetics in all respects, its powerful females like Kamp that create these big boys like Rigel and stunning daughters like Tekla.
I will keep you posted on Rigel, but a huge Thank you goes out to Michele for keeping all of us updated on this big rascal, and of course for giving him such an awesome life and home. Thank you Michele.
Breeding Elkhounds Based On Genetic Selection - Velma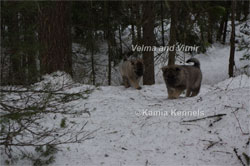 Breeding Elkhounds on genetic selection instead of style leads to incredibly predictable behaviours, instincts and traits. But, don't ever think that by doing that you leave style or type or looks out of the equation. In fact you lock in that incredible look and style when done correctly.
Velma our new foundation female is shown on the left here with her brother Vitnir. Now I was hiking the remote regions with Viking, Vitnir and Velma today, off leash of course doing Desna training. I saw Velma coming toward me and I literally stopped in my tracks as I swore I was looking at Kamp as a pup coming toward me. The hair on the back of my neck came up the similiarity was so pronounced. I hiked with young Kamp years ago at this age as you all know and I was like, Wow, This Is Incredible. Genetics pull hard on these great lineages.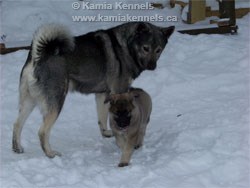 Check out the style, the looks the similiarities between a young Kamp shown here many years ago with a very young Takoda as well, and her granddaughter above, young Velma.
They are both very close to the same age in the photos and in the bush, a bit dark, I had to really stop and stare as I thought, whoa man I have seen that incredible dog before.
So over the next while I will be filling you in on Velma, and of course I'll be sharing my time with Vitnir and Viking, two amazing, and I mean amazing young Rock Star Elkhounds who are here for the Desna training.
While I am at it, I might as well comment on the superior genetics of Takoda, can you believe that photo of him with Kamp, and then many years later directly below with grandson and granddaughter of Kamp with him, they could have been taken the same day. That's pretty cool isn't it? And pretty neat now many years later Takoda is going to be training, Velma, Vitnir and Viking, all grandpups of Kamp. Takoda is probably looking at Velma thinking, didn't I train you already?
Cypress - Daughter of Tora and Bram - Older Sister To Kai
Years ago Ken got ahold of me looking for a truly good companion Elkhound. He wanted a full instinct female with tons of ability as he hikes the West Coast of Canada. He is always in bear country, cougars, they are by the ocean, they travel up the mountain logging roads and more.
Cypress is his beautiful Elkhound, she has a sidekick, the Minpin. She looks after that rascal and let's him deal with the snakes while she handles the bear.
Ken keeps me posted this fantastic sister of Kai's. Cypress is older than Kai, she was 3 litters ahead, out of Tora and Bram's first litter. A stunning big female. Tons of stocky power like Tora. A true hunter of course, daughter of Bram no less.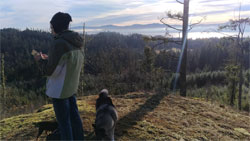 "Hi Merv,
adding to the photo up on the hill Cypress spotted a bear and tore after it into the bush. Every time I get concerned and this time had to abandon her so I could retrieve my truck and bear bangers about a mile away. So I hear a yelping in the bush instead of the barking and figure well she bit off too much but can't leave her so up the narrow logging road with my new $100,000. 00 truck I go and still no dog to be found. Now I park and go on foot and just imagine the bush here is so dense in places 10' off the road is invisible but off I go about a ½ mile to where she was last seen and using whistle and calls to my surprise and relief out she pops from the bush. Glad to see me but won't come near until she sees moma who she runs to and then jumps in the truck. Later I found a hole in her right paw scrapping the flesh to the bone. Ok so she got bit I think and treated accordingly and she was limping by then. Off to the vet for a check and a topical antibiotic. A couple of weeks later we are at the beach for a walk – calm right – she spots an otter coming up the beach (I didn't see it until she was after it) as she has incredible eyesight. I am more afraid of ocean otters than bears but at least it wasn't a cougar. Rabbits, mice, Salmon, voles are the most common and the minpin kills snakes before you can say jack rabbit. Killers -no – hunters you bet and incredibly good ones.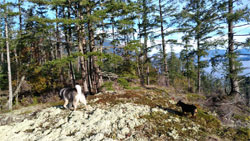 Cypress can run down the beach over logs and rocks for half a mile and back in the same time it takes me to start my smart phone even though she is a bit heavy since Christmas. I weighed her in at 60lbs at the vet so I have reduced her food trying for 55 but the vet thought she is ok. I know she is fat because the minpin is too and Turkey is delicious. People stop to admire Cypress and those that know she is an Norwegian Elkhound are beaming. For all her fearlessness and power she is gentle with people and is not a fighter of dogs, she will stand her ground with an aggressive dog but will always look for a way to leave not wanting to be in a fight. Just this year I have taken to leash walking to expand our base, for her safety, travelling in the united states and she is ok now that she is 7 - I had hoped at 3 she would have been ok with a leash but 7 is good. She doesn't like cuddling unless she wants a scratch and the well don't stop until I say stop.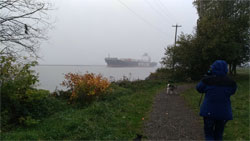 Can't imagine life without her. I have a training tracking collar I will use next time I am up in the bears lair so maybe I can break her from pursuit long enough to get a leash on her. We have a huge list of carnivorous predators up the coast so if she one sad day it gets too much for her well she has had a good life been in the bush like her ancestors hunting, fishing, playing. I have purchased a couple of rifles for this place because of the wildlife but never hike with a weapon so bear spray and bombs is all I will have with me. I did break up a Mexican standoff with a bear and Cypress a couple of years ago with bangers so they do work. Lots of deer and elk which in turn brings the predator.

I love the picture of the elkhound by the forest as it shows the camouflage off. I printed it and put it on my calendar. You have an exceptional amount of snow and that is good for the ranchers and forest to prevent another drought.

It is always good to hear from you and looks like you are doing well which is good.

Regards Ken Epps"
A Monster Thank You to Ken for the terrific update on Cypress. I sure do appreciate all the great care and life that Cypress has and receives. She has it made out there. That photo Ken mentioned of the Elkhound in the forest is that photo of Vida above. Vida is way younger than Cypress, but she is her aunt .
For those of you who might not have seen the other great story on Cypress click to go over on the Kamia Kennels Elkhound Adventure site.