Tekla and Takoda will be having another litter May 15th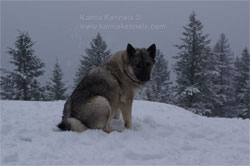 Tekla is in amazing shape and she cycled within a day of her six month time frame. This is a very fertile prolific female. Mia and Tora both were like that, I remember Mia had her second litter 6 months to the day from her first. Tekla will be doing the exact same thing. She is shown here on March 24th, her Aina and I did a great Mountain hike.
In old world breeding principles if the young female is in great shape, and if she cycles she is bred that cycle. After that second litter she is bred with a year between. The theory behind it for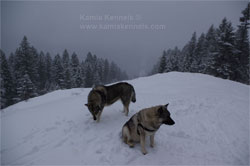 centuries is that when they are young and fertile they have healthier pups, have an easier time whelping and get to retire earlier in life. Tora is a perfect example of that strategy, Tora was bred using that same strategy, we sure can't argue with her condition.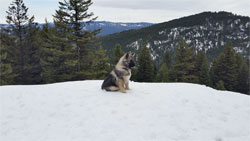 Tekla and Takoda have produced truly awesome pups already. That first litter was incredible. I have a photo of one of those pups, MÅNE. He is the pup I chose to be a new stud dog for us, to give his brother Jaegar a hand and of course help out Pretty Boy Leif if he needs it.
This photo shows the quality that combination of dogs provides. It's simply amazing that pairing of genetics. You could look for a lifetime to find a pup like that and there were 10 of them to pick from. The yard right now is full of pups like this, what a time I am having. We have Luna, the sister here as well, although she went to the city with Ashten for a visit, she will be a GQ female soon. MÅNE he is a rough and tumble fella, hangs out with Leif and Jaegar learning how to make a racket, and in his spare time is taking wrestling lessons from his sister, the ground and pound master herself, Tora. When he is done taking those lessons he gets to hike with Aina for some long distance fast paced endurance runs. He will be a machine I can tell you. His dad has been taking him to the gate every chance he gets showing him the ropes down there, not much I have to teach. So there is another litter planned coming May 15th time frame. I have a lot of folks on that list already so please contact us early if you wish to be on that list.
Kalia has her first litter, 3 Males, 2 Females - Feb 10th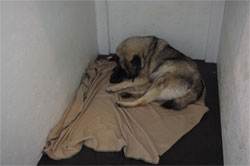 I am very excited these days as I have a whole bunch of new little baby pups around. Kalia had her first litter Feb 10th, awesome little rascals, 3 males and 2 females, black as coal. They are doing terrific. She is a really good mama, they are already like double in size in just a few days. She is doing well, happy and content, eating good and relaxed.
Just next door to her there is more exciting news as her best pal and lifelong friend Kai has her litter as well, 7 little rascals, more on that below, but I find that is really fitting for these two. They do pretty much everything together since they were little tiny rascals.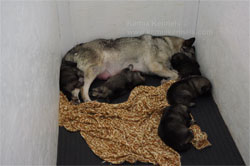 This photo taken March 5th: I don't ever recall seeing pups grow so fast before. These pups of Kalia and Jaegar have taken me totally by surprise. They are all up walking around, almost able to run, they bark and growl like Jaegar. Fight Kalia for her food, literally she has to growl them back from the dish. This is an amazing group of pups.
There is a pup hooked onto Kalia 24/7, if she is in the pen, someone is nursing. They take turns sleeping, it's like some sort of tag team scenario. Here is the interesting thing, Kalia is a super mom and can handle it. She is eating continually and nursing amazingly well. Some really stout pups in here.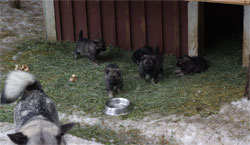 I have moved the pups outside now on the 16th of March, Kalia and Kai's. They are doing fabulous these rascals. They all really enjoy the freedom they have outside. They are like little tiny guard dogs already. It's so funny. When the males come by the fence, Kalia she is a new mom so she is super protective, she lets those males know, just keep moving. All the little pups they come right up beside her, heads up, tails up, barking giving her some back-up. Its really neat to see all the instinctive traits front and center with these guys. They are some really good pups. I have them eating now as well to give Kalia a bit of a hand, she is doing a terrific job though.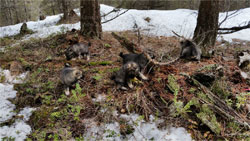 I had Kalia and Jaegars rascals out on their first mountain hike yesterday, March 23rd. Tough rascals, Wow! Did a great little climb up with me, took some doing to get them all going same direction but once moving, they followed along. We were able to get up and find a nice sunny slope on the south exposure and they have a fun time around some logs and rocks.
They would get stuck inbetween rocks and a hard place and work and work to climb over it, finally I would call them and get them to go around or something, no end to work ethic in these youngsters. It's is so fascinating to watch. Also I can sit down, give them a call, and sure enough, all come over, no matter where they are, so intstinctive. What a great group.
Kai has her first litter, 6 Males, 1 Female - Feb 12th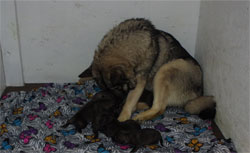 This is totally awesome having the young females finally with their new litters. As all of you know I raised Kai from the last litter that Tora had, so she was born here. Kai has her new litter here now, 6 males, and 1 really stout female, all black little rascals.
Kai is a best pal to Kalia right above and it's neat that they have grown together, and now are both brand new moms together, tons of fun around here for sure.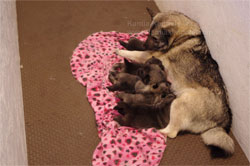 This photo taken March 5th: As you know, Kai and Kalia do everything together. They have been best pals from day one. Well, go figure, it's like Kai can see and hear what Kalia is doing a couple of pens down. She is matching Kalia almost step for step with these pups. It's like a competition or something. You wouldn't believe it. Kai has her pups up walking and burning around, they come after her food.
Soon in a day or so I will have to feed these females outside the pen, can you imagine. So Kia is smaller than Kalia, has more pups, but is nursing just as good and keeping her little rascals right close to the same as Kalia. They are not quite as big, but boy, are they doing great. Kai I can see her agility in her pups already, they are a little more stable and steady than those over in Kalia's pen. It's funny to see.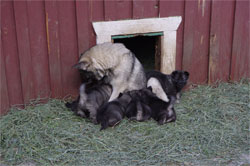 Kai is very happy to be out with her pups as well. She has some seriously good black faced rascals here boy. My goodness. They are so squat and so square and the tails literally curled right up already. Ears are coming up, what a group. Just like Kalia's they are backing thier mama up if she has to tell somebody like Jaegar or Leif to back off, the little guys are all right there with her. No fear. Photo take March 16th
They get along though, just new moms are so protective that first day or two outside, it's good for them to do. Keeps the males on notice to behave and be social or get a new scar. Kai can handle this job, no sweat.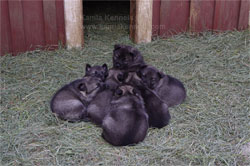 This match-up with Hachi was a seriously good idea. These little fellas are so nice, ears are really black fringed, up on most at such an early age. Kai has really good ears, so does Hachi. They are black footed and thick. You can see the muscle these little fellas are going to have, the young female is thick and strong as well. I am very pleased with them. They are not as vocal as Kalia's, mind you both Kalia and Jaegar are more vocal than Kai and Hachi so stands to reason. I took this photo on March 23rd, 2017.
I do believe I will do this combination at a later date potentially again, I am so pleased with it. I have them right beside Leif, he sure enjoys these young pups and plays with them through the fence. He is a very social good natured male for them to know.
GÆDA has her litter, 3 Males, 3 Females - Feb 22nd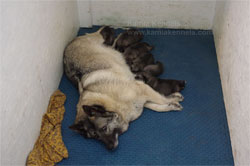 This is a tremendous litter for GÆDA. She has 6 stunning new Elkhounds, 3 males, and 3 females. I am so excited about this litter as I was hoping GÆDA and Takoda would provide us with a new female to carry on the GÆDA lineage. I have 3 beauties to choose from.
Also there are some truly outstanding males in this litter, 3 of those big rascals. I know there are going to be some very happy families out there. GÆDA does a really good job with her pups and they are growing fast. I'll keep you posted on these in the upcoming days.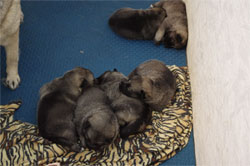 GÆDA has always raised our biggest pups when weighed on the scales at 7 weeks. These fat monsters will also top the scales I can guarantee you. She has truly outdone her past super successful litters with this last one.
She is staying in shape, eats like a wolf, is really quite amazing. Her pups are all starting to get that beautiful Silver tinge they get when she is mated to Takoda. They are smart rascals, calm, rarely do they make any noise, what a steady bunch. Took this photo March 17th.
Tuva is nursing 6 little rascals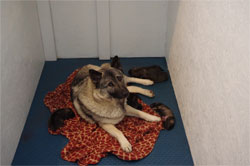 Tuva is nursing 6 little rascals, all doing terrific. She has been looking after them really well, you would not want to be a stranger going near her pups. To say she is protective of them is an understatement.
She is funny though, she likes to keep them all fairly close to her and if one pups gets way off to the side or end of the pen she gets a bit vocal. She will call out to me to come to see her, she will look at me, whine a bit, then look at the pup, then back at me. She waits till I come in, take the little guy and move him close to her, then she relaxes again. It's really neat, we make a good team.
I took this March 17th. Her pups are growing like crazy. What a great job she is doing. Tuva is such a protective mom. Wow. It's hard to get her to go outside even, and when she does she is flying. I mean flying. Done her business and back at the door in lightspeed. No goofing around, nothing, back to her pups. And you best not be a dog by the door to her pen, you will have a good snap on the side the head.
She is funny though, she has always been out of sync with the others on her going out time. Not certain how that occurred, but her one time that is tough for me is 3 a.m. Every day, She will give me a signal, I have get up, go down, let her out, she is fast though, and back in like the flash. I would have preferred 5 a.m. or 6 even, but alas, that's the way it is. So I just let them all out as well at that time, even though now, it's just GAEDA in with her, Kai and Kalia are outside.
Kamia Elkhounds - Kalia's, Kai's and GÆDA's Litters
GÆDA one of our most polite Norwegian Elkhounds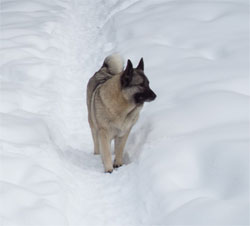 GÆDA is a stunning female. Over the years she has continued to produce some of our very best Elkhounds. GÆDA is a full registered Norwegian Elkhound and is a flawless example of old ancient Genetics. She is still the big lines, matches all my big girls for size, length stamina. She maintains condition at around that 62-64 pounds throughout.
GÆDA is the most polite dog we have. She is a dream to work with. No doubt one of our best on leash and off, her and Kai are superior that way. I have hiked for years with GÆDA off leash in every type of terrain and I can turn around, or look around and she is looking at me. A flawless mountain female. I am very pleased that for the last litter she produced 3 outstanding females and 3 fabulous males. I will be selecting one of those females to retain in our program to keep that GÆDA genetic lineage. The young female I have decided to name, Vida. The folks getting those other 5 they are getting some truly great pups. It's an exciting time around here for sure. My options for Vida are almost endless as I can use young Leif, I can use Bram and if I wished, could use Hachi. So truly endless potential to preserve this ancient female genetic material. Things are good.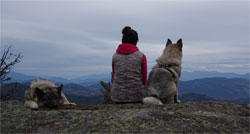 GÆDA and Ashten sitting, Kamp sleeping high mountain hike late fall 2016
GÆDA can hike the high country like nothing. She has a ton of stamina, she is a big girl with a nice light step. She really is awesome off leash. Never would I have to say her name or say a word to her the entire trip, there and back. I have hiked miles and miles off leash with GÆDA. Here she sits by Ashten, happy to share the great view we had at the top of our hike. These two, GÆDA and Kamp, along with Jaegar and Tora accompanied Ashten and I for a real nice full day hike through our rugged part of the world. We had an awesome time. Her and Takoda can create the most amazing hiking and personal companion dogs of any pair anywhere in the world!
3 Generations of Prolific Norwegian Elkhound Females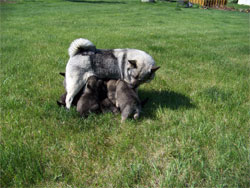 Mia is shown to the left many years ago with her second litter of pups with Takoda. That was an awesome litter of ten tough rascals, no doubt about it. In that litter there were 7 females and 3 males. We decided to hold back a female from that litter and that young pup was of course Tora.
Tora and her siblings were truly awesome pups, all the Elkhounds that Mia produced were outstanding dogs. Virtually everyone of those dogs from every litter she had are featured all over this site. Mia was an exceptional female.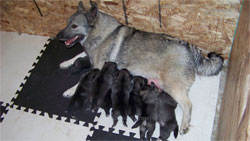 Tora is shown to the left in this image quite a few years ago, basically just a few weeks after we moved to our current location Tora had her 4th Litter. She had 9 pups in that fourth litter, and we held back one of the stout females in that litter, her name, you guessed it, Kai.
Tora has been a model for the Norwegian Elkhound stamina, prolific nature, ability to rebreed, stay in condition and is running our day to day operation here as I write this.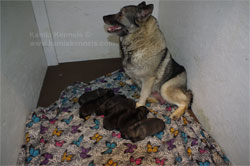 A short few days ago Kai is now following the footsteps of her Grandmother Mia, and her famous mother Tora helping to keep the Elkhounds strong in North America. Kai has a litter of 7 Norwegian Elkhound pups. She had 6 males and 1 fabulous female. They are all doing terrific.
The breeders of Norwegian Elkhounds in North America have slowly over the years moved to a very select show lineage, whereas here at Kamia Kennels we still breed the old ancient genetics. We are very proud to say that Kai, she is going to continue to bring forth those old ancient genes and continue to produce the true old outstanding Elkhounds. Kai as you all know is only second generation born in Canada as her father was the first. Kai's grandmother on her sires side was a Norway born female. These little Norwegian Elkhound pups are 3 Generation of Elkhounds from Mia down through Tora, all bred and born at Kamia, and on the sires side of Kai, three generations back they were in Norway. Pretty neat time isn't it!
Mia and Kia