Kamp had 5 lovely Norwegian Elkhound Pups On May 20th, 2016 and will cycle in September time frame. We are planning another litter.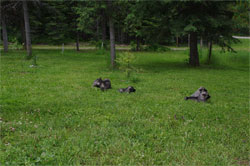 Kamp was right on schedule. The late evening of the 19th, and early morning of the 20th Kamp had 3 Males and 2 Females. All the pups are at the new homes now and doing fabulous.
This Kamp and Jaegar litter is pretty unique for us of course as you all know who follow the site that we used Artificial Insemination between Jaegar and Kamp for this litter. A big thank you to the folks at the Okanagan Veterinary Center in Kelowna for assisting us with that. They did great as you can see. So what I am planning is to have another litter with Jaegar and Kamp as she will cycle in September. Kamp is in awesome shape and as she had two years off last time I am going to let her have another litter with Jaegar. This worked out really well so we can do that again. I'll keep everyone posted.
This is a recent video of the pups at 5 weeks.
Kai and Shorty, Norwegian Elkhounds Did Not Mate Successfully, 2016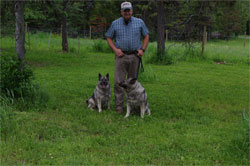 Kai the granddaughter of Mia, daughter of Tora, a tremendous young female Norwegian Elkhound was mated with Shorty, another tremendous Norwegian Elkhound on the 9th of June, 2016. For one reason or another they did not successfully mate. I am not certain what the problem was with this pairing. I saw the hook-up so was pretty certain we would get a litter, but alas we did not have a successful mating. I am going to give Shorty another try with Kai when she cycles again in December. I will actually take Shorty up and have him tested at that time as well, just to be certain he is sound. I am sure Kai is, but it could have been her?
These two Norwegian Elkhounds suit each other so perfectly, I could not imagine a better pair. I knew I would need a stunning awesome male for Kai, as she is the perfect Elkhound and young Shorty was just what I needed. He is a very thick and stout male. Excellent conformation, and steady as a rock. Not as high tempo as Kai, more steadfast, easy going, yet can defend his young gal, more on that.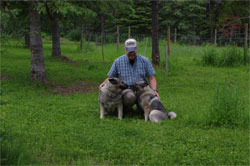 Kai is a true hunting strain, strong and agile, makes Shorty look a bit slow for a fact, she bounces around him like he is standing still, and she has that drive and go that all the hunting lines still have. Shorty is from seriously good show lineages. All great dogs in his background but great nature and personality, style and conformation are what have driven his lineage breeders, rather than the old ancient working traits like ours. Makes for a very good combination, as Kai will bring all old world traits right out, they are in Shorty, just laid back. The good thing also is she brings so much energy and power that Shorty will temper that a bit, making for a very good pup.
It's a very exciting time of course for me as this is the granddaughter of Mia, and Tora's daughter, so hopefully we get this mating in December, then, Tora my best buddy will be a grandmother. Bram is the father of Kai, he is going to be feeling a little bit older as well when he hears the news he is going to be a grampa, seems like just yesterday Cathy and Blaine introduced me to young Bram. So we have to wait a bit longer on this.
I attended the International Dog Show in Finland
I will just put a short bit about my awesome trip to Finland here on this page as I am making a full update on it and have it up now, click here to read up on it, but wow what a great time!
Now, I went over to get young Aina, our new Jamthund, but while I was there I attended the big International Dog Show in Joensuu Finland. Whoa man, some seriously good Elkhounds I was able to see and witness on display there, no doubt about it.
I have to admit though, and please accept the fact, I have a fat head about my dogs, but I do have to say, Kai and Tekla would have done seriously good in this competition. Those two girls, Kai and Tekla I swear, I saw both of them there many times. The style, the type, the quality of dogs there are exactly like Kai and Tekla. ( Or maybe Kai and Tekla exactly like them more likely)
I have to admit though, the dogs I saw on display were really terrific. So for Kai and Tekla to be every bit as good as the best in Scandinavia, well at least in my opinion, although I am a pretty fair judge, not as good as those judging there, but still to have them as good as they are is really comforting. I have not had the opportunity before to go to the old country and see such a display of Elkhounds, and other dogs of course, but I was there for the Elkhounds. If your getting a pup from Kai and Shorty, your getting a pup as good as any to be found in the world, I am most certain of that. More to come on my adventure for sure.
Syn, Daughter of Jaegar and GAEDA visits Ashten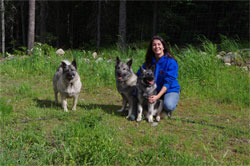 Ashten was seriously excited to come out and help out at the farm while I was away to Finland because Syn was coming to stay for a few days. Syn as you may recall is from the last litter in December 2015 from GAEDA and Ashten's big boy Jaegar. Now Tammy and Duane have done a fabulous job with young Syn. She is a stunning dark old world female.
We are so proud to always have the old lines that can produce these stunning beauties as they are some of the nicest females you can ever find.
GAEDA has been a wonderful female for us, she has raised some of the very best dogs you can find, a flawless female, no faults of any kind. As you can see from the smile on Ashten's face she is pretty happy with this bunch.
Jaegar of course is the father of that group of rascals up above with Kamp, a couple of beauty queen females up there as well as three super males again. It's a fun time coming up for sure, as both Tekla and Tuva are going to be cycling late summer, I am positive I will be pairing at least one of them with Jaegar, maybe both, depending on timing.
Rico and Kalia, we have to wait a bit for this litter, next cycle December.
This Update is as of June 20th, 2016
The timing for Rico and Kalia was off due to my mistake. The young pair were both all set, but I messed up on the timing, I feel really bad about it. I am pretty confident I know exactly what I am doing 100% of the time, but every now and then I get a wake up call that I need to be paying more attention. So I did not have Rico here soon enough to suit Kalia, my mistake, I take full responsibility for this.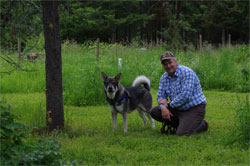 Young big Rico came to do his part, but unfortunately Kalia was not going to have any of him, we put them together and she was just not going to stand, no way. So we tried for a few days to get them comfortable with each other, but wasn't too be. I did some blood tests and thought perhaps I could go with an AI route like I did with Jaegar and Kamp, but I was too late in the cycle. I will need to bring Rico in much earlier in the cycle so that Kalia will accept him.
I had heard about scenario's like this where you should be aware that the females may not always accept the young male when there is a dominant male on site, like Takoda, and Kalia, having been raised with Takoda from day one, accepts only Takoda. Old breeders talk about always making sure the females go to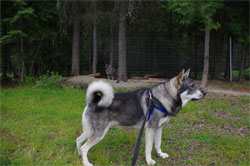 the young male, rather than the other way around, well, I witnessed first hand if you are late in the cycle on the introduction, it's already too late. So next time, I will bring him way ahead so he can become friends and accepted and catch her at her peak.
The picture at the left here shows Kalia in the background. It was not her fault, nor Rico but mine. I let both of them down. Of course all the folks waiting for the pups as well. They have to wait longer. I can share this though, knowing what I know about the lineage of Rico, the quality of these two young dogs, no wait is too long. Nature will take its course, I just have to give these two the time they need.
I will be posting more on my time with Rico as he was here for a week. I can't say enought to you about how great this young fella is, what an awesome Jamthund. Also, I have much to share on his ancestors as I went to his kennel and met his fabulous breeders, Satu and Jani, and spent a few days with them in Finland. An experience of a lifetime to get to share the time they spared to visit and show me around. So lot's more to come on this.