Elkhounds Norwegian / Swedish - Elghund / Jamthund
Norwegian Elkhounds
It's fairly common when discussing Elkhounds, especially in Canada or North America that most people immediately think "Norwegian Elkhound", they don't normally recognize the other type, the "Swedish Elkhound". The Elkhound has been in the Northern regions of Sweden, Norway, Finland, Denmark and throughout the Scandinavian regions for centuries.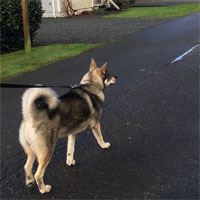 What has occurred through a natural selection process over the centuries is the dogs were selected for traits that would allow them to be better suited to the terrain and situations they were encountering. Keep in mind these dogs were used as guardians, companions, but most importantly as a hunting dog from very early times. Hunting is what truly determined the traits that lead to the distinct types.
In the Northern regions of Sweden and Norway, the terrain is heavily treed, there would be more snow, more bogs as well and the dogs tended to be selected for extra height and extra length. An inch or two both ways means a considerable amount when dealing with deep snow and having to continually clear deadfall trees and underbrush. This was the early beginnings of the Swedish Elkhound selection.
Rico - Male Jamthund shown to left and directly below - Kamia Kennels has a litter planned with Rico and Kalia summer 2016
Swedish Elkhounds or Jamthund
The Swedish Elkhounds - known as the Norrland or Jamthund are the taller and longer Elkhounds, they are predominately from the Northern regions of Sweden and Northern Norway and have developed into a beautiful dog, displaying all the qualities required to survive and excel in this environment.
The Coastal and Southern regions of the harsh Norway coast gave way to the requirements of agility, requiring a very stable stout dog, a dog that was comfortable on a rock ledge or heavy brush. They needed tremendous lung capacity to run and stay on the course until they were able to bay the Moose and keep them at bay until the hunter finished the job. Keeping a bull Moose at bay in timber and rough terrain requires a very powerful close coupled dog. The Norwegian Elkhounds are the shorter, broader, close coupled type, also known as the Elghund or Grahund.