Kalia and MANE - Another Great Litter Coming January 26th, 2019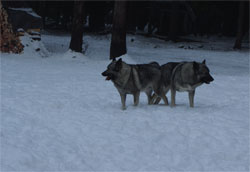 We are super excited that MANE and Kalia have hooked up again. They had such a terrific litter last time and we just know that some awesome pups are coming again.
These are my big dogs, Kalia is a robust female, she is handful for any Male and MANE, he had has work cut out for him. She is a tough female for males to mate with, she can tear up males like no tomorrow. But MANE he figures he is the big dog of the day, so he gets right in there, new scars or not. Too Funny!
These are old world working dogs, the big thick dark lines, amazing skill level, exceptional focus on the handler, absolutely fearless dogs. Very personable to the handler and listen with impeccable manners, but if they think there is something dangerous out to harm you, whoa man, they are a set of serious Elkhounds. You can hike easy with these two, no doubt.
Kalia - Winter Hiking December 10th, 2018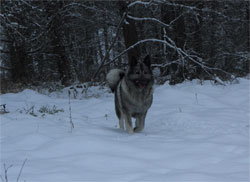 So here is a recent photo from the 10th of December, 2018. She is in magnificent shape and is a very happy female. She has had a full year off and has steady workout and she is muscled in. She is the largest female I have now and is considerably heavier and larger than a breed standard male like Leif. Kalia of course has the old working lineage blood running in her veins and she is a machine for work.
These old bloodline females like her have for centuries ran the Northern regions of the Scandinavian countries across through to the Siberian ranges. They are amazing working dogs.
The folks on the list for these pups will get a stellar pup. MANE of course I have said many times is the very pinnacle of Elkhound excellence and combining him and Kalia is once again going to produce those amazing pups.
Luna and Leif - Amazing litter of pups coming February 5th, 2019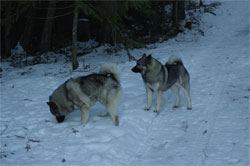 I have been waiting for Luna to mature and develop, knowing that from the day she was conceived in the belly of her famous mother Tekla that she would be one of the greatest females I could ever hope to have. She has exceeded every expectation no question. She is as good a female as there is in the world today, and in my not humble opinion would rival any that have gone before her.
She is shown here behind Pretty Boy Leif and combining all of his incredible genetic package with her incredible genetics, OH WOW!
Luna and Kalia - December 2018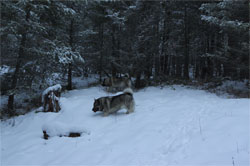 The photo below is of the two beauty queens, Luna and Kalia. Both big mountain working girls. The heritage of these two is some fantastic no doubt. These two are amazing females to work with in rugged remote terrain.
These are the personable to the handler dogs that for centuries traveled the Sweden/Norway landscape with the old handlers of old. Today these big working girls are not found often in North America and we are basically the last holdout breeder of these magnificent females.
I am extremely proud of these females and I am so very excited for the folks waiting for these pups from both of these two.
Pretty Boy Leif - in his prime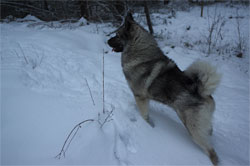 Pretty Boy Leif has matured out into this rock solid mountain male Norwegian Elkhound. He is a long ways from his show life and has never looked back. He is so full of himself these days, super confident a stunning big fella.
Take a good look folks, that my friends is an Elkhound!
Leif was brought in as you all know to be an outcross male for our lineage of superior breeding stock females. We went to this incredible genetic lineage of Leif as that is the very best line of female creating Norwegian Elkhound blood left in North America that is outcross to ours. Leif has proven over and over that our plans and study have been absolutely correct. We have had litter after litter of the greatest Elkhounds you could dream of from him and our females.
This litter of Leif and Luna will once again pair up this big fella with a superior female, he will once again be able share with all those waiting for his pups that depth of quality, that super nice nature and overall excellence he has exhibited.
Leif - Off Leash Rock Star training his sons, Echo and Timber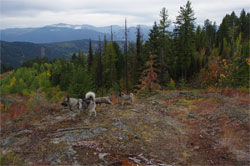 If you are new to our site you may not have the background on Leif before he came to us. Leif was destined for the show circuit, bred and owned by one of the very best kennels, the Vin-Melca kennel. We acquired Leif when he was just a year old.
He had not been off leash nor had he seen any snow, basically was "A Show Dog Male". He came to us in January, snow 4 feet deep and he has been off leash since.
Leif today is probably without question the finest off leash remote terrain Norwegian Elkhound from the show circuit in the world. He of course was trained by none other than the finest off leash working Elkhound male in the world, MANE. So no wonder Leif is phenomenal.
Leif is shown here late fall 2018 training two of his awesome big boys, Timber and Echo, sons of his and Tika. We are on a high elevation hike miles from home. I am super proud of Leif, he has become a World Class Rock Star!
Echo and Timber - Played Out, But Home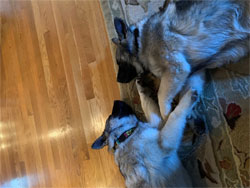 The two big brothers are at home now with Michelle and Bob. They have an incredible life of adventure and fun ahead of them. They were great boys for me to work with, I'll miss them and all of the Tika brothers.
I want to take this time to Thank Michelle and Bob for the confidence they placed in our program and our dogs. They are going to give such a great life to these two rascals, I know I'll be hearing a lot more on my buddies once they have settled in. Please keep us posted on the adventures Bob and Michelle.
"Hi Merv,

Thought I would send you a couple of photos of Timber and Echo. They are doing great and we love them They are such great boys!! We took them for a ride in our truck today to the dump and they loved it Echo had his feet on the middle console like he was a captain of a ship! We took them for a walk yesterday around some fields in town and they watched some kids playing soccer. They were very entertained!! Anyway, thanks so much for making them a part of our lives!

Bob Reynolds"

MANE - Norwegian Elkhound Sire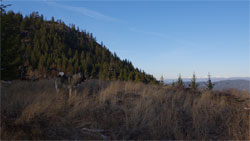 MANE of course is in a league all by himself. Old breeders work their whole life hoping some day to have a pup like MANE. Virtually all of them never actually get one. I am so blessed to have him. He is one of those the old boys call, a one in a million dog!
The depth of character, traits and skill in MANE exceed all expectations. MANE is so aware of what I am doing and what he is supposed to be doing its really quite incredible. Dogs have considerably more senses than we think they have, that much I know just by how intuitive MANE is.
MANE and Luna - Full Siblings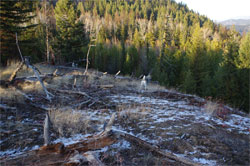 There is nothing that can compare to a male like MANE, however, I do have to say, having a female like Luna, oh my goodness how cool is that. MANE's sister is every bit as good as he is. Go figure that one. So to have a pair of siblings that are the cream of the Elkhound crop, anywhere you wish to travel, oh I have a fat head!
Here is a recent photo of these two siblings right around the two year birthday!
These my friends, these are Elkhounds!
This is a recent video of these two:
Luna and her famous mother Tekla!
A few years back I did a neat video of a group of our Elkhounds. It featured Tora, Jaegar along with the grandmother to Luna, Kamp. We had Tekla and Tuva in that video as well. Luna was a little tiny pup, first day on a harness basically, and pretty much the last day for that harness as well, as she went off leash from that day forward. But I have a current video here from just recent of Tekla and Luna. I'll put the one from a couple years ago below, it's neat to watch as well.
Vida - Sister to Luna - She will cycle after New Year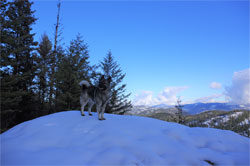 Vida is going to be cycling in the early part of 2019. This is a stunning sister to Luna, equally as good as her and without question one of the very best females in North America. This is a very good genetic female as she is an outcross female to lots of Elkhounds in North America. So Vida can work with Tuva's son Torleif, Tekla's sons Loki and Vitnir, and of course Pretty Boy Leif.
So our plans so far are to use Torleif this first litter. It will be a truly amazing pairing as that is literally all our best genetics in one package. Quite amazing really. The pups from this combination are going to be incredible.
Vida is the very best recall dog on the planet, no kidding. If you have ever seen her on the video's watching her work you know what I mean. This is an extremely skilled off leash dog. There would be literally no off leash dogs anywhere any better, and that takes into account all the Elkhounds worldwide. Go figure that one.
So yes, contact us, we have a waiting list, but reach out to us if you are wanting an Elkhound of the extreme upper end.
I have a nice video of Vida, Letta, Phoenix and Tora, we were out for a great hike and it worked out, I got a really cool video. These are some happy females. Tora of course a little spoiled, doesn't really share the spotlight too well, but we all have fun. Tora as we all know, she gets away with well, let's just say, anything.
Phoenix - Sister to Tekla and Tuva - Daughter of Kamp and Jaegar - She will cycle after New Year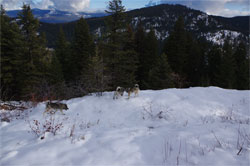 Phoenix is going to be cycling after Vida, about that March time frame. This is another stunning female. For those of you who have been around our site a bit you know her sisters, Tuva and Tekla. And you would of course know her famous father, Jaegar man himself, and yes, her mother is Kamp. Can you imagine the pups that Phoenix is going to be having when we mate her with Pretty Boy Leif.
This photo is Phoenix with Letta and Vida. Tora is around somewhere as well. These are amazing young females to hike with. True off leash Rock Stars. You could not find a better trio than these three, no doubt.
So this summer is just going to be amazing, all our new females coming into our program and our mature females still having litters, this is going to be a great year for Elkhounds.
Max - A full sibling brother to MANE and Luna
Imran has this big rascal with him down in South Eastern USA. This is MAX, full sibling brother to MANE and Luna. What an outstanding fella, can you believe it? What a litter that was.
I always have said that Takoda is pretty much the greatest Elkhound walking yet, but boy all his sons are right in there with him, there is no question about that. I really enjoyed Max, him and I had a very good bond, he was super smart and as Imran shares with us, he is a full instinct big fella. I want to thank Imran for the awesome home and life that Max has, we sure appreciate the feedback and updates on this big rascal, keep us posted. Hopefully that ole possum keeps on playing dead and is still around next year too. Have fun.
"Hello Merv,

Thanks for the happy birthday wish. Good to hear from you. Max is doing awesome, healthy and happy. Loves the big yard and exploring the wooded area. He brings out a new critter almost every other day from the woods.
Few nights back he caught a possum (pic attached). I was afraid he was going to get bitten by the possum but he knows how to handle himself. I had to forcefully put him inside his pen. It is incredible that after that night he finds the same possum and brings him out to the yard every time. Must be the hound genetics, incredible smell capability.
Keep in touch and all the best!

Imran "



Jayva - Full Sibling sister to Luna and MANE and Max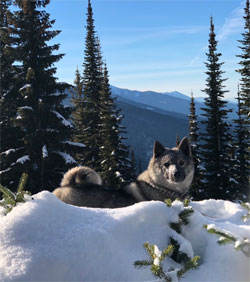 I am always so happy to hear from folks with our pups and I was especially pleased to hear from Natalie and Justin. They along with their two daughters have Jayva over east of us a short ways. Jayva is a full sibling sister to Luna and MANE as well, same as Max directly above.
All of these rascal recently had a two year birthday and Justin and Natalie had Jayva up on a great backcountry ski cross country hike that day and got an awesome photo of her in the snow.
They are a really active family and are always doing outdoor activities and Jayva has the perfect life.
I want to thank Justin, Natalie, the girls, way to go, what a great life that Jayva has. And also big thank you for the great updates and stories, and awesome photos of her amazing life. Keep us posted, and keep skiing!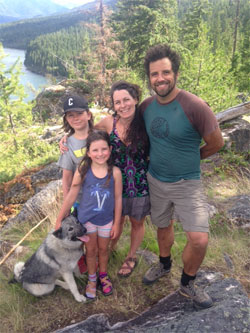 Justin sent me this great update : "Hey Merv, thanks for the email. We skied up a mountain this morning with Jayva. She is a really amazing dog. She loves the snow! A great companion. Justin"
And Natalie shared another great update: "Hello Merv, thank you so much for the Bday wish and the update. Looks like your pups are doing great! Sorry to hear about the broken leg.
Jayva is such a wonderful dog. She is fun, sweet, smart and keeps a close watch on all of us when we are out in nature. We just love her! Thanks again for such a wonderful dog for our family. We have enjoyed many adventures this last year together. Canoeing, camping, hiking...
thanks again,
Natalie"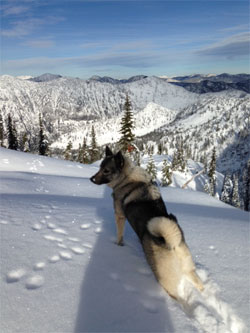 Females like Jayva are tremendous family dogs. They have a deep seated instinctive nature to look out for the family. These dogs bond extremely well to a family and can "live with them" no matter what lifestyle really. They are so versatile.
Justin and Natalie have a perfect lifestyle for Jayva. She is a very athletic female, strong and capable and can thrive on this life and play activities.
This family did some homework on which breed to select for a family dog, then they researched breeders and lineages. I am very proud to have been able to provide them with such a stunning female. This is exactly what all the work is about for a breeder.
A great feedback story of a terrific family who has an awesome dog, and more importantly are providing a great life for the pup with tons of love and care.
A big smile is on my face looking at how happy Jayva is, and Justin, Natalie and girls are!
Nora - Daughter of Kai and Pretty Boy Leif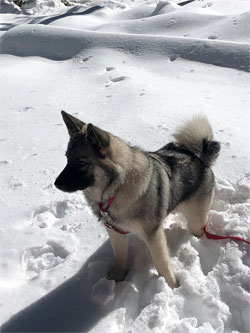 Well, well, well, will you look at Nora ( aka Pretty Girl Nora) daughter of Leif and Kai. When Andrea and Chris reached out to me they were hoping for a very showy working female. There is little doubt they have her.
What a stunning young female, and check out that hike zone in Colorado, go figure. That match up with Pretty Boy Leif and Kai is really a great match-up.
Nora has the perfect balance of both parents, she has that sharp attentive style and movement of Kai and the nice nature of Leif, with of course a perfect balance of great features and looks from both of them.
For many folks they have heard me discuss the fabulous back ground of Leif, his magnificent heritage in the North America show world and his famous ancestors, but not all the folks know that Kai is equally as gifted in famous genetics.
Kai as some of you know can trace back to one of the most celebrated lineages of Norwegian Elkhounds in Norway. Not only were they at the supreme upper end in hunting but she of course has her famous ancestors that went on to compete in show after they achieved remarkable success in the hunt. They competed at the highest level against the very best in Norway to tremendous achievements. I have written before about the famous Norwegian female Varja, ( who we named Velma after) as both Tekla and Kai have the same stunning ancestors, and Velma is a daughter of Tekla and Leif.
So Nora, she has the very unique position to be one of the very few females alive today that have Supreme Champions at the highest level on both sides of the Pedigree in multiple Countries against the very best competition that could be presented. It's not by coincidence that she is such a stunning beauty, oh no, she comes by that naturally!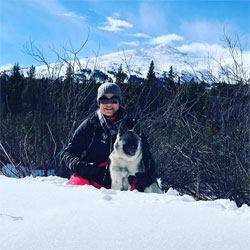 Andrea and Chris have an awesome lifestyle, they live in one of the most spectacular regions in the world, Colorado. This is a magnificent place to have an Elkhound, especially one as gifted as Nora. She thrives on snow. Her ancestors would be some jealous though, as you can see in the photos with Andrea and Chris, they get some!
I want to take this time to Thank Andrea and Chris for the confidence in our program, and of course our dogs. It is a great pleasure for me to work with such great couples like this and get to select a stunning beauty for them to have. I also wish to thank you both for the Awesome life that Nora has, and will have, Thank You. ( And Yes, that Kai is a howler, 4 a.m., I'll send her down too if she doesn't change her howl time)
Please, keep us posted on this young rascal and the adventures you all have, so neat to see.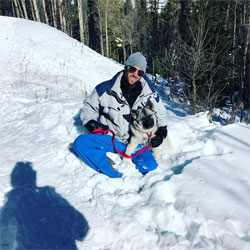 "Hi Merv,

Happy Sunday! I wanted to share some recent photos and a video of Nora. She is such a joy in our home and we cannot thank you enough for bringing her to us. She enjoys long walks, playing fetch, car rides and her naps but she really enjoys her hikes.

The photos our from our hike in Breckenridge, CO at 10,000 feet above sea level.

Also, got a video of me teaching Nora to howl which I thought was pretty rare for the breed and wondered if Kai or Leif howl?
Andrea, Chris and Nora"
Kai - Mother to Nora and to Signi - will cycle in February
Those to magnificent females, Nora and Signi are daughters of Kai and Leif. Kai is going to be cycling in February, she has had a year off to roam the mountains and she is anxious to have another litter, she is such a great mother.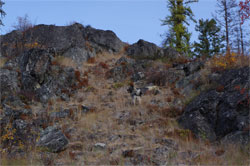 Now for those of you waiting on our list this particular female raises nothing but the very best. Her males are all outstanding and her daughters are magnificent. Kai is a third generation female for us and her grandmother was the old Coastal Norway Norwegian Elkhound strain. Those lines are incredible. When I am hiking with Kai and a group of the other females you can just bet that if the group of them are heading up the most rugged, toughest rock strewn path we could find, Kai is leading them!
Here she is, we are almost at the summit, she has successfully navigated the toughest trail for me to get up, to her, nothing. Go Figure! For those waiting for these litters this one from Kai and Leif is going to be another incredible set of Elkhounds!

Signi - Daughter of Kai and Leif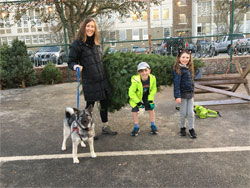 Jennifer sent me a great photo of Signi out with the family getting the Christmas tree. Pretty special time no doubt! What a stunning beauty that Signi is turning into.
It takes no guesswork to know she is a Kai daughter, look at that stance. That is one fancy female. She looks just like her great ancestors that won the Westminster Best of Hound Group, the Top Elkhounds Calista and Marketta. Some of that fancy build and style of course comes from her famous father as you all know, Pretty Boy Leif.
Signi's grandfather, Bram would be very proud to see her with the "Family" he of course brings all the family heritage to her direct from countless generations in Norway. And of course, her legendary Great Grandpa Takoda would be mighty proud she was out to get the tree, as him and his ancestors been pulling them home for thousands of years. Pretty Cool indeed, the Tradition lives on! Way to go guys! Too Cool.
Osita Meets His New Family - Takes Them All On A Hiking Adventure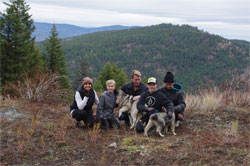 Now this is an incredible story. A story of patience, commitment, family adventure, a cross country excursion and much more. Carla and Doug and the boys, Jaxen, Ryder and Tayten contacted me a long time ago about getting a new pup for their family. They had been researching dog breeds and had spent considerable time sorting out which breed. They began researching Elkhound breeders and found us. They asked if I would be able to pick for them a brand new "Rock Star" pup. They had seen some videos and wanted a Pretty Boy Leif son.
I said I had plans to mate Leif with a stunning female, Tika a daughter of the famous Tora and that the pups from that combination would be some of our very best. True family Elkhounds, Rock Stars no doubt!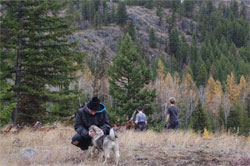 Well, Tika had some boys and you bet they got a great pup, Osita. What a stunning fella. So Doug and Carla waited patiently, the boys helped to build a really great kennel area with Doug and they got everything ready. Finally getting close to the day Osa would be ready they all got on the plane and flew out to Calgary and then drove on out for a great adventure.
We had so much fun. Of course Osa was the best tour guide ever, and he had his dad to come along and enjoy the day as well. What a spectacular time we all had. The boys where able to hike right to the summit, Carla, Doug and I, we stayed and rested a ways down with Osa. They went all the way up with Leif.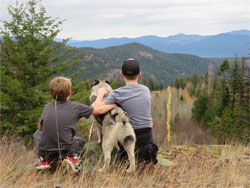 Its days like this that really have an impact for me as a breeder. I get to experience all the fun and excitement the young boys, the whole family had to get together with Osita and to spend a bit of time in his home area. And it was so neat to see how they just loved Pretty Boy Leif and they were so great with them both. And Leif of course he LOVED IT. Endless hugs for Leif.
So hats off to Carla and Doug. They have such a great family, the boys were so good to be around and we had a really fun time. It was a pleasure working with all of you the whole way through, just a first class family. Osa has it made.
I am so thrilled you all decided to come on out and go on adventure, I know it took some doing, flying half way across the country, not to be taken lightly. I fully appreciate the effort, the time invested to prepare for this pup and to give this young rascal such a great home. I can't thank you all enough.
I have a really nice set of photos of our hiking and I am looking forward to the adventures of Osita!
Click here to view the Photo Gallery - Osita Family Hike Photos
Silver Nova - The California Beauty Queen - Her Instincts Come Alive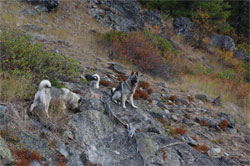 The beautiful Silver Nova turns heads wherever she goes with Ashten. She spends most of her time up in Kamloops with Ashten and Bryne, with Jaegar. We decided to have Silver Nova versed in urban work as well as remote. She came by the urban work naturally of course.
Now for those of you new to the news, Silver Nova was brought similar to Leif, to preserve our male lines. MANE, Jaegar, Takoda etc. She is a full outcross to them.
She is from the world class Moose Tracker kennels, her mother the Champion Silver Princess. Her father is none other than the #1 Norwegian Elkhound Male of 2018, "Armani" - Bristlecone it Suits Me. Lillian has been a tremendous help in preserving the Norwegian Elkhound working genetics in North America by selecting one of her very best for us.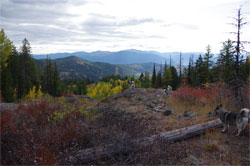 But as all of you know, the show is not where it's at for me. I need the go part. Ashten has done some incredible work, in no small part the credit goes to Jaegar as well, and Bryne, but Ashten is a world class remote terrain dog handler. She herself has been trained by someone pretty fair at it. Ashten is my daughter for those new here.
So when Silver Nova comes for training with me, of course it's straight to the wilderness and she has to run with the big dogs. Well, let me tell you right now she can run with them and I can't tell them apart. She is "Off Leash Certified". Between her and Leif, I am not sure who is the most famous "Show Dog" as they both have the very best backgrounds available today, but what I do know, and this I know for a fact, is that out of All the Show Dogs in North America, Silver Nova and Pretty Boy Leif are the best Offleash Working Norwegian Elkhounds from the Show!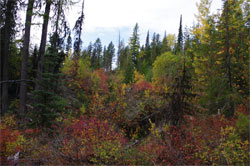 Silver Nova - working remote terrain off leash - highly skilled
Check this photo out - she has skills - draw out the old instincts and the Norwegian Elkhound of centuries past comes flying out. Here she is "Checking In". Can you believe it! If I wasn't wearing a camera harness and been standing in the exact spot I needed to be, I would not have been able share what I witness from her to highlight her instinctive skills showing up. Pretty Cool! Her Mom and Dad may be some of the most famous show Norwegian Elkhounds and her dad of course one of the highest ranking overall points winner of all time. But out here, remote Canadian Wilderness, Silver Nova is the Queen!
Silver Nova and MANE will be having a litter in 2019 - Oh Man, is that going to be some fun.
Torleif - aka Prince Torleif - Son of Tuva and Pretty Boy Leif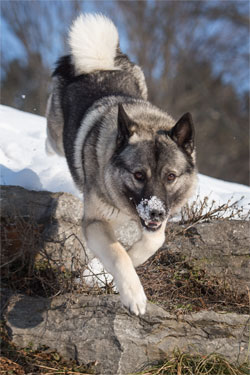 Torleif is the stunning male we have selected to use with Vida on her first litter. Kim has Torleif out with her in Ottawa. She has agreed to work with me to have Torleif sire the litter this spring.
Kim has done such an incredible job with this young male. He is one of the most striking males we have ever raised and the camera work she does, the photos she gets, Wow!
Can you believe the confidence this young fella has, he is in mid air on a jump and staring right at her, looking right into the lens. How cool is that!
For those of you waiting on the Vida litter you are going to be getting the most magnificent pup ever from this match-up. The genetic make-up of both Torleif and Vida is every single one of our founding dogs. Takoda, Bram, Leif are all in this match-up on the males side. Kamp, GAEDA, Tuva on the female side.
There is a massive background of Magnificent dogs in the litter coming from these two. I'll try to highlight a bit for those waiting on these pups.
The pups from this pair will have as background ancestors Champions from Sweden, Norway, Finland, UK, Canada and the USA. There are countless hunting champions, there are Nordic Champions, there are countless Show Champions in many countries as well. It's what the old breeders call "Stacking the Pedigree". No kidding!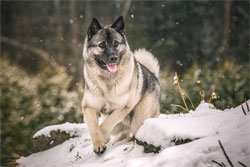 When you stack a pedigree you put great dog after great dog in the breeding lineage. No dog used that is not "flawless genetics" and each dog in a stacked is itself a stacked pedigree dog.
Now there are not many breeders who can do this technique, simply for lack of flawless genetics. We of course have the capability to do it, with our folks who have our pups help of course. Without Kim having kept Torleif intact and preparing herself and Torleif through work and dedication and planning to be used as stud for our program, we would not have this exact male to work with. Our gratitude is massive that she kept him intact. Look at him, Wow!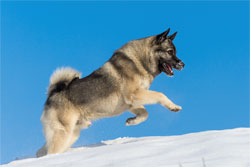 The quality of this male is outstanding. You could write a wish list for the perfect Norwegian Elkhound and get Torleif. He has traits and instinctive qualities that far exceed what almost anyone could wish for as well. This is the very best of the Norwegian Elkhound hunting lines and strains going back to the very beginning. Torleif as you may already know is pure ancient hunting lineages with Champion hunting ancestors going as far back as records exist.
If Torleif was walking down a street in any place in Norway and folks asked what was the background of him, you would only need to mention 1 out of countless Champions and they would all know who he was and what he was made from. He would be like a "Celebrity" well known and respected just by who he is.
If you were walking him through the North American Regional Elkhound Event and people asked who his background was, you would only need to say 1 of the 11 Westminster Hound Group Winners that line his pedigree as well, he would be like a "Celebrity", well known and respected just by who he is.
And of course if you were walking him through the famous "Crufts" Show in England and people asked who his background was, you would only need to say that he is a Ravenstone descendent, the Ravenstone Elkhounds hold the record for the most wins there, and he of course would be known and respected just by who he was, and would be a massive "Celebrity".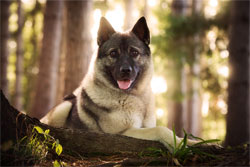 Here in Canada he is one of the most respected young males you can find, just by who he is and the fact that he is a son of the famous Tuva and Pretty Boy Leif.
Kim has to be commended on her work with him, he is in incredible condition. His work ethic is awesome but you can just read the awareness and care and attention he gives Kim in every photo. You can not get that kind of connection without being a great handler. Way to go Kim. Her and I joke a bit about our fat heads we both have about our dogs, hers is for a fact well deserved.
This my friends, This is an Elkhound!
Jamthunds, Jamthunds, Jamthunds - Everywhere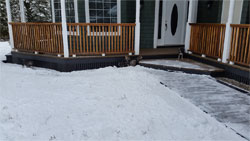 Of course the story of the year would have to be Aina and Rico and the incredible year they have had. Aina of course started out taking it really easy just having Ark. She wanted to test out this Mama stuff. But today, oh my goodness she has filled the yard with little Jamthunds. And a Big One, Ark of course. So I have Jamthunds everywhere. They have the run of the place, they are all over. Ark is an awesome yard dog, oh my word he is something. These little guys, they are just like him.
Nate - Jamthund Male Son of Aina and Rico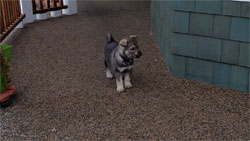 One of the oldest and most respected breeders of Jamthunds, the Harkila's kennels in Sweden stated that they focus a great deal on the environmental aspects, the territorial traits of the Jamthunds to keep that focus on the territory intact and thriving.
Nate is a perfect example of a stunning Jamthund male. There are no better anywhere in the world than young Nate. He is already proving he is "territorial" learning to "be around". A very focused young rascal he does have a bit of Aina's roughhouse nature, all in good fun but he is a handful for some of the other pups to be sure. One of the females, Raven she and Nate are two peas in a pod, both in looks and nature. I'll have my work cut out keeping my pant legs and shoe laces intact around those two rascals.
Canadian Jamthunds - Sweden's Oldest Dog Thriving Here Now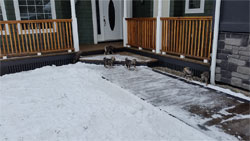 Stunning little rascals this whole litter. Ossi the breeder for Aina, and Satu the breeder for Rico deserve all the credit for this stunning litter. Hats off of course to Russ and Beth for raising Rico to be such a magnificent fella. They are coming up next week to get their female, Xena, a total beauty. She will remain with her dad Rico to keep him company. How great is that?
Three of the males remain here for the Desna program, along with the remaining females.
Elvis - First Jamthund Male To Be Placed In A Home In Canada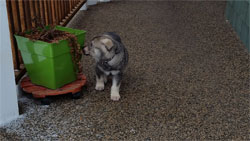 This Magnificent Jamthund is Elvis. He is the first Jamthund male to be placed in a home in Canada.
I am writing this section a day before I take Elvis to meet his new owners and handlers. Jen and James have been waiting for well over two years for this big fella. We are very proud of this pup he represents a great deal to us as we have dreamed of being able to offer these pups for a lifetime. I could not have wished, dreamed or imagined a better pup than Elvis and all of the pups Aina and Rico have produced. We are so blessed there are no words to describe how fortunate we are.
I have a send off video I did of Elvis thought you might like it.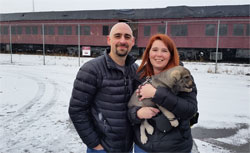 I am writing this section Sunday Night, I just finished meeting Jen and James to place Elvis with them. He is with his new handlers and I am so happy for him. These two are so great, we had such a fun visit. I am so pleased for Elvis, oh he has it made let me tell you.
These two have been all set for him for months, waiting years, he is going to have such a great life. There will be a ton of stories and photos on Elvis, no doubt.
I want to Thank Jen and James for the patience the confidence in our program to wait for Elvis and of course for the awesome life that boy will have. Congratulations as well are in order as that is THE FIRST JAMTHUND PUP placed in Canada. Way To Go! I am so happy for both of you, and of course for Elvis.
Takoda - A Rare Indoor Photo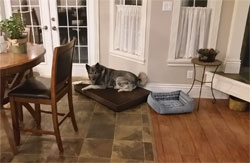 This is a rare photo - we virtually have no dogs in the house. They can come in and say hello, visit but they don't stay. There was a big sale on dog beds in town one day so I thought, oh I'll buy one for Takoda for when he comes in. He has been doing such a phenomenal job all year as he had to step back into the training game when MANE hurt his leg. And of course he has been helping me with Ark and the Jamthunds, he still runs the entire place. He offered to give a go with Kalia and Tuva both this season, but was not able to get them to stay in one place long enough to mate. He can try again this fall perhaps.
So anyway you will all get a kick out of this, he laid on it for the photo, got up, went and laid on the floor. That bed was way to soft for this tough rascal. So I put it up, maybe in another 5 years he might look at it again. It's orthopedic memory foam and everything. He might have turned 12 this fall but he told me " I don't need your Rocking Chair" just yet.
Pretty much every pup we have planned for this next year will all trace back to this Magnificent Big Fella!
All the magnificent Elkhounds on this page are as you well know the very best there is, but this old boy, well now, This my friends, This is an Elkhound!
Cash and his Male Norwegian Elkhound Torq - Son of Kai and Pretty Boy Leif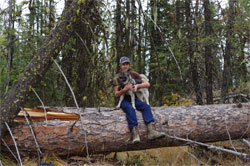 This is a great story. Cash contacted me a long time back. He along with his Mom and Dad had been looking for a great Elkhound pup. They knew the owners of Tegan, Tora's full sibling sister and were hoping to get a pup from the similar lineage.
I mentioned that the odds were very good for them as Kai, a daughter of Tora was going to be having a litter, as well as Tika, another daughter of Tora.
As luck would have it, Kai produced an amazing male for Cash. His name is Torq. A stunning big fella, working boy through and through. So they decided to have Torq go through the Desna training program. He was as you can already guess, a Rock Star!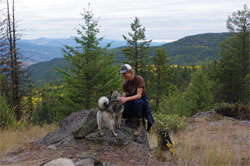 Now Cash and his family took him home but they asked that perhaps after a month or two, if they could come back and do some further training, some tips perhaps, maybe a hike. I said absolutely! I would love it.
When Cash and Torq came I decided to have Torq's old training pal Vida join us. We spent the whole day hiking all the way to the Summit and back. What a tremendous time we had. Bottom line there wasn't a thing to teach. Cash had it all covered and of course, young Torq, oh man, you guessed it, TOTAL ROCK STAR!
You can view a really nice photo gallery of our day it was awesome, some incredible photos at the summit: click here
I sure want to Thank Cash for coming out to spend the day and I sure enjoyed the company. I had a great time. And a big Thank you as well Coreen and Doyle, great life you all provide for young Torq, much appreciated. And a super young gentleman son you have. Way To Go!
Wendy and Dale - A Huge Thank You My Friends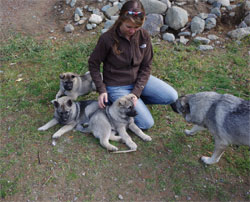 The last litter of Norwegian Elkhounds was the Tika litter. Those last four boys that were here for the Desna just recently arrived home. Timber, Echo, Koda and Osita. The other two males, Tor and Koda went earlier. The two females, Sage and Willow live with Tika.
Now Wendy and Dale have Tika, they are working with us as co-breeders and did an incredible job raising those pups to the 8 week mark. It was very tough for Wendy to bring me those boys to put into the Desna program, no doubt. She is shown here she came back her and Dale for a visit before the boys left. You can see the two boys and the sister in the middle, they all love Wendy.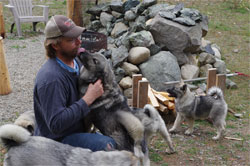 Dale was so happy to see Tora again. Tora she loves him, no doubt. Check out Sage in the background, that sharp little female. She is staying with Dale and Wendy along with her other sister and mother. They are working dogs over there, Dale has them herding sheep, watching the cows and yard, assisting the guardian dogs, everything, They are tough and smart.
So a huge Thank You to both Wendy and Dale. They did an incredible job raising Tika. She is magnificent. Her pups were absolutely the best as we expected.
We recently had Tika here to mate with Leif once more but Leif figured we were just off on the timing so we did not get a mating. We will try again this summer. No worries, Tika has some work to do anyway with those young rascals getting them trained up.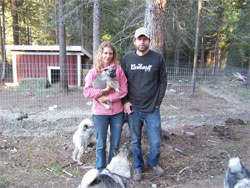 It's great to see all the little pups from Tika and the 6 boys she had I really enjoyed working with them. I am excited about the new foundation females, little Sage and Willow.
Here is a photo of Wendy and Dale when they came for Tika 5 years ago. They haven't aged a bit. You can see Tora, she is keeping a sharp eye on Dale, she figures she can let Tika go with them. Tika hasn't left their side since. Talk about attached, loyal one owner dog, oh man. Dale gets five feet away, Tika is whining, same with Wendy. They are good to her.
Is it just me or does that little Tika look exactly like her pups?
So, fun times ahead for all of us, Tika will cycle again in June. Leif will be ready!